Baseball Picks Daily Fantasy
Expert Advice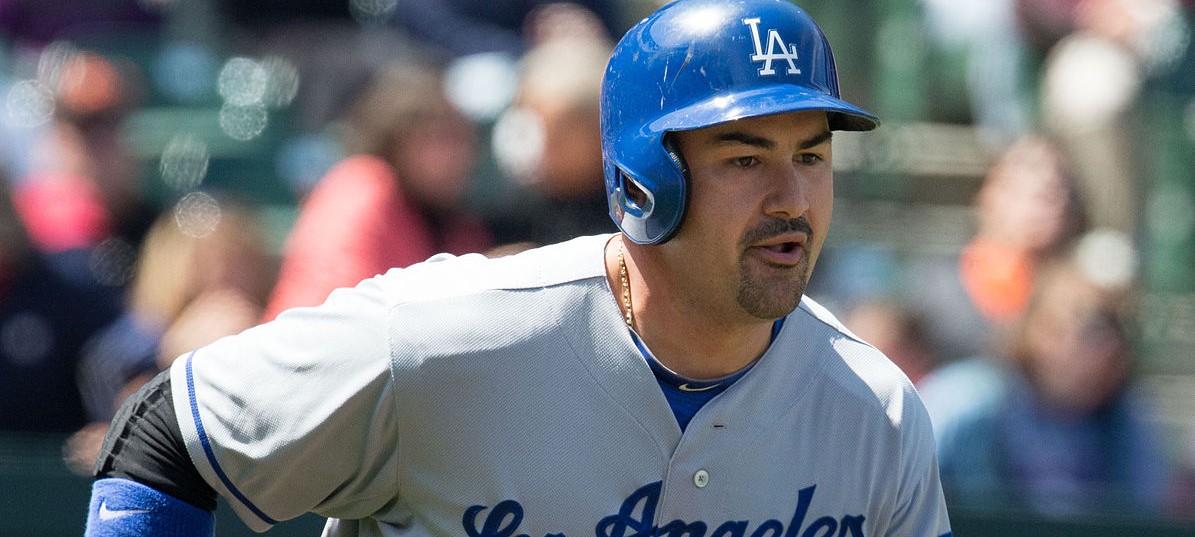 Daily Fantasy MLB Baseball Picks for FanDuel and DraftKings 6/12/15
Full disclaimer - this is a massive slate, and there's no way I could ever possibly list every decent play today. So, I'll do my best in highlighting whom I believe to be the elite plays. If you want the rest? Go ahead and get access to the exclusive projection system that produces these picks. Sign up now and get a free 3 day trial to our lineup construction tool for FanDuel, DraftKings and Draftster.

Pitchers
Clayton Kershaw - FD 12000 DK 12800
We have you Kershaw in a competitive slate the last time around, and he was the play of the day by a mile. Today? Our projection system likes him better than it did the last time around. Petco is a phenomenal place to pitch, and Odrisamer Despaigne is barely a major league quality pitcher, making a win even more likely for Kershaw than usual. And then there are the Friars themselves - they've struck out with the 7th highest frequency against opposing lefties this season, and are in the bottom half of the league in terms of their wOBA vs. southpaws. All in all, it's a great way to spend a whole heck of a lot in your cash games.
Felix Hernandez - FD 11800 DK 11300
It's sort of a cop-out to recommend both Felix and Kershaw, but Hernandez also represents a great way to invest a significant chunk of salary. The Astros have struck out at the 2nd highest rate of any team in the majors (and would be the worst team in almost every season in major league history), and Brett Oberholzer is not a guy who rates as very likely to challenge the King for the win. So, lots to like here. I just happen to like Kershaw better.
Madison Bumgarner - FD 10600 DK 10200
Spoiler alert - it sure looks like a day to spend up on the mound. Bumgarner has been phenomenal again this season, lowering his already elite BB rate and keeping a high (if not quite as high) K rate to go with it. The Diamondbacks aren't the greatest match-up in the world for a left handed starter, but my guess is that playing in San Fran can offset some of their power, leaving Bumgarner with a fine spot. This isn't a huge upside play to me, but I think it's awfully safe.
Some upside, big tournament plays: Mike Fiers, Yordano Ventura.
Also considered: If you play the 4pm slate, I really love Cueto. The Cubs are the worst in the league when it comes to striking out against RHP, and Cueto should crush them.
Just killing time until fantasy football season? Fantasy Pros has a pretty cool mock drafting software you can check out!

Catchers
Yasmani Grandal - FD 3000 DK 3100
Grandal's heading out of a fine series with the D-Backs to head to a much harder place to hit. That's a bad thing. But! He'll get to hit against Odrisamer Despaigne here. For starters, Despaigne is right handed, and Grandal has a nearly .900 OPS against righties this season. Next, Despaigne happens to be a downright bad right handed pitcher, which also helps. He's got just 28 Ks in 55 IP this season, which will effectively nullify Grandal's biggest weakness - the swing and the miss. I think Grandal puts up a fantastic game here, and his great batting eye gives him a high floor as well.
Editor's note: Grandal is actually not playing! He evidently doesn't catch Kershaw. My bad.

Jonathan Lucroy - FD 2600 DK 3300
This is a straight up points per dollar value play. Lucroy's terrible BABIP luck (he's .85 points off his career levels) has his price trending dangerously toward the minimum, and he's actually shown a lot more signs of life since returning from injury than he did in a dismal April. He'll be facing Jordan Zimmermann, who has mysteriously lost any semblance of his K rate, that figure dipping below 6 Ks per 9 this season. I don't know that it's a huge upside play, but he could absolutely get some decent counting stats together on lots of hard contact.
Carlos Ruiz - FD 2400 DK 3000
Chooch has a .909 OPS in an admittedly small sample size of at bats this season, but he's .073 OPS points better against left handers for his career, so there's more than just smoke there. If he gets to take some cuts against Jeff Locke and his career 4.11 xFIP he could continue to improve on those numbers against LHP. Mostly, his low K rate and Locke's lack of big strike-out stuff make him a relatively high floor guy on a very affordable salary.

First base
Adrian Gonzalez - FD 3400 DK 3900
Gonzalez has been clobbering right handed pitching this season to the tune of a 1.055 OPS, and I've already documented Despaigne's struggles in Grandals write-up. Gonzalez's power isn't as negatively effected by Petco as most - he had a 39 home run season as a member of these same Padres when he was on their team. I love him for both safety and upside against a guy who can't strike anyone out.
Adam Lind - FD 2600 DK 3900
Lind has really stunk against left handed pitching this season, but that won't be a factor against the right handed Zimmermann. Against righties he's managed an .887 OPS and cut his K rate by 5%. His K rate is still around 20% vs. right handed pitching, but again, Zimmermann's inability to strike anyone out this year plays right into Lind's hands. On a day where you're very likely to need to save up to make ends meet for a top notch pitcher, I think Lind makes a great safety and upside play.
Pedro Alvarez - FD 2800 DK 3700
Alvarez never turned into the super-star he was projected to be, but he can still get it done against right handed pitching. All 10 of his homers have come against right handers this year, and this is a trend that's persisted for much of his career. In this game, he'll go up against one of the very worst right handed pitchers to ever take the mound for 1,000 innings in major league history. His career 4.44 xFIP includes his "prime," such as it was, and he hasn't put up a K/9 above 5 since 2010. 2010! This will erase Alvarez's most profound weakness (the K) considerably, and makes him a huge upside play.
Also considered: Freddie Freeman.
Second base
Neil Walker - FD 2700 DK 3700
The 29 year old Walker is a sneaky power threat against right handed pitching, largely because he has no power whatsoever and lefties. 75 of his 81 career homers have come against right handed pitching, and 21 of last season's 23 homers came against righties. I mentioned this in Alvarez's write-up a little bit, but facing Kevin Correia so dramatically increases any player's ceiling while simultaneously lifting his floor to a degree that Walker will be very tough to pass up on in a relatively shallow position tomorrow.
Ben Zobrist - FD 2600 DK 3600
I wrote this about Zobrist last night:
Fundamentally, not a lot has changed about Ben Zobrist's approach this season. He's walking about the same amount, and has dropped his Ks by 5% down to a sparkling 7.4%. And his ISO has climbed! So what gives? Well, his BABIP has dropped to .205 - .085 points off his career levels - and it's making him look like a monkey's uncle.
And, he wasn't that great. But he does have an additional advantage tonight. He'll be facing the left handed Hector Santiago, and while Santiago is a better pitcher than Chi-Chi Gonzalez, Zobrist has been about .040 OPS points better against left handed pitching over the course of his career. I still don't think it's a huge ceiling play, but love him if you're spending up on pitching.
Robinson Cano - FD 2400 DK 4100
If he's going to keep being a near minimum salary guy, he's going to keep showing up in these picks. He's been horrendous this year, and it's not just bad luck. his ISO is down, his Ks are up, and his BBs are down. I get it. But! He's Robinson Cano. He hasn't turned into Rey Ordonez over night. Even if he has a more than gentle decline, the very virtue of his spot in the batting order and his contact rate should necessitate higher salaries. In this contest he'll take on Brett Oberholzer, a youngster who has only been able to put together a 4.30 xFIP in 227 major league innings. Not fantastic. I like Cano as a high floor play on a points per dollar basis.
The expensive option: Brian Dozier. Doze is a 20/20 guy who is dramatically better against left handed pitching, and he'll be facing a sub-par one in Wandy Rodriguez in a lovely hitter's park.
Shortstop
Jimmy Rollins - FD 2400 DK 3400
J-Roll is having a bad season in terms of his triple-slash line, but there's a lot of bad luck making that so. His .215 BABIP is .070 points off his career levels, and it's really sucking the life out of what he could be putting together. His 7 homers and 6 steals (in spite of bad BABIP luck) mean he's still the near 20/20 guy that he was last year, and his nearly identical K and BB percentages mean this could all turn in a hurry. Unfortunately, he's been dropped in the order, which saps a fair chunk of his value - but a great match-up with Odrisamer Despaigne could make up the difference.
Erick Aybar - FD 2500 DK 3300
When it comes to a position like shorstop, where there are something like 3 men who can hit the baseball with a bat, you need to start paying attention to some other factors. The first, and most important, is where a guy bats in the lineup. Aybar hits lead-off for the Angels, which not only gets him extra plate appearances, but also more opportunity for counting stats. Chavez is a fine pitcher, and I'm frankly not over the moon about this play, but at these prices at that spot in the order, Aybar remains a high floor play.
Consider: Marcus Semien.
Third base
Trevor Plouffe - FD 2700 DK 4200
Plouffe is back to his lefty-raking ways this season, slugging .476 against southpaws and hitting in the heart of the lineup when they're on the mound. In this game he'll go up against Wandy Rodriguez, who's run hot in both BABIP and HR/FB% en route to an ERA that outpaces his xFIP by 7 tenths of a run. Playing in Texas should give Plouffe's cuts a little added pop, and he's a high upside low floor play for me today. Great guy for all formats.
Evan Longoria - FD 3100 DK 3800
Wrist injuries can be scary for daily fantasy players because of their tendency to sap power, but given Longoria's homer on Wednesday, I'm tempted to think that it isn't that big a deal. If that's the case, Longoria has a terrific spot against the woeful John Danks. Over 250 innings in the last two seasons Danks has an awful 4.55 xFIP. He's also given up nearly 1.5 HR/9 in the last 3 years. The guy is flat out awful at pitching, if we're comfortable enough with one another to just be honest. And Longoria, for his part, has still managed a .900+ OPS against lefties this year. I think it's a nice upside spot for a reasonable price.
Cheap value guys: Aramis Ramirez and Chase Headley. If you just want to escape the position cheaply, our projection system likes both of these guys.
Outfield
Note: It's an oddly awful day for outfielders. There are a ton of cheap guys our projection system can recommend, but it's not usually a good use of time to write them all up here. Here are some higher priced guys to consider.
Nelson Cruz - FD 3600 DK 4700
One shining beacon in a sea of darkness. Cruz has a Bondsian (and unsustainable) 1.641 OPS against left handed pitching this season, and even if that doesn't stick, he's still managed a .915 number for his career. No matter how you slice it, the man can bruise some left handed offerings. I love him against the below average Oberholzer in a fine hitter's park.
Joc Pederson - FD 3800 DK 4100
The young Dodgers slugger, like a lot of players, becomes a heck of a lot better when there's a guy without strike-out stuff on the mound. As I've already established, Despaigne is most pleasantly that. Pederson has a super elite walk rate (18.1%) and ISO (.278) against righties this season, and this has the makings of a potential monster game, even if it's in a terrible hitters' park.
Christian Yelich - FD 2500 DK 3900
Well they aren't hitting in Coors, but it hasn't really mattered when lefties are facing Kyle Kendrick this season. The Rockies' lousy right hander has allowed an other-worldly .999 OPS to left handed hitters this season. Yelich has been pretty awful this year, but the 23 year old has definitely shown flashes in his young career, and definitely possesses bell tower power. Could be a spot to grab elite power upside on the super cheap.
Billy Hamilton - FD 3100 DK 4400
Even though he's been dropped in the order, Hamilton is on pace for a godly 75 steals and 9 homers. He's also a fringe major leaguer when it comes to hitting. With 7 steals in his last 10 games, though, he's good for some very unusual upside on this price point.
Torii Hunter - FD 3100 DK 4400
The man is ancient, and recently quite bad, but the power is still there this season, and it's a nice platoon spot and park against Wandy in Texas.
Carlos Gomez - FD 3500 DK 4600
Gomez is a guy who's basically platoon neutral over the course of his career, and actually has been better against right handed pitching in 2015. His Achilles heel, of course, is his approach. His high K rate and low walk rate cause him problems against tough pitchers. Zimmermann is crafty and could certainly give Gomez a hard time, but if his stuff has really past him by, Gomez could be the highest upside OF of the day.
Also considered: Jay Bruce, even though Jason Hammel has been elite. Also! Mark Canha.
Be sure to try out a free 3-day trial to the projection system that helps produce these picks for the MLB! And check out our free MLB ebook below.
FREE EBOOK
SECRETS TO CRUSHING DAILY FANTASY FOOTBALL!
DON'T SET ANOTHER LINEUP BEFORE YOU READ THIS BOOK.