Baseball Picks Daily Fantasy
Expert Advice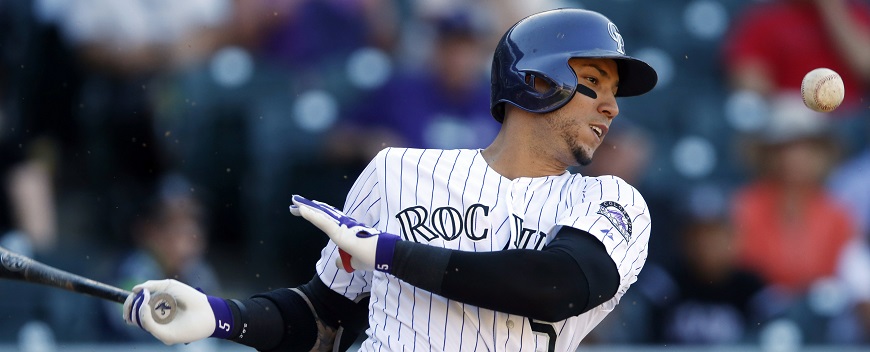 Daily Fantasy MLB Baseball Picks for FanDuel, DraftKings and Starsdraft 9/23/15
Well, it's Wednesday, and I have a couple of pieces of great news for you:
1) For those of you that wrote in - No, I am not dead. I just almost died due to dehydration while writing the picks last night.
2) I will be going on vacation for a few days, so those of you who love Doug will get to read oh so much of him while I'm gone!
3) The dead money in the DFS sites continues to pour in thanks to the loves NFL, so let's get to giving you some big value daily fantasy baseball plays.
4) If you'd like, you can go ahead and get access to the exclusive projection system that produces these picks. Sign up now and get a free 3 day trial to our lineup construction tool for FanDuel, DraftKings and Starsdraft.
Pitchers
Max Scherzer - FD 11000 DK 12400 StarsDraft
Opponent- Bal (Tillman) R Park- @Was
So much damned juicy big named pitching tonight, it's hard to know where to begin. Max gets the nod for me, well, because our projection system likes him best. But the reasons it like him best are probably what are interesting to you, so here goes. The Orioles are actually quite tough on right handed pitching, so this might not be what you'd call the safest play ever, but they also come with a lot of built in upside for opposing pitchers due to their huge strikeout rate. Their 23% strikeout percentage against right handed pitching is the 3rd highest in the majors, and you can believe that number will be higher when Max attacks. You know what you're getting in Scherzer by now - the majors' 4th highest K/9 and the 10th best xFIP, AND the third lowest walk rate in the majors. Throw in a nice match-up with the late Chris Tillman, and we're all systems go on this one.
Corey Kluber - FD 10100 DK 12300 StarsDraft
Opponent- Min (Hughes) R Park- @Min
Kluber is a really solid 1a. option to the Big Scherz tonight. Kluber actually has a better xFIP than Scherzer, but he gives a little back fantasy-wise with a lower K/9 and a slightly higher BB/9. You could even argue that Kluber has the better match-up, here. He'll face the Twins, who have the 8th highest K rate, but the 5th lowest wOBA against righties. I think you could make a very strong case that this is the safer play, but I don't think he has quite the upside Scherzer does. Still, if you wanted to split the difference with them and fill half of your 50/50s with each, no one would blame you.
Early slate funsies
Frankie Montas $3,000 FD
Just a punt's punt, but I am sure I'll enter a Frankie Montas lineup or two in a big tournament, simply because I've never been able to play every single good hitter before. Playing Montas at Pitcher on FanDuel means you can spend an average of $4,000 a player at the other positions, which basically makes this a DraftPot lineup. Montas was actually decent in the minors this year, striking out better than 8 guys per 9 innings while walking just 3+ per 9. He's not a stud or anything obviously, and this is an AWFUL match-up with the Tigers (I'm sure I'll recommend some later), but this one could be pretty darn fun.
Justin Verlander - FD 8800 DK 9600 StarsDraft
Opponent- CWS (Montas) R Park- @Det
So, the hype for Verlander's "bounceback season" is probably a little bit overstated, but he's at a price where his 7 K/9 and 2 BB/9 will play in the right match-up. This is one such case. Verlander will face the White Sox, who are basically a rich man's Twins - they strike out .8% less and have a .008 advantage in wOBA over the Twins when it comes to facing right handed pitching. While I think it'll be fun to play Montas a couple of times, the Tigers should be heavy favorites to trounce the ChiSox here.
Catchers
Yasmani Grandal - FD 2400 DK 3400 StarsDraft 4000
Opponent- Ari (Anderson) R Park- @Lad
We've been beating the Grandal drum all season, and while it hasn't worked out too much lately, it was very heartening to see him blast a homer on Monday. In Grandal you're basically just getting a guy who's overqualified for the near-minimum price tag. He's got 15 homers and a .789 OPS in 340 plate appearances against right handed pitching this season, which is plenty of production from the catcher position even on prices 15% higher than this. Chase Anderson is a token below average pitcher - a 4.20 xFIP pitch to contact guy with no skill beyond not walking guys. Love Grandal anywhere.
Russell Martin - FD 2900 DK 4100 StarsDraft 4900
Opponent- NYY (Nova) R Park- @Tor
Martin's got a lot going for him - a 20+ home run season already under his belt, and the opportunity to bat on the best lineup in baseball. Well, today the rich get richer - he and the Jays will get to face Ivan Nova. Nova has built upon his already impressively bad career by allowing his worst xFIP (4.76), a sub 6 K/9, and a 3+ BB/9. Martin's a bit better against left handed pitching, so I wouldn't call this a safety play or anything, but there's plenty of upside here for sure.
Salvador Perez - FD 2400 DK 3500 StarsDraft 4700
Opponent- Sea (Elias) L Park- @KC
Perez is basically Grandal minus the switch hitting. He's been about .040 OPS points better against left handed pitching for his career, and is another 20 home run catcher. Oodles of upside on a bare minimum price, and especially attractive if you go expensive at pitcher. Roenis Elias is just another in a long line of terrible pitchers tonight, and his declining K rate might make Perez something of a safe option as well.
Special Offer
DraftPot has a $100K Guaranteed contest for NFL's Week 2. Sign up and deposit with the promo code "DFSR" to get 100% matching bonus up to $1000. Plus, first time depositors get a free entry to their $10K contest. Oh, and if you sign up through our link we'll throw in a free month of our NFL and MLB projections. That's value baby! Click the banner below.

First base
Freddie Freeman - FD 3300 DK 3900 StarsDraft 5100
Opponent- NYM (Colon) R Park- @NYM
Freeman has made for a very reliable play against right handed pitching this season - a 16% K rate and 11% BB rate and a .902 OPS against right handed pitching is a darn nice line for less than top tier prices. Bartolo Colon is an extreme pitch-to-contact guy at this point, and while he has been more effective than some realize, he's still the perfect pitcher to grab a hitter against if you're going for a high fantasy points ceiling.
Adrian Gonzalez - FD 2900 DK 4500 StarsDraft 4900
Opponent- Ari (Anderson) R Park- @Lad
Another guy our system has been asking you to keep a steady hand on, in spite of some of his semi-recent struggles. And, like Grandal, he hit a baseball over the fence (a "home-run") in Monday's game. He's up to 24 home runs in 445 plate appearances against right handed pitching, and with a few extra base hits in the last week, he could be back in early season form. He's averaged 3.5 FanDuel fantasy points in his last six games, and has the same juicy match-up with Anderson that Grandal has. I like him in any format.
Mike Napoli - FD 2200 DK 3100 StarsDraft 4300
Opponent- Oak (Doubront) L Park- @Oak
If you want a cheap, huge upside option today, Napoli is your guy. He's beasted left handed pitching for a .934 OPS this season, but his big upside comes from the long ball. With a home run every 14.63 plate appearances against lefties, the man's a force of nature. Felix Doubront is literally a clone of all these other terrible pitchers - a 4.26 xFIP guy who doesn't really have a single plus major league skill.
Second base
Robinson Cano - FD 3200 DK 3600 StarsDraft 5400
Opponent- KC (Ventura) R Park- @KC
We picked Cano last night, and he went out and knocked two home runs in a fantastic spot with Jeremy Guthrie. It's a very similar story tonight, so let me give you the deets:
It was hard to pass up on Cano given his match-up - the worst pitcher in the league to last a starter wire to wire this season. Guthrie would have the league's worst xFIP (5.17) if he could manage to stay in enough games to qualify, and he is also one of only a small handful of pitchers to have an xFIP higher than his Ks/9. While Cano's season line isn't as impressive as Kipnis', he's been a terror since the beginning of July, posting a .900+ OPS against pitchers of all handedness. I can definitely see playing him anywhere here.
Yordano Ventura is way better than Guthrie for sure, but Cano's a man on a mission right now. I like Cano anywhere.
Jason Kipnis - FD 2900 DK 4300 StarsDraft 5100
Opponent- Min (Hughes) R Park- @Min
Another pick from last night's except this one didn't work out as well. Baseball, and all. Still, Kipnis is a fantastic play again tonight. Phil Hughes is literally a batting practice pitcher at this point - striking out just 5.45 guys per 9 innings, and walking an amazing .96 guys per 9. All this is to say more contact is made against Phil Hughes than any other pitcher in the majors, and it's often the hard kind that gets pitchers in trouble. Kipnis has a .900+ OPS against righties this season, and while he's not a high ceiling guy (based on his lack of homers and steals), he's a super high floor guy you can roll with cheaply.
Also considered: Anthony Rendon for safety, Chase Utley for upside.
Shortstop
Jhonny Peralta - FD 2300 DK 3500 StarsDraft 4200
Opponent- Cin (Finnegan) L Park- @Stl
Honesty alert - it gets pretty hard to write these picks this late in the season. The main reason is this - I've probably written up Jhonny Peralta like 100 times. So there's stuff I know off hand, like Peralta has the 5th most homers and the fifth best wOBA for the position. I know he's about .050 OPS points better against lefties for his career. Ooh - something novel! I can look up "Brandon Finnegan!" *goes to look, comes back * So, turns out Brandon Finnegan is one of these hyper erratic not quite ready minor league guys - he had a 5+ BB/9 in the minors. Should be a great spot to grab Peralta on the cheap.
Brandon Crawford - FD 2200 DK 3100 StarsDraft 3800
Opponent- SD (Cashner) R Park- @SD
Another nice really cheap option, Crawford presents a fairly similar profile to Peralta, except that he's got the highest home run total and the fourth highest wOBA. And yet he's even cheaper! Why? Well, it's largely because sites like FanDuel and DraftKings have very reactionary pricing models. The other thing, potentially, is his match-up and the park he's hitting in. Cashner isn't awful, and Petco is a tough place to hit. Still, there's a lot of opportunity to cash in here on a guy who's simply priced below his production.
Freddy Galvis - FD 2200 DK 3200 StarsDraft 3300
Opponent- Mia (Conley) L Park- @Mia
The sneaky upside play. Galvis has been a little bit better against lefties during his career, and he's got a smidgeon of power/speed that means he can do just enough to present upside at this price point. Really, it comes down to opportunity - batting leadoff, even for a crappy team, means lots of plate appearances. As for the match-up, you may not be familiar with Adam Conley. I thought Adam Conley would be worse than he's been, which is sort of saying something, because he's still been a 4.2 xFIP guy in the bigs. I like Galvis if you want a little separation play with upside for a big tournament.
Third base
Adrian Beltre - FD 3300 DK 4200 StarsDraft 5300
Opponent- Oak (Doubront) L Park- @Oak
Beltre is sort of in a tier by himself when it comes to safety for me, tonight. I gave you my thoughts on Doubront already, so let's focus on Beltre. He's been a fascinating guy this season. He was bad and unlucky early in the year, and then started being better and unlucky in July (walked more than he struck out, BABIP'd a sad .280), moved on to being good and just a little unlucky (increased his ISO to .200+) in August, and then finally started BABIPing the way he had been in previous years in September. All of this is to say, Beltre is a guy who's tortured left handed pitching in the last few years of his career, and I can think of no reason why he shouldn't do so again on Wednesday.
Josh Harrison - FD 3200 DK 3500 StarsDraft 4900
Opponent- Col (Bergman) R Park- @Col
Aramis Ramirez - FD 3700 DK 3600 StarsDraft 5200
Opponent- Col (Bergman) R Park- @Col
Mostly a Coors sweepstakes thing. Harrison and Ramirez both looked great on Tuesday, hitting for extra bases, knocking people in, and scoring runs. I see no reason why that won't continue in an even better match-up with Christian Bergman. If you're not hip to Bergman's offerings, I don't blame you. He's sort of a Phil Hughes clone that has the misfortune of pitching in Coors Field, which doesn't forgive his mistakes up in the zone. He's not really a ground-ball guy, he doesn't strike anyone out, and his good control only means more guys get to tee off. Big upside for both of these cats today.
If his knee feels better, Justin Turner is interesting. He's been better against right handers (in spite of his right handedness) for his whole career.
Outfield
Carlos Gonzalez - FD 4200 DK 4100 StarsDraft 5700
Opponent- Pit (Morton) R Park- @Col
One of those perfect storm match-ups. Gonzalez has an insane 1.128 OPS against right handed pitching at home this season, and Morton is one of the very worst pitchers in the majors against left handed hitting (allowing a .392 OBP and a .854 OPS against all left handed hitting over the course of his career). The sky is truly the limit here.
Andrew McCutchen - FD 5200 DK 5400 StarsDraft 6300
Opponent- Col (Bergman) R Park- @Col
Starling Marte - FD 4500 DK 4800 StarsDraft 5400
Opponent- Col (Bergman) R Park- @Col
As of this writing, McCutchen has disappointed (0/2 with 2 BB), and Marte has been pretty great in a similar situation on Tuesday. That's baseball, my friends. The fact of the matter is, these guys will have a lot of opportunity to do tons of damage on Wednesday. Bergman will give up lots of contact, and lots of contact for these two can generally only mean good things. Our system will take McCutchen, even at the premium, but I don't think you can go wrong either way.
Josh Reddick - FD 2700 DK 3500 StarsDraft 4400
Opponent- Tex (Lewis) R Park- @Oak
If the above guys are too big for your budget, consider Josh Reddick. Reddick has tailed off from his early season hotness, but he's still been awfully solid against right handed pitching this season, striking out in just 9.5% of his plate appearances, while walking 8% of them. He's got an .832 OPS, and a .190 ISO against righties as well, and while he's downright useless against lefties, he'll have the pleasure of facing a right handed pitcher today. Colby Lewis has the unfortunate distinction of being arguably the worst pitcher on a slate chock full of terrible pitchers. He has decent control, but he doesn't strike anyone out, and gives up a TON of home runs on the back of his 2nd lowest-in-the-majors 34% ground ball rate. Love Reddick here.
Brett Gardner - FD 2700 DK 4500 StarsDraft 5100
Opponent- Tor (Stroman) R Park- @Tor
Jacoby Ellsbury - FD 2700 DK 3700 StarsDraft 4900
Opponent- Tor (Stroman) R Park- @Tor
The lefties at the top of the Yankees lineup find themselves in the lovely position of getting to hit against the still recovering Marcus Stroman, a guy who was a popular sleeper pick before tearing his ACL during Spring Training. With Stroman still on the mend, you can bet he won't be glad to see this speedy/modestly powerful duo atop the Yanks' lineup. I think both of them offer good stack safety in a game that ought to be high scoring.
Jay Bruce - FD 3000 DK 3500 StarsDraft 5000
Opponent- Stl (Lynn) R Park- @StL
With 4 homers in his last 5 games, Bruce is living up to the vision our projection system has had for him all season. And, unfortunately, it's meant his price has been on the rise. Lance Lynn doesn't represent a great match-up at all, and if you're playing Bruce you're doing so with the idea that he'll go 2/5 with a homer, double, and 3 strikeouts or something. It's in play! I don't mind taking a flier on him in big tournaments when so many others will be stacking that Colorado game.
And infinity cheap guys - for those, grab a free three day trial of our projection system. Good luck out there!
Want a free three day trial to the projection system that informs these picks every night?
And you're in luck! We're offering a copy of our free MLB and NFL eBooks while the seasons overlap - get a copy below!
FREE EBOOK
SECRETS TO CRUSHING DAILY FANTASY FOOTBALL!
DON'T SET ANOTHER LINEUP BEFORE YOU READ THIS BOOK.