Hockey Picks Daily Fantasy
Expert Advice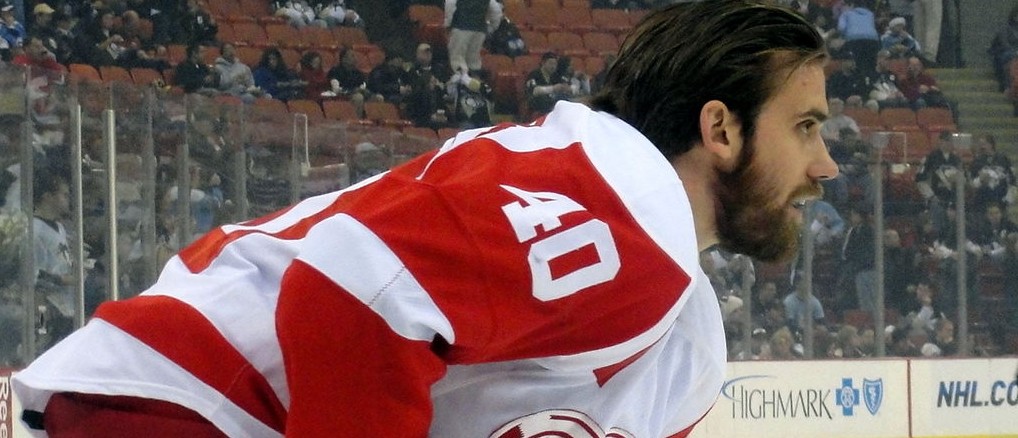 Daily Fantasy Hockey Picks for DraftKings and FanDuel - 10/13/15
The NHL season is here and we'll be bringing you picks 3-4 days a week for the bigger slates to start. We are also beta-testing a new NHL projection system.
Playing other daily fantasy sports like NFL, MLB or NBA. Go ahead and get access to the exclusive projection system that produces all of our picks. Sign up now and get a free 3 day trial to our lineup construction tool for FanDuel, DraftKings, Starsdraft and Draftpot.
The Tuesday slate is a full one with 9 games on tap and plenty of action on both DraftKings and FanDuel. There are multiple top goalie options available so choosing the right one will be key tonight. I have been 4/4 on goalies with 2 shutouts to start the year and will try hard to keep this early run going. Teams on back to back games are Florida, Tampa Bay, Vancouver, Winnipeg with all these teams on the road. We will dig a little deeper and see if we can exploit some matchups.
The first thing to know when playing DFS hockey is that choosing your goalie is very important. In most cases, especially cash games, it is smart to pay up for the best goalie who is the biggest favorite to win on any given night. If you are going to play multi lineups in GPP formats you can start to stray away from the top guys and pick some lower end goalies and stack your forwards and defense. Another thing I watch closely when looking for value picks in DFS hockey is to watch the line combinations as new guys jump up the depth chart and start playing with superstars. The pricing on these players doesn't catch up fast enough and close to minimum priced players can be found nightly with plenty of upside.
The two sites I will be making picks for will be DraftKings and FanDuel. Here is the breakdown of the points for each site:
DraftKings:
Goal(3 Pts)                                                   Goalie Win(3 Pts)
Assist(2 Pts)                                                 Goalie Save(.2 Pts)
Shot(.5 Pts)                                                  Goal Against(-1 Pt)
Short Handed Point Bonus(1 Pt)             Shutout Bonus(2 Pts)
Shootout Goal(.2 Pts)
Hat Trick Bonus(1.5 Pts)
Blocked Shot(.5 Pt)
Fanduel:
Goal(3 Pts)                                                    Goalie Win (3 Pts)
Assist(2 Pts)                                                 Goalie Saves(.2 Pts)
+/-(1 Pt)                                                        Goal Against(-1 Pt)
PIM(.25 Pts)                                                Shutout Bonus(2 Pts)
Power Play Point Bonus(.5 Pts)
Shot(.4 Pts)
There is no difference in goalie scoring between the two sites but there is a significant difference in forward/defense points. On DraftKings you get awarded points for short hand points, blocks, shootout goals, and can receive a hat trick bonus. FanDuel has none of these categories but awards powerplay points, +/-, and penalty minutes. More than anything this affects how I choose my defense. On DraftKings I look for defense who block a lot of shots while on FanDuel I really concentrate on +/- more than anything as it is worth 1 point either way.
GOALIES
Pekka Rinne - Nashville Predators @ NJD **CONFIRMED**
DraftKings - $8,200 FanDuel - $9,200
He was my #1 goalie on Saturday and he paid off huge with a 31 save shutout. He is now 2-0 and only allowed 1 goal on the season. He is in another favorable matchup tonight vs. the Devils who have a -4 goal differential so far in two games. The game has should be a low scoring with two elite goalies facing off so give me the favorite to win.
Kari Lehtonen - Dallas Stars vs. EDM *CONFIRMED*
DraftKings - $6,700 FanDuel - $7,800
He looks to make his debut tonight as newly acquired Niemi has started the Stars first two games. The starting job is up for grabs and Lehtonen will look to start the year strong to make his case for the #1 job. The Stars go up against the Oilers who have only scored 1 goal on the year and aren't gelling quite yet. Take advantage of matchup against the Oilers early in the season before they start scoring in bunches. He presents a great value play on both DraftKings and FanDuel.
Also Consider - Brian Elliott - St. Louis Blues @ CAL
CENTER
Henrik Zetterberg - Detroit Red Wings - vs. TB
DraftKings - $6,600 FanDuel - $7,100
I am not a Red Wings fan. I swear. This is the third time Zetterberg leads my Center picks. Hard not to when he is performing like the he should be the most expensive option but he is 7th on both sites. Until his price adjusts I will keep playing him in any format. He has a goal and 4 assists to start the year and will be in another matchup where there could be multiple goals. He is the leader of the Red Wings and leads with his play on the ice.
Joe Pavelski - San Jose Sharks @ WASH
DraftKings - $6,900 FanDuel(LW Only) - $7,800
He is the top center on the Sharks and plays around 18-20 minutes a game. He has a goal and 2 assists to start the year and the Sharks as a team are a +6 in goal differential. Gets some exposure to the Sharks on Tuesday night.
Also Consider Eric Staal - Carolina Hurricanes vs. FLA
Special Offer
DraftPot has a $100K Guaranteed contest for NFL's Week 6. Sign up and deposit with the promo code "DFSR" to get 100% matching bonus up to $1000. Plus, first time depositors get a free entry to their $10K contest. Oh, and if you sign up through our link we'll throw in a free month of our NFL projections which now include a Draftpot Lineup Builder. That's value baby! Click the banner below.

WINGERS
Vladimir Tarasenko - St. Louis Blues @ CGY
DraftKings - $7,200 FanDuel(RW) - $8,200
He is a bit more of a bargain on DraftKings but a great play on either site. He has points in each of his first 2 games and plays on the Blues top line with Steen and Stastny and gets first line PP time as well. The Blues travel to Calgary for a matchup with the Flames who have allowed 7 goals in two games so far this year.
Justin Abdelkader - Detroit Red Wings vs. TB
DraftKings - $4,600 FanDuel(RW) - $4,800
His price hasn't adjusted yet and he makes a terrific pick in any format until it does. He had a hat trick to open the season vs. the Leafs and followed it up with a goal and an assist at Carloina. He enters another possible high scoring game tonight vs the Lightning and is playing really well with Zetterberg and Larkin on the first line.
Jonathan Drouin - Tampa Bay Lightning @ DET
DraftKings - $4,400 FanDuel(LW) - $4,400
He is a star on the in the NHL and getting using him while he is still cheap is a good idea. He plays on the top line with superstar Steven Stamkos and has already got 3 points in 3 games on the year. As mentioned with the Red Wings players, this game has the potential for lots of scoring and Drouin makes a cheap option to get exposure to the Lightning.
Jamie Benn - Dallas Stars vs. EDM
DraftKings - $7,300 FanDuel(LW) - $8,300
If I am paying up for a winger tonight, Benn will be one of my top choices. He forms a great 1/2 punch with Tyler Seguin on the stars top line and has double digit point upside almost every night. He has a point in each of his first 2 games and now gets to face a defensive lacking Oilers team. This could be the game where the Stars align(pun intended) for multiple points and a win.
Also Consider - JT Miller - New York Rangers (LW on FanDuel, C on DraftKings)
DEFENSE
Jason Garrison - Tampa Bay Lightning @ DET
DraftKings - $4,200 FanDuel - $3,700
On most days in cash games I want to pay up for Goalie and get some of the top forwards in my lineup. To do this I try and find value in my defense. Garrison has started the year with 2 goals and 1 assist and a +2. He is usually good for a couple blocked shots and he gets his shots as well. This game has the potential to be high scoring and Garrison is a cheap way to get exposure.
Seth Jones - Nashville Predators @ NJ
DraftKings - $3,700 FanDuel - $4,400
He is an even cheaper option that presents great cash game value. He has been playing on the first power play unit with Ellis and logging about 20 minutes a game so far. He will have his opportunities even though it is on a defenseive minded Predators team.
Also Consider -  Justin Faulk - Carolina Hurricanes vs. FLA
Love what you read, and hungry to learn more about putting together winning daily fantasy football lineups? Check out our FREE eBook by getting a copy below. Want to cut out the research, and just get the best plays? Grab a free 3 day trial of our projection system, on us!
FREE EBOOK
SECRETS TO CRUSHING DAILY FANTASY FOOTBALL!
DON'T SET ANOTHER LINEUP BEFORE YOU READ THIS BOOK.