Basketball Picks Daily Fantasy
Expert Advice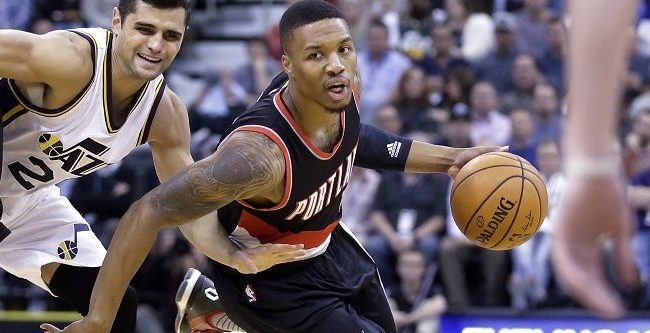 Daily Fantasy NBA Picks for FanDuel, DraftKings and DraftPot - 11/9/15
The NBA is back! And honestly, I feel like if never really left us. The Finals seem like yesterday, the off season saw a ton of moves and we are ready to jump back into another season. We'll be bringing you daily picks for FanDuel, DraftKings and more. It's going to be a great season.
If you want access to the winning projections that inform each and every one of these picks, just sign up for a 3-day trial to our database, lineup builder and Google Chrome extension that auto-populates your lineups into FanDuel and DraftKings. While the seasons overlap, you'll get access to our tools for the NBA, NFL, and NHL! Get started with a free trial by clicking the button below.
First time with NBA? Be sure to read our free NBA Ebook on building lineups, general strategy and more. We've got you completely covered.
POINT GUARD
Damian Lillard - FD 8900 DK 8500
Opponent - DEN FD Proj. Pts - 38.37 DK Proj. Pts - 41.3
I'm writing this before the Portland/Detroit game on Saturday, so if Lillard breaks his face or something before you read this, I apologize. Since his entire team left in the off season, Lillard has moved into an even more prominent role. And, oddly, his price really hasn't moved as a result. He's up to a 32.4% usage from a 27.6% usage in 2014-2015, and his assists are up as well. He'll also be up against the Denver Nuggets, who pair a top 30% PACE with a bottom 30% defensive efficiency. Mudiay hasn't proven to be a top defender at this early stage in his career, and Lillard looks like a high floor monster on a slate sorely lacking anything resembling that at the position.
Derrick Rose - FD 6900 DK 5800
Opponent - PHI FD Proj. Pts - 29.01 DK Proj. Pts - 30.66
After playing 36 and 37 minutes in his last two games, it looks like the Bulls are finally ready to unleash the full force of Derrick Rose on us. While it's still not the MVP Rose of yore, it's still a guy who can put up some serious numbers in the right situation. Well, Philly almost certainly qualifies as that. Their PACE isn't as fast as it used to be, but their 6th-worst-in-the-league defensive efficiency makes up for it. On DraftKings in particular, this price might just be too good to pass up.
Austin Rivers - FD 3500 DK 3000
Opponent - MEM FD Proj. Pts - 18.03 DK Proj. Pts - 19.18
The obvious punt play tonight if Chris Paul is out again (and he's doubtful as of this writing), Rivers brings essentially one thing to the table tonight - minutes. The Clips sorely lack anyone else who can bring the ball up the court, and while he's no great shakes, that opportunity is absolutely worth something at the very minimum price on all sites tonight.
TJ McConnell looks like a fantastic play on FanDuel, and a reasonable play on DraftKings.
Your nightly Steph update: We've advised being cautious with Curry on these prices recently, citing the unsustainability of his FG% and 3PT%. Now, Curry might actually be a God among us, but on the off chance he isn't, I'm going to stay away at these prices in games where a blow-out looks likely.
SHOOTING GUARD
C.J. McCollum - FD 6600 DK 6500
Opponent - DEN FD Proj. Pts - 29.1 DK Proj. Pts - 31.15
McCollum is an oasis at a desert of a position tonight. McCollum has been as steady as humanly imaginable, posting precisely 31.2 FanDuel fantasy points in each of his last 3 games. Okay, he scored 31.3 in his last game. Yes, he's run a little hot from 3 this season, but outside of that, this simply looks like a player who's translating greater opportunity (both in terms of minutes and lack of talent around him) into pretty much what you'd expect. Sweetening the deal is the lousy Denver Nuggets. They allowed 9% more scoring and 18% more rebounding to opposing shooting guards last season, and have an arguably even weaker defensive pairing at shooting guard this season (Gary Harris, Will Barton) than they did last year (Randy Foye, Arron Afflalo for a little while). I'll play McCollum everywhere.
Danny Green - FD 4300 DK 4300
Opponent - SAC FD Proj. Pts - 23.07 DK Proj. Pts - 26.25
Here's a great way to get away from a position cheaply with a guy who just can't keep being this bad. Green is a career 44% shooter with a 41% 3PT%. This year, Green is shooting % from the field, and a dismal 21% from 3. It simply won't continue. And if you're wagering on a time that it will turn around (and you are, if you're playing daily fantasy basketball tonight), this match-up with the Kings is as good a time as any. The Kings have the 3rd worst defensive efficiency in the league, and play at the 3rd fastest PACE. They also roll out Marco Belinelli and Ben McLemore at the 2. I'm smelling a big turnaround game, and wouldn't mind playing Green in any format.
Kyle Korver - FD 5400 DK 4600
Opponent - MIN FD Proj. Pts - 19.51 DK Proj. Pts - 22.43
You're pretty unlikely to text your buddy something like, "Dude, found a way to get Korver in the lineup tonight." But if the last few years have taught me anything, it's that unsexy often wins in daily fantasy hoops. In limited action so far this season, Korver is basically the same guy he was on a per-minute basis last year, except his 3 ball hasn't quite been falling. I'll take his 13 year track record in the league over 6 games, thanks very much. While Wiggins is long, he's prone to falling asleep on the job, which is exactly what you don't want to do if you're tasked with chasing Korver around on the perimeter.
Lance Stephenson is looking like a great value on minimum prices again, as his 22-23 minutes a game is looking awfully secure. Evan Fournier looks like a nice play on FanDuel as well.
OVERLAY ALERT AND FREE ACCESS TO OUR PROJECTIONS!
NBA may just be starting, but NFL is in full swing. DraftPot has a $100K Guaranteed contest for NFL's Week 8. Sign up and deposit with the promo code "DFSR" to get 100% matching bonus up to $1000. Plus, first time depositors get a free entry to their $10K contest. Oh, and if you sign up through our link we'll throw in a free month of our NFL and NBA projections. That's value baby! Click the banner below.
SMALL FORWARD
Paul George - FD 8500 DK 8600
Opponent - ORL FD Proj. Pts - 41.03 DK Proj. Pts - 43.72
Kawhi Leonard - FD 8200 DK 8100
Opponent - SAC FD Proj. Pts - 39.84 DK Proj. Pts - 41.51
Optimal lineups from our projection system will almost certainly include 1 of either George or Leonard, and may just include both. I gave you something like 200 words on George last night that boiled down to this - he's playing essentially the exact same ball as he did pre-injury, and that's just worth more than these prices. I like him against Tobias Harris, who is unlikely to match George's energy on the defensive end. As for Leonard, he's only been a shade worse than George this season, and present arguably as much upside on a cheaper price. The concern there is that the Spurs are quite likely to blow the Kings out, meaning he could be a minutes risk.
Danilo Gallinari - FD 6700 DK 6100
Opponent - POR FD Proj. Pts - 29.6 DK Proj. Pts - 32.09
Our system also like Tobias Harris and thinks Marcus Morris could be an upside play if Detroit manages to keep it close, but I'm partial to Gallinari. You're looking at him paying these prices handily three straight games, where he played 34+ minutes in each. In essentially a league average match-up with the Blazers, I see no reason that it won't continue.
Keep an eye on Nemanja Bjelica. If he gets the start again, it stands to reason that he could put up another huge night on these prices.
POWER FORWARD
Paul Millsap - FD 8100 DK 7700
Opponent - MIN FD Proj. Pts - 34.41 DK Proj. Pts - 35.95
Millsap has been a guy you can set and forget all season. No huge games, but his very worst performance was a 31.1 fantasy point game in the Hawks' opener. And it all looks sustainable - he's basically just repeating last season's per-minute stats almost to the letter with the exception of a few more boards. Whether he's up against the ghost of Kevin Garnett or Nemanja Bjelica, I don't expect that htis will be the first game that Millsap takes a step back.
Pau Gasol - FD 7800 DK 7300
Opponent - PHI FD Proj. Pts - 34.23 DK Proj. Pts - 34.81
Pau's been quietly consistent so far this season, and he'll have a nice match-up with Philly's inexperienced front-court in this one. This isn't a sexy, big upside play or anything - but I expect him to be a very solid guy to build your cash game squads around.
Draymond Green - FD 7600 DK 6800
Opponent - DET FD Proj. Pts - 31.86 DK Proj. Pts - 33.92
It feels goofy recommending three guys in basically the same price range, but I wanted to highlight Green as a particularly nice play on DraftKings. Yes, the Warriors are a risk to blow out their opponents every time they set foot on the court, but Green has still been solidly in the mid thirties in terms of fantasy points in nearly every contest. While that might not float his FanDuel price, his DK price actually gives you the flexibility you need to spend up at other key positions. And, the Pistons, for their part, aren't like to stop him with their Ersan Ilyasova/Anthony Tolliver combo, that's for sure.
On DraftKings, Lamarcus Aldridge is absurdly cheap for what he could do. Don't let his foul trouble last time out spook you - he should be able to get his minutes even in a lopsided contest here.

CENTER
Karl-Anthony Towns - FD 6700 DK 7400
Opponent - ATL FD Proj. Pts - 34.4 DK Proj. Pts - 34.97
Towns' season line is still not quite reflecting what this man is capable of, and that just means more good eats for those of us paying attention. While he's been a little bit erratic, Towns has been a per-minute beast, putting up 33.2 fantasy points per game on fewer than just 28 minutes. The real key here is why he's getting just 28 minutes a game. It's not a rotation thing - it's largely been a function of some wonky foul trouble stuff. Now, KAT looks like a guy who will be in foul trouble from time to time, but I'm happy to accept that risk for the upside, here.
Jahlil Okafor - FD 5900 DK 6300
Opponent - CHI FD Proj. Pts - 29.21 DK Proj. Pts - 29.66
Speaking of risk/upside, welcome Jahlil Okafor! Yes, it's an all-rookie top 2 at the center position today. Philly has actually been pretty spunky this season, and has been avoiding blowouts very nicely. That's a good thing for Okafor's minutes. He's been averaging 35 minutes a game in games that don't get out of hand, and I like him against a Bulls team that has been a little bit more offensively focused down low than they were when Noah was starting and playing 30+ minutes a game. Okafor is shooting 53% so far, and he's probably got more rebounding upside than we've seen so far. It feels a lot riskier than Towns, but I still like it for GPPs.
And that's pretty much it. Our system likes a smattering of other more expensive guys, but I just can't imagine paying up for guys who are more expensive with a similar track record to Okafor and Towns (Gasol, for instance). If you want to see exactly how all of their projections shake out, feel free to grab a free three day trial of our projection system!
So yeah, basketball season! And we've got some goodies you can take with you. At the end of the post, we have our NBA eBook that you really ought to check out before setting even a single daily fantasy NBA lineup. It's free, below.
We've also got our exclusive projection system, which you can grab a free three day trial for to get your sea legs under you as the NBA season begins. Click below to check it out!
FREE EBOOK
SECRETS TO CRUSHING DAILY FANTASY FOOTBALL!
DON'T SET ANOTHER LINEUP BEFORE YOU READ THIS BOOK.