Hockey Picks Daily Fantasy
Expert Advice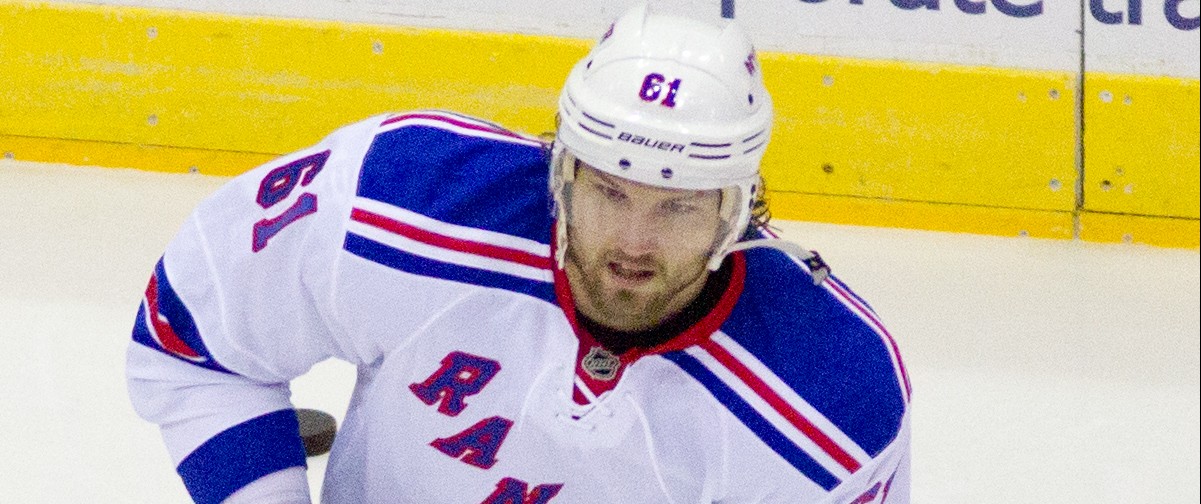 Daily Fantasy Hockey Picks for DraftKings, FanDuel, & DraftPot - 11/30/15
Playing other daily fantasy sports like NFL, MLB or NBA. Go ahead and get access to the exclusive projection system that produces all of our picks. Sign up now and get a free 3 day trial to our lineup construction tool for FanDuel, DraftKings, Starsdraft and Draftpot.
Welcome to the daily fantasy hockey picks article for DraftKings, FanDuel, and DraftPot for Monday, November 30, 2015. We have a small Monday schedule going tonight with 4 games starting at 7pm EST. No one is playing the second game of a back to back tonight, so expect everyone to be rested.
Lets now dig in to the matchups and find some star and value plays for today's games.
GOALIES
STAR PLAY: Henrik Lundqvist - New York Rangers vs CAR
DraftKings - $8,100 FanDuel - $10,400 DraftPot - 6.70DPPG
The top goalies of the night comes in having lost 2 straight in which he gave up 9 goals and has allowed 13 in his last 4. But tonight, with a weak slate in which nearly half the teams are confirmed to be starting backups and minors call-ups, Lundqvist is far and above the best star pick for goalies even with the recent blip. He's a better goalie on home ice this year, and facing a Carolina team who's showed life lately, but still has an offense that is extremely weak. On a short slate tonight with no one else really sticking out, look for the King to bounce back.
Also Consider: None
VALUE PLAY: Anders Nilsson - Edmonton Oilers @ TOR
DraftKings - $6,300 FanDuel - $6,300 DraftPot - 3.64 DPPG
Here's your best bet tonight for a value goalie. With such a weak set of goaltenders going tonight, offense will most likely be running high and you'll want to have that extra salary for your forwards. Nilsson is facing a Toronto team starting it's 3rd string goaltender who's just been called up. As well, Nilsson has looked great in his past 4 games, shutting down NJ, WAS, and PIT. Playing on the road, which agrees with Nilsson to the tune of nearly a 1 GAA drop in his averages, look for him at minimum to pick up the W tonight.
Also consider: Thomas Greiss - New York Islanders vs COL
CENTER
STAR PLAY: Ryan Getzlaf - Anaheim Ducks vs VAN
DraftKings - $6,300 FanDuel - $8,300 DraftPot 3.50DPPG
The Ducks are still a team that's been missing more than it's clicking, but Getzlaf looks to be finding his stick again. The production has been inconsistent, some nights he'll be the star he is, others he's disappeared. With 8 points in his last 5 games, helped by a 5-assist performance in Calgary, he looks to be on the upswing and tonight's a great night to line him up for a reduced cost.
Also Consider: John Tavares - New York Islanders vs COL
VALUE PLAY: Leon Draisaitl - Edmonton Oilers @ TOR
DraftKings - $4,100 FanDuel - $3,900 DraftPot  - 3.08DPPG
Draisaitl has come back to earth recently thanks to a grueling stretch which saw him play 4 games in 6 nights. With the day off, he looks to be in a great position to bounce back against a Toronto team starting it's 3rd string goaltender. The Hall/Purcell/Draisaitl line is going to continue to be a productive one in Edmonton.
Also Consider - Rickard Rickell - Anaheim Ducks vs VAN
WINGERS
STAR PLAY: Rick Nash - New York Rangers vs CAR
DraftKings - $7,200 FanDuel - $9,500 DraftPot - 4.93DPPG
For a while there, the trainers in New York were checking Rick Nash for a pulse before and after games because the production from him was not there. He's turned that around lately, depositing 6 goals in his last 5 games. Facing a Carolina team who loves to give up goals, Nash and his linemates look have high floors tonight. The taste in his mouth from the drubbing in Philadelphia over the weekend won't last and he'll have a multi-point night tonight.
Also Consider: Taylor Hall - Edmonton Oilers @ TOR
VALUE PLAY: Jannik Hansen - Vancouver Canucks @ ANH
DraftKings - $3,600 FanDuel - $5,500 DraftPot - 3.70 DPPG
Hansen's been flying under the radar so far this season and hasn't shown up on too many rosters. On a line with the Sedin's and facing an Anaheim team starting a backup goaltender tonight, he looks to be getting on in the action. He's racked up 15 points so far this season, 4 in his last 4 games. He loses some luster for not being on the PP units, but at 5 on 5, he'll receive ample opportunities to get involved.
Also Consider - Teddy Purcell - Edmonton Oilers @ TOR
DEFENSE
STAR PLAY: Justin Faulk - Carolina Hurricanes @ NYR
DraftKings - $5,900 FanDuel - $6,500 DraftPot - 3.78DPPG
Defense is rather thin tonight at the top as some of the other options are either in slumps or in poor matchups. Faulk doesn't appear to be in a prime matchup as an offensive-minded defenseman against King Henrik, but if the King falters as he's done in 3 of his last 4, expect Faulk to be involved. He's netted points in 8 of his last 10 games and 5 in his last 4 alone. Kept off the score and shot sheet in Buffalo over the weekend, expect Faulk to lock and load whenever he gets a chance from the point tonight.
Also Consider: Francois Beauchemin - Colorado Avalanche @ NYI
VALUE PLAY: Andrej Sekera - Edmonton Oilers @ TOR
DraftKings - $3,100 FanDuel - $4,300 DraftPot - 2.45DPPG
Sekera comes in as a top pair defenseman and the point man on the top power play unit for Edmonton at an extremely reasonable price for his ceiling. He's put points up in his last 2 games and is no stranger to sacrificing his body to block shots (averaging 1.9/game in his last 10). Against a Toronto team tonight looking to steal one with a 3rd string goalie, he's a solid start for the price.
Also Consider - Dion Phaneuf - Toronto Maple Leafs vs EDM
Love what you read, and hungry to learn more about putting together winning daily fantasy football lineups? Check out our FREE eBook by getting a copy below. Want to cut out the research, and just get the best plays? Grab a free 3 day trial of our projection system, on us!
image sources
Rick_Nash_Rangers: By Robert Kowal (Rick Nash) [CC BY-SA 2.0 (http://creativecommons.org/licenses/by-sa/2.0)], via Wikimedia Commons
FREE EBOOK
SECRETS TO CRUSHING DAILY FANTASY FOOTBALL!
DON'T SET ANOTHER LINEUP BEFORE YOU READ THIS BOOK.