Basketball Picks Daily Fantasy
Expert Advice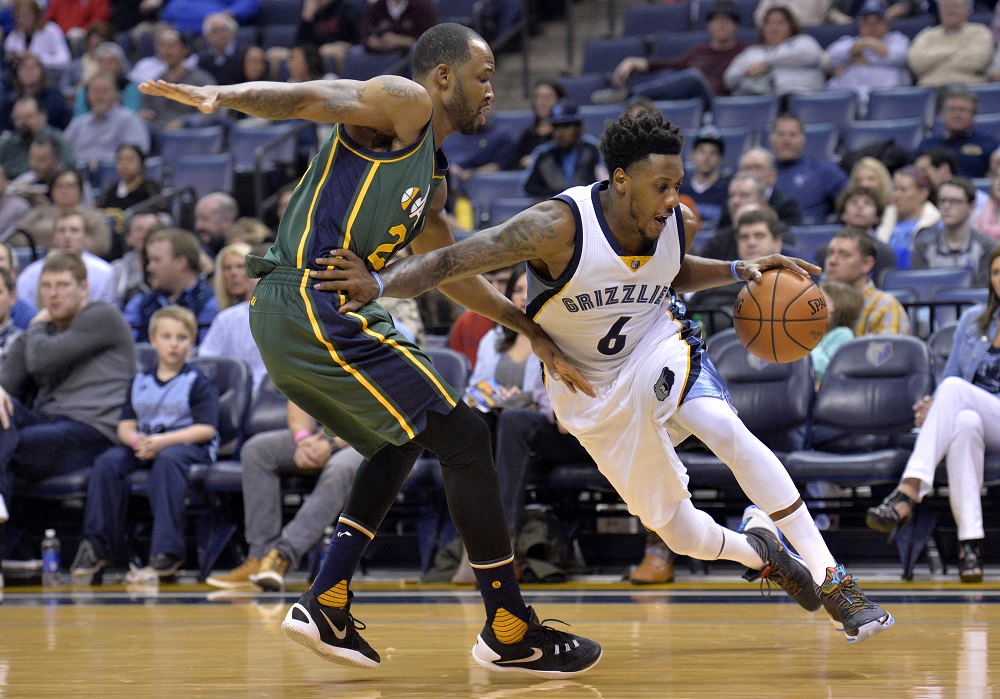 Daily Fantasy Basketball Injury News and Updates for FanDuel and DraftKings - 3/9/16
Welcome to the daily updates and injury news article. We'll try and update it right up to line-up locks with as much information as comes across our desks. Let's get to it!
Last night's picks can be found here, so you can wrap your mind around what you need to be looking at before lineups lock tonight.
By the way - we keep our projection system updated with all of the changes as they occur throughout the day right up until lineup lock. Every day. If you want access to that system so you can cut out a lot of the research element, click the button below!
What We Know
Mario Chalmers is starting again with Conley out
He played 41 minutes and paid 7x points per dollar in his last start, so it felt relevant to mention. I love Chalmers in all formats.
Nerlens Noel is back, Jahlil Okafor is still out
All this means is that we get to stop recommending Jerami Grant, who never quite turned in the huge performance we were hoping for with the Sixers mixing both of their big men. I won't play Noel - the minutes are too speculative - and this also (mostly) kills Grant's value outside of a home-run big tournament play.
Dion Waiters is out
The only issue is, he doesn't really do anything even when he actually plays. This will free up a lot of minutes to go to someone like Randy Foye, but that makes him an interesting big tournament play at best. Nothing relevant to double-ups, here.
What We're Waiting to Know
Will Hassan Whiteside recover from the NBA flu?
Does anyone get "stomach illnesses" more than NBA players? I say no. I wasn't planning on playing Whiteside tonight, but if he does miss the game, it should affect a lot of what the Heat do. We can't totally use the last game he missed as a great indicator as to what will happen if he misses tonight since Dwyane Wade also missed the game, but it's worth noting that Luol Deng and Justise Winslow both played huge (and effective) minutes in his absence, and Josh McRoberts got 30 minutes off the bench. Gerald Green also played big minutes in that game, but that was almost certainly a result of Wade's absence. It's a good match-up with the Bucks, so I'm definitely looking at a number of Heat guys if Whiteside's bellyache keeps him out here.
Update: It's been revealed that Whiteside will play, and our projections reflect that currently.
Norris Cole's status
Cole played 40 minutes on Monday, and is now listed as questionable with lower back problems. This creates total chaos in New Orleans, as the Pelicans are already without Tyreke Evans, Eric Gordon, and Bryce Dejean-Jones. Cole's absence would mean an incredible amount of Jrue Holiday, and a ton of run for Toney Douglas. Douglas had some solid games as a min-priced starter earlier this season, and the team is more depleted now than it was then. If he's going to play 30+ minutes, he's a very solid play.
Zach Randolph is doubtful, Matt Barnes likely to play
Injury sites are saying that Barnes and Randolph missed just to "rest," but both have nagging injuries they're nursing as well. If they miss this one it opens up another slate where 50/50s and double-ups are going to be stuffed to the gills with stray Grizzlies like Tony Allen, Vince Carter, and Jamychal Green.
Update: Zach Randolph is being listed as doubtful right now, which would leave JaMychal Green as the main show in town at the power forward position tonight. I'd also expect Matt Barnes to get some increased run out there as well, as he's played the 4 in a pinch in the Grizzlies' smaller lineups this season. Green is a phenomenal play once again.
Will Jared Sullinger play tonight?
Sullinger was released from the hospital with his skin infection (YUCK), and Brad Stevens said he's hopeful to have him available against the Grizzlies tonight. Sullinger's been playing increased minutes recently, and his absence would leave 28-31 minutes to redistribute among the other Celtics bigs. It'd likely mean a big boost in playing time to Amir Johnson, especially if Kelly Olynyk misses yet another game. I'd keep my eye out and see who was named the starter, and play him.
Rodney Hood's status
Hood is being listed as questionable, and reports are that he might get a day of rest on the 2nd half of a back to back. If Hood winds up sitting, I'm not sure I love any of the guys who could replace him in the starting lineup. Chris Johnson, Joe Ingles - these guys haven't been especially inspiring on a per-minute basis this season. It does give slight usage boosts (roughly 10% each) to Derrick Favors and Gordon Hayward, though, and in a fast paced match-up it could make either more viable.
The "Every Lineup" Guys
Here are the players that wind up in each of the top 10 lineups produced by our lineup optimizer.
Mario Chalmers - FD 5300 DK 5200
Opponent - BOS
FD Proj. Pts - 30.85 DK Proj. Pts - 32.21
No surprise here. Fast paced match-up with a poor defender (Isaiah Thomas), and a huge increase in minutes on account of Mike Conley's absence. He'll be a huge start tonight in cash games, even on a big slate.
Anthony Davis - FD 10000 DK 9700
Opponent - CHA
FD Proj. Pts - 49.4 DK Proj. Pts - 50.15
He's projected to score as much or more than everyone on the slate except James Harden and Russell Westbrook, except he's $1,000 or more cheaper than the top guys. The Hornets have been an above average match-up for opposing fours all season, but they're really poorly equipped to handle the game of an exceptional offensive player in the paint.
Robert Covington - FD 5700 DK 6100
Opponent - HOU
FD Proj. Pts - 29.2 DK Proj. Pts - 32.46
A little riskier than the above guys, for me, just because Noel is coming back and could take some of his minutes. Still, if you figure he's going to play 32+ minutes again tonight, he's a phenomenal play against the Rockets. Houston's allowed the very most fantasy points to opposing small forwards this season, and Covington's paid 5x+ points per dollar in each of his last 3 games even in considerably worse match-ups.
Good luck out there today! If you want access to all of our numbers, get started with a free trial below - on us! You can also get started with DFSR pro - our brand new lineup optimizer!
FREE EBOOK
SECRETS TO CRUSHING DAILY FANTASY FOOTBALL!
DON'T SET ANOTHER LINEUP BEFORE YOU READ THIS BOOK.