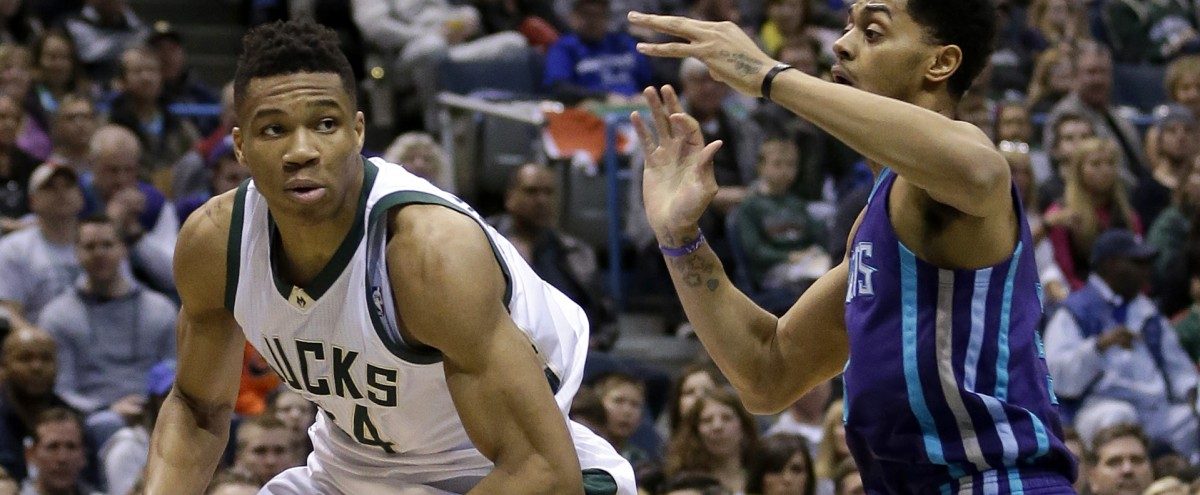 Daily Fantasy NBA Basketball Picks for FanDuel and DraftKings - 4/8/16
The regular season is winding down and honestly, I can't wait for the playoffs to come. These last few days of the season just aren't the NBA that I love. It's too much tanking interspersed with other teams playing their heart out with a dash of randomly resting players. It just isn't that much fun. But alas, we forge ahead and this slate actually has some pretty obvious value plays.
Now's your chance to get a free trial of DFSR Pro with NBA Optimal Lineups, Projections, Player Cards. Or try a free trial of our base package with projections for every player. While the seasons overlap, you'll get access to our tools for MLB and NHL as well! Get started for free by clicking the button below.
First time with NBA? Be sure to read our free NBA Ebook on building lineups, general strategy and more. We've got you completely covered.
A quick heads up - we post an updates article every day in the early afternoon, EST, to catch everyone up on how things are changing as a result of whatever news has come through. We also have great talks in the comments of that article. Hope to see you there!
We've also launched a Stats and Research Page, which includes a lot of the individual statistics that we use to make our projections. It's free! Enjoy.
POINT GUARD
Austin Rivers - FD 3800 DK 3500
Opponent - UTA
FD Proj. Pts - 23.22 DK Proj. Pts - 24.73
The Clippers did us a huge favor and let everyone know early that they were sitting CP3, Redick, Wed J and DeAndre. That helps a bunch in projecting minutes and we have a recent game that helps see how they'll deploy the run. Austin played close to forty minutes last week in a similar set up and jacked up an ungodly 19 shots. We channeled his inner Steph and went 7-9 from three. Don't expect that to happen again. But the minutes will be there for sure as the Clips will be very short in the backcourt.
Reggie Jackson - FD 6000 DK 6100
Opponent - WAS
FD Proj. Pts - 32.79 DK Proj. Pts - 34.09
He's been steady-Eddie over the short term which sometimes is about all you can ask for this late in the season. Jackson's minutes haven't increased really, but he shows up and SVG gives him his set run. It keeps the price in check and he's got a great matchup against the Wiz tonight who play at a super fast pace. Jackson is more cash game play for me at this point because short of an overtime he won't see a bump in minutes. But I think the floor is solid for his price.
Shane Larkin - FD 4700 DK 4600
Opponent - CHA
FD Proj. Pts - 24.86 DK Proj. Pts - 26.02
Larkin's price has climbed but not to the point it should be considering his newfound role as starting point guard and dude who runs most ofthe Nets minute at the one. With the Nets obviously fully sunk we can garner a little bit of safety knowing that Larkin's role appears set in stone. Coming sub 5K on both sites is still a bargain and he does enough across the box score to keep the floor higher.

SHOOTING GUARD
Jamal Crawford - FD 4600 DK 4500
Opponent - UTA
FD Proj. Pts - 27.8 DK Proj. Pts - 30.19
Same line of thinking as Rivers above. In the last game without Paul and JJ, Crawford went 40 minutes, put up 20 shots and dropped a 32/7 on OKC. Expect Crawford, Rivers and Jeff Green to get a lion's share of the shot volume here and both are close to must plays considering the amount of time they'll be on the court.
Devin Harris - FD 3800 DK 3500
Opponent - MEM
FD Proj. Pts - 19.09 DK Proj. Pts - 20.97

Wesley Matthews - FD 5200 DK 5000
Opponent - MEM
FD Proj. Pts - 24.48 DK Proj. Pts - 27.91
These two have been playing a ton of minutes recently in a somewhat altered Maverick backcourt. Dallas has been running many, many more small ball sets meaning there's minutes for Barea, Matthews and Harris. Dallas controls its own playoff fate though meaning they need to keep winning out over the last couple of games to make sure they make the playoffs. I think you'll keep seeing bigger minutes from these guys and both are deals in their salary brackets.
Courtney Lee - FD 4300 DK 4000
Opponent - BKN
FD Proj. Pts - 22.81 DK Proj. Pts - 24.27

Bradley Beal - FD 6000 DK 6100
Opponent - DET
FD Proj. Pts - 27.83 DK Proj. Pts - 29.76
These two are your if/then plays. If John Wall sits again then Beal gets a big old spike in expected usage. If Batum sits again then expect Lee to keep playing minutes close to 40 per.
SMALL FORWARD
Giannis Antetokounmpo - FD 9700 DK 9700
Opponent - BOS
FD Proj. Pts - 45.82 DK Proj. Pts - 46.99
One thing that tends to happen late season in NBA DFS is a ton of cheap options and more and more questions about where to allocate those big dollars. It can be tough to figure out (if you don't have a system for this kind of thing, wink, wink) to know how to spend when there are seemingly endless punts. All that being said, Giannis is going to show up almost everywhere tonight because he's the raw points guy by a relative mile on this slate and you can easily afford his salary. He's been playing a ton of minutes and should have a higher floor in an up and down game against the Celtics.
Jeff Green - FD 4200 DK 3800
Opponent - UTA
FD Proj. Pts - 25.34 DK Proj. Pts - 26.81
Another guy who stands to see a significant minutes increase with the big guys on the Clips resting. Last time they all sat Green played 35 minutes off the bench and put up 19 shots. I think he has a chance to start in this game because Wes Johnson is sitting out as well. Even if he comes off the bench I'd project Green for minutes in the mid 30's at the minimum.
Gordon Hayward - FD 6800 DK 6700
Opponent - LAC
FD Proj. Pts - 32.72 DK Proj. Pts - 34.63
He's pretty far below the two guys above for me. But the Jazz are still fighting for a playoff spot and that keeps Hayward's minutes pretty safe all things considered. He'll be playing against the Clippers' second unit, but that group has showed some signs of life in the past when playing together. I think they can keep it close-ish against the Jazz mostly because of how slow the Jazz play.
Consider James Ennis if he's still starting
POWER FORWARD
Derrick Williams - FD 4500 DK 4600
Opponent - PHI
FD Proj. Pts - 24.55 DK Proj. Pts - 26.02
He'll likely start again for Zinger on Friday and Williams has been excellent (from a fantasy perspective, the Knicks are a mess) since taking over at the four. Last game he put up a 17/10 in 32 minutes and could even stand to see a slight minutes decrease and still be in play as a solid cash game option. He scores and rebounds and has a great matchup against the Sixers.
Jason Smith - FD 3800 DK 3100
Opponent - MIA
FD Proj. Pts - 22.1 DK Proj. Pts - 22.66

Andrew Nicholson - FD 4300 DK 3800
Opponent - MIA
FD Proj. Pts - 19.89 DK Proj. Pts - 20.81
Aaron Gordon is sitting out tonight and someone is going to pick up his minutes on the cheap. I'm not saying it will definitely be one of these two guys, but more wanting to point out that either/ both make very solid Pts/$ plays if they stand to see minutes in the mid-to-upper twenties. Each is a solid per minute guy and I'd be tempted to run whoever the Magic started in place of Gordon.
Markieff Morris - FD 5600 DK 5500
Opponent - DET
FD Proj. Pts - 29.38 DK Proj. Pts - 30.42
I still think he's an upside play if the minutes are there. He's more a tournament play for me at this point because his run isn't set in stone, but if he climbs back into the mid 30's then you are looking at such fantastic value for the prices. He can score and rebound with really anyone, but he's such a headcase and can't stay on the court consistently.
CENTER
Cole Aldrich - FD 3700 DK 3500
Opponent - UTA
FD Proj. Pts - 29.81 DK Proj. Pts - 30.28
He's the fourth Clipper and I could see easily playing all four in cash games if you can round out the salaries somewhere else. That's actually the only real concern this late in the season: spending the money. But center is the place to play Cole. He's so far and away better than the other center options on this slate that I'm going to call him the only real consideration and move on with my life. It's that wide of a gap considering his price and how the Clippers have used him in the past with the big boys out.
So yeah, basketball season! And we've got some goodies you can take with you. At the end of the post, we have our NBA eBook that you really ought to check out before setting even a single daily fantasy NBA lineup. It's free, below.
GRAB A FREE TRIAL OF OUR PROJECTION SYSTEM, AND CHECK OUT DFSR PRO!
GET OUR FREE EBOOK ON DAILY FANTASY NBA!
And Daily Fantasy NBA Picks for FanDuel and DraftKings every day!
image sources
Giannis Antetokounmpo, Jeremy Lamb: (AP Photo/Aaron Gash)