Basketball Picks Daily Fantasy
Expert Advice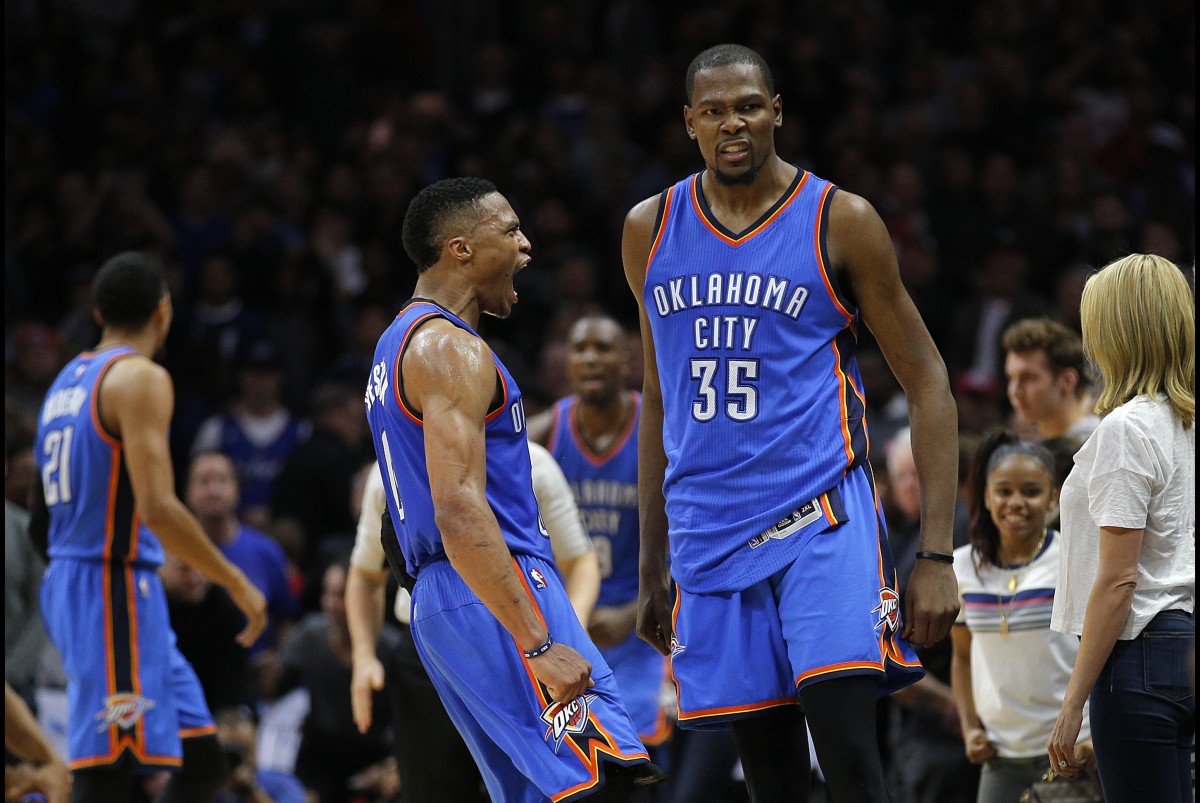 Daily Fantasy NBA Basketball Picks for FanDuel and DraftKings - 4/21/16 Opening Round
Thursday brings us to the first games with higher seeds on the road. Home court advantage is something often speculated about, but I did some research to see if it really makes a difference, particularly in the first round of the playoffs. You can't draw quite that specific of a conclusion, but there is definitely an advantage, and the best I can estimate is 5 points on the spread. That's right in line with the spreads from the first two games of this years' series compared to game 3. How helpful is that for DFS? I think you can expect that, at the margins, key players perform slightly better in Game 3 for the lower seeds. I can't statistically validate this, but I suspect that higher seeds may play their top guys a little longer than usual if the games are closer. Keep those trends in mind when setting your lineups. Also, keep in mind that these projections assume Steph Curry will play his normal allotment of minutes. If he doesn't go, the other GSW players will get significant bumps (especially Shaun Livingston and Draymond Green - no really).
Note that this article's format changed when the playoffs started. Additionally, there won't be a separate update article. Check back to this article throughout the day Thursday and review the discussion in the comments below for updated information.
Now's your chance to get DFSR Pro with NBA Optimal Lineups, Projections, Player Cards and Google Chrome extension that auto-populates your lineups into FanDuel. Or try a free trial of our base package with projections for every player. While the seasons overlap, you'll get access to our tools for the NBA and NHL (and MLB when the time comes)! Get started for free by clicking the button below.
First time with NBA? Be sure to read our free NBA Ebook on building lineups, general strategy and more. We've got you completely covered.
We've also launched a Stats and Research Page, which includes a lot of the individual statistics that we use to make our projections. It's free! Enjoy.
Oklahoma City Thunder at Dallas Mavericks
Analysis
After a Game 1 beat-down by the Thunder, the Mavs came back and stole Game 2 at the buzzer in OKC. What changed? Dallas hit the boards and cut the rebounding deficit way down, and the Thunder (particularly KD) couldn't make a shot. It will be interesting to see how much OKC's shot was off due to defense or just variance. I'm looking for a bounce-back from the Durant-Westbrook combo, and the DFSR projections seem to agree. With the shift to DFW, that should make for a competitive game, and the majority of picks on the night come from this game.
Top Value Plays
Raymond Felton - FD 5300 DK 4700
Opponent - OKC
FD Proj. Pts - 28.11 DK Proj. Pts - 30.03
Felton had to play over 40 minutes with injuries to the Mavs' other PGs. He responded by shooting well from the field and crashing the boards for an unlikely double-double. That'll lead to a 10x from a guy not priced for that kind of run. His salary has gone up 20% on DK, not nearly enough to account for his likely opportunity. He is easily the Pts/$ play of the night at the position on both FD and DK. He will be in a ton of lineups, but it'll be hard to fade him and win cash games if he produces.
Russell Westbrook - FD 10500 DK 10900
Opponent - DAL
FD Proj. Pts - 53.77 DK Proj. Pts - 55.73
What, you thought I'd wait very long to write up Russ? I have a hard time resisting picks with 5x projections in the $10k+ salary range. He didn't shoot much better than Durant in Game 2 and still nearly put up a 5x by spending all night on the glass. He just gets his. He's the second-best PG option on FD and if Curry doesn't play the only PG option north of $5k in salary. I'm always of the opinion that Russ = Cash Lineup and that equation doesn't change on Thursday.
Dirk Nowitzki - FD 6800 DK 6100
Opponent - OKC
FD Proj. Pts - 35.45 DK Proj. Pts - 37.5
You may be questioning this recommendation given that Dirk hasn't produced much thus far in the series. Keep in mind that Game 1 was a blowout and his minutes got shaved, then he couldn't buy a bucket in Game 2. There's no reason to expect either on Thursday, and the DFSR projections reflect that. The top Pts/$ option at PF on both sites (and there's no one near him on FD where he's literally a must), you can take the raw production and value and still have plenty to spend elsewhere.
Kevin Durant - FD 10200 DK 10200
Opponent - DAL
FD Proj. Pts - 52.56 DK Proj. Pts - 55.59
If you're looking for an "elsewhere" you just found one in Durant. Like Nowitzki, he saw his minutes shaved in Game 1 then couldn't find the range in Game 2. Also like Nowitzki, expect a full complement of minutes and shots (and shots falling) in Game 3. He's the top SF option on FD and among the best on DK. If you punt even a little, the OKC combo should be easy to swing. I'll suggest just that for cash games.
Salah Mejri - FD 3600 DK 2700
Opponent - OKC
FD Proj. Pts - 20.75 DK Proj. Pts - 21.12
Speaking of Thursday punt options, the top choice would be one Salah Mejri, the pride of Tunisia. As displayed in the first two games of the series, he has a very low floor but incredible upside. He benefits from the playoff salary structure on DK and remains a full punt on FD, leading to projected multiples that are easily the best of the night, not just at Center but at all. I'd think he'd be a lock for tourney lineups (sounds strange, I know) everywhere, and you can make a strong case for cash lineups at his miniscule DK price point.
Devin Harris - FD 3600 DK 3300
Opponent - OKC
FD Proj. Pts - 16.86 DK Proj. Pts - 18.52
If you're looking for another opportunity to save, Harris looks likely to easily earn his keep. The projected production assumes he gets the Mavs' backup PG duties on top of his usual run as the backup 2. That would render his 20% price bump on DK a statistical artifact (see last night's picks and Mark Twain). Barring unexpected developments on the injury front, Harris is a pure opportunity-based value consideration on both sites if you're looking to spend elsewhere. Note that he's listed at shooting guard on FD and point guard on DK.
Wesley Matthews - FD 4700 DK 4500
Opponent - OKC
FD Proj. Pts - 24.24 DK Proj. Pts - 27.68
I know, I know… how many times can you recommend Wes Matthews? At least once more, apparently. If he plays high-30s minutes and jacks up double-digit shots (both likely once again due to the Mavs' guard depletion), it's hard not to project him as a legitimate bargain. He has an atrocious FG% because he takes most of his shots from beyond the arc and hasn't been terribly good at it. If he reverts to his 35% seasonal average, he'll still easily hit value. The DFSR projections like him as the top attraction at SG on a Pts/$ basis. As ever for 3-and-D players (which is essentially what he has been this year), Matthews is particularly attractive on DK with the bonus for 3PM.
Enes Kanter - FD 4500 DK 5100
Opponent - DAL
FD Proj. Pts - 23.17 DK Proj. Pts - 23.82
This is a site-specific pick for a guy with a serious pricing disparity. Kanter comes at a steep discount on FD (relative to DK). In fact, his prices peaked weeks ago on DK and dropped substantially, providing even starker contrast for his FD salary. If you can't stomach the Mejri risk factor, you don't have to spend too much (in gross terms) to reach a tolerable floor while retaining some upside. To be clear, I cannot justify playing him on DK given the alternatives (so don't).
Serge Ibaka - FD 5900 DK 5900
Opponent - DAL
FD Proj. Pts - 25.66 DK Proj. Pts - 27.32
Finally (mercifully?) we get to the last pick from this game, and it's not a terribly good one at that. Ibaka being highlighted despite his meager projections is a function of the lack of quality options at PF. You have to play two on FD, and if you don't want to pay up (D. Green) or punt (P. Patterson), this is really your second-best alternative. Just like Ibaka, I cannot find a legitimate argument for rostering him on DK.

Toronto Raptors at Indiana Pacers
Analysis
What to make of this series? Raptors-bashers got lots of momentum in Game 1, as the Pacers snatched home-court advantage out of the gate. Toronto came back to win Game 2, but I'm not convinced their bum rap isn't still justified. Lowry and DeRozan once again stunk it up from the field, with the outcome much more a function of the Pacers going 20% from long range than anything the Raps did particularly well (other than keeping Valanciunas on the floor). Do you think Indiana is more likely to remain ice-cold from distance or hit half of their shots? I'm thinking something in between, making for a close game with the series shifting to Indianapolis. The problem is that there just aren't very many DFS-worthy considerations in this game. Aside from three of the usual suspects and one flier, I'll be passing on this game.
Top Value Plays
Patrick Patterson - FD 3900 DK 3400
Opponent - IND
FD Proj. Pts - 18.34 DK Proj. Pts - 20.21
I'm leading with the guy in the sub-$4k salary range, which should provide an indication of how much I like the other options in this game. Patterson looks to keep his high-20s run, and accordingly has a high floor with a decent ceiling. From a Pts/$ perspective, he is the 2nd-best option on FD by a stretch (after this and Nowtzki, the other options are really, really unattractive) and the only non-playoff-special DK punt (think Ray Guy, if you don't mind extending the mixed sports metaphor even further). Unless Steph rides the pine again for the Dubs (leading to a slightly counter-intuitive bump for hybrid PF/C D. Green), I think Patterson is actually a legitimate cash game option.
Jonas Valanciunas - FD 6500 DK 6000
Opponent - IND
FD Proj. Pts - 31.87 DK Proj. Pts - 32.42
Don't take listing his wingman first the wrong way – I like this pick. Jonas V. has been a force in the first two games when avoiding foul trouble. The problem is that his price has jumped 20% since he regularly saw 30-ish minutes a game. That keeps his ceiling down, and value suppressed. I think he's a great option at the comparatively lower price on DK, which brings serious upside potential into play. The argument for him on FD is that you don't like the first two choices (Mejri and Kanter), which isn't unreasonable (pardon the double-negative). He passes the eyeball test, and if you like him to play 30+ minutes he's a very, very nice center selection at a reasonable salary.
Kyle Lowry - FD 8300 DK 8000
Opponent - IND
FD Proj. Pts - 41.97 DK Proj. Pts - 44.42
Kyle Lowry is much more likely to bounce back from Game 2 than his backcourt mate, IMHO. He is just damned expensive, bringing a lower ceiling than I'd like at sub-elite prices. He has nice 5x multiples on both sites, and is an attractive PG alternative. The only reason I'm not super-high on this pick is that a) Felton is so mispriced; and, b) if you're going to spend up at PG, I think you ought to just go ahead and spend all the way up to Westbrook. If you're comfortable at this salary level, Lowry presents very good value.
Paul George - FD 8800 DK 9000
Opponent - TOR
FD Proj. Pts - 42.29 DK Proj. Pts - 44.89
PG-13 is a lot like Lowry to me – safe, without a ton of upside (kind of like the movie rating, no?). My primary concern here is minutes. He has to play a LOT of them to justify his price. If you like him to get close to 40 (the assumption built into the DFSR projection), he's well worth the investment. If you're leery of counting on that, much like Lowry at point guard, there's a strong argument to be made for spending all the way up to Durant if you're going to make that kind of investment at this position.
Golden State Warriors at Houston Rockets
Analysis
This game should be entertaining. Who doesn't like 240+ totals? Perhaps that's a bit strong, but those who love offense will probably enjoy this game. Game 1 was a blowout from the tip, and the Rockets were never seriously competitive. They hung around in Game 2, with the lead steadily extending throughout the game, and the scoring was much more like expected, despite the absence of the league's leading scorer. Which should we expect here? That leads to the primary consideration when analyzing this game, which is whether Steph Curry will take the court. If he does (and resembles anything like his regular-season self), another laugher is pretty much a lock. If he doesn't, I still see a romp as a decent possibility, but with the series shifting back to Houston, we'd see more DFS options (especially for cash players). Personally, I'd sit Steph until the Rockets prove they can beat the Dubs without him, but I don't get paid to make that call. Check back tomorrow for news. Please.
Top Value Plays
James Harden - FD 10200 DK 10600
Opponent - GSW
FD Proj. Pts - 49.37 DK Proj. Pts - 52.2
The Beard is always to be feared, regardless of opponent. I can never say not to run him. A 7x is always on the verge of erupting when he laces them up (which is something at this price). If I sound hesitant, it's because I see limited upside. On FD he doesn't get rewarded for the 3, and on DK he's slightly more costly. Both considerations tend to limit his upside. I'm also wary of the GSW defense, which doesn't get the publicity of the offense but is nearly as exceptional (particularly for a team with a dwarf at center half the time). Given the other opportunities to spend, I don't see him in as many lineups as usual, but if you choose to put him in yours I wouldn't fault you either.
Trevor Ariza - FD 5900 DK 5700
Opponent - GSW
FD Proj. Pts - 30.11 DK Proj. Pts - 33.51
Those enterprising enough to look up his game log may be skeptical, but hear me out. Ceilings and alternatives. Ok, I'm done. Seriously, if you look past the last few games when he has been ice cold from the floor, Trevor Ariza presents a realistic value play on Thursday. He has a low floor if he keeps shooting with one hand tied behind his (proverbial) back, but if he finds his stroke he could post an 8x. That's a high multiple for a non-punt. Now, review the other SF options. Those who don't wish to invest the better part of their bankroll at one position without punting didn't take very long. Maybe I'm an optimist, but I like Ariza as a sneaky pick and may even run him in a cash game – definitely in a tournament or two.
Draymond Green - FD 9000 DK 9400
Opponent - HOU
FD Proj. Pts - 39.02 DK Proj. Pts - 41.47
If it is now Thursday at 7:00PM and Steph Curry is expected to play, never mind. Draymond Green's price is prohibitive. If Curry sits, however, then you need to seriously take him into consideration. He has been mentioned multiple times, and not always kindly (apologies to the Little People out there), but is worth mentioning again given the prescribed circumstances. I too find it odd that a 6'7'' center may be doing the majority of ball distribution for the league's best team. Then again, something always seems a little odd about the Dubs, yet they've managed to win 89.3% of their games.
GRAB A FREE TRIAL OF OUR PROJECTION SYSTEM, AND CHECK OUT DFSR PRO!
GET OUR FREE EBOOK ON DAILY FANTASY NBA!
And Daily Fantasy NBA Picks for FanDuel and DraftKings every day!
FREE EBOOK
SECRETS TO CRUSHING DAILY FANTASY FOOTBALL!
DON'T SET ANOTHER LINEUP BEFORE YOU READ THIS BOOK.