Baseball Picks Daily Fantasy
Expert Advice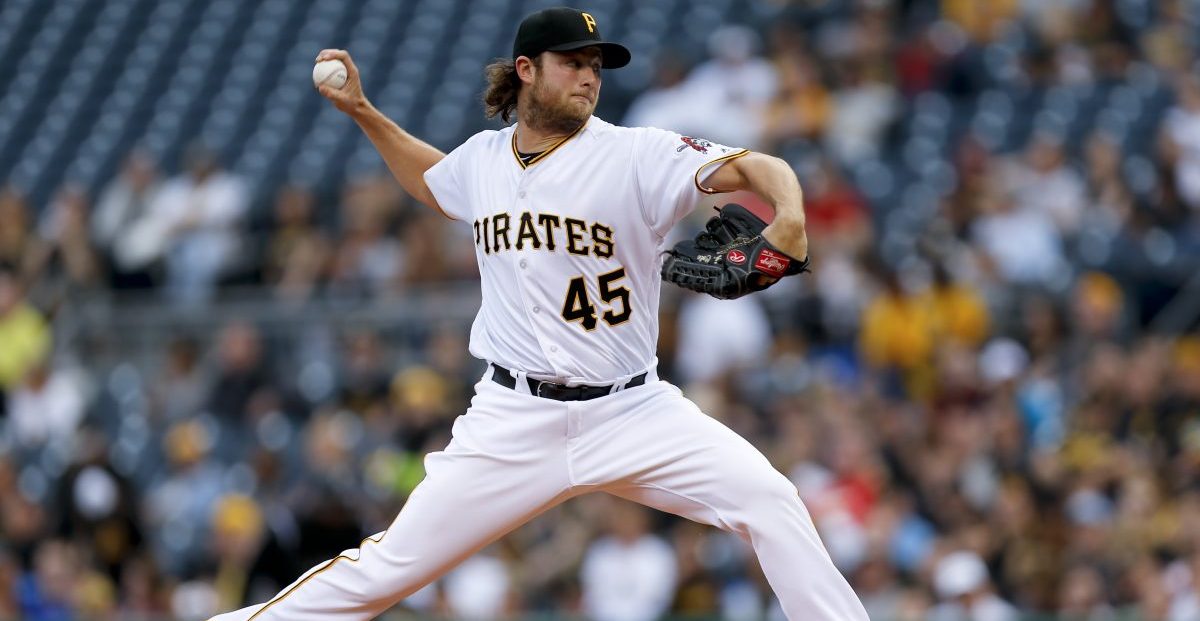 Daily Fantasy Baseball Picks for FanDuel and DraftKings - 8/7/16
Now's your chance to get DFSR Pro with MLB Optimal Lineups, Projections and Player Cards. Or try a free trial of our base package with projections for every player. While the seasons overlap, you'll get access to our tools for the NBA and NHL as well! Get started for free by clicking the button below.
First time with MLB? Be sure to read our free MLB Ebook on building lineups, general strategy and more. We've got you completely covered.
A quick heads up - we post an updates article every day in the early afternoon, EST, to catch everyone up on how things are changing as a result of whatever news has come through. We also have great talks in the comments of that article. Hope to see you there!
PITCHER
Gerrit Cole FD 9500 DK 9200
Opponent - CIN (Straily) Park - @PIT
FD - 35.38 DK - 23.35
The pitcher position is very interesting tonight as there are a few high end options, but they all have some pitfalls. My favorite of the bunch being Gerrit Cole, who will be taking on the Cincinnati Reds, a team that has been horrible on the road. In 2020 plate appearances, the Reds have sported a .293 wOBA that is backed up 26.3% hard contact rate. Gerrit Cole on the other hand, has been terrific against right handers with a .265 wOBA. Along with a tremendous wOBA, he has a 3.51 xFIP and a 24.3% hard contact rate. While there are options that are higher priced, I think Cole is the best bang for your buck. While they are priced similarly on both sites, I prefer him on DraftKings as the dollar is worth more over there.
Dylan Bundy FD 7100 DK 7800
Opponent - CHW (Shields) Park - @CHW
FD - 24.35 DK - 15.73
Sure, I could of easily mentioned another guy here like Madison Bumgarner or Jacob deGrom, but it doesn't take a genius to realize that all of those guys have some immense upside. Instead, we are going to take a look at Dylan Bundy, a top prospect that will be taking on the Chicago White Sox. While the Sox have some big bats, they also strikeout a ton. Bundy and his 11.48 (vs R) will look to take advantage of that and I expect him to lock in at least 5 or 6 strikeouts today. Aside from the K rate, Bundy has also sported a .313 wOBA that is backed up by a 29% hard contact rate and 20% line drive rate. While Bundy obviously has more risk than the higher priced pitchers, he also has similar upside and sits at a way too low price on both sites.
CATCHER
Buster Posey FD 2900 DK 3800
Opponent - WSH (Roark) Park - @WSH
FD - 9.89 DK - 7.64
Posey is simply too cheap today. I know his better split is against lefties, but grabbing him for sub $3K on FanDuel and less than $4K on DK is too good of a bargain to pass up. Tanner Roark doesn't have much in the way of K upside and it isn't like Buster's a dog v righty pitching. He's OPS'd close to .800 in that split this season which is more than good enough at these prices.
Travis D'Arnaud FD 2500 DK 3100
Opponent - DET (Sanchez) Park - @DET
FD - 9.02 DK - 6.98
If you are looking to pay down for a guy with some home run upside, Travis D'Arnaud is certainly a way to look. At just $2500 on FanDuel and $3100 on DraftKings, he gives you the roster flexibility to play a highly priced pitcher and a few big bats. The Mets will be taking on Anibal Sanchez, who has been in a constant decline since about 2011. While the Mets are a very underwhelming offense, I expect them to get it going here and be able to hit Sanchez around a bit. Though D'Arnaud usually hits low in the order, I would take a look to see if he moves up. if he does, he would immediately enter into cash game consideration behind only Lucroy.
FIRST BASE
Chris Davis FD 3600 DK 4400
Opponent - CHW (Shields) Park - @CHW
FD - 13.8 DK - 10.3
Sure, Chris Davis can be infuriating to roster when he walks up to the plate and swings at 3 straight pitches. He can also be insanely fun to roster when he has a game where he hits 2 home runs. Due to this nature, he is more of a tournament play. That being said, I do not mind him in cash games here as the position as a whole is not as strong as usual. The Orioles will be taking on the White Sox and James Shields, the once great right hander. Shields has been pitiful against both lefties and righties this year and has given up a .345 wOBA to left handers. While Davis is fairly pried on DK, he is way too cheap on FanDuel.
Matt Adams FD 3200 DK 3500
Opponent - ATL (Wisler) Park - @STL
FD - 12.46 DK - 9.66
I know the Cardinals have been rough of late (last couple of games really) but we don't want to use recent success (or lack thereof) to inform our opinions on a team as a whole. And definitely not o individual players. Adams should be in and around the middle of the order today against an average pitcher in Folty (I don't even bother trying to spell that name out). Don't let the Cards' recent woes deter you. They have one of the higher projected run lines on the slate.

SECOND BASE
Dee Gordon FD 4300 DK 4800
Opponent - COL (Gray) Park - @COL
FD - 10.66 DK - 10.26
Dee Gordon is one of my favorite players to roster in DFS as he can score fantasy points in so many different ways. While the power is non-existent, his speed and base running skill more than make up for it. He should be in a good spot to steal a base or two here against Jon Gray as that is one of his biggest weaknesses. While the Coors Field factor is
usually referred to for power, it also helps fast runners as the outfield is the biggest in the league. Gordon was excellent against righties last year and he will likely continue that here in the 2nd half of this season. While I do like him in tournaments, he is more of a cash game play for me.
Neil Walker FD 3100 DK 4100
Opponent - DET (Sanchez) Park - @DET
FD - 10.9 DK - 8.38
Anibal Sanchez has been nothing like his former self this year. He's rolling to the tune of a high 4's xFIP with a K rate under eight per nine. Dude's also walking close to four batters per nine and basically allowing a ton of baserunners. Walker hits around the middle of the order for the Mets and is sill coming cheaper on FanDuel. New York isn't an elite offense by any stretch, but this is a fine spot for them and he's coming at a discount.
SHORTSTOP
Adam Frazier FD 2700 DK 2900
Opponent - CIN (Straily) Park - @PIT
FD - 5.62 DK - 4.74
Adam Frazier has been spectacular when given the opportunities. thus far. He has hit for a little bit of power, a ton of extra base hits and has stolen bags with ease when the lead runner. The Pirates will be taking on the Reds and right hander Dan Straily, who has struggled against lefties on the year. Against lefties, Straily has sported a 5.86 xFIP that is supported by a .200 BABIP and a 8% HR /FB rate. While Frazier doesn't have a ton of upside, he is a great play in all formats if he is in the top half of the lineup.
Brandon Crawford FD 2900 DK 4100
Opponent - WSH (Roark) Park - @WSH
FD - 8.41 DK - 6.58
If you are looking for a strict tournament option, Brandon Crawford is a great way to go. Crawford is one of the bigger HR threats at shortstop and today will be no different against the righty in Tanner Roark. While Roark isn't a guy I love to target, he is no ace and gives up plenty of home runs to take advantage of. Crawford, while not a pure hitter, has hit righties for .211 ISO over the last 2 years. While he is not recommended for cash games, I will definitely have a bunch of exposure in tournaments.
THIRD BASE
Nolan Arenado FD 4300 DK 5400
Opponent - MIA (Conley) Park - @COL
FD - 14.68 DK - 11.28
Nolan Arenado enters this game as my favorite play on the slate and it is honestly not very close. He is absolutely dominant against lefties and is taking on one that gives up a bunch of homers to righties, the ultimate recipe for success. In 2016, Arenado has hit lefties to a .370 wOBA clip that is backed up by a 39% hard contact rate at home in Coors Field. Conley on the other hand, has given up 10 home runs in 94 innings to righties, with most of those coming in pitcher friendly Marlins Park. While the price tag is surely hefty, I am going to do my best to get him in as many lineups as possible. If you are keen on fading him, let's take a look at Adrian Beltre.
Manny Machado FD 3900 DK 4200
Opponent - CHW (Shields) Park - @CHW
FD - 13.23 DK - 10.39
I think it's totally fine to spend all the way up at third base today considering the matchups and value you're getting on guys like Arenado and Machado. The Orioles have one of the highest implied run totals on the early slate facing off against James Shields in U.S. Cellular. Machado's been elite this year with an OPS over .900 and a .377 wOBA. He's in a great spot against Shields who owns a putrid 5.07 xFIP on the season.
OUTFIELD
Adam Jones FD 3500 DK 4900
Opponent - CHW (Shields) Park - @CHW
FD - 12.43 DK - 9.66

Hyun-soo Kim FD 3200 DK 3500
Opponent - CHW (Shields) Park - @CHW
FD - 11.69 DK - 9.23
Like I said with Machado, The Orioles have one of the higher implied run totals on the day facing Shields. U.S. Cellular plays as one of the best hitter's parks in all of baseball, boosting power to all sides of the plate. Jones and Kim, hitting 1-2 in the lineup (presumably) offer a ton of floor and upside (for Jones more than Kim) at their respective prices. Jones is actually a much better hitter against righties for his career with a 113 wRC+ and .800 OPS. Kim is more a high floor, low ceiling hitter who gets a boost because of his spot in the lineup.
Ryan Raburn FD 3200 DK 3400
Opponent - MIA (Conley) Park - @COL
FD - 12.42 DK - 9.55
Ryan Raburn is basically in the same spot as Nolan Arenado here, just to a lesser extent. Raburn is a notorious left handed masher and will look to continue those trends here against a left hander in Adam Conley. Conley, as mentioned, has home run problems against righties and that is an atrocious thing to have when you are a visiting pitcher in Coors Field. Since 2011, Raburn has sported a .372 wOBA against lefties with a +.400 wOBA in Coors Field. While the pinch hit risk does worry me, I expect some early production.
David Peralta FD 2700 DK 3800
Opponent - MIL (Nelson) Park - @ARI
FD - 11.36 DK - 8.98
If you are looking for a guy with similar upside at a MUCH lower ownership percentage, I would take a look at David Peralta. Peralta, who was scratched yesterday, will look to to bounce back here against Jimmy Nelson. Jimy Nelson has been much worse on the road over the last 2 years with a 1.06 higher wOBA than when he is at home in Miller Park. Peralta on the other hand, has been great against right handers over the past couple season as evident by his .381 wOBA in 2015. While Desmond is the easy cash game play, I do not mind a pivot to Peralta in tourneys. The most likely outcome for me personally is I end up playing both to run alongside Raburn.
So yeah, baseball season! And we've got some goodies you can take with you. At the end of the post, we have our MLB eBook that you really ought to check out before setting even a single daily fantasy MLB lineup. It's free, below.
GRAB A FREE TRIAL OF OUR PROJECTION SYSTEM, AND CHECK OUT DFSR PRO!
GET OUR FREE EBOOK ON DAILY FANTASY MLB!
And Daily Fantasy MLB Picks for FanDuel and DraftKings every day!
FREE EBOOK
SECRETS TO CRUSHING DAILY FANTASY FOOTBALL!
DON'T SET ANOTHER LINEUP BEFORE YOU READ THIS BOOK.