featured Daily Fantasy
Expert Advice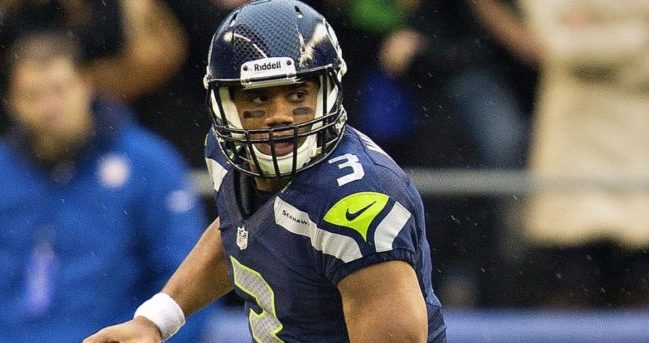 Weekly Fantasy Football Optimal Lineup Week 1 9/11/16 - First Look
In case you didn't notice, on Saturday we released our brand new NFL DFS suite of tools including full projections, optimal NFL lineups and Player Lab which includes filters to help you create NFL lineups for FanDuel and DraftKings. It's a robust set of tools; well beyond anything we've ever had and something we feel will help our users *ahem* tackle the NFL season.
Using tools like these for the NFL season is crucial and you can grab a free 2 WEEK trial to test out yourself.
In the first run of our projections this is the optimal lineup our system is spitting out: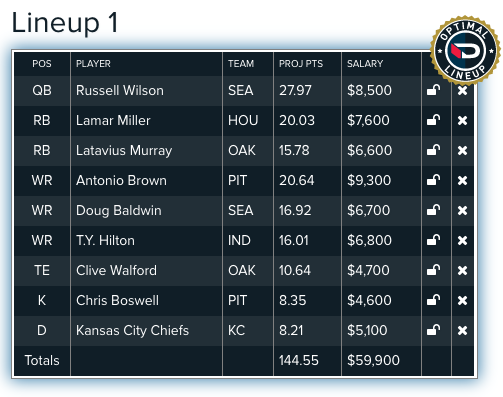 Look, I'm nearly positive this will not be the optimal lineup come Week One of the 2016 NFL season (only a short three weeks away). But we can at least start looking to see if this lineup is passing the sniff test and what might stand to change as we get close to the first Sunday of NFL.
I'll go player by player and quickly run through how confident I am with playing him if the season were to start tomorrow (and man I wish it did).
From a cash game perspective, this play makes total sense. The Seahawks are opening at a -10 over Miami and Wilson's coming off a terrific fourth season. Two specific numbers give Russell such a fantastic floor for cash games. He was incredibly efficient last season, completing passes at more than a 68% clip (third in the league) and 553 rushing yards (3rd among quarterbacks). Efficiency through the air and the ability to pump out yards on the ground allows Wilson "safe" points in a couple of different game scripts. Though the Seahawks are early favorites, I get less worried about the blowout scenario for Wilson simply because he A: needs to play a big part in it to start and B: is less reliant on having to do one specific thing to hit value.
Both of these strike me as a bit speculative though for different reasons. Miller leaves the Miami Dolphins where many felt he was under-utilized and enters a situation in Houston where all signs point to him being the bell cow. If this narrative holds true then he's a fantastic value. Chicago ranked 32nd in adjusted DVOA against the run last season and the Texans open as a -4 favorite. This is the exact situation we are looking for in a running back: his team is favored against a weaker defense. The only question is whether Lamar ends up taking the lion's share of carries.
Murray on the other hand comes as more of a question mark because of the Raiders. They are basically a pick'em right now with the Saints who were one of the worst defenses in the league last season. The key for Murray's success is the Raiders not falling too far behind early. He ranked third in the league in total carries last season, so I'm not too worried about the workload. It's more the game script which could hurt Murray with this game on the road.
Antonio Brown
T.Y. Hilton
Doug Baldwin
I don't need to go through why the system like Antonio Brown. If you don't know then NFL DFS might not be for you. I don't suspect we see too much of a change there.
T.Y. Hilton though is an interesting play. He was 14th in the league in total targets last season, a number which should increase this season as long as Andrew Luck stays on the field. Hilton hit that mark with only seven games from Luck last season. He had a tough time converting targets to catches, though it's tough to pinpoint this strictly as a Hilton issue. Again, he played more than half his games without a QB1 and a piss poor offensive line, and he turned more targets into catches with Luck under center in previous seasons. I see his efficiency and volume both increase this season.  
The system's a little more bullish on Baldwin than I am. He was a TD-run-hot All-Star last season. The 14 trips to the end zone aren't likely to repeat and he didn't see elite level targets, finishing at only 104 for the season (36th in the league). He's a solid pass-catcher yes, but I'm a little concerned our system sees the TD conversion rate as repeatable.
Of all the position players, this one is the most likely to change. We have Walford garnering the majority of the TE targets in Oakland, but that's a bit speculative at the moment. I'm not positive we'll have more clarity on this situation prior to Week One and it wasn't like Derek Carr honed in on one TE target last season. Walford can catch the ball for sure, but this might be a bit bullish.
Chris Boswell
He's a cheap kicker with a game with a high total. Eff-kickers.
Kansas City Chiefs
I understand why our system is drawing this team out early. They go into the game with one of the lower implied totals from their opponent with the Chargers sitting around 18 projected points. The Chiefs ranked second in weighted defensive DVOA last season and were particularly stingy against the pass. That could prove trouble for Philip Rivers and company in this one. Their price tag strikes me as a little steep all things considered as they are the most expensive D on the board. That's not a route I love going usually, but this matchup favors the D.
Surely things will change as we get closer to Week One. Injuries happen, roles change, circumstances change. But beginning to look at lineups early and working through the process of the "who's" and "why's" gets us prepared to enter that first Sunday with a leg up.
Be sure to get a copy of our free eBook on setting Weekly DFS NFL lineups for FanDuel and DraftKings!
And again, leading into the daily fantasy NFL season we're offering a free 2 week trial of our brand spanking new NFL DFS Player Lab! Click the button below to get started!
image sources
Antonio Brown, Karlos Dansby: (AP Photo/Ron Schwane)
Russell_Wilson_vs_Jets,_November_11,_2012: By Larry Maurer [CC BY 2.0 (http://creativecommons.org/licenses/by/2.0)], via Wikimedia Commons
FREE EBOOK
SECRETS TO CRUSHING DAILY FANTASY FOOTBALL!
DON'T SET ANOTHER LINEUP BEFORE YOU READ THIS BOOK.