Baseball Picks Daily Fantasy
Expert Advice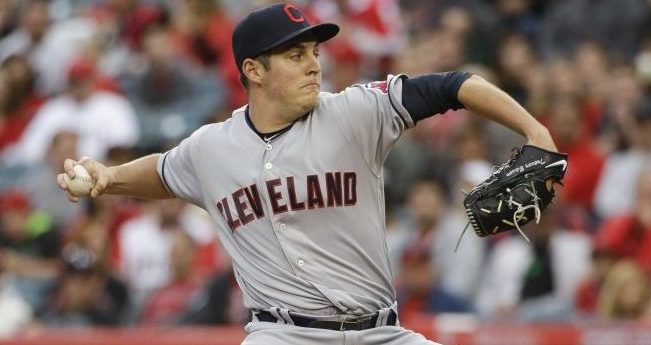 Daily Fantasy Baseball Picks for FanDuel and DraftKings - 9/8/16
The week of weird slates rolls on, as apparently somebody in the MLB scheduling department is actively trying to push fans toward the oncoming NFL season. Including the one early start, we've got seven games today, and not a reliable pitcher in sight. So grab a dartboard and let's get started.
In case you didn't notice, we just released our brand new NFL DFS suite of tools including full projections, optimal NFL lineups and our Player Lab, which includes filters to help you create NFL lineups for FanDuel and DraftKings for any format. It's a set of tools well beyond anything we've ever had, and something we feel will help our users *ahem* tackle the NFL season.
You can grab a free trial to test out yourself.
PITCHER
Trevor Bauer FD 8800 DK 7900
Opponent - HOU (Paulino) Park - @CLE
FD - 34.4 DK - 22.48
Some slates give us a who's who of MLB pitching. Today is more like a "who's that?" We like Bauer's upside against the K-prone Astros (third-highest K% in MLB vs. RHP), but on a better slate, he'd be little more than a GPP flyer. And even though he's projected for the most points among today's starters by more than 10 percent over the field, the variance in his game log suggests that's probably the best format for him on any slate. In other words, cash games are going to be tough today. Bauer's biggest issue is his command, and even though his walk rate in 2016 is the best of his career, 3.42 per 9 is nothing to get all that excited about. He would also appear to be a candidate for home run regression, which is why his xFIP (4.22) is half a run higher than his ERA (3.70). But in more than 500 career innings, he's demonstrated the ability to keep fly balls in the yard, so we're not as concerned on that front. So what we've got is a guy with double-digit K upside who typically works pretty deep into games, but who can also get blown up by a powerful lineup like the Astros. That's fine for a big tournament, but when it's your top overall option, it's a strong indication that the pickings are slim.
Jaime Garcia FD 8800 DK 9400
Opponent - MIL (Guerra) Park - @STL
FD - 30.9 DK - 20.64
Garcia's our favorite guy going tonight, but that's more a product of the Brewers' capacity for swinging and missing than an endorsement of his own so-so stuff. Garcia's not terrible. He misses enough bats to make him usable in the right matchup (7.68 K/9), and he coaxes lots of ground balls. He's also been burned by some bad home run luck, so he should have some positive regression on the way. If you'd rather take a shot on Alex Cobb or dig through the bargain bin in search of more palatable options, have at it. Our suggestion, however, is to grit your teeth and hope the Brewers' 24.8 percent K rate vs. LHP shows itself tonight.
Consider: A.J. Cole. Because the Phillies are bad.
We're proud to introduce a brand new partner (and player in this space), Fantasy Factor! DFSR readers can get a bunch of sweet freebies (including a $5, no strings, no drip bonus) by signing up now!

CATCHER
Gary Sanchez FD 3800 DK 4700
Opponent - TB (Cobb) Park - @NYY
FD - 11.19 DK - 8.69
You may have guessed by his omission above, but the projection system isn't ready to buy in on Alex Cobb. Don't get us wrong, he's a nice arm, but in what will be just his second start since returning from Tommy John surgery, we're not expecting much more than the five innings he saw against the Blue Jays last time out. And the possibility of extended run from the Rays bullpen is a big part of the attraction here. They're pretty average overall, but where they struggle is in home run prevention. Even with roughly half their games in homer-suppressing Tropicana Field, they give up the third most home runs per inning among all MLB bullpens. Now consider that Yankee Stadium boosts power more than 90 percent of parks, and you've got a nice combo for a power-hitting catcher, especially one who hits in the heart of the order.
Brian McCann FD 3100 DK 3600
Opponent - TB (Cobb) Park - @NYY
FD - 10.3 DK - 7.74
See above. McCann also has the advantage of the positive platoon split against Cobb, and while he's lost his highly valuable lineup slot since the arrival of Sanchez, he's still hitting around sixth when he gets the DH nod, and that's good enough.

FIRST BASE
Matt Adams FD 2900 DK 3400
Opponent - MIL (Guerra) Park - @STL
FD - 11.48 DK - 8.9
Adams is one of our favorite plays any time we're pivoting away from the top-shelf first basemen, and since there aren't really any elite 1Bs on the slate tonight, this might feel like a default pick. But it's actually more than just a price play, as we've got Adams projected as the top scorer at the position tonight. Junior Guerra has put up some solid numbers in his first extended big-league run this year, but that 2.85 ERA is getting a substantial lift from an 8% HR:FB ratio that's almost certainly unsustainable. That potential regression makes Adams' .226 ISO against RHP this season pretty tantalizing.
Brandon Moss FD 3600 DK 4000
Opponent - MIL (Guerra) Park - @STL
FD - 11.33 DK - 8.57
We promise not all of these picks are just gonna be two dudes from the same team, but the math likes what it likes, and tonight it likes Cardinals lefties with power in Miller Park. And Moss, somewhat quietly, is putting up monster power numbers this season. He's got 25 HRs in just 380 PAs, with a .289 ISO and .361 wOBA, and the numbers against RHP (.333 ISO, .373 wOBA) are even more crush-worthy. We like Adams a little more, but if you're willing to pay up a little, Moss' upside is tough to beat.
Consider: Carlos Santana
SECOND BASE
Matt Carpenter FD 4100 DK 4400
Opponent - MIL (Guerra) Park - @STL
FD - 11.7 DK - 8.99
See what we mean about the algorithm's love for Cardinals lefties? Guerra hasn't been blown up often this season, so stacking against him won't be an easy call (especially on FanDuel, where you won't have the option of playing Moss in the outfield). But for cash games, we think you're going to want some exposure, and plugging in Carpenter is rarely a bad idea. His .386 wOBA on the season is 13th-best in MLB and his .245 ISO is best among all lead-off hitters.
Jason Kipnis FD 3900 DK 5100
Opponent - HOU (Paulino) Park - @CLE
FD - 10.73 DK - 8.61
The Astros will be sending David Paulino out for his Major League debut in this one, and while the 22-year-old has some impressive minor league numbers, they're not enough to back us down from one of the elite offensive options at this position. Kipnis comes with an excellent floor/ceiling combo, with a .353 career wOBA against righties and a .2o7 ISO in the split this season. And while he doesn't run like he used to, 11 steals on the year is enough to provide a nice lift to his upside.
Consider: Josh Harrison
SHORTSTOP
Francisco Lindor FD 3200 DK 4800
Opponent - HOU (Paulino) Park - @CLE
FD - 9.58 DK - 7.94
Lindor's profile isn't identical to his Kipnis' but the results are roughly the same. What he gives up in power, he more or less makes up for with elite contact skills (12.8% Ks). One thing we didn't mention in the Kipnis write-up: Progressive Field is a pretty under-rated hitter's park. ESPN's park factors put it as the second-best venue in the league for offense in 2016, and it ranks in the top 10 according FanGraphs, which compiles data over the previous three seasons.
Jhonny Peralta FD 2800 DK 2900
Opponent - MIL (Guerra) Park - @STL
FD - 9.28 DK - 7.17
On the evening slate, our options at SS are pretty gross. At least Peralta's cheap. We'd like him  more against a southpaw, but he's been serviceable in his career against righties, and is actually performing better in the reverse split this season. The sample is pretty limited, though, and the numbers aren't that great (.312 wOBA, .167 ISO) so don't get carried away. But shortstop is probably a good spot to seek some salary relief tonight, and Peralta can provide it.
Consider: Carlos Correa
THIRD BASE
Nolan Arenado FD 3900 DK 5300
Opponent - SD (Richard) Park - @SD
FD - 11.16 DK - 8.46
Even outside of Coors, we always like Arenado against a mediocre lefty (or a mediocre righty, for that matter). He's got the third-best ISO in baseball (.281) and the 12th best wOBA this season (.387), and he's our top pick for raw points at 3B tonight. So he's in play everywhere, but this pick is really geared toward FanDuel, where he's coming at a nice discount.
Alex Bregman FD 3200 DK 4600
Opponent - CLE (Bauer) Park - @CLE
FD - 8.98 DK - 7.16
Since starting his MLB career 2-for-38, Bregman has shown the talent that made him the second overall pick in last year's draft, slashing .328/.375/.608 with seven homers, 27 RBIs and 27 runs over the last 30 days. Unless he's the next coming of Barry Bonds, he probably won't sustain that pace, but whatever. It's clear that the future is exceedingly bright. He's striking out a little more than we'd prefer, but considering his elite contact rates in the minors (sub-10% Ks prior before a short stint in Triple-A) it's likely only a matter of time before those skills also manifest. The matchup with Bauer isn't an especially great one, but the price on FanDuel is still very nice.
OUTFIELD
Bryce Harper FD 4200 DK 5600
Opponent - PHI (Asher) Park - @WSH
FD - 13.49 DK - 10.4
So the FanDuel price is climbing back to realm where we at least have to think about it for a minute before plugging Harper in, but with Alec Asher on the mound, it wasn't much of a debate for our projection system. Asher, in case you're unfamiliar, is a 24-year-old righty of modest repute. He got utterly shelled in seven starts last season, and we're expecting more of the same this go-around. His K/9 in the minors has hovered in 6 range, which is pretty bad, and he surrendered eight homers in 29 innings in the bigs last year. Yeah, the sample size is minuscule, but we'd feel pretty confident in targeting this guy a replacement-level bat, much less a superstar. Hopefully, Harper's recent hot streak has dispelled the ill-conceived notion that he's somehow washed up at age 23, but just for the sake of posterity, let's note that his .356 wOBA and .212 ISO put him among baseball's top 50 hitters, despite the fact that he's been burned by a BABIP 55 points lower than his career average. He's still really, really good, you guys.
Andrew McCutchen FD 3200 DK 3900
Opponent - CIN (Straily) Park - @PIT
FD - 11.14 DK - 8.71
We're a little less strident when it comes to sticking with Cutch, but we're willing to give him a whirl at these prices. The sudden offensive freefall is perplexing; you'd expect some dip in BABIP and steals with age, but a plummet this dramatic overnight doesn't fall within the aging curve norms. So we're not sure what's up with that, but while we're on the topic, it's worth mentioning that some of the projection is built on his long-term profile. So if you want to fade him based on he fact that he hasn't been the same guy this year, we'd understand. But track record aside, he's still supplying decent pop for what he'll cost you, and while PNC Park puts a drag on offense, we think Dan Straily's true talent lies closer to his 4.99 xFIP than his 3.83 ERA.
Nomar Mazara FD 3200 DK 3700
Opponent - SEA (Walker) Park - @SEA
FD - 10.26 DK - 7.99
Mazara has cooled since lighting up the league early this season, but there's still plenty to like in the 21-year-old's game, including a .287/.344/.471 triple slash against righites. And we love the fact that he's settled in at the top of what's become a very potent lineup. Tonight, he'll get the enigmatic Taijuan Walker, who has struggled to a 4.41 xFIP in 2016 after appearing poised for a breakout on the heels of last year's strides. He has one decent start out of three since getting recalled, giving up 12 ER in less than 14 IP in that span.
Consider: Thomas Pham
Be sure to get a copy of our free eBook on setting Weekly DFS NFL lineups for FanDuel and DraftKings!
And again, leading into the daily fantasy NFL season we're offering a free 2 week trial of our brand spanking new NFL DFS Player Lab! Click the button below to get started making lineups on FanDuel and DraftKings!
FREE EBOOK
SECRETS TO CRUSHING DAILY FANTASY FOOTBALL!
DON'T SET ANOTHER LINEUP BEFORE YOU READ THIS BOOK.