Basketball Picks Daily Fantasy
Expert Advice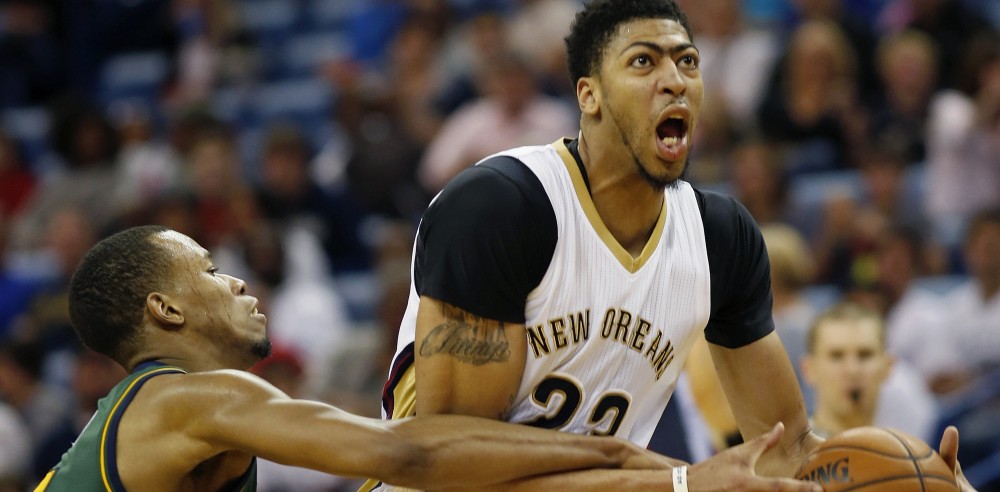 Daily Fantasy NBA Basketball Picks for FanDuel and DraftKings - 11/4/16
A full Friday is on tap with a return of the Brow, the Suns playing at a breakneck pace, the Wizards minutes rounding into form and more.
Now's your chance to get DFSR PRO, which will give you access to our NBA optimizer, our NFL Optimizer, and our new NFL player lab! Get started for free by clicking the button below.
First time with NBA? Be sure to read our free NBA Ebook on building lineups, general strategy and more. We've got you completely covered.
Point Guards
Tim Frazier FD - $5500 DK - $6400
Opponent - PHO
Proj Pts FD - 35.99 DK - 38.38
New Orleans ran into the slogging pace of Memphis last game and the starters' minutes got buzzed off early. I don't think we can take too much from that game. Sure, it isn't encouraging when a starter playing heavy minutes all of a sudden sees just 15 total. And the Pelicans are enough in flux to be just a little concerned there. But I think you see things return to normal against the Suns who are bad on defense and playing the 4th highest pace in the league. This game should be up and down the court and expect to see Frazier's minutes back. He's a guy averaging a 14/8/4 and that's with the terrible Grizz game folded in. He's still a cash game play for me.
The Replacements

Jose Juan Barea FD - $5100 DK - $4800
Opponent - POR
Proj Pts FD - 27.17 DK - 29.04

Patrick Mills FD - $3900 DK - $3800
Opponent - UTA
Proj Pts FD - 24.65 DK - 26.85

Isaiah Whitehead FD - $4500 DK - $3600
Opponent - CHA
Proj Pts FD - 23.8 DK - 26.25
All three of these guys stand to see moderate-to-significant increases in minutes tonight at the point. Tony Parker is out for the Spurs, Jeremy Lin's sidelined for the Nets and Deron Williams is likely out for the Mavs.
Of this group Barea is the most known commodity and should run the point a fair amount for the Mavs. They don't have the three-headed PG attack like last year with Felton no longer on the team meaning Barea could be in line for signficant ball-handling duties were Deron to sit. J.J. is already a solid per minute guy thanks to contributing in ways other than just scoring. He'll get on the boards (which is kind of amazing) and can dish. I think I would put him above the other two in this group.
Mills drew the start for Tony Parker when he sat out last week though the Spurs crushed the Pelicans and his minutes went with it. This isn't a great matchup against the Jazz and their snail's pace but the price on Mills is low and he did get up seven threes in just 24 minutes in his last start.
And finally, Whitehead is a relatively unknown quantity. It's not totally clear he inherits most of Lin's minutes at the point for a couple of reasons. First off, Randy Foye is back and the Nets could play him at the one. Also, Brooklyn's minutes have been a hot mess this season and they are team that's just all over the place. I don't trust anything about their situation. But Whitehead, if he picked up a majority of the PG minutes could be a value.
Consider Stephen Curry if you think the Lakers can hang in this game.
Want a different take on DFS NHL? Check out what FantasyFactor is doing in their fun, season long NHL challenge! In their words, only NHL enthusiasts need apply!

Shooting Guards
Devin Booker FD - $5600 DK - $5900
Opponent - NO
Proj Pts FD - 31.01 DK - 32.91
It was a great sign for Booker and his toe injury that he came out and played 39 minutes the other night against Portland. He jacked up 15 shots though surprisingly only 2 from beyond the arc. That's significantly below his norm and I wouldn't be surprised to see that number round back up in this matchup against the Pelicans. Booker almost totally relies on the scoring to hit value so you need to see the shot following. Booker's an immense talent and there's a reason you're going to see other names from this game on the value plays list. It has the second highest over/under on the day at 212.5 and projects to stay close. Booker's a slightly better deal on FanDuel though you can play him on either site.
Klay Thompson FD - $5900 DK - $6300
Opponent - LAL
Proj Pts FD - 35.91 DK - 38.74
I'm very worried about the blowout in this game and am a bit surprised the Warriors only opened as 10.5 favorites. But Klay is still coming so cheap for a guy who (on the season) has been running some kind of terrible from beyond the arc. That's hammered his salary on both sites and even if you think his minutes get clipped on the back end of the blowout he's still worth it for me at a difficult position. Of course Klay's primary value comes from beyond the arc and when that shot isn't falling you can kiss some of his upside goodbye. But he's going to turn this thing around for sure over the course of the long season. He'll trickle in rebounds and assists as well, but we are looking for the threes the most.
Wesley Matthews FD - $5000 DK - $5000
Opponent - POR
Proj Pts FD - 25.42 DK - 27.66
Long-time readers of DFSR (and users of our projection system) will know it's got some love for Matthews (for better and worse). The good news on Matthews, and one of the reasons we default his way sometimes is the minutes are so locked in on this Dallas squad. No Deron Williams tonight likely helps as well as they have less backcourt depth though Matthews' usage doesn't get much of a bump with D-Will off. Wes is shooting this year though he's struggled in that respect going only 31% from the field and a dreadful 24% from three. There should be some regression coming on those numbers moving forward and the Blazers don't play great D on the perimeter. He's coming cheap with a high minutes floor.
Small Forwards
T.J. Warren FD - $5900 DK - $6300
Opponent - NO
Proj Pts FD - 31.58 DK - 32.58
The price keeps climbing and he keeps on playing better. In the overtime win against Portland on Wednesday night Warren put up on the most shots on the team (11-22) and finished with a 27/7 line. This kind of volume on a team filled with a backcourt who loves taking shots already is impressive. Warren's price is getting up there, but I still think there's room for upside. The Pelicans are a below average defensive team playing one of the faster paces in the league. The Suns are right with them and this game should be up and down the court. Dial me in on this one for LeaguePass for sure as I don't expect a ton of defense and Warren, if he really is a go-to guy on offense still has a tremendous ceiling at these prices.
Kevin Durant FD - $9900 DK - $10100
Opponent - LAL
Proj Pts FD - 51.92 DK - 54.84
Look, much like Klay and Curry the only reservation I have with a guy like Durant is that the Warriors get the game out of hand by the fourth quarter and that's all she wrote on the minutes. But these big three for the Warriors are good prices all things considered and the Lakers are still very much a fast-pace, bad defense squad like they've been in the past. Durant and is Durant and with some other cheaper options it's reasonable to consider playing him and Brow below. Neither (I don't think) have reached their pricing ceilings which means we are still buying in the right spot.
Power Forwards
Anthony Davis FD - $11200 DK - $10900
Opponent - PHO
Proj Pts FD - 57.87 DK - 59.33
The price is still climbing but do we really care? He likely hasn't seen the max yet for salary and a down game against a slower (and defensively sound) Memphis squad did add the first blemish to his fantasy resume on the season. The Suns are a close to a dream matchup for a guy like Davis. He can get out in the open court and the game should be up and down throughout. Memphis controlled the pace, not allowing the Pelicans to push the ball. Expect Davis to climb back to his season averages (31/12 with the blocks to boot) and he should anchor cash games today on both sites. He'll have a mismatch with whomever the Suns throw his way on defense.
Paul Millsap FD - $8100 DK - $7700
Opponent - WAS
Proj Pts FD - 40.96 DK - 42.91
There are a couple of ways to spend up at power forward today and I think it likely we pay for a couple of different guys at the position. With Al Horford and Jeff Teague out of Atlanta, Millsap has seen a rather dramatic increase in usage in this Hawks offense. He's putting up roughly 30% more shots per minute this season and it's translated to more scoring. The rebounding remain the same, but the assists are up as well. Last week he put up a 26/7/8 line against the Wizards and gets them again. Washington doesn't have much in the way of interior defense at the moment and Millsap will create some issues on that end. His minutes are more than steady and his price stays in the value range.
Markieff Morris FD - $5500 DK - $5500
Opponent - ATL
Proj Pts FD - 29.3 DK - 30.99
If you can trust the minutes coming out of Washington from last game then Markieff is looking a fantastic upside play. The Hawks are playing faster this season with Schroder at the point though they've been solid on the defensive end. Morris didn't see a ton of looks last game, but he still is averaging more than double digit shots per game and he will range out from beyond the arc. Again, you can't totally trust the Wiz minutes at this point and I think last game was somewhat of an outlier in how much they played the starters. But the Wiz also don't have a deep bench and this might be how they roll for some time.
Strongly consider Kristaps Porzingis
Centers
Tyson Chandler FD - $4500 DK - $4400
Opponent - NO
Proj Pts FD - 25.3 DK - 26.46
Another day, another crapshoot at center. This position has consistently been one of the most difficult to fill with value. There just haven't been many price plays on the season. Chandler is not an offensive center at all so you need to rely on his rebounding to get him to value. He's very cheap and coming off an 18 board performance against the Blazers on Wednesday. This game should be up and down with plenty of missed shots and from that respect I can stomach him. But he doesn't have a ton of upside because he lacks many other ways to accrue fantasy points beyond the rebounding. He's cheap the floor is fine for cash games.
Hassan Whiteside FD - $8400 DK - $8400
Opponent - TOR
Proj Pts FD - 43.15 DK - 44.33
If you want to spend up a little at the position then Whiteside offers an interesting pivot. The big change for Whiteside this season has been a big jump in shot attempts now that Miami is missing both Wade and Bosh from last year's team. He's averaging 13 shots per 30 minutes (9.8 per 30 last year) while also increasing the rebounding as well. Those numbers are fantastic and the only thing to worry about Whiteside on a night basis is the run. He fouled out last game and has seen less than 30 minutes in more than half of the Heat games. That's definitely an issue and is a concern with his cash game safety. But the raw stats look great and Raptors allow more than average scoring to opposing centers.
GRAB A FREE TRIAL OF OUR PROJECTION SYSTEM, AND CHECK OUT DFSR PRO!
GET OUR FREE EBOOK ON DAILY FANTASY NBA!
And Daily Fantasy NBA Picks for FanDuel and DraftKings every day!
FREE EBOOK
SECRETS TO CRUSHING DAILY FANTASY FOOTBALL!
DON'T SET ANOTHER LINEUP BEFORE YOU READ THIS BOOK.