Basketball Picks Daily Fantasy
Expert Advice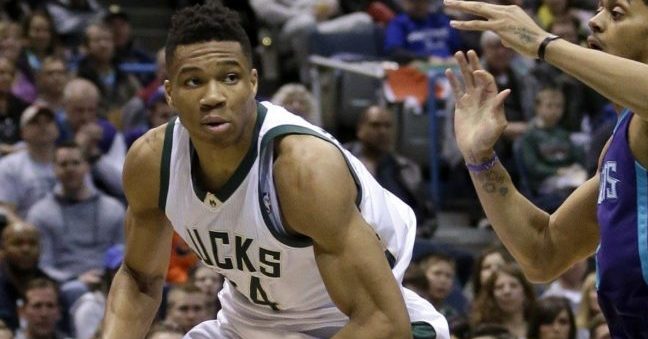 Daily Fantasy NBA Basketball Picks for FanDuel and DraftKings - 1/6/16
Well coming off watching Russ vs. Beard, this one seems like a bit of a let down. But it doesn't mean we can't hammer out some value plays in the association. We've got a ton to consider with guys like CP3 likely to sit, the Cavs possibly playing short-handed and Giannis facing the Knicks again.
Now's your chance to get DFSR PRO, which will give you access to our NBA optimizer, our NFL Optimizer, and our new NFL player lab! Get started for free by clicking the button below.
First time with NBA? Be sure to read our free NBA Ebook on building lineups, general strategy and more. We've got you completely covered.
Point Guards
Austin Rivers FD - $4600 DK - $5300
Opponent - SAC
Proj Pts FD - 23.38 DK - 25.01

Raymond Felton FD - $4600 DK - $4700
Opponent - SAC
Proj Pts FD - 23.27 DK - 25.13
It looks like Chris Paul is going to sit again on Friday leaving a ton of backcourt minutes up for grabs. That leaves it to these two titans of the game. Rivers and Felton have filled much of the back court void with Rivers basically starting at the three (Redick at the two) but also handling the rock with the second unit. The Clips are so short handed right now the minutes alone for these two guys makes them value plays. Both were excellent against the Grizzlies, Rivers putting up a 28/4/7 and Felton an 11/6/4/4 (steals). Both come as relative bargains on FanDuel while on DraftKings you'll likely have to decide if there respective floors are high enough. The prices correct quicker over there. It's a fine enough matchup against bottom third D in the Kings who also (unfortunately) play slow. But again, the opportunity well outstrips any concern with the opponent as we saw last game against Memphis.
Goran Dragic FD - $7100 DK - $7400
Opponent - LAL
Proj Pts FD - 34.75 DK - 37.14
As the Heat get healthier in their backcourt, it's reasonable to expect Dragic to play a few less minutes than he saw at his peak. But this is such a great matchup that I think even a minutes' reduction does completely crush the overall expectation. The Lakers are the worst defensive efficiency squad in the league right now (though they duked it out with Portland who was 29/30 as of this writing so that could change). It doesn't change the fact that we want to target PGs against LA and Dragic is in a fantastic situation here. I'm a little concerned with the minutes considering he only played 30 minutes in a close game against the Kings on Wednesday. But he's a usage guy in this offense had should be able to exploit a matchup with Russel who definitely struggles on switches and closing out after he misses coming through the screen. Dragic is in that sweet spot of mid-range price and solid matchup.
John Wall FD - $9700 DK - $10100
Opponent - MIN
Proj Pts FD - 46.93 DK - 50.01
If the Wiz have any real hope of winning games this season and hanging around the playoff hunt in a weakened Eastern Conference then they need to play Wall major minutes. He's played 37 or more and 4 of his last 5 games and in that time averaged a 24/12/5 though some of that time was sans Bradley Beal. Minny's allowed about 2% more scoring and rebounding than league average to the opposing point guard this season. Walls' third in the league in time of possession and among qualified players he's first in average seconds per touch. This is all to say dude just dribbles the ball for days. Washington doesn't have a fantastic implied total in this one, but I live Wall's floor even with Beal back on the court full time. He's a better deal on FanDuel for sure.
Consider Malcolm Brogdon who's still coming very cheap if Matthew Dellavedova is out again tonight.
Shooting Guards
Giannis Antetokounmpo FD - $10700 DK - $10700
Opponent - NY
Proj Pts FD - 53.06 DK - 55.27
Gianni is coming off an incredible 27/13/4 game capped off by just a sick fadeaway buzzer beater that seems to be just another stepping stone on his path to becoming a superstar. His process for the shot was so methodical and confident that it's easy to see (among many other reasons) why this guy's on the fast track to being one of the best in the league. Tonight he gets those same Knicks on the home-and-home and is one of the better values in the upper tier. The Knicks don't have much they can throw his way on defense and Giannis' minutes are stabilizing close to 40 in the short term. That's probably a little high and the run should regress some, but he's such a high floor guy considering what he brings to the fantasy table. He was chalk on Tuesday night and I expect that to be the case again here.
James Harden FD - $11800 DK - $12200
Opponent - ORL
Proj Pts FD - 57.14 DK - 61.34
There's always some concern with a high usage/ high minutes guy like Harden coming off a high leverage game like last night and playing on the back-to-back. It's reasonable to expect the Rockets wanting to take it easy on the guy especially with a garbage opponent like the Magic. But, like I said, the Magic are garbage and Harden makes such a high floor play in matchups like this one. I don't need to go through the superlatives here. Only Westbrook is above him in terms of nightly floor, and even then it's close. Harden provides everything you want in a fantasy commodity and even that sub-12K FanDuel price isn't completely out of bounds. Orlando's a bit worse than league average defending the opposing point guard but we should be concerned with the blowout in this one.
J.J. Redick FD - $4400 DK - $5200
Opponent - SAC
Proj Pts FD - 24.25 DK - 26.69
As I mentioned with the Rivers/ Felton combo above, the Clippers without Chris Paul and Blake Griffin have decided to go real small a lot. They are running these three guys together for huge chunks of the game and they've actually won the last two against the Suns and Grizzlies. Redick got up 13 shots against Memphis and also got to the line 8 times on his way to a 19/3/2 line. He needs to score to hit value because dude doesn't do a whole lot of other stuff along the fantasy line. But he also ran a little bad from the field so there's upside for him when he's playing minutes in the high 30's.
Small Forwards
LeBron James FD - $10000 DK - $10500
Opponent - BKN
Proj Pts FD - 50.91 DK - 53.76
The bad news is the Cavs could possibly win this game going away and Lebron never sees the fourth quarter. The good news (from a DFS perspective) is Cleveland could be playing at least one star down tonight if Love can't play and that leaves a bunch of usage for Lebron. The Nets are one of the worst defensive teams in the league and they just happen to also play at the fastest pace. They can't stop any position with any five-man unit at their disposal. They suck. And Cleveland could be a one-man band with Lebron tonight. If they were at full strength I'd worry some about the quick and easy blowout, but I doubt Love plays much (if he plays at all). This is the perfect matchup to continue resting anyone who's less than 100%.
Andrew Wiggins FD - $6400 DK - $6800
Opponent - WAS
Proj Pts FD - 31.22 DK - 33.22
I love buying guys like Wiggins off of a previous game like his against the Sixers. He was a chalkier play and struggled like crazy from the field, going 2-15 on his way to a crushing 8/5/3 line. That's a total outlier for the guy and unlike some other terrible teams who jack around their guys' minutes like crazy, Wiggins is in no jeopardy of losing run because of a bad game. He's taking close to 18 shots per game and actually been more accurate from beyond the arc (35% up from 30% last season). Here's to hoping folks get scared away by the disaster against Philly. We need to have short memories when nothing else about a guy's situation has changed.
Jae Crowder FD - $5300 DK - $5200
Opponent - PHI
Proj Pts FD - 27.71 DK - 29.61
At these prices you can easily take a stab at Crowder against the Sixers. Philly's been blitzed by the small forward position (remember why Wiggins was such a popular play last game?) and Crowder has better than baseline expectation in nearly every category tonight. Philly's allowing around 5% more scoring and rebounding to small forwards and Crowder's minutes are stabilizing in this offense. I suspect he's coming on the chalkier side of things because of the matchup though I don't think he has a fantastic ceiling. Crowder does a little of everything, but nothing on an elite level.
Power Forwards
Jabari Parker FD - $7000 DK - $7300
Opponent - NY
Proj Pts FD - 35.16 DK - 36.76
Power forward on FanDuel's back to looking weak and kind of terrible so I suppose everything is right in the world. Parker was a chalkier play on Tuesday night in this same matchup against the Knicks though he struggled to find his shot even in 37 minutes. The run is key for Parker who's stabilized in Jason Kidd's rotations (no easy thing) and in the short terms is averaging high 30's minutes per night. He doesn't rebound the position particularly well, but that's to be somewhat expected playing with a "guard" like Giannis who pounds the glass with the best of them. But Parker does shoot the three well (40% for the season) and is a volume shooter. Expect a bounce back game for Parker tonight even with Porzingiz back on the other side of the ball.
Gorgui Dieng FD - $5600 DK - $5800
Opponent - WAS
Proj Pts FD - 28.22 DK - 29.81
Here's to hoping the 27 minutes against Philly we an outlier and not the norm. Ding's 34+ minutes a night were about as high as any PF in the industry lately and he'd seen just enough work in the offense to warrant a play most nights. Even against Philly he started strong, hitting a bunch of pick and pop jumpers before getting buzzed off of minutes late in the game. Washington allows more than league average scoring to opposing PF/C types. Dieng and KAT rotate duties here in somewhat of a hybrid offense. He can be a tough guy to stomach on the best of nights, but PF is very thin when we need to roster two on FanDuel.
Markieff Morris FD - $4900 DK - $4900
Opponent - MIN
Proj Pts FD - 24.76 DK - 26.52
Speaking of tough guys to stomach, Markieff might be the most nausea-inducing of them all. And it really speaks to the issues at the positions when I'm putting puke-worthy guys in play here. Morris, like Dieng, saw reduced minutes in his last game (a loss to Dallas). His minutes are extremely variables and dude's nothing more than a tournament play at his pricing. But he's worth a look because Minnesota's had trouble defending opposing fours this season. It makes sense in some ways because versatile power forwards will give the Dieng/ Kat combo fits especially if they're on the quicker side. Markieff could exploit this matchup and he's a double digit shot a game guy even when his minutes disappear (i.e. he's a chucker). Again, GPP only but he's coming cheap enough for a look.
Very strongly consider Julius Randle as long as you don't think the back-to-back effects the recent minutes too much.
Centers
Joakim Noah FD - $5100 DK - $5500
Opponent - MIL
Proj Pts FD - 31.05 DK - 32.51
Having Zinger back will probably cut into some of Noah short term production but man he's been really putting up numbers. Dude's crushed the boards, averaging almost 13 per game over the last six. He won't score a ton, especially with the three guys in Melo, Staps and Rose all back tonight. But Noah's minutes appear fairly locked in and he's still coming cheap at a weaker center position. I'm not inclined to pay all the way up for Boogie considering some of the other upper tier guys at other positions.
Greg Monroe FD - $5500 DK - $5800
Opponent - NY
Proj Pts FD - 30.85 DK - 32.13
Man do I hate playing bench players, but Monroe's making a real case to stick around with minutes at least in the short term. The best sign for his safety in run was playing crunch time the other night against the Knicks. If Kidd trusts him to run wit the final unit then there's some hope he can stick around playing these kind of minutes in the short term. Monroe's been a beast of late, averaging a 16/10/3 in his last three games. He's running very hot from the field over the last two which means you can't expect the same amount of scoring. But he's priced like a guy who plays 25 minutes a game and there's been such an increase in the short term. The salaries are likely pushing the breaking point unless you can guarantee the minutes (which you can't off the bench or with Jason Kidd) but I think we can ride the hot hand.
GRAB A FREE TRIAL OF OUR PROJECTION SYSTEM, AND CHECK OUT DFSR PRO!
GET OUR FREE EBOOK ON DAILY FANTASY NBA!
And Daily Fantasy NBA Picks for FanDuel and DraftKings every day!
FREE EBOOK
SECRETS TO CRUSHING DAILY FANTASY FOOTBALL!
DON'T SET ANOTHER LINEUP BEFORE YOU READ THIS BOOK.