Basketball Picks Daily Fantasy
Expert Advice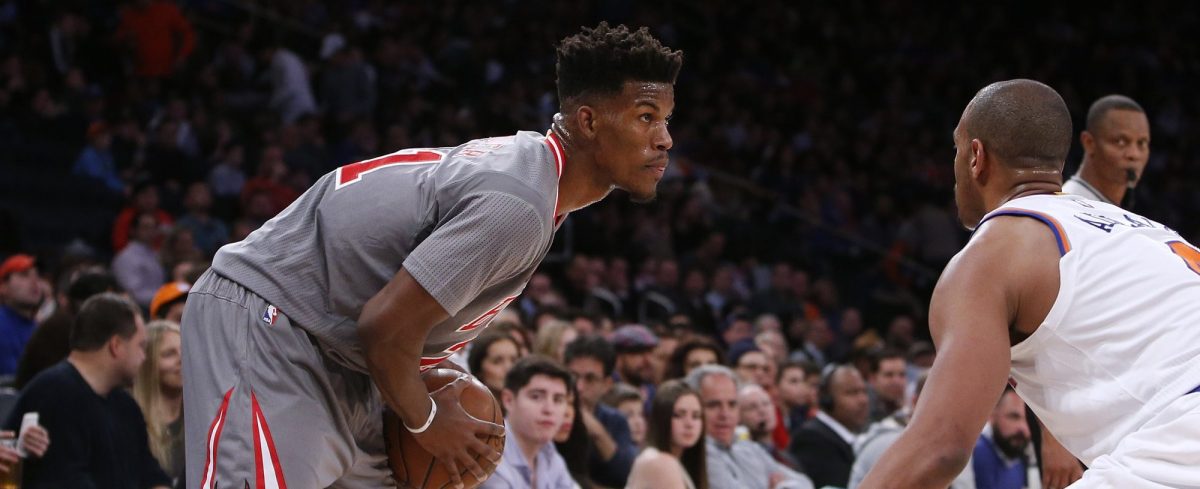 Daily Fantasy NBA Basketball Picks for FanDuel and DraftKings - 3/2/17
Now's your chance to get DFSR PRO, which will give you access to our NBA optimizer, our NFL Optimizer, and our new NFL player lab! Get started for free by clicking the button below.
First time with NBA? Be sure to read our free NBA Ebook on building lineups, general strategy and more. We've got you completely covered.
Point Guard
Russell Westbrook FD - $12800 DK - $13300
Opponent - POR
Proj Pts FD - 60.67 DK - 64.65
Westbrook opens it up here with one of the best match-ups in basketball for PG's, Damian Lillard. Lillard is one of the absolute worst defenders in basketball, finishing in the bottom 5 in DefRtg in each of the last 2 seasons. We're all well aware of what Westbrook is capable of, consistently sitting above 60 fantasy points on a night basis. While the price is absolutely insane at this point, it's for good reason. Westbrook is by far the most consistent and safe option on the slate, finishing below 50 fantasy points just once in the last 12 games. He's also been over 60 in 8 of those which speaks volumes on just how dominant he is. The Blazers don't hold a light to what Westbrook brings to the table here and he will demand extra attention from the tip. With all of that being said, the price does matter. This is a slate with a lack of value, so it could be tough to get down to Westbrook in cash. In tournaments, though, his ownership may be down a bit (relatively for a 3-game slate) for the player he is. With a floor of 60 and a ceiling over 80, don't overlook Westbrook due to his astronomical price.
Damian Lillard FD - $9100 DK - $8800
Opponent - OKC
Proj Pts FD - 42.97 DK - 46.03
This is a game we will be targeting a ton, which goes without being said considering the first 2 picks here. Lillard may not have the same upside as Westbrook, but he's also not anywhere near as expensive. Don't get me wrong, Lillard isn't cheap. He has seen a price jump recently due to his strong play and big fantasy performances. He gets a terrific match-up with the Thunder tonight, who give up a ton to opposing point guards. While Westbrook is a talented defender, he's far more concerned about offense and how he's gonna carry a team full of role players. That has left PG's open this year, with the Thunder giving up more than 45 FP per game to them. Lillard has a phenomenal matchup around 40 tonight with a ceiling over 6o. This game will be played in Portland, where Lillard has played much better over the course of his career. He also rarely has breakout game son the road, which we don't have to worry about. I still prefer Westbrook, even with price considered, though I can see the merit in using Lillard in both formats.
Kemba Walker FD - $8300 DK - $8400
Opponent - PHO
Proj Pts FD - 40.34 DK - 43.18
If you want to go elsewhere at PG, feel free to fire away Kemba Walker. Walker has been a lot better lately after struggling for about a month. he has now hit his upside a few times and is generally sitting around the 335 fantasy point mark. Eric Bledsoe is a god individual defender, but the Suns as a whole will fail to guard Walker, as he provides a big match-up problem. On the perimeter, there aren't too many guards better. He can split the defense and hit 3's or go down low and work in the paint. Walker will be able to attack the rim with not much resistance either, as just Alan Williams and Marquese Chriss will be there to stop him. This is the game we will target 2nd most, as it should stay relatively close and be high-scoring. Walker isn't nearly as safe as these other 2 guys, but he has insane upside and should go rather low owned, compared to the players priced above.
Strongly consider Stephen Curry whose price has come up but should see increased usage without Durant.
Shooting Guard
C.J. McCollum FD - $7500 DK - $7300
Opponent - OKC
Proj Pts FD - 36.08 DK - 38.85
The Blazers will be the team we target most tonight, which is always a tad bit scary. However, they have rather concentrated offense and have been playing some guys very consistent minutes. McCollum is one of them, seeing 35 or more minutes n each of his last 3. Shooting guard is a wasteland tonight as a whole, with Dwyane Wade and Nicolas Batum being the other high-end options. McCollumis out favorite of the bunch, as he will see a great individual matchup and team match-up. Oladipo has been banged up for a while now and I would expect him to miss another one here. That would leave Alex Abrines on McCollum, who is far too slow and inexperienced to stay with C.J. Even if Oladipo does return, he will likely be limited and/or hindered in his 1st game back. At a position that lacks much of anything, McCollum gives you a solid floor and ceiling in one of the best games of the night.
Nicolas Batum FD - $7300 DK - $7100
Opponent - PHO
Proj Pts FD - 35.86 DK - 38.87
On such a short slate, you will be forced into a couple spots you may not love. Both Kemba Walker and Batum come in as great plays, though I'm not sure I'll have both in my cash games and tourneys. Batum will see Devin Booker on defense, who has been one of the worst defending guards in the league. Over the last 30 days, Booker has sported a 111 DefRTG, which is better than only 11 other NBA players. Batum struggled mightily last time out against the Lakers, finishing with just 18 fantasy points in 36 very unproductive minutes. It was Batum's worst game in his last 20 and I wouldn't expect it again. He should go right back to his 30 fantasy point floor and 50 point ceiling. The Suns play fast and should offer up some extra possessions to Batum, who does control the ball when Walker is on the bench. McoCollum is preferred, but not by much.
Devin Booker FD - $6200 DK - $6500
Opponent - CHA
Proj Pts FD - 29.85 DK - 32.2
Shooting guard is a spot you should probably pay up into this mid/high range, as there are guys here with a lot more upside than you will find below $6k. Devin Booker will finish us off here at SG, though he has just as much upside as anyone. Booker is a very streaky player and he has been pretty cold lately. While that doesn't sound great, he has picked it up a bit. Playing over 36 minutes and shooting 15 times in each of the last 3 games, Booker should see his bottom line come up. This is one of the better young guards in the league and he will be back to scoring 40 on a regular basis very soon. Nicolas Batum is an excellent on-ball defender, but will be covering Kemba on and off, so he won't be too focused on Booker. I also think Booker is good enough to score on him, as long as his shot is falling. Make sure you take advantage of this price after just a few disappointing games. Booker is better fit for tournaments, but I don't mind him in cash on such a short slate. I doubt he hurts you too bad, even in the worst case scenario.
Consider Klay Thompson who, like Curry sees an increase in both usage and rebounding without Durant.
Small Forward
Jimmy Butler FD - $9000 DK - $8900
Opponent - GS
Proj Pts FD - 42.16 DK - 44.14
If it weren't for Jimmy Butler, I would like this slate A LOT less. On this 3-game slate, there are only 4 ways to up in Westbrook, Lillard, Butler and Curry. With 3 of them coming at PG, you should probably get some exposure to Jimmy Butler. While he will be guarded by some pretty good players, the Warriors play at an extremely fast-paced and gives up a ton of points. Butler is also very consistent, topping 40 fantasy points in 4 of his last 5 games. Klay Thompson will likely garner the responsibility of Butler, which will be pretty tough for him. Butler is also way too low priced, sitting at just $9k on both sites. Butler only needs about 45-50 to hit value in cash games, which I do think he gets to in this match-up. There is upside for a lot more too, as the Bulls will need a huge performance out of Butler to stay in the game. With that being said, Kevin Durant will miss this game, so it could definitely stay closer than expected. Butler is by far the top option at SF in both cash games and tournaments.
T.J. Warren FD - $5800 DK - $5500
Opponent - CHA
Proj Pts FD - 25.9 DK - 27.09
T.J. Warren has been consistent for the Suns, typically ending up around 25 fantasy points in 34 or so minutes. He gets a nice match-up with the Hornets tonight, in a game that figures to be high-scoring and competitive. While MKG may cover Warren, he isn't a guy that looks to score 1-on-1 anyways. He will still be able to get his normal peripherals and few buckets that he will fall into. This is a slight pace-down game for the Suns, which does worry me a little bit with the safety of these guys. However, the Hornets have been known to play fast on occasion and I could see them matching the Suns as they are at home. Warren will be needed for his defensive and rebounding ability and should play at least 35 minutes as a result. He can be played in both cash games and tournaments, though I do prefer him in cash games due to his lack of upside.
Maurice Harkless FD - $4800 DK - $4800
Opponent - OKC
Proj Pts FD - 25.62 DK - 26.96
Harkless has seen 36 or more minutes in 3 straight, topping 23 fantasy points in each contest. While we haven't seen much upside, we know it's there. This is a guy who put up 40-50 fantasy points multiple times earlier in the season, in similar match-ups. While we certainly can't expect that, I do expect 25 fantasy points. He is a near lock for big minutes at SF and PF in a game with a very high over/under and a close spread. While Lillard and McCollum are definitely the preferred options, Harkless is a good 3rd wheel on the offense. Harkless derives most of his upside from peripherals, which sets up well in a game that should hit 220 points. Harkless is a top cheap option at SF and I won't hesitate to plug him into both cash games and tournaments. With that being said, Warren and Butler are better options in both cash games and tournaments.
Power Forward
Nikola Mirotic FD - $4200 DK - $5000
Opponent - GS
Proj Pts FD - 24.39 DK - 26.78
Mirotic has played inconsistent minutes over his last 3, though I think there is some sense to make of it. Mirotic is a stretch 4 and does better in games that are fast-paced and transition heavy. The Suns offered just that and he took advantage, scoring 30 fantasy points in only 37 minutes. He then had another nice performance against the Cavs in 29 minutes, finishing with 31 fantasy points. Lastly, he stunk it up against the Nuggets. The Nuggets have been playing Wilson Chandler and Danilo Gallinari at the 4, who Mirotic would have a very tough time matching up with. Instead, Hoiberg went with Bobby Portis, who is a bit more athletic and quick. We are back to a match-up that should favor Mirotic, as long as things go to plan. While the floor is certainly scary, I think this match-up is on of the best possible for Mirotic. With Durant out, the rotations could be a bit weird, but I would expect Draymond Green to cover Mirotic for mot of the game. While Green is an excellent defender, he helps a lot on guards which will leave Mirotic open in the corner. On such a short slate, Nikola Mirotic is definitely  a guy I will have exposure to in both cash games and tournaments.
Enes Kanter FD - $5900 DK - $5200
Opponent - POR
Proj Pts FD - 28.63 DK - 30.12
Kanter returned from his broken wrist 3 games ago, seeing 19, 24, and 27 minutes since. I would expect another slight increase here and for Kanter to end up somewhere around 28-30 minutes. That should be plenty against the Blazers, who sport one of the worst defensive interiors in basketball. Jusuf Nurkic and Al-farouq Aminu will see Kanter throughout the game and neither have a chance. Nurkic is far too big and immobile. Aminu is more of a small forward and is far too weak to bang with Kanter in the low-post. Westbrook loves to play with Kanter and does a great job getting him involved off of pick n' rolls and low post off-ball screens. He is the 2nd most expensive PF on the slate, though that's pretty relative when there are only 3 or 4 guys you can roster with any confidence. Kanter is a guy I'm willing to play in all formats as I see his floor around 25 and ceiling around 40. There is also not too much of an opportunity cost at the position.
Draymond Green played 40 minutes last game when Durant went down. If that's around the new baseline in minutes then he's an excellent play at a weaker PF position.
Center
Frank Kaminsky FD - $6200 DK - $7200
Opponent - PHO
Proj Pts FD - 29.66 DK - 31.5
Center is VERY weak on this slate, with only 3 guys you can be somewhat confident in. Kaminsky is at the top of the list, facing off with the Suns in what figures to be a very fantasy-relevant game. Kaminsky has been playing out of his mind lately, finishing with 40 fantasy points in 3 of his last 5.  The Suns have been playing Alan Williams and Alex Len at center and neither will have a chance. Kaminsky has been shooting the outside ball well, which has forced his opponent to play close and give up driving lanes. Kaminsky has also shown his ability to face-up and take someone to the rim. This doesn't seem to be a fluke and I am willing to jump on again tonight. Kaminsky plays well with Walker and Batum as well, which is always good news if you are considering a mini game stack. There are definitely some guys around the league that don't correlate, even though there eon the same team. Kaminsky is the top option at center in both tournaments and cash games. While his ownership will be very high, I would just ignore it. With only 3 relevant options, all 3 will be heavily owned.
Jusuf Nurkic FD - $5400 DK - $5600
Opponent - OKC
Proj Pts FD - 30.14 DK - 32.72
Nurkic has played well since being traded away from the Nuggets, putting up 28 or more fantasy points in 3 of the 4 games. He saw 35 minutes last game and could see somewhere around that again. His size will be necessary against Steven Adams, who will bang down low with Nurkic for rebounds and putbacks. That should put Nurkic in a position for plenty of both, which give him a ton of upside. he will also see some pick n' roll on offense with Lillard, which he has run well so far. Both Westbrook and Adams struggle against the PNR, so the Blazers should turn to it early. While Nurkic could struggle to see big minutes on a nightly basis, he should be plenty rested after sitting on the bench all year in Denver. Nurkic may not have the same safety as Kaminsky, but he will be lower owned and has similar upside. Kaminsky is still the preferred option in cash games on both sites.
GRAB A FREE TRIAL OF OUR PROJECTION SYSTEM, AND CHECK OUT DFSR PRO!
GET OUR FREE EBOOK ON DAILY FANTASY NBA!
And Daily Fantasy NBA Picks for FanDuel and DraftKings every day!
FREE EBOOK
SECRETS TO CRUSHING DAILY FANTASY FOOTBALL!
DON'T SET ANOTHER LINEUP BEFORE YOU READ THIS BOOK.