Basketball Picks Daily Fantasy
Expert Advice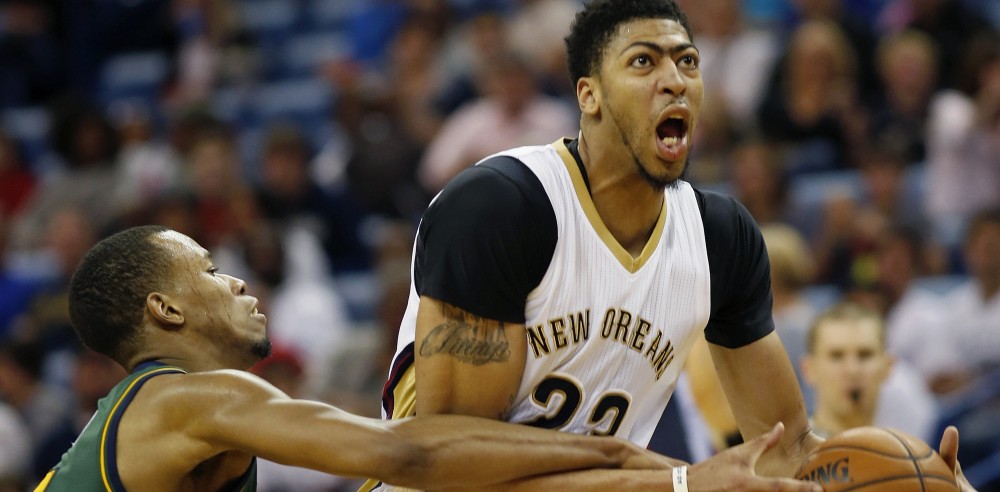 Daily Fantasy NBA Basketball Picks for FanDuel and DraftKings - 4/4/17
Now's your chance to get DFSR PRO, which will give you access to our NBA optimizer, our NFL Optimizer, and our new NFL player lab! Get started for free by clicking the button below.
First time with NBA? Be sure to read our free NBA Ebook on building lineups, general strategy and more. We've got you completely covered.
Point Guards
Kemba Walker FD - $7600 DK - $8000
Opponent - WAS
Proj Pts FD - 37.1 DK - 39.75
The Hornets are still buzzing, trying to fight their way in to that last playoff spot. Sunday they helped their own cause with a 113-101 drubbing of the Thunder, and Kemba Walker was excellent in that game. In the 2 prior contests, Walker was a combined 16 of 48 from the field, so it was refreshing to see him go connect on 10 of his 20 from the field and 6 of 12 from beyond. Even with the poor shooting performance against Denver on Friday, this was still the second straight game in which Walker crushed value and the third time in 4 games he paid 5X or higher. Today he draws John Wall and the Washington Wizards, which has not been a generous match up for opposing point guards this season, but Walkers recent performance and slightly decreased pricing coupled with a mere 4 point spread have me confident enough in Walker having ample opportunity to hit value.
Jrue Holiday FD - $7300 DK - $7300
Opponent - DEN
Proj Pts FD - 40.38 DK - 43.12
There's a plethora of value at the point tonight, making it hard to justify paying up for the Walls and Westys of the world. Take Jrue Holiday for example. Holiday comes in at a mere $7300 across the industry and finds so many ways to contribute to the game. Even when his shot just isn't there which it certainly wasn't on Friday against the Kings where he ended the night hitting only two of nine from the field, he starts bringing down rebounds and dishing out the assists. Holiday hasn't come close to paying value in his last two outings, but tonight the odds are so ever in his favor with the Denver Nuggets. For a guy like Jrue who does play a complete game, this is a perfect match up, as Denver is allowing 6% more points, 4% more rebounds, and 9% more assists to opposing ones. I'm writing this earlier than normal, and currently do not have a spread from Vegas, I'd be surprised to see this one get too far out of hand, I like Jrue as a high floor high ceiling play worthy of consideration in all formats.
T.J. McConnell FD - $6000 DK - $5800
Opponent - BKN
Proj Pts FD - 31.85 DK - 33.77
Speaking of value, T.J. McConnell is another low priced point guard in an excellent match up. McConnell and the Sixers play host to the Nets tonight. Last Tuesday in Brooklyn McConnell picked up ten assists, coming just two points shy of a double double, but still finished the night paying 5X thanks to 3 boards, 2 steals and a block. Sergio Rodriguez has already been ruled out for this game, meaning T.J. should definitely see minutes in the thirties, as he has in three of these past 4 games that Rodriguez has been out. I don't care for the sharp increase in price on FanDuel, and honestly think it hurts his upside, but for cash purposes, you can't go wrong.
Ron Baker FD - $3500 DK - $3600
Opponent - CHI
Proj Pts FD - 22.58 DK - 25.24
You say you want even more value? Well then my friend, have I got the value play for you. Ron Baker has been getting the starts for the past three games with Derrick Rose on the shelf, and while he hasn't done a whole lot in his near 36 minutes per game what he has done has at least paid 5X each time out. Friday night against the Heat it paid over 7X. Tonight the Knicks host the Bulls who are a bottom ten defense at the point, so for cash games he should easily get you to value and by the end of the night, he could just be that play that helps your tournament top all of the others.
Shooting Guards
Timothe Luwawu FD - $4200 DK - $5100
Opponent - BKN
Proj Pts FD - 27.55 DK - 29.83
All of that value at the point, and man is it tough to come by at shooting guard. First we had Baker listed, but then FanDuel went and moved him to PG. (Thanks for that!) Then we decided on Tony Allen, but now he's questionable. So, at the end of it all we have 2.5 plays at the two. First off, a little TLC. This guy just keeps getting better, he set a career high against Cleveland on Friday with 19 points, and decided that just wasn't good enough, so he came out on Sunday and threw up 23 against Toronto. The Sixers have shelved Robert Covington and Jahlil Okafor for the season, which opens tons of opportunity and DFS potential for their young stars for the final few games, and tonight against the Nets there is no better situation to take advantage of that fact. Last Tuesday against the Nets, TLC ran for 33 minutes and came one rebound shy of a double double, posting 17 points and 3 assists to the tune of nearly 8X and has paid at least 6X in each game since. I repeat, there is not a lot to love at SG tonight, but I love me some Timothe Luwawu in all formats.
Wesley Matthews FD - $4800 DK - $5100
Opponent - SAC
Proj Pts FD - 26.61 DK - 29.12
Then we have Wesley Matthews. The Mavericks head in to Sacramento tonight to take on a Kings team with noting left to fight for. Matthews has been hit or miss over his last few games, with FanDuel totals of 25.8, 18.6, 27.1, and most recently 17.2 despite averaging 35 minutes per contest. Sure, there's some risk, but Sacramento for their part are allowing 8% more points than league average at the two, as well as 2% more rebounds, so as long as Matthews is able to find his shot early and pump in some points, you have to think he can get you where you want to go.
Tony Allen was going to be our second shooting guard, but as I was doing this write up the announcement came that he was questionable against the Spurs. If he's cleared to play, strongly consider him.
Small Forwards
LeBron James FD - $10700 DK - $10200
Opponent - ORL
Proj Pts FD - 50.99 DK - 54.2
James was a force to be reckoned with in a tightly contested battle with Paul George and the Pacers on Sunday. The King ran for 52 minutes in that game, dropping 51 points, grabbing 16 rebounds, and dishing out 11 assists. Tonight the Cavs host the Magic and Terrence Ross is no Paul George and Orlando has the ninth worst defense against opposing small forwards. My one concern, and I hope I'm wrong, because I love James as one of the top ways to spend up tonight, but with a battle for the number one seed coming up tomorrow against the Celtics, is it possible the Cavs sit their studs tonight after Sundays marathon? At this point, every win counts, so let's hope the King comes out and leads his team to another victory.
Justin Anderson FD - $4000 DK - $5000
Opponent - BKN
Proj Pts FD - 26.55 DK - 28.26
With Robert Covington hung up to dry for the remainder of the season, Justin Anderson seems poised to hold the starting small forward role for the Sixers for their final few games. In three consecutive starts, Anderson has averaged 26 minutes, 9.3 points, 5 boards and three assists. Last Tuesday against this Brooklyn squad, Anderson put up a 9/7/1 line with 2 blocks in 22 minutes off the bench. That was enough for him to pay 5X, so you have to love his chances tonight as a starter against the leagues worst defense at the three. I like Anderson for a 6X floor with potential 7.5X ceiling and will have him everywhere.
Khris Middleton FD - $6200 DK - $6100
Opponent - OKC
Proj Pts FD - 32.65 DK - 34.92
With the Milwaukee Bucks fighting for seeding in the west, look for Khris Middleton to be locked in for minutes in the mid-thirties from here on out, and while he's no greek freak, his performance has continued to improve as the season draws on since rejoining the team midway through. He notched his first double double of the season against the Pistons on Friday night, and has paid value in three of his last 5 games. Andre Roberson is a fine defender, but may be out of his league in this match up, plus when called on to double up on Giannis, could leave Middleton wide open for a breakaway. I'm not feeling a lot of upside, but in cash games deploy Middleton at will.
Power Forwards
Anthony Davis FD - $11200 DK - $10100
Opponent - DEN
Proj Pts FD - 52.46 DK - 54.69
Have the days of Mr Glass been put to rest? I'd have to go back and check, but I think I've been burnt by Anthony Davis far less this season than I have in the past. Even Sunday night hosting Chicago, Davis tweaked his ankle and headed to the sideline, yet returned to the game and played a total of 40 minutes. He dropped 8 of 19 from the field and managed to make his way to the courtesy line 14 times, making all but one free throw while also grabbing 11 boards. The Nuggets front court defense is much better than their back court, but still isn't anything to shy away from. Davis has been a player in the past I wouldn't hesitate to fade in cash regardless of the match up because a history of injury just doesn't equate to safety in my book, but this new and improved Anthony Davis, now without fear of injury is my kind of Davis and I will have him in cash games as well as gpp.
Kristaps Porzingis FD - $7200 DK - $7400
Opponent - CHI
Proj Pts FD - 35.91 DK - 37.99
Word on the street is Carmelo Anthony will most likely play tonight, and that kind of hurts Zingers value, but not enough to disqualify him completely. Kristaps pulled a vanishing act against the Celtics on Sunday in a blowout loss, scoring 14 points and grabbing a single rebound with not much else. The Bulls interior defense is better than the perimeter, but like I said about Denver up above, this isn't anything to scare us off, they're still middle of the road, unimpressive, and Porzingis should bounce back nicely. A much better play if Melo decides to continue to sit, but even with Melo in the starting 5, Zinger still presents plenty of potential for cash line ups.
Richaun Holmes FD - $6000 DK - $6300
Opponent - BKN
Proj Pts FD - 35.98 DK - 37.35
Todays recurring theme: play the Sixers. Yes, those Sixers. This Philly squad in it's current state is ripe with fantasy potential and does not eat much salary so you can still fit your favorite studs. Richaun Holmes is the starting center now with Jahlil Okafor following Joel Embiid to the shut down for the season squad. The Nets, hard as this may be to believe, are a bottom of the barrel defense defending the five. Holmes was completely outclassed by Jonas Valanciunas on Sunday when the Sixers faced the Raptors, and only managed 4/7/2 in 23 minutes of play, this was his worst performance by far since Okafor has been out, but he should be looking at a big bounce back performance this evening. Just like every Sixer I've mentioned here so far, Holmes is a high foor higher ceiling play tonight, and I wont be surprised to see one or two of them sprinkled in to a winning tournament lineup.
Gorgui Dieng FD - $5600 DK - $6300
Opponent - GS
Proj Pts FD - 29.62 DK - 31.06
I wrote Dieng up on Friday night prior to the Wolves tilt with the Kings, and stated despite how impressive he has been lately, I was a little concerned with the price climbing up to the 6k range. Despite my trepidation, Dieng paid just over 5X at that hefty price against Sacramento. The good news is the price has dropped back down a bit, at least on FanDuel. The Wolves visit the Warriors tonight, and without KD in the front court the dubs defense has suffered in the long run, allowing 4% more scoring and 3% more rebounds to the four this season. Dieng should easily hit the 5X mark, with potential for more if this one stays close.
Centers
DeMarcus Cousins FD - $9600 DK - $10300
Opponent - DEN
Proj Pts FD - 53.41 DK - 56.69
Three games returned from sitting out for two with a sprained right ankle DeMarcus Cousins showed he is rolling at full strength running the boards for 42 minutes against Chicago on Sunday. Boogie did his part to try and beat the Bulls, shooting 50% from the field while dropping 2 treys and snagging 18 rebounds in the Pelicans 117-110 loss. Tonight, the Pelicans host the Nuggets, who present a league average match up against opposing centers, allowing 4% more scoring at the position, but 5% fewer boards. I don't currently have a total from Vegas on this one, but with the 8th and 9th fastest teams in pace factor, you have to think there will be plenty of scoring to go around. I feel confident in Boogies minutes for cash games, but therein lies the problem for tournaments, unless we see double overtime, there isn't much room for the ceiling to exceed the floor.
Jonas Valanciunas FD - $5500 DK - $5900
Opponent - IND
Proj Pts FD - 28.97 DK - 30.2
So, if you're looking for separation and upside from Boogie, allow me to introduce Jonas Valanciunas. JV has been the textbook definition of consistency over his last four games, running for 27-29 minutes while dropping 14-17 points per game in that span. The upside lies in the rebounds. In the two of those four games he added 15 rebounds against Charlotte, and 17 against the same Pacers squad he faces tonight. The Pacers on the season allow 3% more boards to opposing 5's so it stands to argue he could put on a similar performance. In that game Friday night he paid nearly 8X PPD. If you're spending up elsewhere and don't have salary to fit Boogie, then definitely look JV's way. Love him in all formats.
Keep a close eye on Marc Gasol's status. If he's looking unlikely to go against San Antonio, then Strongly consider Brandan Wright in his spot.
GRAB A FREE TRIAL OF OUR PROJECTION SYSTEM, AND CHECK OUT DFSR PRO!
GET OUR FREE EBOOK ON DAILY FANTASY NBA!
And Daily Fantasy NBA Picks for FanDuel and DraftKings every day!
GET OUR FREE EBOOK ON DAILY FANTASY NBA!
And Daily Fantasy NBA Picks for FanDuel and DraftKings every day!
FREE EBOOK
SECRETS TO CRUSHING DAILY FANTASY FOOTBALL!
DON'T SET ANOTHER LINEUP BEFORE YOU READ THIS BOOK.