Baseball Picks Daily Fantasy
Expert Advice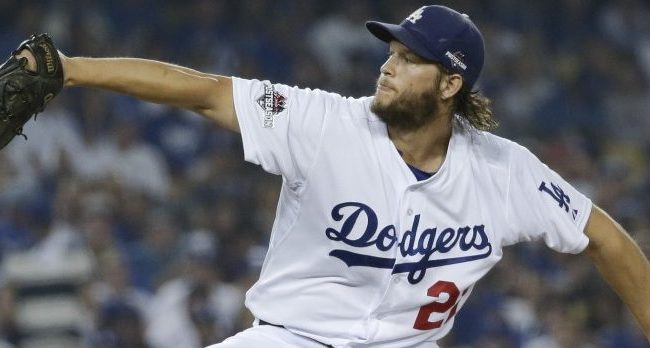 Daily Fantasy MLB Baseball Picks for FanDuel and DraftKings - 6/7/17
Now's your chance to get DFSR PRO, which will give you access to our MLB optimizer, our NBA Optimizer, and our new player lab! Get started for free by clicking the button below.
First time with MLB? Be sure to read our free MLB and NBA Ebooks on building lineups, general strategy and more. We've got you completely covered.
Pitcher
Early
Clayton Kershaw FD 12300 DK 12800
Opponent - WSH (Strasburg) Park - @LAD
FD - 41.71 DK - 27.47
On this 3 game early slate, there isn't anywhere else I could advise going. We all know Kershaw is the best option and it will always come down to the slate and whether or not he's reasonably affordable. You can definitely get it done here. We have a few offenses to target and with it being a daytime slate, there will be punt plays that emerge as lineups come out. Kershaw faces the Nationals today, at home in pitcher-friendly Dodgers Park. While the Nationals are definitely a scary lineup by name, they are worse against lefties and strikeout more than league average. Kershaw is pure death to lefties, so the likes of Harper and Murphy will be minimized greatly. Ryan Zimmerman and Anthony Rendon are the 2 big bats in the lineup against lefties. They have both held .390+ wOBA's against them in 2017 and will be the 2 guys Kershaw needs to focus on. The strikeouts will come as they always do and he will likely go at least 7 innings, with the real possibility for 9 each and every start. We all know how historically great Kershaw is, so I don't need to sit here and school you on why he's a good pitcher. He's held a sub .280 wOBA in 3 straight seasons and tends to strikeout around 9 or 10 per 9 innings. Kershaw will cost you a pretty penny, but it may just end up being worth it in both cash games and tournaments on such a small slate.
Main
Zack Greinke or Dallas Keuchel?
These guys are extremely close tonight and I think both are worth a look. The only problem with Keuchel is his expected regression. He currently holds a .222 BABIP, which is a stat that isn't controlled by the pitcher (yes, groundball pitchers typically have lower BABIP, but only .10 points or so). At his price, it may be troubling to pay for a guy who is slightly outperforming his peripherals. That's not to say he's a bad pitcher or even a good one. He is a great pitcher and makes for a very strong play in Kauffman Stadium. The Royals are the 2nd worst team in baseball against lefties (.292 wOBA) and have shown no signs of life. As a matter of fact, Alex Gordon and Alcides Escobar are currently holding the 2 worst ISO's since the mound was lowered in 1969. Yes, really. As for Greinke, his issue is the ballpark. Chase Field is one of the best parks for hitting and the Padres definitely see a bump there. However, Greinke has been great at home in Arizona this year. The peripherals look strong and he's seeing a GB rate 12% higher at home than on the road. He's dominating both lefties and righties and has struck out almost 11 batters per 9 innings. Greinke is a little bit cheaper and will help you pay up for 1 more bat. All in all, I don't think you can really go wrong. Greinke has a bit more upside, but I would probably lean Keuchel in cash as I think he is super safe in this match-up to go at least 7 innings.
Jake Odorizzi FD 7900 DK 7100
Opponent - CHW (Pelfrey) Park - @TB
FD - 31.14 DK - 20.57
Looking a bit lower, we run into Jake Odorizzi against the White Sox. Chris Archer dominated this same team just last night, going 7 innings, striking out 11, and allowing 2 solo homers. The White Sox are very bad against righties, sporting a league's 3rd worst .294 wOBA. Jose Abreu is the only guy to fear and he sucks against the changeup, so Odorizzi should be able to handle him. As a change-up pitcher, Odorizzi is historically worse against righties. He has allowed just a .304 wOBA to righties this year, though a .194 BABIP will likely change that very soon. His numbers against righties are legitimate and he has struck out nearly 8 batters per 9 innings. Tropicana Field is very friendly for pitching and Odorizzi is pretty cheap on both sites. If you're looking for a guy to pay down for, I don't see going past Odorizzi. There are a whole bunch of offenses in good spots and Odorizzi is the cheapest I'm willing to go. He makes for a solid play in all formats, though I think his upside is definitely limited compared to guys who are just slightly more expensive.
Catcher
Evan Gattis FD 3100 DK 3800
Opponent - KC (Vargas) Park - @KC
FD - 10.47 DK - 7.96
As per usual, catcher is one of the weaker positions of the day. The great thing about tonight is that we have like 40 offenses who have the potential to put up runs. The Astros are always going to be one of those teams and get a quality match-up with an average lefty. It was just a few weeks ago when fans and "analysts" had this guy as one of the leading Cy Young candidates. As a note, if you've heard anyone say Jason Vargas is just as good as his numbers have shown this season, never listen to them again. It doesn't get any more clear than this. Against righties, Vargas has held a pitiful .245 BABIP on 32.5% hard contact rate. That's an accomplishment in itself. He has already begun seeing regression and you can be sure more is on the way. The Houston Astros are one of the top offenses in the league against lefties and I could see them getting Vargas out by the 4th inning. Evan Gattis is a guy you want to target against lefties. He will be higher in the order and you can almost guarantee multiple RBI opportunities. He sported a .366 wOBA in 2016 and hit 10 of his 22 homers against them. While Kauffman Stadium is nowhere near as friendly as Minute Maid to hitters, Gattis doesn't care. If he makes solid contact, it doesn't matter what ballpark the game is in. Gattis is solid in all formats, though he may be a bit expensive for cash games.
Willson Contreras FD 2500 DK 3700
Opponent - MIA (Urena) Park - @CHC
FD - 9.09 DK - 7.09
The Cubs are coming in as one of our top offenses on this slate. Jose Urena is very bad and has actually been worse against righties.  He's sporting a .417 wOBA against them and has allowed 7 homers in just 25 innings. He is moving from Marlins Park to Wrigley Field, which is a big upgrade for hitters. Wrigley Field, while heavily dependent on wind and temperature, came in the top 10 for hitters in 2016. Willson Contreras is pretty priced down on both sites and makes for a very strong cash game and tournament play. Contreras has sported a .336 wOBA against righties since entering the league in 2016 and has hit 13 of his 17 homers against them. The Cubs are expected to score over 5 runs here and you can confidently target any of these guys in cash games. Catcher is one of the weaker positions on the table and you can get a guy with plenty of upside for a very fair price. We'll touch on a few Cubs bats a little bit later on.
Early - Yan Gomes
First Base
Matt Carpenter FD 3000 DK 4100
Opponent - CIN (Arroyo) Park - @CIN
FD - 11.57 DK - 8.82
Bronson Arroyo is pretty similar to Jose Urena in terms of who you want to target against them. Arroyo, like Urena, gives up a lot of home runs and is just as bad against righties as he is against lefties. Arroyo has sported a .393 wOBA against both lefties and righties and has given up 19 homers in less than 60 innings. Even in his prime, Arroyo was one of the leaders in HR's allowed. It also doesn't help that he's pitching in Great American Ballpark. GAB is one of the smallest parks in baseball and has ranked in the top 5 for left-handed hitting in each of the last 5 seasons. Matt Carpenter, who is a bit too cheap on both sites, is one of the best right-handed hitters in the game of baseball. He has an extremely pure swing and gets a huge upgrade with the smaller ballpark in Cincinnati. Carpenter has sported a .373 wOBA against righties since 2016 and has hit the ball hard 43% of the time. First base has a lot of different ways to go, but Carpenter is extremely safe and has more than enough upside against a guy who loves to give up some homers. Specifically, on FanDuel, Carpenter is WAY too cheap at just $3000.
Hanley Ramirez FD 3300 DK 3900
Opponent - NYY (Sabathia) Park - @NYY
FD - 11.85 DK - 9.17
Hanley currently holds the lowest BABIP in the league against lefties at just .111, so cut him a break. Hanley was arguably the best hitter in baseball against righties in 2016, posting wOBA's that exceeded both Paul Goldschmidt and Mike Trout. That wOBA was a league-leading .453, which he backed up with a 26% line drive rate. Hanley is still hitting the ball hard this season and you can guarantee the production will come. The Red Sox face off with C.C. Sabathia tonight, who has been hit around against righties so far in 2017. While the .318 wOBA isn't bad, 9 homers in just 54 innings is. He also allows righties to hit the ball hard 38% of the time, which would have been worst in the MLB by far in 2016. Yankees Stadium is a good park for hitting and this entire offense is in play for tournaments. Hanley is the top option of all and one of the best 2nd basemen on the board for all formats. While Carpenter is preferred on FD, Hanley is a bit cheaper on DK and should draw similar ownership.
Early - Edwin Encarnacion, Ryon Healy
Second Base
Ian Happ FD 3100 DK 4000
Opponent - MIA (Urena) Park - @CHC
FD - 10.15 DK - 7.78
If you don't feel like playing Scooter Gennett and picking up 4 homers, I guess you can go with Ian Happ. Happ, a switch-hitter, has been much better against righties. He has held a .370 wOBA against them and when you combine that with a 34% hard contact rate, you have a really good hitter. Happ may be young, but he was just picked in the 1st round and he is a legitimate hitter. We've touched on Jose Urena, who is simply not good. In 2016, he allowed a .358 wOBA against lefties and allowed 7 homers in 40 innings. He's not getting any better either, allowing his highest hard contact rate of any season since 2014. Happ is very affordable on both sites and you can target him in both cash games and tournaments. With that being said, Joe Maddon has been moving the lineup around a lot. Keep an eye on the lineup as Happ becomes a much better play if plugged into that 1 or 4 hole. If he's a bit lower, you can still target him in a stack. Let's take a look at a guy who makes for a great strict GPP play a bit lower down the pricing tiers.
Brad Miller FD 2800 DK 3400
Opponent - CHW (Pelfrey) Park - @TB
FD - 9.07 DK - 7.08
I know, Brad Miller sucks. I agree. Fortunately, Mike Pelfrey is even worse. In reality, Brad Miller isn't the worst, at least against righties. He's hit 5 balls to the warning track and has held on to his elite 43% hard contact rate. Remember, this is a guy who hit 30 home runs in 2016. He will start putting some more in the seats and this is as good of a spot as he will get. You can fully ignore the stats Mike Pelfrey has posted this season. He's holding a .224 BABIP, which is reflected by an atrocious 5.17 xFIP. Pelfrey was one of the worst pitchers in 2016, sported a combined .384 wOBA and a putrid 25.7% LD rate. Brad Miller held a .342 wOBA in 2016 against righties and should return close to that number by the time this season is over. He may not be anywhere near a cash game play, but Miller has plenty of upside in this match-up and should be very low-owned. The Rays as a whole will be one of the top stacks of the night, though a bit tough to target as 1-offs.
Early - D.J. LeMahieu, Chris Coghlan
Fire up No Half Time for baseball season, and get a $25 bonus code when you use promo code DFSR25MLB!

Shortstop
Aledmys Diaz FD 2800 DK 3200
Opponent - CIN (Arroyo) Park - @CIN
FD - 9.31 DK - 7.4
Diaz has been bouncing around the batting order, so pay attention to what's going on when the lineup comes out. If Diaz is anywhere other than the 8 spot, you can target him in all formats. We all know what's going on with Bronson Arroyo. He's given up 12 homers in his last 5 games and has shown no signs of slowing down. Great American Ballpark is as good as it gets for righties and is a humongous upgrade from Busch Stadium. Aledmys Diaz, who made his debut just last season, sported a .391 wOBA against righties in 2016. He hits the ball hard and a lot of people don't recognize when a guy has reverse splits, leaving him a lot lesser owned than he should be. Diaz is very cheap on both sites and with some expensive pitchers to pay up for, Diaz is a perfect savings option. He gives you more than enough upside but could also put up 0 and you will be just fine. All in all, this Cardinals team is very much in play and should be one of the more popular options on the board.
Jordy Mercer FD 3000 DK 4200
Opponent - BAL (Miley) Park - @BAL
FD - 9.84 DK - 7.77
We all know Jordy Mercer is a lefty specialist. If forced to hit against righties every time, Mercer wouldn't get out of AA. Fortunately, this is real life and he gets to face them at least once or twice a week. He usually sees the top of the order and has been either 1 or 2 with Josh Harrison taking the other spot. You can ignore everything I'm saying if Mercer finds his way in the bottom of the order. Against lefties, Mercer held a ..372 wOBA over the last 3 seasons. He has plenty of power and is legitimately the 2nd or 3rd best hitter in the lineup when a lefty is on the mound. This game is also being played in Camden Yards, which is one of the bigger upgrades possible for a righty coming out of PNC Park. In fact, PNC Park ranked 2nd last behind just Petco Park in 2016 for right-handed power. Camden Yards, on the other hand, is always a top 5 park for hitters. They face off with Wade Miley, who has allowed a .322 wOBA and 6 homers in 50 innings of work so far. While not a terrible pitcher, Mercer is great against lefties and should be low-owned with his elevated price tag. Diaz is still the way to go for cash games, unless he is low in the lineup.
Early - Francisco Lindor, Corey Seager (where cheap)
Third Base
Manny Machado FD 3800 DK 4700
Opponent - PIT (Kuhl) Park - @BAL
FD - 13.43 DK - 10.37
Even though we haven't touched on the Orioles just yet and we won't touch on the again, they are one of the more intriguing offenses to target. They have the 2nd highest implied team total on the slate and are playing at home in the hitter-friendly Camden Yards. Oh ya, Chad Kuhl is horrible too. Kuhl has been horrible in most of his starts this year and even though most of the damage comes against lefties, righties have done plenty to Kuhl. He sported a combined .348 wOBA over the last 2 seasons and will have trouble moving from PNC Park to Camden Yards. Manny Machado held a .359 wOBA against righties in 2016 and a .384 in Camden Yards. Machado, like most guys, is a bit cheap on FanDuel and over-priced on DraftKings. If you're able to afford Machado, he is a very strong option in both cash games and tournaments. The Orioles should get some runs tonight and Machado is generally involved as the leader of the team.
Josh Harrison FD 3400 DK 4200
Opponent - BAL (Miley) Park - @BAL
FD - 9.75 DK - 8.15
Josh Harrison against lefties has to be one of the more underrated things in all of MLB DFS. This guy beats up on lefties just as bad, if not worse than Jordy Mercer. He's sported a .401 wOBA so far this year and posted a .363 in the 2 years before. That's also with half of his games in PNC Park, which is extremely tough on righties. Camden Yards, not so much. I just touched on Wade Miley and there really isn't much else to say about the guy. He's bad against righties and very good against lefties. In 2016, Miley posted a .360 wOBA against righties and allowed 22 homers in less than 130 innings. All of the Pirates righties make for great GPP plays tonight and the top 2 (Mercer, Harrison( make for great plays across the board. They do have a bit of an elevated price tag on DK because of the match-up, but that will hopefully keep the masses off of them.
Early - Jose Ramirez
Outfield
David Peralta FD 3200 DK 4000
Opponent - SD (Perdomo) Park - @ARI
FD - 10.97 DK - 8.77

Gregor Blanco FD 2700 DK 3200
Opponent - SD (Perdomo) Park - @ARI
FD - 9.79 DK - 8.21
We saw the type of firepower this Diamondbacks team has just last night. They put up 10 runs against the Padres and will look to follow up with another great performance against Luis Perdomo. While Perdomo is definitely better than Lamet, he's not good. He's very bad against lefties, actually. He's sported a .363 wOBA against lefties since 2016 and hasn't been any better this year to incite hope. He's allowed 17 homers in just 86 innings against lefties, which should give you a pretty good idea of the pitcher he is. Remember, half of his games are played in the best pitcher park in baseball, Petco Park. Chase Field is the exact opposite, ranking 2nd for lefties in each of the last 4 seasons. Both David Peralta and Gregor Blanco hit righties well, with Blanco relying more on speed and Peralta relying on power. Blanco had a big game last night, even without the HR. Peralta has sported a .400 wOBA against righties a few times over his career and it looks like he's on his way to another dominant season. The Diamondbacks lineup is interesting in tournaments, but I wouldn't go anywhere other than these 2 guys, Jake Lamb, and Chris Herrmann. Perdomo is far worse against lefties than he is against righties.
Corey Dickerson FD 4100 DK 4700
Opponent - CHW (Pelfrey) Park - @TB
FD - 9.89 DK - 7.68

Kevin Kiermaier FD 3200 DK 4700
Opponent - CHW (Pelfrey) Park - @TB
FD - 8.96 DK - 7.47
While we haven't touched on the Rays too much, this is not a team to ignore. Mike Pelfrey is horrible and he's going to start getting hit around. He was one of the 5 worst pitchers in all of baseball last year and is only going to get worse at 33 years old. He can't hold runners and can't keep the ball in the park (1.52 HR/9 since '14). Corey Dickerson and Kevin Kiermaier do very different things, but are both in play in all formats. Dickerson, aside from George Springer, is the most powerful leadoff hitter in the game. He swings for the fences at all times and has finally shown what he did as a Rockies OF in 2014. He is a bit more expensive than Kiermaier, but will be a bit lesser owned and has realistic 2 HR upside in this type of match-up. As for Kiermaier, he's one of the top options in the OF for cash games. If he gets on base, he will be stealing. Pelfrey has one of the slower steps around and Kiermaier has only been caught stealing 1 time this season. He has a bit of power as well, hitting 19 homers over the last 2 seasons. This entire Rays offense is in play as a stack and both of these guys make for quality plays in all formats.
Ben Zobrist FD 3200 DK 3600
Opponent - MIA (Urena) Park - @CHC
FD - 10.87 DK - 8.37

Kyle Schwarber FD 2600 DK 3900
Opponent - MIA (Urena) Park - @CHC
FD - 10.32 DK - 7.86
We've already touched on a few Cubs tonight and we'll now finish off with 2 of them in the OF. Jose Urena is one of the worst pitchers on the slate and the Cubs are obviously one of the top offenses in all of the game. Urena has sported a .361 combined wOBA since 2016 and has had huge problems keeping the ball in the ballpark. To start off, both Kyle Schwarber and Ben Zobrist have been bouncing around the batting order. Make sure you keep an eye out for the lineup as it will control where you want to play these guys. If Schwarber is once again in the 9 hole, he will be reserved for tournaments. If either of these guys are in the middle of the order, they are great in both cash and tourneys. Both Schwarber and Zobrist have held +.362 wOBA's since last season and have plenty of power in Wrigley Field. Zobrist is a switch-hitter and a bit more of a contact hitter, so he makes a lot of sense in cash games on FanDuel and DK. All in all, this entire offense is in play as Jose Urena will likely struggle to make it out of the 5th inning. Don't shy away.
Early - Coors Field, Rajai Davis, Khris Davis, Ezequiel Carrera
GRAB A FREE TRIAL OF OUR PROJECTION SYSTEM, AND CHECK OUT DFSR PRO!
GET OUR FREE EBOOK ON DAILY FANTASY MLB and NBA BY CLICKING HERE!
You'll also get our picks in your inbox every day!
image sources
NLDS Mets Dodgers Baseball: (AP Photo/Gregory Bull)
FREE EBOOK
SECRETS TO CRUSHING DAILY FANTASY FOOTBALL!
DON'T SET ANOTHER LINEUP BEFORE YOU READ THIS BOOK.