Baseball Picks Daily Fantasy
Expert Advice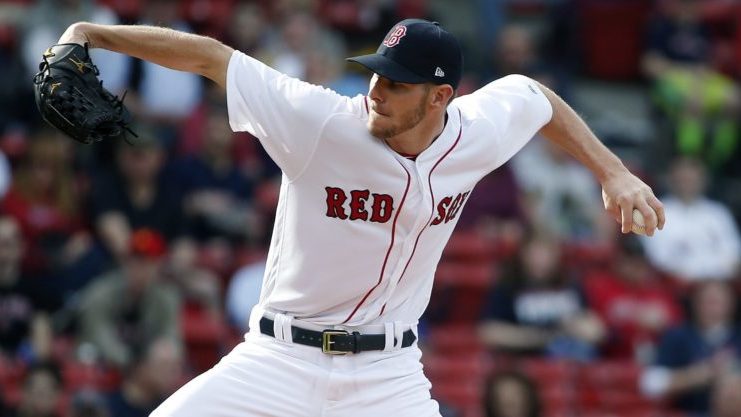 Daily Fantasy MLB Baseball Picks for FanDuel and DraftKings - 6/20/17
Now's your chance to get DFSR PRO, which will give you access to our MLB optimizer, our NBA Optimizer, and our new player lab! Get started for free by clicking the button below.
First time with MLB? Be sure to read our free MLB and NBA Ebooks on building lineups, general strategy and more. We've got you completely covered.
Pitcher
Chris Sale FD 11700 DK 13200
Opponent - KC (Strahm) Park - @KC
FD - 44.59 DK - 29.48
After a short run in which he appeared to be mortal, Chris Sale returned to his early-season form last time out with another 10-K performance. Of course, it was against the Phillies, but the Royals are actually slightly worse than the Phils against LHP this season. KC doesn't strike out much, but we don't worry too much about that when it comes to elite bat-missers. Maybe he whiffs seven or eight instead of double digits, but he's getting a solid park shift at Kauffman, so it almost evens out. The price is high, of course, but the relative security you get with an elite pitcher is worth it more often than not in cash games. And make no mistake, Sale is elite. He's fanning better than 12 per 9 IP with a 1.78 FIP and 2.61 xFIP. Don't hesitate to use him heavily tonight.
Michael Pineda FD 8900 DK 10600
Opponent - LAA (Bridwell) Park - @NYY
FD - 35.12 DK - 23.11
If you're spending on SP in cash games (and you should) we'd advocate avoiding half-measures and just going with Sale. But there's a case to be made for Pineda at a pretty decent discount. The Angels were already a pretty weak offense with Mike Trout in the lineup, and while they haven't completely tanked without the best baseball player on the planet, there's not much here that scares us. Meanwhile, Pineda is doing his usual thing: striking out about a guy per inning, keeping the walks low and coaxing a nice number of ground balls. Unfortunately his usual thing also includes a meatball or two per outing that gets sent into the bleachers. That's problematic, especially in Yankee Stadium, but the Angels rank 25th in team ISO vs. RHP, so there's less risk tonight than Pineda typically faces.
Brandon McCarthy FD 7900 DK 6400
Opponent - NYM (Gsellman) Park - @LAD
FD - 32.91 DK - 21.6
As far as SP2 options, McCarthy is hands down our guy as projection system's top points-per-dollar play on the slate. The matchup isn't an easy one, as the Mets handle righties pretty well (6th in wRC+), but that's baked into McCarthy's price -- especially on DraftKings. Plus, Vegas has installed the Dodgers as a big favorite, with only the Royals getting a lower implied run total than the Mets, and it's always nice when our algorithms are in accord with the bookmakers'. McCarthy is just an average guy when it comes to Ks, but otherwise, there's plenty to like in the work he's done this season, including nice control and excellent home run suppression leading to a 3.19 FIP. To be clear, we're not looking in McCarthy's direction for cash games on FanDuel, but he makes a very nice complement to your ace on DraftKings.
Consider: Mike Montgomery. The Cubs are a massive favorite, and the Padres have been bad against lefties. The downside is that his 88-pitch, five-inning performance last time out was a season-high on both fronts.
Catcher
Gary Sanchez FD 3900 DK 4900
Opponent - LAA (Bridwell) Park - @NYY
FD - 12.68 DK - 9.74
He'll be a tough buy at these prices, but the projection system is geeked about the opportunity to pick on Angels rookie Parker Bridwell. And even though the 25-year-old only has 13 innings of big-league work to his credit, it's not hard to understand why. Bridwell is mediocre non-prospect with a history of command problems and home run issues, which is the projection system's equivalent of offensive milk and honey. Mix in a park that plays well for power and one of the best hitting catchers in baseball, and there's plenty to be excited about here. With 11 HRs in 40 games this season, Sanchez has already reinforced what he showed last season in terms of power, and he continues to inflict most of his damage against righties. Though he's evened out a little this season, since getting called up last summer, he owns a .427 wOBA and .311 ISO vs. RHP.
Yasmani Grandal FD 2900 DK 2900
Opponent - NYM (Gsellman) Park - @LAD
FD - 10.79 DK - 8.14
Grandal's probably going to end up closer to your preferred price range at catcher if you're rolling with Sale, and there's nothing wrong with that. The power numbers are a little off last year's pace, but he's still hitting well from the left side, boasting a .345 wOBA and .237 ISO since the start of 2016 vs. RHP. And we're fine picking on Gsellman with guys on either side of the plate. He may not be as bad as his 5.50 ERA suggests, but his 4.45 xFIP isn't exactly imposing.
First Base
Matt Holliday FD 3700 DK 4400
Opponent - LAA (Bridwell) Park - @NYY
FD - 12.85 DK - 9.71
Like I was saying earlier, the projection system is all over the Yankees tonight. It's not exactly a bold call. They've got one of the best offenses in baseball this season, and Holliday has more than done his part to contribute to that with 14 HRs and .270/.375/.516 triple slash. He's been virtually split-neutral throughout his career and that hasn't changed, though his best power numbers are coming vs. RHP this season (.257 ISO), so don't sweat the matchup.
Justin Smoak FD 3500 DK 4600
Opponent - TEX (Martinez) Park - @TEX
FD - 11.69 DK - 8.82
If you don't want to test the relative unknown in Bridwell, we've got plenty of data on Nick Martinez, and it's all bad. Well, mostly bad. He doesn't walk guys, so kudos for that, but everything else makes him a guy well worth grabbing some bats against. He's striking out less than 5 per 9 IP this season while giving up 2.17 HRs/9, leading to a 5.00 xFIP that, while terrible, is actually a shade better than his career average. And his .348 wOBA allowed vs. lefties this season is also right in line with what he's done over the course of his career, which makes Smoak very enticing tonight. He's enjoying an age-30 breakout with 20 HRs on the season, not to mention a .399 wOBA and .300 ISO, so if you haven't yet, it's time to get on board.
Second Base
Brian Dozier FD 3500 DK 4600
Opponent - CHW (Holland) Park - @MIN
FD - 13.13 DK - 10.47
Dozier is well short of last year's monster home run pace, but they've been coming more frequently lately, with five in the last three weeks pushing his season total to 12. With nine steals to boot, that puts him right back in the range he was living in prior to 2016, and that's good enough -- especially against a lefty like Derek Holland who struggles to find the zone consistently (3.79 BBs/9) and has a tendency to give up the long ball (1.71 HRs/9). Dozier is mashing southpaws this year, and since the beginning of last season owns a .409 wOBA and .309 ISO in the split.
Jason Kipnis FD 3300 DK 3900
Opponent - BAL (Tillman) Park - @BAL
FD - 11.79 DK - 9.41
It's rarely a bad idea to get some lefty exposure to Camden Yard, and Chris Tillman is doing nothing to deter us tonight. He's getting blasted by lefties this season with a .452 wOBA, and while the sample size is small (just 81 batters faced), he's got a career 4.42 xFIP in the split, so it's not like the long-term track record is intimidating. Of course, Kipnis hasn't been that great this season, but we're not panicking. He's still supplying some pop and has a .195 ISO vs. RHP since the start of last season, so we're happy to use him when the right spot presents itself.
Fire up No Half Time for baseball season, and get a $25 bonus code when you use promo code DFSR25MLB!

Shortstop
Francisco Lindor FD 3300 DK 4400
Opponent - BAL (Tillman) Park - @BAL
FD - 12.37 DK - 9.98
Back to Tillman/Camden Yard here, and the matchup might be even better for Lindor. The 23-year-old is in the midst of a power surge this season and could easily match or surpass last year's home run total (15) by the All-Star break. And while his on-base numbers are down, the overall production really isn't, and the uptick in thump hasn't cost him any Ks (13.1 K%), so we're expecting some positive regression when his current .254 BABIP climbs closer to .317 career number. And while Lindor has been better against lefties this season, that .229 ISO vs. RHP this season should play just fine against this pitcher/park combo.
Troy Tulowitzki FD 2800 DK 3500
Opponent - TEX (Martinez) Park - @TEX
FD - 11.1 DK - 8.48
Just about the only thing that hasn't changed for Tulo over the past of seasons is the fact that the dude can't stay healthy. He's already missed a big chunk of 2017, which makes him a little tough to get a read on right now, but the lack of power he's shown this year is worrisome. On the other hand, it's also the reason you're getting him at these favorable prices, and with a matchup against Nick Martinez in a great hitter's park, he's in a good spot tonight. The early line has the Blue Jays with an implied total closing in on six, so we're expecting some run-producing opportunities for everybody tonight. And while we'd like Tulo if he were a little higher in the order, he should get his chances to push a couple across. Also, Nick Martinez is bad against everybody, so while lefties have hurt him worse, don't think that you can use righties against him. He's giving up a .340 wOBA vs. RHP since the start of last season, so there aren't many Blue Jays bats we don't like tonight, especially when they're coming as cheap as Tulo.
Third Base
Miguel Sano FD 4300 DK 4200
Opponent - CHW (Holland) Park - @MIN
FD - 13.45 DK - 10.05
Ok, so Sano strikes out a ton (35 K%) and that ridiculous BABIP (.412) can't last forever. Fine. We still love him against Derek Holland. As mentioned already, Holland gives up too many homers, which puts him in dangerous territory against Sano, owner of a .275 ISO vs. LHP this season. We also have to acknowledge the fact that Sano has earned a lot of BABIP, because he's absolutely obliterating baseballs when he makes contact. He's got a 52% hard contact rate this season compared to 7% soft contact, which is why is xWOBA (.390) is nearly identical his his actual number (.394).
Evan Longoria FD 3600 DK 3700
Opponent - CIN (Garrett) Park - @TB
FD - 11.99 DK - 9.16
A former lefty killer, Longoria has been trending in the wrong direction against LHP for nearly a season and a half now. He's got just a .298 wOBA in the split this season, so if that scares off, it's understandable. We're not totally buying it, though, because his xwOBA (.360) shows that his still making really good contact against southpaws, and it's likely only a matter of time before the results start to bear that out. We should also mention here that Amir Garrett is not actually good. Forget about that 12K game in April, and don't overweight the fact that he fanned eight Padres last time out. There may come a time in his career when those kinds of results are the norm, but for now, they are the obvious exceptions. He's got a 6.97 FIP with 17 HRs allowed in 54 IP, and righties have a .386 wOBA against him, so despite a bad park, the matchup is still an excellent one for Longoria tonight.
Consider: Kyle Seager
Outfield
Jose Bautista FD 3700 DK 3900
Opponent - TEX (Martinez) Park - @TEX
FD - 13.57 DK - 10.15

Kevin Pillar FD 2600 DK 3900
Opponent - TEX (Martinez) Park - @TEX
FD - 11.49 DK - 9.6
If you've been paying attention, none of these OF picks are going to come as a surprise. We're obviously going ater Nick Martinez again here, for all the reasons stated above. Bautista looks like a near-lock at his DraftKings price, and while he's in play on FanDuel, too, the projection system is almost as high on Pillar, and he won't cost you nearly as much there. We typically prefer Pillar much more against LHP, but the matchup/park/favorable lineup slot make him an attractive option for cash games on FD regardless of the split. Meanwhile, Bautista has continued his late-career shift to becoming a reverse-splits guy (.356 wOBA, .212 ISO vs. RHP this season), and while he's cooled off since scorching the league in May we're happy to take advantage of the modest DK price tag that's resulted from the slump.
Aaron Judge FD 4700 DK 5400
Opponent - LAA (Bridwell) Park - @NYY
FD - 13.74 DK - 10.58

Brett Gardner FD 3900 DK 4100
Opponent - LAA (Bridwell) Park - @NYY
FD - 12.11 DK - 9.75
You're going to have to make some tough calls if you want to play the top-shelf Yankees bats and don't want to skimp on pitching tonight -- and if you're playing on FanDuel, it's going to be nearly impossible to play Judge and Sanchez in your Sale lineups. But whereever you can fit them in, it would probably be wise to grab one or both of these guys. Judge has a solid impression of 2016 Gary Sanchez, but with the added benefit of a stolen base here and there. He's got 23 HRs through 65 games, and while he's striking out a lot (29%), that's a little easier to swallow when it comes with a 15% walk rate (not to mention a .459 wOBA and .358 ISO vs. RHP). Gardner obviously doesn't come with Judge's ceiling, but don't that obscure the fact that the 33-year-old is having what could be the best offensive season of his career. With 13 HRs, he's already closing in on a career high, and he's got a .371 wOBA and .228 ISO vs. RHP this season.
Consider: Guillermo Heredia, if Mitch Haniger's Monday absence turns out to be something other than a routine day off and Heredia is back near the top of the order again.
GRAB A FREE TRIAL OF OUR PROJECTION SYSTEM, AND CHECK OUT DFSR PRO!
GET OUR FREE EBOOK ON DAILY FANTASY MLB and NBA BY CLICKING HERE!
You'll also get our picks in your inbox every day!
FREE EBOOK
SECRETS TO CRUSHING DAILY FANTASY FOOTBALL!
DON'T SET ANOTHER LINEUP BEFORE YOU READ THIS BOOK.