Baseball Picks Daily Fantasy
Expert Advice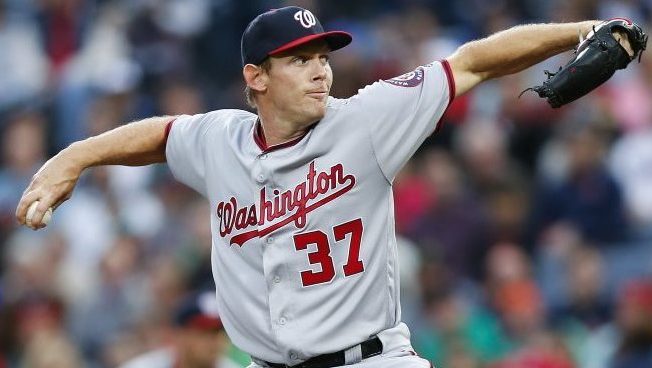 Daily Fantasy MLB Baseball Picks for FanDuel and DraftKings - 6/28/17
Now's your chance to get DFSR PRO, which will give you access to our MLB optimizer, our NBA Optimizer, and our new player lab! Get started for free by clicking the button below.
First time with MLB? Be sure to read our free MLB and NBA Ebooks on building lineups, general strategy and more. We've got you completely covered.
Pitcher
Stephen Strasburg FD 10400 DK 11600
Opponent - CHC (Lackey) Park - @WSH
FD - 40.46 DK - 26.61
It seems like the quality of pitching has taken a step down lately. With so many injuries and it being summer, offenses are having a lot of success and putting up plenty of runs. Tonight, we have a rather average pitching slate to deal with. There is certainly nobody that stands out, but you also won't be forced to play Brandon McCarthy as your SP1 like on Monday. We'll start with Stephen Strasburg, facing off with the Chicago Cubs, at home in Nationals Park. Scherzer pitched 6 quality innings against the Cubs just last night, but was pulled pretty early at just 93 pitches. The Cubs haven't hit well and while they eventually will, I doubt it happens against Strasburg. He's definitely the most talented pitcher on the slate and I'm willing to go there for that pure fact. The only other guy who comes close is Yu Darvish, facing off with the scrappy Indians in Cleveland. No thanks. Strasburg has definitely hit a few road bumps as of late, but has been great overall on the season. He has posted a .280 wOBA against both sides of the plate and is striking out almost 11 batters per 9 innings. The Cubs do strikeout a lot and even if they do get a few runs off of Stas, he should pick up at least 7 or 8 K's. On this slate, that should be enough, even at his price.
Ivan Nova FD 8200 DK 6400
Opponent - TB (Snell) Park - @PIT
FD - 29.27 DK - 19.33
Before we go any further, take a look at Nova's game log. He's a good pitcher. I say that because I don't think he's known as one. He struggled in New York for a few years and has been stuck as that same pitcher in the eyes of most fans. He's nowhere near the same, improving his wOBA against L's from those days by over .80 points.  So far in 2017, Nova has sported a .321 wOBA against lefties and a dominant .265 against righties. He doesn't strikeout many lefties at all, but does K 7 righties per 9. Fortunately, he faces a Rays team that will be forced to play at least 6 righties. Nova is one to usually get just 4 or 5 K's, but this match-up may change that. The Rays strikeout the 4th most in the MLB against righties and I could see Nova getting to 7 or 8 if his stuff is moving right. He should also be able to control the scoreboard, as PNC Park is a bottom 5 park for right-handed hitting. While I'm definitely not expecting a clean slate out of Nova, he's too cheap for his recent production and won't be overly owned.
Catcher
Russell Martin FD 2800 DK 3700
Opponent - BAL (Miley) Park - @TOR
FD - 11.21 DK - 8.5
Starting us off at the catcher position is going to be Russell Martin. Martin hasn't been tremendous this season, but has turned it around with the rest of this order as of late. Th Blue Jays as a team disappointed plenty last night, so I wouldn't be surprised to see them come in a bit low-owned. Martin has always been better against lefties and has held a .354 wOBA over the last 3 seasons. The Rogers Cente is a + park for hitting and the Jays have hit much better there than on the road. They face off with Wade Miley, who's not too difficult to figure out. He's a classic lefty that shuts down opposing lefties and struggles against righties. We'll dive in a bit later, but just know he struggles against righties. Martin is priced down on both sites and makes for a good play in both cash and tournaments.
Gary Sanchez FD 3700 DK 5000
Opponent - CHW (Rodon) Park - @CHW
FD - 12.82 DK - 9.86
Gary Sanchez is once again one of the top options at catcher. Get used to it. He's great against both lefties and righties and is at a position where he is easily the best hitter on most nights. Tonight is no different, facing off with Carlos Rodon in Guaranteed Rate Field. His price is up on DK, where I'm fine with the fade. Sanchez is, in fact, better against righties, but by no means struggles to see the ball against southpaws. He's holding a .323 wOBA on a crazy .211 BABIP vs them, so you can expect his numbers to go up against lefties very soon and gradually. He faces off with Carlos Rodon, who is supposed to be good, eventually. He was an early draft picks that was forced to join the majors a bit too soon. He's posted a .351 career wOBA against righties and is someone to pick on until he proves he's not. Sanchez is going to be expensive, but has the best chance to hit an HR at the position. Is it worth it? It just depends on who you're pitching and what other offenses you like.
First Base
Matt Holliday FD 3200 DK 4100
Opponent - CHW (Rodon) Park - @CHW
FD - 12.07 DK - 9.12
Matt Holliday is a better hitter this year than he was in each of his last 4. The Yankees organization has given him a boost and it looks like his career has gotten the needed second wind. At 37  years old, Holliday is sporting some of his best numbers of the decade. Against lefties, he holds a .374 wOBA to add on to his 45% hard contact rate and .870 ISO. Holliday has been simply elite in 2017 and has shown no signs of slowing down. With the lethal bats around him, he's seeing good pitches and seeing them with runners on-base. We just touched on Carlos Rodon and there isn't much else to see with the kid. In 2016, he gave up 32 home runs to righties. Yes, that's a real statistic. He's young and still figuring things out. This is his first start in a while and I don't see him shutting down the Yankees right off the bat. Holliday is a prime cash game play and has a bunch of HR upside in the hitter-friendly Guaranteed Rate Field.
Eric Thames FD 3100 DK 4200
Opponent - CIN (Castillo) Park - @CIN
FD - 13.41 DK - 10.48
The Brewers face off with a guy who wasn't good enough to make it through the Marlins farm system, Luis Castillo. That's all we need to know, considering most good AA pitchers stand out for the Marlins. Just as an example, their top prospect Braxton Garrett has a ceiling as a 3 or 4 starter. Castillo hasn't necessarily been bad in the minors, but he also hasn't been overly great. He's held an FIP right around the 3.5o to 4 mark and did earn himself a chance in the majors. I don't think he's there yet and the Brewers will help him see some clarity. As a righty, Castillo has had a lot more issues with lefties. Thames on the other hand, is still holding a .398 wOBA against righties. He's definitely slowed down as expected, but is still hitting homers and hitting righties for some contact. His price is fair and he sees the Great American Ballpark, which has ranked in the top 5 for lefties for many years. Thames has a great shot of hitting one out tonight and should go under-owned with Castillo being an unknown. I do definitely prefer him in tournaments, as I would rather just pay for Holliday in cash.
Second Base
Dustin Pedroia FD 2800 DK 3200
Opponent - MIN (Mejia) Park - @BOS
FD - 11.73 DK - 9.23
We haven't yet touched on the Red Sox, but that's only because Hanley Ramirez isn't likely to play. They are once again one of the top offenses on the slate and I expect a similar performance to last night. They face a pitcher who brings a lot of the same things to the table. Adalberto Mejia, like Hector Santiago, is a young lefty with control and HR problems against righties. So far in 2017, Mejia has given up 7 homers and a .350 wOBA through 38 innings against righties. He now moves into Fenway Park, which is probably the 2nd worse park in the league for left-handed pitching. Pedroia isn't anything special at the plate at this point in his career, but still very much gets it done. He held  a.350 wOBA last year against lefties and hasn't slowed down much this time around. He's a completely different hitter in Fenway Park and has as much upside at the position as anyone else. He's also way too cheap on both sites, which will likely drive his ownership up. If you're looking to fade, let's take a look at a guy who is more expensive, but will be minutely-owned.
Josh Harrison FD 3200 DK 4100
Opponent - TB (Snell) Park - @PIT
FD - 10.37 DK - 8.62
Josh Harrison is one of those guys who is going to get a big contract and people aren't going to understand why. He already has a 4/28M contract through 2018, but will see another big one after that. He does a whole lot for this Pirates team and it seems to go unnoticed outside of Pittsburgh. As a Cubs fan, I wish we held on to this kid. He can play every position on the diamond and will never give you a lackadaisical at-bat. Against lefties, he's elite. He sported a .350 wOBA against lefties in 2016 and has moved it over .400 to start this campaign. With a normal BABIP, I think it may stick around that number. He faces off with Blake Snell, who is a young lefty that will end up being pretty good. He's already there against lefties, but has a while to go against righties. He's posted a .361 wOBA against them on the season and doesn't pitch in a hitter ballpark. PNC Park isn't great for righties, but Harrison doesn't rely on power and can score in tons off different ways to go. If you don't feel like playing a chalk Dustin Pedroia, I love Harrison as a pivot.
Fire up No Half Time for baseball season, and get a $25 bonus code when you use promo code DFSR25MLB!

Shortstop
Troy Tulowitzki FD 2900 DK 3200
Opponent - BAL (Miley) Park - @TOR
FD - 11.15 DK - 8.9
We're back to the Blue Jays, who we touched on with Russell Martin at catcher. The Blue Jays definitely screwed over a lot of people last night, but Tulowitzki was the only bright spot with an HR. He's been swinging the bat well since returning from the DL and should keep getting better as he's getting back into form. He's always been phenomenal against lefties and believe it or not, Tulo was a top 3 MVP candidate at the ASB just 2 years ago. This is a guy who has sported .400+ wOBA's for many years against lefties, but is now looking around .360 - .380 once everything evens out. He's too cheap on both sites and I'm not finding any reasons to avoid Tulo at SS. This is also one of the weaker positions on the night, so the opportunity cost isn't as high as it would be at 1st or 3rd. The opposing pitcher, Wade Miley, has allowed a .356 wOBA to righties dating back to 2015. Rogers Centre is somewhat similar to Camden Yards and Vegas certainly expects Miley to struggle against an all-righty lineup. I do as well and will have a ton of exposure, especially after a disappointing last game.
Xander Bogaerts FD 3500 DK 4800
Opponent - MIN (Mejia) Park - @BOS
FD - 12.63 DK - 10.09
If you have the funds to pay up from Tulowitzki to Bogaerts, it may be worth it. While I'm all for Tulo and I will definitely have exposure, this Red Sox team is in a phenomenal spot. They face off with Adalberto Mejia, who is a very young lefty who has been overwhelmed in most games this season. Facing the Red Sox in Fenway Park is one of the more intimidating tasks in sports, so it may get a little rough here. We saw the Sox demolish another lefty in Santiago last night and it went right to plan. If things go to plan tonight, Bogaerts is going to have an extremely nice game. He sported a .378 wOBA against lefties in 2016 and is just waiting for a power surge to boost him back up this season. Bogaerts should be in the 3 hole and will be relied on for RBI's with Hanley assumed out. He'll have some guys on base in front of him and if he can get 1 or 2 singles, it may pay off his salary. Bogaerts, as well as Tulowitzki, is a great play in both cash games and tournaments.
Third Base
Josh Donaldson FD 3900 DK 4300
Opponent - BAL (Miley) Park - @TOR
FD - 14.76 DK - 11.13
This one is too easy. Josh Donaldson, along with Paul Goldschmidt and Kris Bryant, is a different breed against lefties. He's extremely intimidating and even when you just watch him walk up to the plate, there's a different look than when he comes up against a righty. Lefties are very aware of this fact and will usually end up throwing Donaldson 1 or 2 balls to start the at-bat due to purely being afraid. This leaves them in a rough situation and one that Donaldson has made a living off of. He posted a ridiculous .486 wOBA against lefties a couple years back, but can be predicted to sit around .430-450 at the end of this year. Wade Miley currently holds a .355 wOBA against righties and it's not far off from his true talent. This is a strong ballpark for righties and Donaldson is definitely my pick for HR of the night. Donaldson may be my highest priority of the entire slate. He's that insane against lefties.
Jake Lamb FD 3700 DK 4900
Opponent - STL (Wainwright) Park - @ARI
FD - 11.36 DK - 8.73
Josh Donaldson is to lefties as Jake Lamb is to righties. Need I go on? Lamb has been a nightmare for years against righties, but seems to be getting the mainstream attention for the first time. He's held a .400 wOBA against righties in 2 separate seasons and is on his way to do the same in 2017. He's also much better in Chase Field, where the ball flies off the bat. The Diamondbacks will welcome the Cardinals and Adam Wainwright tonight. Waino used to be a guy we would pay $10K for, but those days are long long gone. He's now a below average righty who's allowing a .341 wOBA against lefties and a .354 to righties. Waino is approaching the end of his career and we're going to want to take advantage as much as possible. He comes into one of the best parks in the league for hitting and gives the D-Backs lefties some great shots. Lamb is a great option in cash games, but I don't know how I'll be able to fit him with Donaldson there as well.
Outfield
Mookie Betts FD 3900 DK 5000
Opponent - MIN (Mejia) Park - @BOS
FD - 13.86 DK - 11.34

Chris Young FD 2500 DK 3600
Opponent - MIN (Mejia) Park - @BOS
FD - 11.04 DK - 8.58
We touched on these exact 2 guys in yesterday's article. Young ended up hitting one out, while Betts kept it modest with a base knock. They see another very similar match-up tonight and we've looked at it plenty. Adalberto Mejia has been bad against both righties and lefties, but his peripherals suggest him to be much worse against righties. He currently holds a .350 OBA against them, though he's getting a bit lucky and can be projected for a .370 wOBA or so. Fenway Park is obviously one of the best parks in baseball for righties and both of these guys love hitting there. Young is a lefty specialist and we know he's going to be extremely popular. In cash games, I'm on board. Mookie Betts is a different story. He's going to cost you some cash and may end up going overlooked because of it. I love him in tournaments and can see the merit in cash if you are paying down at pitcher and have extra funds. All in all, Young is a safe bet against a lefty and Betts is a bit riskier.
Giancarlo Stanton FD 4100 DK 4200
Opponent - NYM (Matz) Park - @MIA
FD - 13.7 DK - 10.26
Giancarlo Stanton against a lefty. I know I said Goldy, Bryant, and Donaldson were on their own tier against lefties. I still believe that. However, Stanton is probably the best power hitter against lefties in the MLB. While he may not hit over .280 against them and he may strikeout 85% of the time, the few times he connects are scary. He posted a 60% hard contact rate for god's sake. That is beyond insane. In 2016, he held a .391 wOBA against lefties, which was the lowest in each of his 4 surrounding seasons. He has it back up to a .441 on this season and I expect it to stay around there, if not climb. He faces off with Steven Matz, who isn't a bad player in his own right. He has contained righties pretty well over his career and is not the reason we like Stanton. We like Stanton because he's facing a lefty. As long as that lefty isn't Kershaw or Bumgarner, Stanton deserves a spot at the table of top OF's on the slate.
David Peralta FD 3400 DK 4500
Opponent - STL (Wainwright) Park - @ARI
FD - 12.04 DK - 9.7

Gregor Blanco FD 2700 DK 3800
Opponent - STL (Wainwright) Park - @ARI
FD - 10.68 DK - 8.94
You're used to seeing David Peralta listed here against a righty, but Gregor Blanco is a bit new. He's moved into the leadoff spot this season against righties and has added another dynamic lefty to the order. He's nowhere near the hitter that Peralta or Lamb is, but he hits righties well and has enough speed to interrupt on the bases plenty. Peralta then comes in to drive him in. Peralta has held a .376 wOBA against righties dating back and seems to be on his way to a .400 wOBA or so this year. He'll be in the 2 hole, slotted between Blanco and Goldy. He'll get some RBI opportunities and shouldn't have any problems being driven in if he gets on. We touched on Adam Wainwright a bit ago and with him basically being a brand new pitcher in 2017, there isn't much to look at. His sinker is no longer sinking and his changeup isn't fooling anyone. The Diamondbacks will likely go under-owned and make for a tremendous stack in tournaments. Wainwright is far from a good pitcher this year and can be taken advantage of in Chase Field.
GRAB A FREE TRIAL OF OUR PROJECTION SYSTEM, AND CHECK OUT DFSR PRO!
GET OUR FREE EBOOK ON DAILY FANTASY MLB and NBA BY CLICKING HERE!
You'll also get our picks in your inbox every day!
FREE EBOOK
SECRETS TO CRUSHING DAILY FANTASY FOOTBALL!
DON'T SET ANOTHER LINEUP BEFORE YOU READ THIS BOOK.