Baseball Picks Daily Fantasy
Expert Advice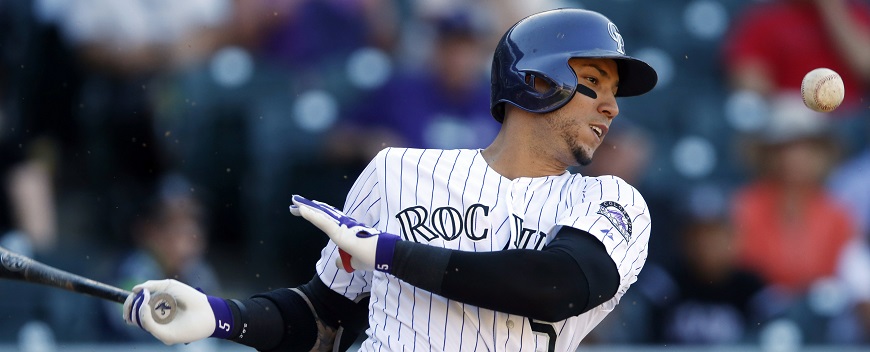 DFSR Midseason MLB Awards - Biggest Bust
Welcome to the Major League All-Star Break, where your only baseball fix over the next few days will be a rather meaningless exhibition game and a batting practice contest. So we thought we'd take the time to weigh in on our mid-season awards (both superlative and not so much).
In April, hope springs eternal and all we can think about is the season ahead. It's a time when all of our hitters will go yard and our pitchers will deal gas. But it isn't all good vibes for everyone. Some guys have spent a first half of the season crushing our dreams. Let's take a look at the midseason's biggest busts.
Now's your chance to get DFSR Pro with MLB Optimal Lineups, Projections and Player Cards. Or try a free trial of our base package with projections for every player. While the seasons overlap, you'll get access to our tools for the NBA and NHL as well! Get started for free by clicking the button below.
First time with MLB? Be sure to read our free MLB Ebook on building lineups, general strategy and more. We've got you completely covered.

James Davis - DFSR CoFounder and CEO, drops knowledge on the DFSR MLB Podcast
Justin Verlander - DET
5-6 , 8.43 K/9,
4.73 ERA / 5.03 xFIP
I'm reading this award as "guy who has lived up to expectations the worst," rather than worst overall player. For me, that guy is Verlander. He has declined in every conceivable pitching category this season, but let's dive into some specifics. He's shaved his K rate by 1.6 per 9 innings while also adding more than 2 walks per 9 innings. He's on pace to pitch 30 fewer innings this season in spite of being on pace for the same number of starts. His 5.03 xFIP is the worst of his career by far.
The weirdest thing about Verlander? He's actually throwing harder across the board than he has in years. His fastball is averaging its fastest average velocity (95 MPH) than it has since 2011. The big difference is that all of his pitches are faster, meaning he has a smaller spread in average velocity from his fastball and his change-up and curveball. I'd guess he's catching batters off balance a lot more, and since he's missing a lot more as well, this has put him into a lot of sticky situations.
There's hope, though. If Verlander turns around the walk rate, in particular, I think he can return to form. Whether he will or not is a mystery, though, so Verlander is plainly a "wait and see" guy for me going forward.
Doug Norrie - DFSR CoFounder, Editor-in-Chief, and Statistical Director
Kyle Schwarber - CHC
.178 / .300 / .394 -  0.3 WAR
13 HRs/ 29 RBI
Oof. I doubt any other player in the majors has had more of a roller coaster season than Schwarber. And the roller coaster I'm referring to here is the kind that starts off as the newest shiny addition to the amusement park and then quickly derails, jumps the track and kills everyone on board. Schwarber started the season as the Cubs' leadoff hitter (coming at near the minimums on FD and DK mind you - Value City!) and after a quasi-breakout stint in the majors last season seemed poised to make the leap. Nope. He got sent down the minors (raked there mind you) and is now back in the bigs. Let's hope the second half is better because it sure as hell couldn't be worse.
Now, of course, he's struggled with some bad luck this season. The .190 BABIP is about as low as you'll ever see for a guy with 250+ plate appearances. But even with that his .168/.291/.372 triple slash is the thing horror movies are made out of and he's K-ing 30% of the time.
There are signs of hope though. He still managed 12 home runs and a 14% walk rate. It's something build on, but Schwarber's first half was truly one to forget.
Chris Durell - DFSR MLB Content Manager and Lead Contributor
Trevor Story - COL
.224 / .303 / .396 / 0.0 WAR
11 HR / 35 RBI / 3 SB
The first of two Rockies who have fallen off the table in 2017. Trevor Story started off his career on a fast track in 2016 as he hit 21 home runs in the first half which put him right up there in the National League Rookie of the Year odds. After narrowly missing the All-Star game in the final voting, he hit six more home runs before experiencing a season-ending thumb injury.
While I expected some regression, especially considering the injury, I didn't expect him to fall this far. He has struck out 4% more this season(35.2%) and seen his average drop by almost 50 points and sits with a wOBA barely over .300 for the season. The only thing keeping him somewhat relevant is his success against left-handed pitching(.393 wOBA & 126 wRC+). The bad part is that the majority of his at-bats come against righties where he holds an unplayable .266 wOBA and 43 wRC+.
Austyn Varney - DFSR MLB Lead Writer
Carlos Gonzalez - COL
.221 / .299 / .338 / -1.5 WAR
6 HR / 22 RBI / 1 SB
As a Cubs fan, I would say Kyle Schwarber definitely deserves the award. With that being said, I don't know if he sustained his past play for long enough where we had good reason to think he was going to be an all-star. Prior to this year, he had missed major parts of each of the last 2 seasons. I think it comes down to the hype around him and him not living up to it. Instead, I'll take Carlos Gonzalez, a guy with a long track record that is full of HR's and very solid seasons. In 2015 and 2016, CarGo posted a .364 wOBA. This year? .275. He's at a .291 wOBA against righties, compared to the .390 - .410 he has been at in past seasons. Even with the Rockies making some solid strides in the first half of the season, CarGo was not a big reason why. Now I don't think all hope is lost. This is a streaky power hitter from the left side and he has hit 10 HR's in a month numerous times. I'm not saying fade CarGo in the second half, but you better hope you did in the 1st.
Jerry Vanderwoude - DFSR MLB Writer
Rick Porcello - BOS 
4-11, 8.22 K/9
4.75 ERA / 4.35 xFIP
I'm a Phillies fan. I know a thing or two about busts. However, in this sense we're more so looking to someone that came into the season with big expectations, and instead, to date has delivered a dud of a season. No one expected anything from the Phillies this season from the jump. So when the 2016 Cy Young award winner has only four wins through 19 starts at the 2017 All-Star break, now we're talking bust with a capital B-U-S-T.
Now of course wins and losses are not all we factor in when looking at the mark of a starting pitcher. Personally, I'm not a fan of the whole win/loss statistic anyway, but there is so much more we can look at here when making the case for Porcello as having a bust of a first half. First, let's dive into the K factor. Porcello hits the break with 8.22K/9. This is about .5 higher than where he finished last season, and nearly two whole batters higher than his career number. That's impressive, right? Well, if we switch over to K%, his current 20.8% is down from last season's 21.2% which tells us that he is seeing more batters, but striking out fewer. So, if he's not striking out all those additional batters, what is becoming of them? Well, His walk percentage is currently up from 3.6% at the end of last season to 4.6% now, and his BABIP is up from an impressive .269 last season to .346 at the break enough to rank fourth worst among qualified pitchers, and while some of that can be attributed to the defense around him as the team's BABIP is up 20 points as a whole, only Rick himself can take the blame for the long balls. Porcello finished 2015 with a career-high 1.31 HR/9 before settling back down to 0.93 last year, and currently is sitting at a potential new career mark of 1.43. If you can't keep it in the yard, your season is assuredly going to suffer.
There's still plenty of time for Porcello to turn things around. His ERA, though 1.60 higher than last season's career low, is only 0.51 above his career average, so while he's certainly dealing with some struggles, he isn't performing horribly, but as the reigning Cy Young winner, I certainly expected better, and hope to see better as we roll into the second half and head towards the pennant race.
GRAB A FREE TRIAL OF OUR PROJECTION SYSTEM, AND CHECK OUT DFSR PRO!
GET OUR FREE EBOOK ON DAILY FANTASY MLB!
And Daily Fantasy MLB Picks for FanDuel and DraftKings every day!
FREE EBOOK
SECRETS TO CRUSHING DAILY FANTASY FOOTBALL!
DON'T SET ANOTHER LINEUP BEFORE YOU READ THIS BOOK.