Baseball Picks Daily Fantasy
Expert Advice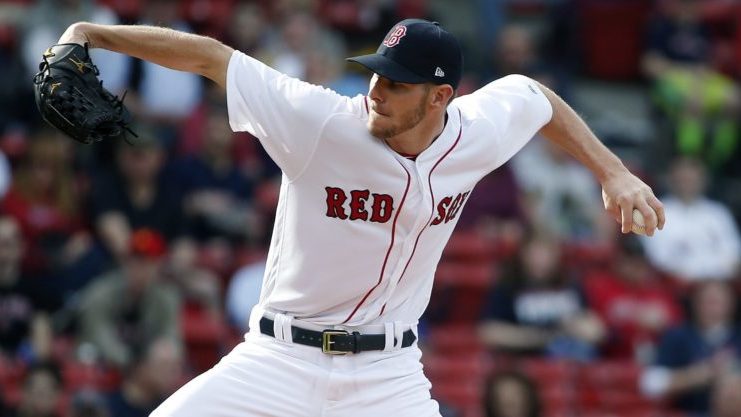 Daily Fantasy MLB Baseball Picks for FanDuel and DraftKings - 7/26/17
Now's your chance to get DFSR PRO, which will give you access to our MLB optimizer, our NBA Optimizer, and our new player lab! Get started for free by clicking the button below.
First time with MLB? Be sure to read our free MLB and NBA Ebooks on building lineups, general strategy and more. We've got you completely covered.
Pitcher
Early
Chris Sale FD 11800 DK 13400
Opponent - SEA (Moore) Park - @SEA
FD - 47.71 DK - 31.62
With the earlier slate being the smaller of the two, we don't have a ton of options at pitcher. Fortunately, we have one of the best around in Chris Sale. Sale and the Sox will face the Mariners in pitcher-friendly Safeco Field, which is a huge bump. We all know how great Sale is, but let's take a quick look at his numbers. Through 141 innings, he's held a .244 wOBA and has struck out over 12 batters per 9 innings. The match-up with the Mariners is also a pretty solid one. With Cano, Seager, and Segura all hitting righties much better, they rely on Nelson Cruz for production against lefties. While there's always a chance of him coming through. I trust Chris Sale to work around him. Sale is the clear option in the early slate.
Late
Alex Wood FD 9800 DK 11200
Opponent - MIN (Santana) Park - @LAD
FD - 39.69 DK - 26
Alex Wood is a guy I had locked in last time out. Boy, that was very frustrating. After getting screwed by some errors and allowing some runs, he worked out of the trouble. In the next inning, he dropped a pop up with runners on 2nd and 3rd with 2 outs. The point is he had a really crappy start. He's perfectly fine and will be the same pitcher once he regains his rhythm. Wood has been one of the best pitchers in the league this season. Striking out 12 per 9 and sporting a combined .271 wOBA. The Twins have ranked 20th in the league with a .306 wOBA against righties and strikeout at a 21% rate. Wood may not be the safest option by nature, but he's the best you'll find on this slate and his price is perfectly fine.
Catcher
Early
Gary Sanchez FD 3300 DK 4400
Opponent - CIN (Bailey) Park - @NYY
FD - 13.3 DK - 10.22
While we only have 4 games on this slate, there are some nice offenses to choose from. The best of all is probably the Yankees, who are facing off with Homer Bailey. Homer Bailey is a homer-pron right hander who has no place in the majors. The Yankees are a team we love today and you almost have to get exposure in all formats. At catcher in particular, Gary Sanchez is the top option and it's not even close. It's not really close at all. In fact, I expect Sanchez to be around 60-80% owned. To start, he's a lot better against righties. Since the start of his career, he's held a .422 wOBA and has hit 85% of his homers against them. We'll touch on Homer Bailey plenty later, but just know he isn't good against righties. With Chris Sale on the early slate, salary is a huge problem. Sanchez is pretty fairly priced across the industry and you should be able to fit him in. All in all, the difference between Sanchez and the number 2 option is a wider margin than any other position. I'm not sure you can afford him having a huge game.
Late
Alex Avila FD 2400 DK 3600
Opponent - KC (Kennedy) Park - @DET
FD - 11.06 DK - 8.33
Catcher is certainly the weakest position on the late slate, so we can't be picky with the options. Alex Avila and the Tigers will face right-hander Ian Kennedy, who is not very good. Kennedy has posted a .327 wOBA against lefties and has allowed 10 homers in just 40 innings of work. Avila on the other hand, has been quite great against righties. Through 200 at-bats, Avila has mashes righties for a .391 wOBA. He's hit the ball hard 54% of the time against righties this season and has shown no signs of turning that around. Comerica Park isn't the most friendly park in the world, but it's not the worst. If Avila and the Tigers are able to hit the ball, runs will follow. Comerica Park is tilted towards pitching, but you can score runs without a problem. On FanDuel, Avila is just $2400 and a near must play. On DraftKings, Avila is 1 of many options at a crowded, bad catcher position.
First Base
Early
Brandon Belt FD 3100 DK 3500
Opponent - PIT (Williams) Park - @SF
FD - 10.55 DK - 8.1
First base isn't too pretty on this early slate, so we can't be picky. We have a few guys in + spots, but nobody that sticks out like crazy. Brandon Belt is sticking out most, facing off with Trevor Williams at home in AT&T Park. While AT&T Park is an extreme pitcher park, Belt has always hit well there (.327 wOBA). Belt has posted a .366 wOBA against righties in 2017 and comes in as one of the more consistent players almost every season. He will very rarely hurt you and comes in at a price point that's very fair. The opposing pitcher, Trevor Williams, is nothing to be afraid of. He's allowed a .331 wOBA and has given up 9 homers in less than 80 innings. PNC Park is very similar for lefties and has actually ranked worse so far this season. He;s also posted a .271 combined BABIP, so he's getting a bit lucky. While you can definitely go elsewhere at the position, Belt will be lower owned and he allows you to pay up at other positions.
Late
Anthony Rizzo FD 4100 DK 5200
Opponent - CHW (Shields) Park - @CHW
FD - 14.73 DK - 11.24
The Cubs are going to be the top team on this main slate. Facing off with James Shields, they are in one of the best spots of the entire season. As a note, Vegas has them projected at 5.81 runs, which is the highest on the day. Why? Because James Shields is absolutely brutal. He was one of the worst pitchers around in 2016 and it looks like he hasn't halted the trend in 2017. He's posted an insane .442 wOBA against lefties in over 20 innings of work. In Guaranteed Rate FIeld against Anthony Rizzo, that may be a little problem. Anthony Rizzo is a pretty damn good hitter and against a guy like Shields, has as much safety as upside. Rizzo will do whatever it takes to produce runs, which gives him a bit more security over a guy like Chris Davis or even Hanley Ramirez. On a .237 BABIP, Rizzo has held a .385 wOBA vs righties. He is the cream of the crop at first and this match-up is one you can't look past. Look for Rizzo and the CUbs to make some serious noise here.
Second Base
Early
Brandon Phillips FD 2800 DK 3600
Opponent - ARI (Corbin) Park - @ARI
FD - 8.31 DK - 6.96
Wow, I truly never thought I would be recommending Brandon Phillips. While it does speak more to the limited options at 2nd, we can't pretend that Phillips has been bad. Against lefties, he's posted a .328 wOBA and has actually flashed some power with 8 homers on the season. He now moves into Chase Field, which is the 2nd best ballpark for hitting in the league. The Braves will face off with Patrick Corbin, who is god awful against righties. In 85 innings, Corbin has allowed a monstrous .381 wOBA. He's somehow given up 15 homers and is allowing them to hit the ball hard 35% of the time. With 2nd base being horrible and Philipps rather safe, you can target him in cash games. In tournaments, I would wait for lineups to come out and jump on a backup who finds a way into the order.
Late
Rougned Odor FD 2800 DK 3800
Opponent - MIA (Urena) Park - @TEX
FD - 11.36 DK - 9.11
We haven't touched on the Rangers yet, but they come in as one of the top offenses on this entire main slate. They are projected to put up 5.68 runs and Vegas has them as the 2nd highest scoring team of the night. While it has something to do with Globe Life Park, it's mostly the match-up. Urena has been so bad that his numbers are bad and he's still getting super lucky. With a .245 combined BABIP, Urena is allowing a .315 wOBA to both sides of the plate. He strikes out just 6 per 9 innings and walks half as many at 3. Rougned Odor should be stiff competition for Urena as he mashes right-handers. Since the start of 2016, Odor has sported a .379 wOBA against righties. He's one of the more powerful second basemen at the position and it isn't even debatable. His price is down across the industry and he makes for a great play in all formats.
Try out InGame Fantasy for a totally new DFS experience. Promo code: DFSR


Shortstop
Early
Didi Gregorius FD 3500 DK 4500
Opponent - CIN (Bailey) Park - @NYY
FD - 10.28 DK - 8.13
While we've only seen about 30 innings out of Homer Bailey, we have seen more than enough. For a guy who hasn't pitched substantial innings since 2013, we expected no more. Bailey has been obliterated by both sides of the plate and hasn't shown any signs of improving. At 31 years old, his velocity and movement are only going down. The game will take place in Yankee Stadium, which is a much better park for lefties. Didi Gregorius has been a big piece for the Yanks this season and he has matched his fielding stardom with his bat. In nearly 300 at-bats against righties, Gregorius has posted a .381 wOBA that is backed up by a .320 BABIP. He's also hit 13 homers and has as much HR potential as any other SS in the league. On a slate without many options, Gregorius gives you safety in the Yankees lineup and upside with the power.
Late
Troy Tulowitzki FD 2600 DK 2900
Opponent - OAK (Blackburn) Park - @TOR
FD - 10.2 DK - 7.8
This is a pure price play. Troy Tulowitzki should be not 2.9K and 2.6K  on DK and FD respectively. On DraftKings, where most players are overpriced, I'll have a tough time going anywhere outside of Tulo at SS. He gives you plenty of upside and you only have to spend $2900. Yes, please. The Blue Jays face off with Paul Blackburn, who happens to be a very average pitcher without much to offer. He's not a big prospect and is expected to be sent down once the rotation is healthy. Blackburn has been slightly worse to righties with a .361 wOBA, though the sample size is nowhere near big enough to judge. The Rogers Centre is a great park for hitting and we should see some runs out of a Blue Jays offense that has definitely struggled at time. Tulo has held a .324 wOBA against lefties in 2017, with a BABIP under .300. If he can get things rolling, Tulowitzki is one of the best in the game. At this price, I'm willing to take a shot.
Third Base
Early
Jake Lamb FD 3900 DK 5400
Opponent - ATL (Blair) Park - @ARI
FD - 13.31 DK - 10.18
Aaron Blair will make his first start of 2017 after making an atrocious impression in 2016. In '16, Blair gave up a .432  wOBA to lefties. He struck out just 4 of them per 9 innings and walked a crazy 6. Ya, this guy is not very good. Jake Lamb is right up there with Gary Sanchez as my top choice of the slate. Lamb is obviously one of the best bats in baseball against righties and we know how deadly he is in Chase Field. He's posted a .420 wOBA so far on the season and his numbers are the furthest from fraudulent. Blair will have a ton of trouble with this D-Backs team and you have to love them as a stack. The Yankees and D-Backs should both be popular, so it will be very interesting to see who people end up paying for with Chris Sale being nearly a must at pitcher.
Late
Kris Bryant FD 3700 DK 5300
Opponent - CHW (Shields) Park - @CHW
FD - 14.44 DK - 11.13
For this main slate, I would have been fine going with all Cubs. I absolutely love the stack tonight and will have a ton of it. James Shields is an inept pitcher and his ineptitude is well noted. This isn't a guy who's on a bad run. This is a guy who sucks at pitching a baseball. He walks more lefties than he strikes out. he gives up a 32% hard contact rate, and hasn't been able to dominate a game in years. He now faces one of the most lethal lineups in the game in a hitter-friendly Guaranteed Rate Field. Shields has been worse against lefties, but still not enough to make him any good against righties. As for Bryant, he does have some more power against lefties, though he obviously can hit HR's against either side. He's held a .378 wOBA against righties and hit 25 of his 39 2016 homers against them. If you're stacking up the Cubs, make sure you have Bryant locked in at 3B.
Outfield
Early
David Peralta FD 3600 DK 5200
Opponent - ATL (Blair) Park - @ARI
FD - 13.46 DK - 10.84
David Peralta and Jake Lamb are very similar in one way. They destroy right-handed pitchers in Chase Field. When one is in play, so is the other. We touched on Lamb already and now Peralta will head us in the outfield. Peralta has posted a .370 wOBA against righties this year but should be around .400-.430 once everything is said and done. Aaron Blair is a guy who hasn't pitched this year and likely won't pitch much this season. He was horrible against both sides of the plate, but especially vs lefties. He held a .432 wOBA and was simply atrocious in every facet of the word. This game is being played in Chase Field and Vegas expects fireworks. Peralta and the D-Backs are priced way up on DK and I see the reason for fading them. On FanDuel, if you're playing Chris Sale, you have to love the D-Backs and the prices that come along.
Aaron Judge FD 5000 DK 5700
Opponent - CIN (Bailey) Park - @NYY
FD - 14.41 DK - 10.95

Clint Frazier FD 2600 DK 3700
Opponent - CIN (Bailey) Park - @NYY
FD - 9.08 DK - 6.91
We've touched on the Yankees a bit with Gary Sanchez and Didi Gregorious on this early slate and we'll now take a look at the OF duo of Aaron Judge and Clint Frazier. Before this season, Clint Frazier was a bigger prospect in some eyes. Some still think he will be better when it's all said and done. Hand raised. Either way, both of these guys are monsters and they can both hit righties with the best of em. The price on Frazier is obviously much lower and he may find his way into some more cash games because of it. With Sale on the slate, it will be super tough to fit in an OF'er that is so expensive. Homer Bailey is easily the worst pitcher on this slate and I see no reason to avoid him. He's posted a .514 wOBA against righties and while that has to do with a small sample size, I don't think it ever falls below .400. He's given up a crazy 30% hard contact rate and against guys like Frazier and Judge, good luck.
Late
Kyle Schwarber FD 2700 DK 3700
Opponent - CHW (Shields) Park - @CHW
FD - 12.11 DK - 9.24

Ben Zobrist FD 3000 DK 4400
Opponent - CHW (Shields) Park - @CHW
FD - 12.38 DK - 9.5
You knew it was coming, right? As a Cubs fan, I must say I am very unbiased. At least I hope so. I've done a good job of staying away from the Cubs in bad spots and jumping on them in good ones. This is a good spot if I've ever seen one. James Shields has allowed a .442 wOBA against lefties after finishing 2016 with a .375+ combined wOBA. He is not a major league pitcher and will find himself out of the rotation very soon. As for Zobrist and Schwarber, you have to love them both. Schwarber is obviously a boom or bust option and he is also a bit cheaper, making him more popular. Zobrist has found the leadoff spot recently and makes for an elite cash game play at a very fair price. You can also include the 3rd OF'er here, whether it be Jason Heyward or Albert Almora. The Cubs should put up at least 5 or 6 runs and you have to think these guys will play a part.
GRAB A FREE TRIAL OF OUR PROJECTION SYSTEM, AND CHECK OUT DFSR PRO!
GET OUR FREE EBOOK ON DAILY FANTASY MLB and NBA BY CLICKING HERE!
You'll also get our picks in your inbox every day!
image sources
Chris Sale: (AP Photo/Michael Dwyer)
FREE EBOOK
SECRETS TO CRUSHING DAILY FANTASY FOOTBALL!
DON'T SET ANOTHER LINEUP BEFORE YOU READ THIS BOOK.