Baseball Picks Daily Fantasy
Expert Advice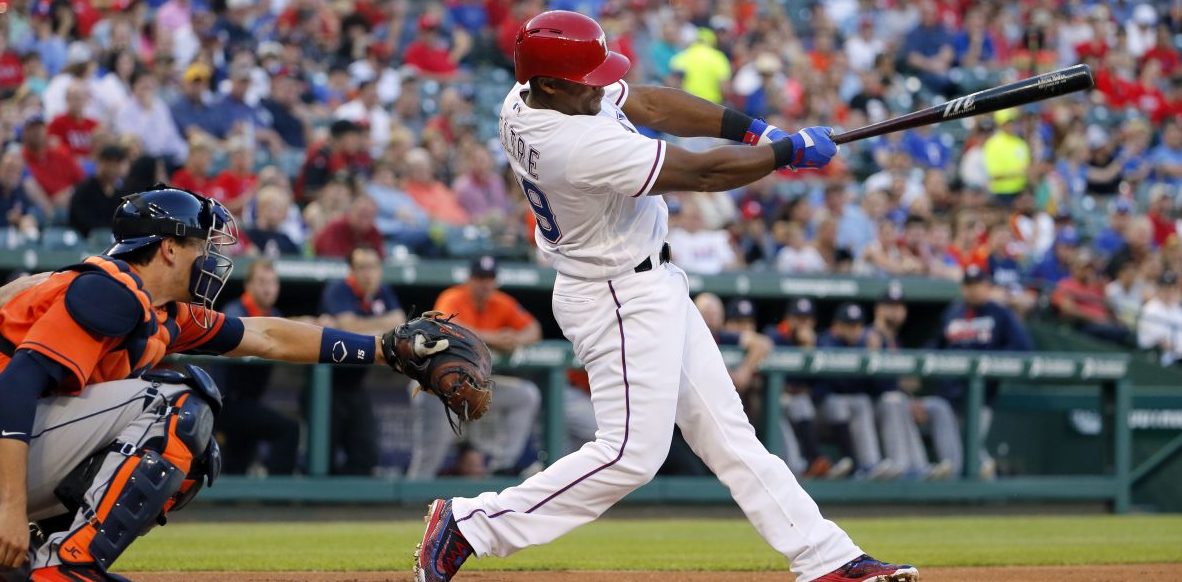 Daily Fantasy MLB Baseball Picks for FanDuel and DraftKings - 8/17/17
Now's your chance to get DFSR PRO, which will give you access to our MLB optimizer, our NBA Optimizer, and our new player lab! Get started for free by clicking the button below.
First time with MLB? Be sure to read our free MLB and NBA Ebooks on building lineups, general strategy and more. We've got you completely covered.
Pitcher
Early Slate
Chris Archer FD 10300 DK 11900
Opponent - TOR (Rowley) Park - @TOR
FD - 35.3 DK - 23.42
Today we have a pair of five-game slates and the pitchers are split up fairly nicely. The early slate starts with Chris Archer who I slightly lean over Jon Lester due to the strikeout upside and the fact the Reds(facing Lester) have been one of the hottest teams in the league over the past couple weeks. Not that Lester doesn't have K upside but Archer sits in some elite company with his 11.1 K/9 and 13.5% swinging strike rate. He has been good vs. both handedness this season but has limited right-handed bats to a .283 wOBA and 35.8% hard contact(7% less than vs. LH). The Jays have mostly righties in their lineup(Bautista, Donaldson, Pearce, Barney, Refsnyder) and for the most part, the lefties are not that dangerous(Goins, Lopez). The Rays open as -165 favorites and I am projecting Archer to rack up about 7-10 strikeouts today.
Option for SP2 on DraftKings or GPP Play on FanDuel: Carlos Carrasco(CLE) vs. Twins
Main Slate
Luis Severino FD 9400 DK 12500
Opponent - NYM (Matz) Park - @NYM
FD - 39.21 DK - 25.72
After getting blown up for eight earned runs in his last start vs. the Red Sox, Severino has seen his price reach a season-high on DraftKings. While it does seem a little bit odd we have to consider a lot of that shift has to do with the small slate, large Vegas odds(-195), and the matchup. There is no middle ground with Severino who has gotten blown up a few times this season but has been near elite in his other starts. He carries a 3.32 ERA, 3.12 xFIP, and 10.4 K/9 rate into tonight's matchup vs. the Mets who have been really struggling lately with a .303 wOBA and 28% K rate over the last 14 days. It is a little riskier on DraftKings with the high salary but on FanDuel he is the top pitcher in all formats.
Catcher
Early Slate
Juan Centeno FD 2100 DK 2800
Opponent - ARI (Corbin) Park - @HOU
FD - 3.81 DK - 2.91

Max Stassi FD 2200 DK 2200
Opponent - ARI (Corbin) Park - @HOU
FD - 3.25 DK - 2.4
The first place Astros have run into some injury woes this season but have seen their catching depth really take a hit this past week. Brian McCann joined Evan Gattis on the disabled list on Monday leaving the catching duties to Centeno and Stassi. Centeno made his way into the lineup in early August and had multi-hit games in his first two starts before going hitless in his next two. He showed some power upside earlier in the season with a home run in both of his starts in May. He also got the start on Wednesday night and with a day game after night game, he might get rested today. If so, it will be Max Stassi getting the call who has shown some power in AAA this season with 12 home runs and hit one hit in his first start with the big club on Tuesday. Both come with punt prices which is what I like when playing smal slates with expensive pitchers.
Also Consider: Jonathan Lucroy(COL)
Main Slate
Robinson Chirinos FD 2700 DK 4000
Opponent - CHW (Lopez) Park - @TEX
FD - 9.73 DK - 7.35
This pick is one of the main reasons I like playing both sites. The price differential. Chirinos is a little over priced(understatement) on DraftKings in the $4K range considering I normally only consider him against lefties but on FanDuel I am willing to somewhat discount the splits as he comes at a sub $3K price tag. It allows us to fit Severino or Nola and still get exposure to some big bats in great spots. He does come in with hits in five straight and seven of his last eight starts and has also added some power with two home runs.
On DraftKings, Consider: Austin Hedges(SD)
First Base
Early Slate
Mark Reynolds FD 3700 DK 4700
Opponent - ATL (Sims) Park - @COL
FD - 14.2 DK - 10.86
We make our first trip to Coors Field in the article and I start with Mark Reynolds who sits at the top of the raw points rankings for the entire day and right near the top of the PTS/$ rankings on the main slate. He provides some big power upside in Coors and is one of three Rockies hitters with 24 or more long balls this season. He gets an elite matchup vs. rookie Luke Sims who is lacking strikeout upside in a big way(4.67 K/9) and has already given up four home runs in his first three starts. For Reynolds, he has shown some big reverse splits this season hitting .297 vs. righties with a .386 wOBA and 120 wRC+(.214/.329/83 vs. RH). Lock and load in all formats.
Also Consider: Lucas Duda(cheap on both sites)
Main Slate
Tommy Joseph FD 2300 DK 3100
Opponent - SF (Samardzija) Park - @SF
FD - 8.23 DK - 6.33
The first base position on the main slate is a bit of a mess as Joey Gallo(DK) and Matt Carpenter(FD) top the salary tonight. This has me thinking punt and load up at other spots and I immediately gravitate to Tommy Joseph. He is cheap on both sites, especially FanDuel at $2,300, and continues to show power upside early in his career as he has followed up a 21 homer season with 16 more this season through 112 games. The matchup isn't elite by any means but the Shark does give up home runs with a 14.5% HR/FB rate and Joseph has been more consistent vs. right-handed pitching(.257 average vs .197 vs. righties).
Also Consider: Josh Bell(PIT)
Second Base
Early Slate
Jason Kipnis FD 2600 DK 3900
Opponent - MIN (Gibson) Park - @MIN
FD - 10.56 DK - 8.43
Kipnis tops the PTS/$ value rankings on FanDuel today making him an excellent play in all formats. He has been limited to 73 games this season due to some nagging injuries and that is a large factor in the falloff of his batting average(.227) in 2017. He still provides power upside and comes into tonight with hits in three straight and four of six starts since returning. In addition, he will get a plus matchup vs. a struggling Jose Berrios who has given up four or more earned runs in three of his last four starts with 13 strikeouts and six walks.
**Note: Kyle Gibson is now starting over Jose Berrios but it does not downgrade the pick**
Also Consider: Jose Altuve (if you have some salary space)

Main Slate
Rougned Odor FD 3100 DK 4200
Opponent - CHW (Lopez) Park - @TEX
FD - 11.5 DK - 9.22
Much like Kipnis, Odor hasn't provided us a ton of consistency with a low .200's average this season but makes up for it with his power. After slugging 33 out of the park in 2016, he sits with 24 this season with 53 RBi and 63 runs scored. He does get a bump down if he is back near the bottom of the lineup but, in my opinion, that makes him a much more sneaky play tonight. He does get a nice matchup vs. Reynaldo Lopez who does have some K upside but also gives up the home run and gave up two in his first this season. I will be limiting him to GPP on DraftKings with the fourth highest salary but will roll him out in all formats on Fanduel.
Also Consider: Yangervis Solarte(SD)
Try out InGame Fantasy for a totally new DFS experience. Promo code: DFSR


Shortstop
Early Slate
Trevor Story FD 3300 DK 3700
Opponent - ATL (Sims) Park - @COL
FD - 11.51 DK - 9.05
This marks the first time this season I have recommended Story vs. a right-handed pitcher but I just can't resist the price in a game with an early 12 over/under that will likely go up come morning. He comes in under $4K on both sites and will take his swings to start the game vs. Luke Sims who I mentioned earlier has really struggled with a 5.71 ERA, 5.67 xFIP and four home runs against in his first three major league starts. Story is also starting to heat up with home runs in back to back games including a line drive laser vs. a right-handed pitcher in last nights game. Safe in all formats today due to price and matchup.
Also Consider: Francisco Lindor(CLE)
Main Slate
Tim Anderson FD 3400 DK 3700
Opponent - TEX (Ross) Park - @TEX
FD - 9.23 DK - 7.81
It is pretty much the exact same situation as Story when looking at Anderson tonight. He has seen his average fall off vs. righties this season(.213) after posting a .270 average last season but has shown some pop with 10 home runs. He has also been red-hot lately with hits in four straight and 11 of his last 12 games(going into Wednesday night). While the Ball Park in Arlington is no Coors Field it still ranks among the Top 5 best hitters parks and is a hot bed for home runs in the heat of summer. That is bad news for Tyson Ross who has a slate-worst 7.11 ERA, 6.02 xFIP, 5.92 BB/9 rate, and 6.4% swinging strike rate. Anderson's value rises a ton if he were to slip back into that leadoff role tonight.
Also Consider: Elvis Andrus(TEX)
Third Base
Early Slate
Kris Bryant FD 4300 DK 5200
Opponent - CIN (Feldman) Park - @CHC
FD - 12.78 DK - 9.85
Nolan Arenado is likely the chalk at the position in the early slate despite his price so if you are looking to make a pivot off the Coors game consider Kris Bryant. He comes at a couple hundred dollar discount and while the upside is probably not as high as Arenado in Coors, Bryant has been tearing the cover off the ball in August. He is currently slashing .389/.469/.611 in the first 15 days and is in a great spot to continue that roll against Scott Feldman who has given up 12 earned runs in his last 10 innings including five long balls.
Also Consider: Evan Longoria(TB)
Main Slate
Adrian Beltre FD 4300 DK 5200
Opponent - CHW (Lopez) Park - @TEX
FD - 13.84 DK - 10.62
This game has an early Vegas Total(11) that would make you think the game is in Coors. It's not but the Ballpark in Arlington still ranks Top 5 and like I mentioned with Anderson, is a hot bed for offense in the heat of summer in Texas. If you are looking for proof check out their latest home stand where they have won five of their last six games scoring 43 runs(7.2 runs per game). Beltre has been right in the middle of it with multiple hits in five of those six games with two home runs and nine RBI. While the power has dipped in his 20th season in the big leagues(seriously, he started for the Dodgers way back in 1998), he continues to provide a high floor with an average over .300 and gets a ton of opportunities to drive in runs hitting from the cleanup spot on the sixth highest scoring team in the majors.
Also Consider: Anthony Rendon(WSH)
Outfield
Early Slate
Jay Bruce FD 3400 DK 4700
Opponent - MIN (Gibson) Park - @MIN
FD - 10.53 DK - 8.02
The price keeps climbing on DraftKings as he reaches a new high but think twice before fading him. After going 0 for 1 in his first game with Cleveland(pinch hit), he has reeled off hits in five straight games including three multi-hit efforts and four RBI. That brings his season long average up to .264 which is the highest it's been since 2010 with the Reds. He also continues to provide a ton of power upside with 29 home runs in 2017 with 78 RBI. Look for him to continue his hot hitting with his new team as he faces a struggling Jose Berrios who has given up four or more earned runs in three of his last four starts.
**Note: Kyle Gibson is now starting over Jose Berrios but it does not downgrade the pick**
Ender Inciarte FD 3700 DK 4200
Opponent - COL (Hoffman) Park - @COL
FD - 9.87 DK - 8.37
If you can get over the fact that the Braves have been fully price adjusted to Coors, you can get some very consistent hitting. It starts with their leadoff hitter, Ender Inciarte, who isn't going to give you a bunch of upside but is a very consistent .300 and comes in with hits in 18 of his last 19 games and also adds a speed element with 15 stolen bases this season. He faces Jeff Hoffman who, by no one's surprise, has been worse at home with a 6.15 ERA and .360 wOBA against. After beating down the Braves 17-2 last night I expect Inciarte and his outfield mate Markakis to be much lower owned and obviously cheaper than Blackmon and company.
Main Slate
Aaron Judge FD 4300 DK 5500
Opponent - NYM (Matz) Park - @NYM
FD - 13.19 DK - 10.02
.@TheJudge44 sends this one back to the Bronx. pic.twitter.com/g8U3Pizmzo

— MLB (@MLB) August 17, 2017
Despite the high price and well documented struggles in the second half, Aaron Judge has some absolutely amazing upside. If you missed that home run last night all i have to say is WOW! Not one outfielder even budged and the ball went halfway into the upper deck at Citi Field. He now has hits in four straight and last night was also his first multi-hit game since mid-July. Even with a crazy 31% strikeout rate, he has been able to manage to keep his average in the .290's and currently sits in a tie with Jose Altuve with a league-leading 169 wRC+. If you are paying down at pitcher, it is very likely you can get Judge at a lower ownership % on DraftKings considering the price in the mid $5K range.
Rhys Hoskins FD 2800 DK 3600
Opponent - SF (Samardzija) Park - @SF
FD - 10 DK - 7.63
Rhys Hoskins with the best response to the silent treatment pic.twitter.com/YfVqjW98Tc

— Kenny Ducey (@KennyDucey) August 15, 2017
The highly touted rookie slugger hit his first big league home run the other night but it was the reaction to the silent treatment that is the real MVP. The hype train has definitely left the station as he hit two on Monday and added on another on Tuesday. The price is starting to go up fast on DraftKings but there is still time to get on board before he is full steam ahead. On FanDuel, he is in play in all formats under $3K and hitting out of the three and four hole in the lineup. 
GRAB A FREE TRIAL OF OUR PROJECTION SYSTEM, AND CHECK OUT DFSR PRO!
GET OUR FREE EBOOK ON DAILY FANTASY MLB and NBA BY CLICKING HERE!
You'll also get our picks in your inbox every day!
FREE EBOOK
SECRETS TO CRUSHING DAILY FANTASY FOOTBALL!
DON'T SET ANOTHER LINEUP BEFORE YOU READ THIS BOOK.