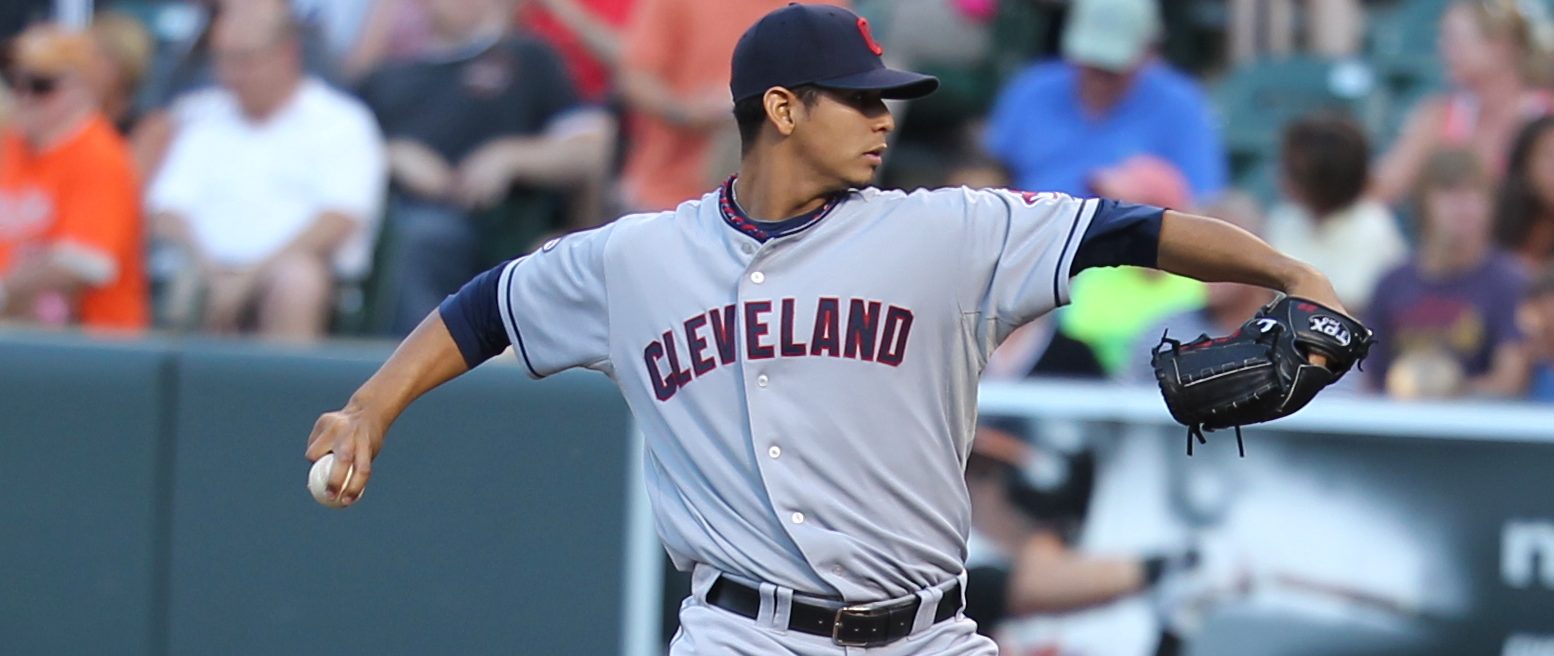 Daily Fantasy MLB Baseball Picks for FanDuel and DraftKings - 9/11/17
Now's your chance to get DFSR PRO, which will give you access to our MLB optimizer, our NFL Optimizer, and our new player lab! Get started for free by clicking the button below.
First time with NFL or MLB? Be sure to read our free MLB and NFL Ebooks on building lineups, general strategy and more. We've got you completely covered.
Pitcher
Carlos Carrasco FD 10400 DK 13200
Opponent - DET (Jaye) Park - @CLE
FD - 42.23 DK - 27.85
He's facing a Tigers' team that's been greatly diminished over the course of the season thanks to trades/ tanking, whatever you want to call it. They've jettisoned off J.D. Martinez from the middle of the lineup and the rest of the squad is looking a bit rough around the edges. Piggy's struggling through a terrible season and V-Mart's on the long term DL. That leads to a cast of misfit toys who can't hit all that well. Carrasco's put together a solid season, striking out close to 10 per nine innings and keeping the walks to right around 2 per nine. He's in a great situation here and will likely be the chalk pitcher on the slate.
Zack Greinke FD 9500 DK 11800
Opponent - COL (Freeland) Park - @ARI
FD - 37.82 DK - 24.87
It's one thing to be a great offense in Coors, but it's an entirely different thing to hit outside that environment. Such is the life of a Rockies' player. They've put up close to the top of the league in runs this season, but a ton of them come at home. On the road, it's an entirely different story. Outside of Denver they are 26th in the league in wOBA and are striking out 24% of the time. Greinke's 2017 campaign has returned him to his Cy Young glory with a 9.74 K/9 and 3.28 xFIP. He's putting up ace-level numbers and is a big favorite for the win in this matchup. I'd rather pay a little bit more for Carrasco in cash games, but it's close considering Greinke's setup today.

Catcher
Chris Iannetta FD 2300 DK 3600
Opponent - COL (Freeland) Park - @ARI
FD - 11.56 DK - 8.6
He should be hitting at the top of the lineup today considering the D-Backs (even with all of their lineup decision atrocities over the course of the season) do tend to slot him second against lefties. He's absolutely crushed southpaws this season with a .945 OPS and .404 wOBA in that split. He's got the hitter's park in Arizona at his back boosting power for righty bats and Kyle Freehand isn't much of a major league pitcher. He's only striking out 6.26 batters per nine and the xFIP's sitting in the mid 4's. This isn't the last Diamondback you'll see as a play today.
Salvador Perez FD 2500 DK 3500
Opponent - CHW (Lopez) Park - @KC
FD - 11 DK - 8.39
Like I said about Salvador yesterday, he isn't the safest play on a day-to-day basis. Most of his production comes through the home run this season (24 this year) and the slugging is what gets him through day over day. That's because the walk rate is non-existent. It means he's more of a tournament play than anything else, but it's also why the salary is stuck in the lower tier. He just can't sustain consistent performance, but that means we are always buying low when he's in plus matchups.
First Base
Justin Smoak FD 3400 DK 4700
Opponent - BAL (Jimenez) Park - @TOR
FD - 12.52 DK - 9.33

Kendrys Morales FD 3100 DK 4300
Opponent - BAL (Jimenez) Park - @TOR
FD - 11.78 DK - 8.86
I said this about Smoak and Morales and the same hold's true today:
Smoak's been fantastic this season with a mid .900's OPS and is pushing close to 40 home runs. This is his breakout season and it's been a long time coming. Morales has continued his power ways though he's a little more reliant on the long ball than Smoak. Both make for excellent cash game plays though they are a little expensive on DraftKings.
And the same holds true today. They're facing Ubaldo Jimenez, the king of giving up the long ball and dude's been doing it a ton this season. His 20% HR/FB ratio is other-worldly bad and probably a little bit unlucky. The K rate is respectable but we are rarely avoiding the guy. This is another solid spot to buy on these two Jays.
Jesus Aguilar FD 2400 DK 4100
Opponent - PIT (Brault) Park - @MIL
FD - 11.67 DK - 8.77
He's basically only allowed to hit against lefties and that's a good thing. Aguilar's only respectable split is against the southpaws where he's sporting a career .800 OPS and and 108 wRC+. Steven Brault completely sucks through 52 innings in his career. He's only struck out 6.5 batters per nine and is rocking a mid 5's xFIP. Aguilar should hit in the middle of the order against the lefty and the ballpark is always a power boost for righties.
Second Base
Jose Ramirez FD 3900 DK 5300
Opponent - DET (Boyd) Park - @CLE
FD - 13.19 DK - 10.78
He took a couple of games off with a minor wrist injury but was back in the lineup for Sunday. Ramirez is putting together his best season (by a mile) with a .926 OPS. That's thanks in part to 25 home runs in 572 PAs, which is more than he'd done in his previous 1200+ times to the plate in the majors. Yeah, this is a break out power season. I'm not sure it's sustainable considering the past results, but Matthew Boyd is a great spot to keep the power surge alive. Dude's rocking a 5+ xFIP on the season and really can't strike anyone out.
Jonathan Schoop FD 3800 DK 3900
Opponent - TOR (Estrada) Park - @TOR
FD - 11.1 DK - 8.45
He's more of a DraftKings play considering the depressed price on that site. Schoop's hitting in the heart of the lineup and working on his best season in the majors by a country mile. The .880 OPS is way beyond his career .750 number though this might be him working on his new normal. There aren't a lot of outlier luck numbers driving his stats though the BABIP and HR/FB numbers are ticking up. But none over the crazy point and he could just be coming into his own as a hitter. Estrada has struggled with the long ball this season and the Orioles are projected to put up some runs in this matchup.
Short stop
Francisco Lindor FD 4400 DK 5600
Opponent - DET (Jaye) Park - @CLE
FD - 13.1 DK - 10.52

Elvis Andrus FD 4100 DK 3900
Opponent - SEA (Miranda) Park - @TEX
FD - 11.48 DK - 9.79
Two top tier options with big time match-ups? Why not!? Lindor is the position's league leader in home runs, and Andrus is the position's league leader in steals. Neither is a slouch at the other's specialty, either. Both are big time fantasy options (that you admittedly have to pay up for), but both rank among the top guys in points per dollar thanks to their excellent match-ups. Myles Jaye sounds more like a porn star than a starting pitcher, and through a few major league innings has pitched like one as well - striking out no one and walking 2 in the 5.2 innings he's pitched here so far. Ariel Miranda is run of the mill bad, but really specializes in giving up home runs thanks to his 31.8% rate. His 1.97 career HR/9 is outrageously bad, and gives Andrus tremendous upside here.
Jean Segura FD 3000 DK 4000
Opponent - TEX (Hamels) Park - @TEX
FD - 9.86 DK - 8.47
A steady cash game option if you find yourself strapped for cash at the shortstop position. I wrote up Segura yesterday, and the case for him today is more of the same. He's a high average, high OBP option at the short stop position, and the match-up is a lot better than it looks. Texas is one of the better parks for hitters in all of the majors, and Hamels is a shell of the pitch he once was. He's sporting career worsts in K/9, BB/9, and xFIP, and only a very forgiving BABIP allowed is standing in the way of his worst ERA ever. Kinda love Segura here, even if he doesn't offer the same upside as the higher profile plays.
Third base
Mike Moustakas FD 3100 DK 4000
Opponent - CHW (Lopez) Park - @KC
FD - 11.84 DK - 8.95
I wrote this about Moustakas last night, and since then, little has changed:
His 36 homers are second in the majors among third basemen, and thanks to his low BABIP and walks, he remains underpriced compared to what he can produce in any given game. I like him for big tournaments on both FD and DK.
Reynaldo Lopez might not be quite as good a match-up as Bartolo Colon was, but it's hard to say he's that much worse. He's been an extreme flyball pitcher during his brief tenure in the majors, which should buoy Moustakas' home-run opportunities significantly over a league average match-up. He also walks a lot of guys, which doesn't necessarily help the free-swinging KC third bagger, but his lack of command means he can make mistakes up in the zone. Not sure I can recommend Moustakas for cash games, but there is huge upside for tourneys for sure.
Manny Machado FD 4100 DK 5400
Opponent - TOR (Estrada) Park - @TOR
FD - 13.08 DK - 10.12
The best big money option at third base, for my money. Machado doesn't bring quite the same power that Moustakas does (though he's no slouch with 32 homers), but what he gives up in power he more than makes up for in consistency. He's basically the same player he was during last season's near .900 OPS campaign with a slightly worse BABIP, and he's always been basically platoon neutral. He'll be up against Marco Estrada and his 5.01 xFIP, so I like his chances to produce plenty. Of particular note is Estrada's 30% ground ball rate, which is the very lowest among qualified pitchers this season. Machado is a great cash game play with plenty of big tournament upside.
Outfield/strong>
Domingo Santana FD 3000 DK 3800
Opponent - PIT (Brault) Park - @MIL
FD - 12.67 DK - 9.81

Ryan Braun FD 3200 DK 4600
Opponent - PIT (Brault) Park - @MIL
FD - 12.6 DK - 9.99
Two underpriced right handed power bats against a minor league caliber left hander? Why the heck not? Brault has managed just 4.34 K/9 while giving up 3.86 BB/9 this season, and most of that was out of the bullpen! His minor league track record isn't particularly impressive, either. There's no reason to think he'll stick in the majors in the near term as a starter, and in the meantime, I'm happy to pile up competent and cheap right handed batters against him until the cows come home.
Curtis Granderson FD 2900 DK 3900
Opponent - SF (Stratton) Park - @SF
FD - 12.12 DK - 9.33

Jay Bruce FD 3300 DK 4000
Opponent - DET (Jaye) Park - @CLE
FD - 12.54 DK - 9.53
Two more throwbacks from last night's picks articles, as is typical this time of year when situations are changing very little and the body of data we have for various hitters is rather large. These two lefty sluggers bring their usual array of power and low prices, but both have significantly better match-ups even than they did last night. Bruce draws the aforementioned Jaye, and Granderson gets Chris Stratton. Stratton has allowed nearly 5 walks per 9 innings this season, but that's not the worst of it. He's given up a brutal .375 wOBA to opposing left handed hitters, including a dismal 14 Ks against 13 BBs in the 86 total southpaws he's faced. Love both of these guys for both safety and upside.
image sources
Cleveland Indians starting pitcher Carlos Carrasco (59): By Keith Allison on Flickr [CC BY-SA 2.0 (http://creativecommons.org/licenses/by-sa/2.0)], via Wikimedia Commons