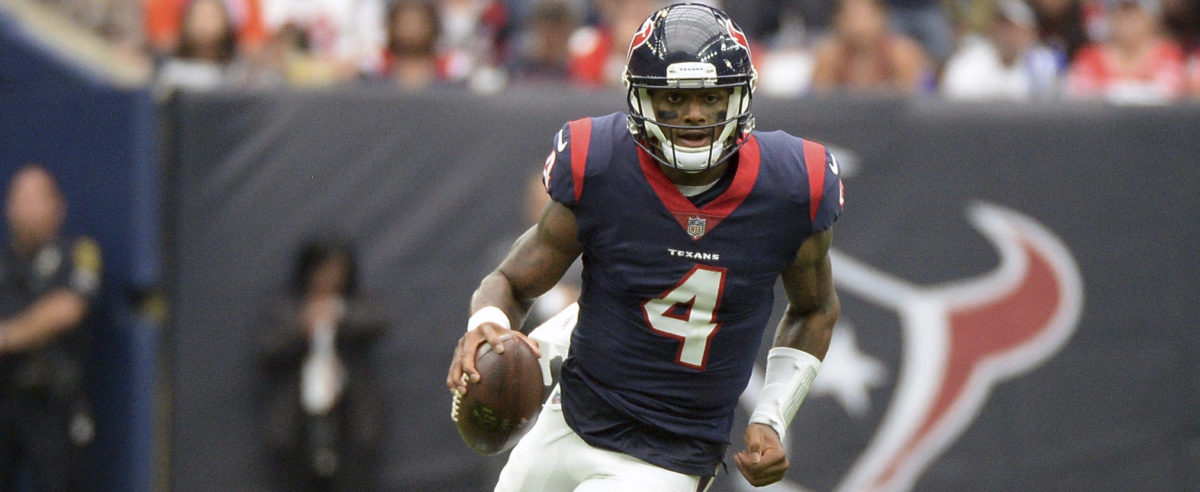 Daily Fantasy Football Picks for FanDuel and DraftKings Week 6 - 10/10/17
After five weeks in the NFL it feels like nothing is safe. We've already seen season-ending injuries to guys like Beckham, Cook, Olsen, Watt and more. Good teams look bad. Bad teams look good. Players disappear from the team's game plan only to reemerge a week later. It's been a crazy season so far. But there's also plenty to feel confident about as well. Let's take a look at some of the cash game plays for Week 6.
Now's your chance to get DFSR PRO, which will give you access to our NFL optimizer for FanDuel and DraftKings, our MLB Optimizer, and our new Player Lab! Get started for free by clicking the button below.
First time with NFL? Be sure to read our free MLB and NFL Ebooks on building lineups, general strategy and more. We've got you completely covered.
Quarterback
Alex Smith FD 7500 DK 6400
Opponent PIT
Proj Points FD - 21.33 DK - 22.01
Your leading fantasy scoring quarterback through five weeks of the season? Alex Smith everyone! He's been a revelation (I can't believe I'm saying that) behind center and is completing an insane 77% of his passes (next closest with >100 PAs is Josh McCown *gulp* at 71%). Smith has three elite weapons at his disposal in Hunt, Kelce and Hill which goes a long way to keeping opposing defenses honest. And the results have more than been there. The Chiefs lead the league in points scored and this week take on a reeling Pittsburgh team at home. The game doesn't project as a blowout (KC -4, 25 implied points) and the Steelers' pace this season suggests KC will have the ball plenty. Smith's also done some work on the ground his mobility does help his cash game floor. He's a notch below the upper tier of pricing allowing for plenty of wiggle room elsewhere in your lineup and I suspect he's a popular play this week.
Deshaun Watson FD 7900 DK 6700
Opponent CLE
Proj Points FD - 19.96 DK - 21.29
Smith may lead the league in quarterback fantasy points but one could make the strong case that had Watson opened the year as the starter the latter would be the runaway leader in the clubhouse. His last three weeks have been amazing, averaging 281 yards a game through the air, and throwing for a total of 11 TDs. Houston's found their QB and the only mistake they've made was not unleashing him sooner. The emergence of Watson has also helped the HOU run game as well, leading to a more balanced Texans' attack. He leads all QBs in rushing yards from scrimmage (179) and will face a Browns' defense that probably looks a little better on paper than they really are. Their average yards given up per game are among the lowest in the league but they've played the Jets, Bengals, Ravens and Colts in the last four weeks (and been crushed by all of them). The Texans have the most implied points on the day and Watson has shown to be the heart of the offense.

Kirk Cousins FD 7800 DK 6800
Opponent SF
Proj Points FD - 21.63 DK - 22.7
He's had a rather underwhelming start to the season which could be in part to losing Pierre Garcon and Desean Jackson in the off-season and replacing them with Terrelle Pryor and Jamison Crowder not exactly filling the void. They are coming off a Week 5 bye (and hopefully another week of getting more comfortable with routes) in time to face a San Fran team that's allowed the fifth most yards from scrimmage this season. A lot of that has come through the air (26th in DVOA against the pass and likely to get worse after that game after Jacoby Brissett put up 314 yards in Week 5). Cousins and the Redskins have over 28 implied points going into this game and he makes an interesting pivot off the two guys above. For strict cash, I prefer Smith and Watson but Cousins right in the same range also has a high floor in this one.
Running Back
There are a lot viable running backs this week. Almost too many to write up here. We'll be posting an additional running back article later in the week diving into some of the other plus matchups. These are the backs coming into early iterations of lineups. Update: Check out our additional Running Back plays for Week 6.
Todd Gurley FD 8400 DK 7700
Opponent JAX
Proj Points FD - 20.27 DK - 22.56
Jacksonville went into Week 5 with the lowest rated defensive DVOA ranking against the run but "held" Le'Veon Bell to only 47 yards on the ground. I wouldn't get too wrapped up in that number in projecting out the Jags' D going forward. The Steelers' game got scripted away from Bell with two pick 6's by the Jags' D and Pitt was forced to play catch-up throughout. Even with that game, they've still allowed the second most rushing yards this season. On the flip side, Gurley missed a 10 yard TD run by a millimeter early against the Seahawks and the Rams took to the air for a lot of the game when they fell behind. I love the chance for a bounce back from Gurley who's been the second most used back this season (100 attempts / 29 targets). The Rams aren't going to pivot their approach now and Gurley is coming in as the fifth most expensive RB on FD and fourth on DK. That strikes me as a deal even with the Rams coming in as an underdog. I think that's a bit of an overreaction to the Jag's Week 5 performance.

Leonard Fournette FD 8600 DK 8000
Opponent LAR
Proj Points FD - 18.14 DK - 19.54
Speaking of this game, Fournette comes in on the other side of the ball and with the lowest coefficient of variation (StDev/Average) among all top running backs (.34 - no other RB is less than .5). This is in large part because the Jags are running him into the ground to start his young career. He leads the NFL in carries (109) because the Jags can't throw the ball even a little bit. Expect them to keep force-feeding him the rock for the foreseeable future. The Rams have been considerably worse against the run than the pass this season which should play even better for Fournette. His line from Week 5 looks a hell of a lot better thanks to the garbage time 90 yarder, but the volume is nearly unparalleled and he's priced just out of the top tier of backs.

CJ Anderson FD 7000 DK 6600
Opponent NYG
Proj Points FD - 17.52 DK - 18.74
The Giants are just an absolute trainwreck right now. They came into the season with some expectations about their defense and passing game's ability to keep opposing teams on their heals. Oops. It's all gone to plaid punctuated with losing Odell Beckham for the rest of the season. Now they fly into Denver to face the Broncos who are fresh off a bye and -11.5 opening favorites. Anderson's had 20 or more carries in three of Denver's four games (8 carries when I played him in cash go figure) and he should be a feature part in the offense here if Broncos are playing from well ahead (which they should be). This is setting up as the perfect running back scenario as big home favorites with fresh legs. Jamaal Charles' snap count worries me some, but even at say 15/3 for CJ we are looking at a value on both sites.
Javorius Allen FD 5800 DK 5400
Opponent CHI
Proj Points FD - 13.56 DK - 15.66

Mark Ingram FD 5900 DK 4400
Opponent DET
Proj Points FD - 13.13 DK - 15.18
I wanted to give some RB's at different points on the salary and these two guys come in at bargains depending on the site. I'll add some more in-depth analysis to both in the running backs' article later in the week, but Allen is in a fantastic spot against the Bears who, even with Trubisky as an upgrade at QB are big dogs to the Ravens. Allen has seen the bulk of the RB snaps the last two weeks and will again if Terrance West sits with injury.
Meanwhile, the Saints traded away Adrian Peterson clearing up some of the backfield mess for the Saints. Ingram is a potential steal on DraftKings at $4400 assuming he takes even 70% of AP's carries per game (6.75).
Wide Receiver

DeAndre Hopkins FD 8000 DK 8100
Opponent CLE
Proj Points FD - 16.64 DK - 20.03
Think this guy likes having a real quarterback finally? Dude's been amazingly consistent this season (.38 CV - only Jordy and K. Allen are lower) thanks to a double dip of heavy targets and Red Zone looks. Last week he had conversion issues (4-12) but three of them came in the endzone. He's seen less than double-digit targets in only one week and the return of Will Fuller hasn't cut into his shares at all. Cleveland's allowed the fifth most yards per pass this year and have been torched by opponents WR1s (dead last in DVOA against that label). Look for a big day out of a guy having a hell of a bounce back season.

Larry Fitzgerald FD 6600 DK 6800
Opponent TB
Proj Points FD - 15.21 DK - 19.06
Time presses on, the seasons change, months turn into years and Larry Fitzgerald still gets targets. He's getting up there in age (and it won't last forever, or even on a steady week-to-week basis) but Fitz leads the Cardinals this season in targets (51), receiving yards (327) and receiving TDs (2). I suspect the volume remains rather steady considering their inability to run the ball and just generally being a bad team. I suppose the addition of Adrian Peterson helps balance the offense some (not a lot) and could lead to higher quality targets for Fitz, but either way I'm not overly worried about his usage. The price has barely moved on FanDuel where even in 0.5 PPR he's a value. His DraftKings price is pushing it, though again we're talking about the fourth most targeted WR in football this season. The Bucs ranks in the bottom third of passing DVOA this season and ARI should have to throw plenty.

Keenan Allen FD 7200 DK 7900
Opponent OAK
Proj Points FD - 15.07 DK - 18.65
When it comes to targeting WRs in cash we want to continue targeting receivers seeing the bulk of their team's target share on a week-to-week basis. If we can grab one after a "down" week then even better. Allen saw more of Janoris Jenkins than I thought would happen last week and still managed 12 looks and a handful of RZ targets (that he couldn't convert). The 4/71 line isn't all that inspiring, but again this was a real bad matchup and we still saw Rivers default his way over and over again. It gets a whole lot easier against the Raiders who've been smoked by any and all WRs on any and all sides of the field. They don't have a DVOA rank higher than 20th in any category related to the pass. This could be a feeding frenzy for Allen who ranks third in targets and first in consistency (.28 CV). This is lining up as the quintessential cash play at WR.
Chris Hogan FD 7500 DK 7000
Opponent NYJ
Proj Points FD - 15.47 DK - 18.13
I'm a little spooked by his reliance on the touchdown this season, but there's something to be said for being Tom Brady's primary red zone target. That's not something to be taken lightly and Hogan's made the most of his opportunities this season. He ranks second in RZ targets this season (9) and the Patriots figure to be down and close quite a bit going forward. Again, he ranks below the players mentioned above and from a fantasy perspective there is possibly some regression coming unless the targets tick up. But the TDs do feel for real.
Tight End
Zach Ertz FD 7000 DK 6300
Opponent CAR
Proj Points FD - 12.53 DK - 15.74
Look, the theme of this cash game article has definitely been "consistency" and finding those players who stand to "repeat" performances week-over-week. This is can be an incredibly tough thing to suss out in a sport like football with a ton of variance. But the very model of consistency this season (any position) is Ertz. His .12 CV is the lowest in the NFL. This number would be incredibly low for an elite QB. For a TE it's practically unheard of. He's dusting the TE field in targets (48) and is basically Wentz's top option in the passing game. Carolina's been solid against the position this season and Ertz has seen the price climb relative to performance. At this point it's not a question of whether he's the top tight end option, but rather what you are willing to pay. It's close, but if there's any savings to be had elsewhere this is a spot to overspend.

Austin Seferian-Jenkins FD 5600 DK 4300
Opponent NE
Proj Points FD - 11.62 DK - 14.63


Evan Engram FD 5300 DK 3800
Opponent DEN
Proj Points FD - 10.53 DK - 12.96
If you don't go the Ertz route, then I suggest going cheap. Getting out of the elite class of TEs can open the door for a lot of heartache mostly because teams see their TEs typically as (at best) third options in the passing game. If looking to punt it, Sefarian-Jenkins came into last week with rumors he'd be more featured in the passing game. He saw 8 targets for 6/29/1. The yards are garbage, the targets were solid and the TD was lucky. It all lands in the middle for me with his price and I can imagine he's a somewhat popular cash play.
Meanwhile, I don't completely mind going back to Engram here considering the state of the Giants' passing game. He's unlikely to see either Harris or Talib (they split Engram out as a receiver often) and the Giants just lost 103 targets out of their passing game in the span of about 90 minutes on Sunday. Last man standing guys can have value though the matchup is real bad.
Consider George Kittle after last week's game, but remember he's a tight end and we've seen this story before.
Defense
Denver Broncos
FD 5400 DK 4000
Opponent NYG
Proj Points FD - 9.21 DK - 9.21
O/U 40 DEN -11.5
Washington Redskins
FD 4700 DK 3400
Opponent SF
Proj Points FD - 8.34 DK - 8.34
O/U 46.5 WAS -10
Baltimore Ravens
FD 4900 DK 3700
Opponent CHI
Proj Points FD - 7.49 DK - 7.49
O/U 40 BAL -6.5
Now's your chance to get DFSR PRO, which will give you access to our NFL optimizer for FanDuel and DraftKings, our MLB Optimizer, and our new Player Lab! Get started for free by clicking the button below.
First time with NFL? Be sure to read our free MLB and NFL Ebooks on building lineups, general strategy and more. We've got you completely covered.
image sources
Titans Texans Football: (AP Photo/George Bridges)