Basketball Picks Daily Fantasy
Expert Advice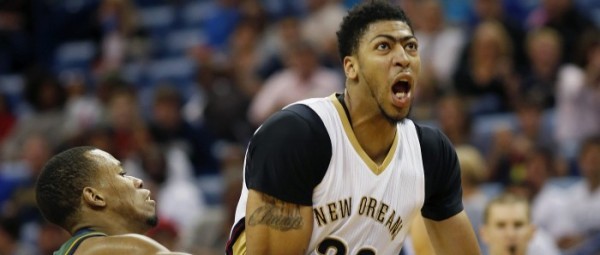 Daily Fantasy NBA Picks for FanDuel and DraftKings - 10/24/17
Now's your chance to get DFSR PRO, which will give you access to our NBA optimizer, our NFL Optimizer, and our new player lab! Get started for free by clicking the button below.
First time with NBA or NFL? Be sure to read our free NBA and NFL Ebooks on building lineups, general strategy and more. We've got you completely covered.
Point guard

Kyrie Irving FD - $9100 DK - $8700
Opponent - NY
Proj Pts FD - 41.77 DK - 43.09
You're going to see a lot of the same teams being targeted throughout today, as we go position by position looking for the weaker defenses on teams that run a fast pace, and while we have a limited sample size, trends are emerging through the first few games showing us just who those teams are. The Knicks are not one of those teams. They aren't playing at a fast pace, but they have shown to be rather poor on the defensive side of the ball. This makes for a good matchup for Kyrie Irving. Irving is still trying to fit himself in on his new team in Boston, but with several injuries in the early going, the Celtics have shown they're quite content relying on the former Cav to lead the offense. He's run 35 minutes or more through the first three games this season scoring over 20 twice, averaging 4.6 rebounds and 5.6 assists per game. The Knicks have nobody capable of keeping pace with Irving and he should eat up the New York back court. Until he rounds out his game and starts building on the peripeherals I don't see much upside, but for the shot production and minutes played, Kyrie is a solid cash play.

D.J. Augustin FD - $5900 DK - $5100
Opponent - BKN
Proj Pts FD - 23.31 DK - 24.51
The Brooklyn Nets were last years DFS punching bag, the team it was always safe to target due to their fast pace of play and poor defensive prowess. So far this season it seems not much has changed on that front. Brooklyn is still playing fast and defending poorly. While after just a week, they're not the worst team defensively at the point, they are allowing 54.1 FanDuel points to opposing PG through the first week which is enough to rank them sixth worst at the position. Tonight the Magic will host Brooklyn and with Elfrid Payton sidelined with that hamstring injury the starting duties have fallen on D.J. Augustin. Payton sat out of practice Monday, and has already been ruled out for tonight, so that means D.J. should see another run in the upper twenties, which last time out led to a double double and nearly 6X points per dollar. If Augustin is in the starting five, and I see no reason why he wouldn't be, he'll be in all of my lineups.

Jrue Holiday FD - $6900 DK - $6500
Opponent - POR
Proj Pts FD - 36.12 DK - 36.22
Jrue is a solid player at the point and once he gets going he should start crushing value at these prices,
This is from my write up on Jrue Holiday going into Sunday's contest against the Lakers. I noted the matchup with Lonzo Ball defending against him was the perfect chance for him to breakout of the funk that was hindering him in the first two games of the season. While he looked better from the field going 6-11, he is still struggling from beyond missing on 3 three point attempts. He was still able to take the young Ball to school and with four steals was able to pay over 5X value. Tonight he faces a more formidable opponent in Damian Lillard, but the price is still reasonable, the minutes are secure, and the shot seems to be finding the net. This game has the second highest projection from our friends in Vegas, and is only a 4 point spread. I love the two guys above, but if you need to pivot down a bit from Kyrie, then Jrue is my favorite play in the next tier down.
Consider: Damian Lillard against New Orleans
Shooting Guard

Andrew Wiggins FD - $6900 DK - $6900
Opponent - IND
Proj Pts FD - 30.81 DK - 31.52
Gettin' Wiggy with it! Andrew Wiggins has been a beast to start the season, averaging 24.7 points, and 5.7 rebounds through his first three games and the minutes are ticking up ever so slightly, topping out at 39 in Oklahoma City for his best performance yet. Despite it all the price has only spiked the tiniest bit. The Wolves host the Pacers tonight, in a game with some blowout risk, so the minutes may not kiss the forty mark again, but as long as he gets in the thirties, Wiggins should have plenty of time to pay value. It's only a matter of time before the price on Wiggins begins to rise if the performance remains at the current level, so now is the time to get in and capitalize.

C.J. McCollum FD - $7800 DK - $7100
Opponent - NO
Proj Pts FD - 35.86 DK - 36.95
This is a game I'm going to be attacking from all sides, as it sits with one of the night's highest totals with a close spread. The action should be quick and the productivity should come at a high level. I like C.J. McCollum at the two because of one word. Price. The sites have him priced entirely too low, for the level he's capable of playing at, and after starting the season serving a one game suspension, he has impressed in his first two showings of the young season. At an average of 35 minutes, McCollum has posted 27 points, 5 rebounds, and an assist per game. He's also showing his defensive skills, with a block and three steals. The Pelicans have been horrible defending the shooting guard position early on, so this could be a breakout game for C.J. Once again, the price is everything here, the opportunity adds to the potential upside, and C.J. McCollum is a top play in all formats.

Tim Hardaway Jr. FD - $4700 DK - $5000
Opponent - BOS
Proj Pts FD - 26.82 DK - 27.75
Tim Hardaway Jr. hasn't done much to impress through the first two games this season as the Knicks starting two guard, but there is a key pattern to consider before brushing him off, the minutes have gone up (from 28 to 34) while the prices across the industry have dropped. At $5K or less, a player seeing minutes in the thirties or higher this is a match in price and opportunity heaven. Hardaway is getting the shots, he just hasn't been making them. He averaged .455 shooting from the field last season and .357 from beyond, so we know he can shoot, and once he does, he will pay dividends at these prices. I'm looking at the two guys above in cash games, but as a value play, or potential GPP play Hardaway has a chance to pay solid PPD at these prices.
Strongly consider: Terrence Ross against the Nets

Small forward

LeBron James FD - $10700 DK - $10000
Opponent - CHI
Proj Pts FD - 51.5 DK - 52.44
The King had a lot of us calling for his head this weekend after some lackluster performances against the Bucks, and the Magic, but he is still LeBron James, and to our favor, the price has dropped. That 10K on DraftKings is really screaming my name if I'm being honest. Perhaps that ankle is bothering him more than he's letting on, but he did play just 31 minutes on Saturday, and has had two days to rest, so if he's able to increase his run to the 39 minutes he averaged in games one and two, then he will have plenty of chance to make up for the weekend. The blowout potential is real here, but if it's going to get out of hand, it will probably be late in the fourth, as Cleveland has a history of playing down to their opponents before burying them, if anything concerns me with James' minutes, it's the ankle more than the blowout. Still, James is a great cash game play.

Evan Fournier FD - $7000 DK - $6100
Opponent - BKN
Proj Pts FD - 33.6 DK - 34.44
Another Orlando player against Brookyn, Evan Fournier gave his best performance of the season so far against these same Nets in Brooklyn on Friday night. In 35 minutes Fournier stuffed the stat sheet until it was ready to burst with 22 points, 9 boards, 5 assists, and two steals. He did it all to the tune of 6.3 PPD. He saw his minutes reduced to just 26 on Saturday, but that was due mostly to the blowout of the Cavaliers, prior to that he saw runs of 34 and 35 in his first two outings. Fournier is first and foremost a scorer, and that alone makes him a safe cash play, but if he can replicate his last performance against the Nets tonight, he could help boost a GPP lineup as well. I'll be looking at Fournier in all formats.

Jimmy Butler FD - $8300 DK - $7000
Opponent - IND
Proj Pts FD - 42.94 DK - 42.25
Jimmy Buckets, hasn't exactly been scoring buckets in his first three contests in Minnesota, but what he has been doing is playing a well rounded game, notching up the peripheral stats to make up for the lack of scoring. With a number of playmakers, it stands to argue Butlers scoring would take a hit, and through three games, he's averaged 13 points per game in 37 minutes of play, but he's also averaging four assists, and 5.6 rebounds per game. Another positive sign is the minutes continue to creep up, starting at 35 and topping off at 39 against the Thunder on Sunday. While the minutes have gone up, the price has come down, and the price on DraftKings especially is quite appealing for a player of Butlers caliber. Unless a solid value play shows itself leading up to lock, I think small forward is a spot you have to pay up at tonight. The system prefers these guys in the order I have them listed here, and I tend to agree.
Power forward

Kristaps Porzingis FD - $9300 DK - $8500
Opponent - BOS
Proj Pts FD - 46.65 DK - 46.43
With Melo moving to the mid west, Kristaps Porzingis is the king of New York now. The Knicks will run the offense through Zinger, who has made 45 shot attempts from the floor to go along with 19 free throws. Next up, he'll take his shooting skills to Boston. The Celtics have been terrible against opposing power forwards this season, allowing 22.7 points and 13.7 rebounds. Kristaps opened the season with a double double in Oklahoma City, and should get his second tonight. He has paid value in both games he has played so far, and I expect that to continue tonight. Porzingis is my favorite play at the position tonight, and the top PPD play according to the system.

Anthony Davis FD - $12200 DK - $10900
Opponent - POR
Proj Pts FD - 60.79 DK - 60.47
The top raw point projection in the system however, belongs to this man. That's at any position. Anthony Davis is the top projected play in the system and with good reason. Davis has started off his sixth season playing on a whole other level. In an average of 40 minutes per game he has put up three straight double doubles with at least 27 points and 15 rebounds per game. Even at this ridiculous price point Davis has paid 5X in his last two games and shows no signs of letting up. It's not just offense either, on the defensive side he has been putting up solid stats as well, with 5 block and six steals. If Davis keeps going at this pace, we're going to have some tough decisions to make on nights when he and Russ both play, fortunately for us, the Thunder have the night off, so Davis is the play.

Aaron Gordon FD - $8000 DK - $6900
Opponent - BKN
Proj Pts FD - 35.22 DK - 34.76
At some point in the opening game for the Magic against the Heat last Wednesday, Aaron Gordon tweaked his ankle enough to miss the next two games. He ran the boards for 34 minutes in that game, and despite some poor shooting, he finished just a board shy of a double double with a 14/9/3 line and two blocks. It was a nice start for Gordon who had quite an impressive preseason, and looks to be heading into a promising campaign. He missed out on the last game against the Nets in Brooklyn, so he steps into an enticing matchup tonight as the Nets come to Orlando. Gordon is a solid shooter and should see big minutes in this game with the leagues second worst defense against opposing fours. He's in play everywhere.
Center
Rudy Gobert FD - $8500 DK - $7600
Opponent - LAC
Proj Pts FD - 44.3 DK - 43.66
We haven't really given much of a look at this game yet, and it's the one game Vegas has yet to put any numbers out on, but the Jazz big man Rudy Gobert has gotten the season off to a solid start and warrants a little love here in our picks. Gobert has seen minutes in the low to mid thirties each time out, posting a double double in each of his three games, while also adding in three assists, three blocks, and three steals. He went 8-11 from the field in Saturdays win over OKC, and gets an even better matchup tonight against the Clippers. Los Angeles will counter with DeAndre Jordan who looked good in the opener against the Lakers, but was nearly nonexistent against the Suns. Gobert is an excellent play in cash games.

Jusuf Nurkic FD - $7900 DK - $6800
Opponent - NO
Proj Pts FD - 37.22 DK - 38.27
Jusuf Nurkic has seen his minutes increase each time out so far this season, starting at 23, then 25, and most recently 31 against the Bucks on Saturday. He should see a TON of minutes tonight against the twin towers of the Pelicans. If Portland wants to even hope to control Davis and Cousins, they will need a healthy helping of Nurkic. Nurkic underwhelmed us against the Suns and Pacers before having a breakout game in Milwaukee. He finished that game with 17 points and 11 rebounds paired with three assists and blocks. I would like to see Nurkic turn up the aggressiveness, he's only managed two steals to date, but he should have plenty of chances to swipe tonight as Boogie and the brow have allowed 29 turnovers between them in three games. This could be a big night for Nurkic, and at the price I see plenty of upside. I can see the case for him in cash if you need the savings, but I love him as a solid tournament play.

Nikola Vucevic FD - $9800 DK - $8300
Opponent - BKN
Proj Pts FD - 44.57 DK - 45.64
We close things out with one more from the Orlando matchup with Brooklyn. Big man Nikola Vucevic. Vucevic has been on fire out of the gate this season, and dropped 41 points against the same Nets on Friday. Vucevic has scored 83 points in 94 minutes on the court this season and is shooting .680 from the field and .500 beyond the arc. The Nets are terrible at the five and there is no reason Vucevic shouldn't be able to do the same tonight that he did on Friday. Among the top tier, Vucevic is the best way to spend you salary at the five tonight.
GRAB A FREE TRIAL OF OUR PROJECTION SYSTEM, AND CHECK OUT DFSR PRO!
FREE EBOOK
SECRETS TO CRUSHING DAILY FANTASY FOOTBALL!
DON'T SET ANOTHER LINEUP BEFORE YOU READ THIS BOOK.