Basketball Picks Daily Fantasy
Expert Advice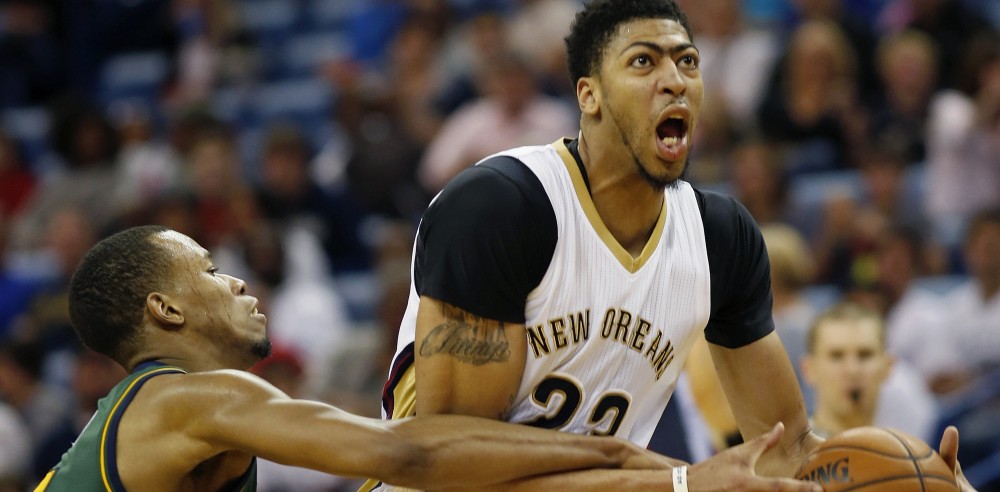 Daily Fantasy NBA Basketball Picks for FanDuel and DraftKings - 11/1/17
Now's your chance to get DFSR PRO, which will give you access to our NBA optimizer, our NFL Optimizer, and our new player lab! Get started for free by clicking the button below.
First time with NBA or NFL? Be sure to read our free NBA and NFL Ebooks on building lineups, general strategy and more. We've got you completely covered.
Point guard

John Wall FD - $9700 DK - $9500
Opponent - PHO
Proj Pts FD - 49.69 DK - 51.56
Halloween night wasn't the biggest NBA DFS slate, but it was full of action. We saw a few guys obliterate value and another couple that looked safe and failed us. We kick off November with a strong set of 12 games that include 6 over a 210 O/U. This bout between the Suns and Wizards is the highest of the bunch, currently sitting at 225.5. It's one of the highest over/under on the season and you won't see much higher all year long. It makes sense, both of these teams play fast and have a willingness to run in the open floor on a consistent basis. On the season, the Suns have allowed the most FPPG (Fantasy Points Per Game) to point guards and it's not close. Through 6 games, they've allowed 58 fantasy points per game to the opposing PG. The Timberwolves rank 2nd at 54. Without Eric Bledsoe, this team has no hope against dominant point guards. Wall certainly fits that category and should deliver as one of the most popular plays of the day. He's going to be a mainstay in my cash games and I doubt that's much of a hot take by the time opinions start rolling in. The match-up is obvious, the price isn't ridiculous, and the position isn't stacked. The recipe for Wall is nearly perfect. Let's hope he can get over 50 FP for the first time.
Jarrett Jack FD - $5200 DK - $4700
Opponent - HOU
Proj Pts FD - 24.33 DK - 24.44
Both sites have upped the price on Jack a bit, but not enough to take him out of consideration in a fast-paced match-up with the Rockets. Jack has gotten the start for the past 3 games and has been over 25 FP in each. He now sees a team that's without their starting point guard and relying on James Harden/Eric Gordon to take most of the minutes at the position. Neither are good defenders and it's why they've allowed the 8th most FP since Paul went out. At 34 years old, Jarrett Jack may not be able to go for 35 minutes and get you 45 fantasy points, but he's as safe as you can get for 25-30. This bout between the Knicks and Rockets should remain very close as the Rockets are only favored by 5 with a nice 212 spread. Jack is making a great case to be the starting PG for this Knicks team and he'll need to keep up this level of play for another few games to lock it down. With nobody to worry about defensively on Houston, I see no reason to fade Jack.
T.J. McConnell FD - $5000 DK - $5000
Opponent - ATL
Proj Pts FD - 26.33 DK - 25.4
There's been no ruling on the status of J.J. Redick, so make sure you keep an eye out. T.J. McConnell isn't fully dependant on Redick missing, but he turns into a MUCH safer and better play overall. He's been given the sizable uptick in workload since Fultz was ruled out, which makes sense. McConnell has been over 26 minutes in 3 straight and has put up FP totals of 29, 31, and 41. I'm not hesitant to roster McConnell as I remember what he did for us last year, putting up huge numbers on a consistent basis for a decent stretch of time. He now gets a friendly match-up at the 1 with either Malcolm Delaney or Dennis Schroder. Neither are very good at defense, nor care to be. McConnell is a stat stuffer that will very rarely disappoint you when given the minutes. He gets involved on both sides of the court and it's why he comes with a 1.26 FP per minute average. McConnell is by no means a must, whether Redick plays or not, but he should see close to 30 minutes with Fultz out and this match-up is quite nice. There's obviously going to be a lot of different ways you can go at PG, but taking the Wall + value route is going to be my favorite. In tournaments, don't be afraid to shake it up. Point guard is usually the one spot where you can find some +EV plays for less than 10% owned.
Shooting Guard

Devin Booker FD - $7200 DK - $7800
Opponent - WAS
Proj Pts FD - 35 DK - 36.55


Bradley Beal FD - $7200 DK - $7200
Opponent - PHO
Proj Pts FD - 37.37 DK - 37.9
These 2 studs will go at it on the wing and it will be a show. They're both great defenders, but MUCH better scorers. Devin Booker has a lot more on his shoulders with Eric Bledsoe out, but Brad Beal has no problem responding with 20 shots of his own. They're both basically the same price across the industry and I suspect Booker will be a lot higher owned. Shooting guard is full of options, so maybe these guys aren't as popular as I think they should or will be. Vegas has this game at an astounding 226 total with the Wiz favored by 10. Both of these teams are going to put up 110+ points and we know how involved both of these scorers are in fast-paced games. Booker clearly understands that this is his team to lead and he's proven it since Bledsoe went out. He's playing a lot more consistently and contributing in more than just 1 category. Beal on the other hand, has continued to be an elite second-hand-man to John Wall. Both are in play tonight in all formats and as of now, I have no clue what side of the fence I end up on. Ask me after whatever likely news ends up breaking.

Tim Hardaway Jr. FD - $5200 DK - $5400
Opponent - HOU
Proj Pts FD - 25.61 DK - 26.87
You can go ahead and count Hardaway Jr. as back to normal. After going ballistic against the Cavs, he had a game that we've come to expect against the Nuggets, finishing with 30 fantasy points. He spread his stats around just a little bit and still shot plenty. He now sees a dream match-up with the Rockets, who sport some of the league's worst wing defenders. Hardaway Jr. will have his work cut out for him on the defensive side of things, but he should have as many open shot as he wants to respond. Contrary to what his numbers say so far, Hardaway Jr. is an elite young scorer. He can shoot from the outside as well as take it in the paint on this somewhat porous interior. They have Capela, but nothing at all more. We still have Hardaway Jr. at this criminally low price and he'll only need to get you 25-30 to pay off nicely in cash games. Personally, he will be in every lineup I make tonight. Vegas has this game staying a lot closer than I would think and that will leave all of the starters in there for 34-38 minutes. Hardaway Jr. is just too good of a player and too high of an option on this offense to ignore in a fast-paced, close game.
Kent Bazemore FD - $5800 DK - $5300
Opponent - PHI
Proj Pts FD - 27.3 DK - 27.22
If Hardaway Jr. is a little too volatile for your taste, Kent Bazemore has been very safe and sees a very solid match-up against the 76ers in Philly. This is another one of the high total games with a 210+ over/under. We may end up seeing Dennis Schroder back in the mix here, but it shouldn't matter. Bazemore doesn't get the bulk of his FP by controlling the ball. He'll score around 8-12 against any team, but relies on his stat-stuffing for safety. He's been over 8 rebounds/assists in 5 of his 7 games to start the season with many of those in non-optimal match-ups. He'll see either J.J. Redick or TLC on defense, so there's obviously nothing to worry about in that front. Neither of those guys will be able to contend with him on the boards, either, so he could end up being a mismatch on that front. This game isn't as exciting as a few of the higher totals, but if it remains close, we'll see 4 or 5 guys obliterate value. Bazemore is often more of a cash game play, but I'm fine with him in both formats. I do prefer Tim Hardaway Jr, but understand the pivot.

Small forward

LeBron James FD - $10400 DK - $10400
Opponent - IND
Proj Pts FD - 49.85 DK - 51.21
The Cavs aren't playing well at all, but they're still favored by 11 to beat the Pacers tonight. The game has the 3rd highest total on the board at 219 and it has everything to do with the Pacers pace. They play at 102.9 PACE, which is ranked as 8th in the league right now. That would have been the 2nd fastest team in the NBA last year, so expect that to come back. The Pacers play extremely fast and are without the bigs that force them to slow. They've put up big points in each of the last 3 games and will likely be the reason the Cavs offense gets back into a groove. LeBron has seen a price drop for no reason outside of variance and it's something we should look to jump on. He will be "covered" by Bojan Bogdanovic, which will not work out well for the Pacers. They don't have anyone better to go with, so I'm sure others will get time, but they won't be any better. LeBron is going to see big minutes in this game if it's remotely close. I can promise that. The Cavs could really use a win tonight and we've already seen the willingness to play huge minutes out of LeBron. In 7 games, he's been over 37 minutes 5 times. If you give me 37 minutes of LeBron against the Pacers, I have a hard time believing he won't get to 60. James is my favorite play at SF and I'll make sure I get him in cash games everywhere.

Jimmy Butler FD - $7900 DK - $7100
Opponent - NO
Proj Pts FD - 39.39 DK - 39.35
We've touched on the Suns and Wizards plenty, who hold the highest total of the day at 226, but haven't looked at this one yet. The T-Wolves and Pelicans enter with the 2nd highest of the slate at 224, but have a much closer NO -2 spread. Vegas expects the game to be very high-scoring and a 1 possession game until the clock hits 0's. At point guard and shooting guard, Jrue Holiday and Andrew Wiggins are definitely interesting, but don't make the cut as top plays. You can definitely get exposure to those guys in tournaments with no 2nd guessing. As for cash games, Jimmy Butler is the first guy I love in this game. He's clearly comfortable in this offense and it looks like Thibs is back to giving him 39 minutes every game. Make sure you take advantage now before Jimmy Butler is morphed into Luol Deng with 500,000 miles on him by 29. The Pelicans really don't have an SF with Solomon Hill out, so it'll be a combo of Dante Cunningham and E'Twaun Moore. Ya, good luck with that. Butler is the same guy as he was last year, but he's in a more efficient and faster-paced offense. He's going to have a few huge games around his consistent 40-50 and this bout with the Pelicans could certainly be a spot. His price is still too low across both sites and he only needs about 45 to more than pay off in cash. I've been unable to fit both LBJ and Butler in my lineups, but I'm hoping more value comes out and I am by the time lineups lock. Let's get to PF and look at another guy in the same game.
T.J. Warren FD - $5100 DK - $5100
Opponent - WAS
Proj Pts FD - 24.39 DK - 24.04
I have no clue what the pace of the industry is the night before, but I suspect Warren will be quite popular at this price. Especially after proving himself for 3 games in a row. I've never doubted Warren, who always goes through weird struggles in unexplainable times. Last season, he was pitiful for about a month (0-20 points, occasional DNP for P.J. Tucker). He then put up 30-40 fantasy points for 3 months with Eric Bledsoe and Devin Booker on his side. With Bledsoe gone, it won't just be Booker seeing an uptick in shots. Warren is the clear 2nd scoring option on this squad and he'll see plenty of 15-shot games. I've harped on this over/under, but for a guy that depends on stuffing the stat sheet, it's more important than anything. The faster a game, the more rebounds/assists/stocks there tends to be. It's not a perfect science, but you can count on it in this game. The Wizards and Suns both turn the ball over as much as anyone and love running the fastbreak. Both teams are over a 103 PACE, which is higher than anyone else was in 2016 for the entire season. If this game stays close, expect big things out of both teams.
Power forward

Anthony Davis FD - $11800 DK - $11200
Opponent - MIN
Proj Pts FD - 57.75 DK - 57.91
There are human beings on this planet who think I should never recommend Anthony Davis. Listen, if you never play Anthony Davis, you're going to lose money. Your money will no longer be in your pocket. The argument that he is too injury prone is just stupid. There's no other way around that. He is one of the 3 best fantasy basketball players on eath and plays in the Western Conference, where most fast-paced teams lie. He's going to see a ton of very strong match-ups this year and if you're going to ignore him because he gets injured in roughly 1% of the games he starts, you're the profitability is still a thing in DFS. For everyone with a brain, we don't need to discuss whether Davis is playable. The injuries obviously suck, but we're going to have to deal with it best we can. Since returning, he's put up 61 fantasy points in 2 straight games. He now gets a match-up with the Timberwolves, who don't really have anyone to match at the 4. Towns and Cousins will match-up and punch each other in the face all night(maybe figuratively), which should leave some openings for AD. Gorgui Dieng and Taj Gibson will do their best, but if AD is on his game, neither have any shot. We just mentioned the 224 projected total and it's significance to the Pelicans bigs is huge. They account for such a large % of the teams scoring that these games will often bring 30-40 real-life points out of AD/Cousins. At that point, you naturally get to 60-70. Everyone in this game is in play, but on paper, Davis is the guy with the biggest mismatch.
Otto Porter FD - $7300 DK - $7100
Opponent - PHO
Proj Pts FD - 34.56 DK - 33.69
It seems like we're only attacking one side of this game, but that's because it's the Devin Booker show in Phoenix. Until they trade Bledsoe for an asset, Booker will continue throwing up an astronomical amount of shots. As for the Wizards side, things are a lot more balanced. John Wall is obviously the focal point, but his game is based heavily on spreading the ball and making sure the hot hand gets the ball. Porter has had the hot hand quite often this year and Washington is looking at him like an elite piece of the lineup. he's no longer a replaceable young SF with upside. He's a solidified perimeter menace with a deadly jumper and a 7-foot wingspan. He's getting minutes at both the 3 and 4 with Markieff Morris out and this match-up against the Suns couldn't be better. Port has been a stud all season long and I won't be fading him in the best match-up yet. If you find a lineup of mine without Porter, I must have fallen asleep.
Consider James Johnson and Kelly Olynyk if Hassan Whiteside is out. The match-up with the Bulls should be on the slower side, but both guys have upside.
Center

Marcin Gortat FD - $6000 DK - $5900
Opponent - PHO
Proj Pts FD - 32.11 DK - 33.31
Here we are, back to the Washington Wizards. If cash games are what you're going for, I don't why you look anywhere else. Of course, the guys up top have an upside that Gortat will never see in his life. So do guys at other positions. Gortat offers you 30 guaranteed points at $6K. It's not going to win you a tournament, but on a slate like this, I'll take it every time. The upside for 45 is very possible in this match-up that should be one of fastest paced we've seen all year long. A 226 O/U is nothing to scoff at, so getting exposure to this Wizards team is a very good idea. If you're looking to fade in tournaments in hopes that there's a blowout, I get it. I just don't know if it'll happen with these 2 teams. I'll be on this game heavily in all formats and feel like I won't be alone. Gortat as an individual is one of the safest point per $ plays on the slate, no matter this game as a whole. You can pencil in 30 fantasy points with the upside for 45 if he gets utilized by Wall on the PNR.

Kevin Love FD - $7700 DK - $7500
Opponent - IND
Proj Pts FD - 33.39 DK - 36.68
If you're looking to pay up a bit at center, Kevin Love is a tremendous option. Personally, he's the guy I have in my cash games and the majority of tournaments. That could obviously change with any news that comes out,  but I love this spot for Kevin Love. Myles Turner has already been ruled out, so that'll leave a combo of Domantas Sabonis and Thaddeus Young at C to guard Love. Neither are good at defense and he should be able to rebound and score on both of them. Typically, Love only has 1 advantage. Either size or his shot. Against these guys, he'll be just as wide as he typically is in the corner and will also be able to bully them on the boards. For a guy that's typically inconsistent, he has had a double-double in all but 1 game, when he went for 9 rebounds. He's solidifying himself as the clear number 2 option on this offense and he will 100% shoot more than he did in 2016. At least until Isaiah Thomas is back. The Pacers, as we always say, play fast and don't play much defense. This game is expected to be high-scoring and pretty close, so getting exposure isn't a bad idea. For me, Love and LeBron belong in my cash games.
Dewayne Dedmon FD - $5100 DK - $4500
Opponent - PHI
Proj Pts FD - 30.98 DK - 31.21

Mike Muscala FD - $4200 DK - $3700
Opponent - PHI
Proj Pts FD - 24.69 DK - 24.51
Maybe? If you need to pay down, this may not be the worst option. Personally, I will be paying up at center. I like the 2 guys I've looked at a lot more. However, the system loves these guys against the 6ers and I can get behind it if Embiid plays. The size of these dudes will be necessary and the prices are just in the bottom of the barrel. Outside of last game against the small Bucks, Dewayne Dedmon has been seeing close to 30 minutes in each. If that's the case here, you can pencil him in for 25 fantasy points against this interior. Muscala on the other hand, is cheaper and a bit riskier. He does have some upside, however, as he'll occasionally see 30 minutes. With all the value on this slate, you may be forced to pay down at center. If that's the case, you can do worse than these guys. If you're starting at center, though, I don't encourage you start here.
GRAB A FREE TRIAL OF OUR PROJECTION SYSTEM, AND CHECK OUT DFSR PRO!
FREE EBOOK
SECRETS TO CRUSHING DAILY FANTASY FOOTBALL!
DON'T SET ANOTHER LINEUP BEFORE YOU READ THIS BOOK.