Basketball Picks Daily Fantasy
Expert Advice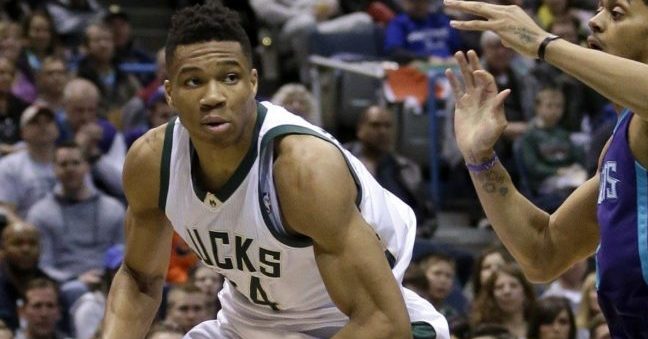 Daily Fantasy NBA Basketball Picks for FanDuel and DraftKings - 12/23/17
Saturday night's alright for NBA DFS action, as we have another super solid 12 game slate laid out before us with plenty of value plays and some solid studs. There's a thirteenth game if you count the 5PM ET game between the Sixers and the Raptors, but DraftKings doesn't and on FanDuel you have to play their late swap contests to get access to that one, so let's just focus on 12 game 7:00 set and check out our systems top picks.
Now's your chance to get DFSR PRO, which will give you access to our NBA optimizer, our NFL Optimizer, and our new player lab! Get started for free by clicking the button below.
First time with NBA or NFL? Be sure to read our free NBA and NFL Ebooks on building lineups, general strategy and more. We've got you completely covered.
Point guard
Shabazz Napier FD - $4500 DK - $5100
Opponent - LAL
Proj Pts FD - 30.37 DK - 30.61
I'm starting this piece at about 8:00 PM ET on Friday night, so as I write this I don't have any info on Shabazz Napier in his first of at least two starts in place of the injured Damian Lillard. If I look into my imaginary crystal Ball, I'm seeing high ownership and at the very least solid returns on a minimum priced play against the worst defense in the game. Tonight, Napier doesn't find the fortune of the Nuggets defense again, but he gets the Lakers who are not only are mediocre at best defending the position, they also play the fastest game in the NBA. Last season Napier started the final two games of the regular season for the Blazers and averaged 28.5 points, 5 rebounds and 3.5 assists in 32 minutes over those two contests. He's got the chops, he'll see the minutes, the price has inflated quickly but he's still a bargain given the opportunity and matchup. I love Russell Westbrook as much as the next guy, but point guard is just busting at the seams with value today.
Tyler Johnson FD - $6000 DK - $5400
Opponent - NO
Proj Pts FD - 32.18 DK - 31.97
This is one of those few times in the NBA season where Russell Westbrook is playing, but is not spotlighted in this article. Clearly he's in play, if you want to spend up, have at it, but there are other places to go for that. If it's value you seek at the point then Tyler Johnson is a solid play. Goran Dragic who missed two games already this week was ruled out for the first half of Miami's back to back weekend set and most likely will not suit up for tonight's tail end against the Pelicans. Johnson saw 39 and 36 minutes in the two games Dragic has already missed and stuffed the stat sheet full, wit 25 points 14 rebounds, seven assists, a block and five steals against the Hawks and Celtics. Last night he saw a bad Dallas defense and tonight he gets a Pelicans team that matches up even worse. As long as Dragon remains sidelined, consider Johnson a viable cash game option, with potential GPP upside.

Jeff Teague FD - $6700 DK - $6200
Opponent - PHO
Proj Pts FD - 33.93 DK - 34.27
Jeff Teague has been just kind of cruising along under the radar since returning from an achilles injury that caused him to miss a four game stretch, but he has really turned things up in the past week. In his last three games he has averaged 34.3 minutes per game and paid 5.5X PPD on Wednesday against a terrible Nuggets defense and 6.3X against the same Phoenix Suns team he takes on tonight. In that game he was just two assists shy of a double double with 17 points, three blocks, a rebound, and a steal. It's an ideal match up for Teague, and there's no one in the Phoenix back court that can stop him in the perimeter. He's a lock for 5X with potential 6X or better upside.
Consider Kemba Walker against the Bucks as long as he's cleared to start after hitting his head last night.
Shooting Guard

Victor Oladipo FD - $9300 DK - $9600
Opponent - BKN
Proj Pts FD - 45.38 DK - 45.63
In the upper echelon at the shooting guard position we find Victor Oladipo. This is one of the reasons we faded Westbrook as a pick. for significantly less, you can lock in Oladipo at the two and get a player whose raw point projection falls just short of Russ, while his PPD return is higher. Plus, Victor O. is hosting the Nets tonight. Need I say more? The Nets play fast and they play bad, we've been beating this drum all season long and it isn't stopping here. They are a defense you definitely want to target. Oladipo has paid 5X PPD or better at these prices in four of his last seven games, and sure there's blowout concern, as the Pacers are projected as 10.5 point favorites, but if this one gets out of hand it'll be due to an Oladipo shooting clinic. In tournaments spend up at the point for Westbrook who can put up 70 without breaking a sweat, but in cash games do yourself a favor, take the value at the one and just spend up on Victor O. at the two.

C.J. McCollum FD - $7400 DK - $7700
Opponent - LAL
Proj Pts FD - 37.15 DK - 38.54
Next up we have C.J. McCollum. McCollum, like Shabazz Napier above will see a direct benefit for as long as Damien Lillard's hamstring keeps him off the court. Vegas hasn't dropped a line for this game yet, but I wouldn't be surprised to see a significant spread. If the Blazers want to win without Lillard, they will need C.J. to step up his game and take lead of the offense. McCollum should be a lock for 30-35 minutes guaranteed and will run the Portland scoring game in Lillards absence. KCP is a fine defender but the Lakers as a team are allowing opposing shooting guards to score an average of 47.7 FP this season, and over the last five games they're putting up over 60. McCollum is once again looking be one of the safest plays on the night, and should be a lock for 5X PPD. I will once again have a ton of exposure to him in my cash games.

Lou Williams FD - $7000 DK - $7000
Opponent - MEM
Proj Pts FD - 34.68 DK - 36.26
Like a fine wine, Lou Williams has just gotten better with age. with all of the injuries the Clippers have been dealing with Sweet Lou has stepped in and has been the primary source of scoring. He missed a game against San Antonio on Monday with a foot injury he suffered two days earlier in Miami, and returned a game later against Phoenix posting 18 points in 28 minutes. The Injury, and the underwhelming performances leading into, and following it, have caused a dramatic drop in Williams price, and we are getting him at a huge discount tonight albeit against a rather tough Memphis defense. Prior to the injury, Williams was posting 6XPPD at these prices on the regular, and once he shows he's back to full health it won't take long for the price to climb back up. If you think he's back to form, and 30+ minutes a game, Sweet Lou is an excellent play across the board.
On the value side, I was all set to write up Dion Waiters here before he left Friday night's game with an ankle sprain, so if he is cleared to play consider him.

Small forward

Giannis Antetokounmpo FD - $12000 DK - $11100
Opponent - CHA
Proj Pts FD - 58.85 DK - 59.25
I can't imagine any other way to start out small forward than with Giannis Antetokounmpo. The Greek freak will eat more of your salary than any player in the game, but you simply can not argue with the returns. Night in and night out Antetokounmpo dominates the boards and just posts ridiculous numbers. In his last six games his lowest FanDuel score was 52.7 while maxing out at 67.1. Charlotte has the ninth worst defense at defending the three, and allow 42.7 FP on average, but Giannis is anything but average. He's a beast and the Hornets interior isn't prepared for what's coming. This game has an attractive 210 point projection with just a 1.5 point spread!! No matter the price, Giannis may be the safest play on the board tonight, and I will have him locked in everywhere. This play is as easy as ABC.

Jonathon Simmons FD - $6500 DK - $6500
Opponent - WAS
Proj Pts FD - 32.07 DK - 32.4
We have a members chatroom here on DFSR and last night I saw someone mention that the optimizer loves putting Jonathan Simmons in the optimal lineups. Well there's a simple reason why that is. Just pull up the mans game log and you'll see the definition of consistency. Orlando as I mentioned earlier is hurting just terribly with injuries to Ross, Fournier, and Gordon, and have limited options to run out there for 48 minutes a night. Simmons has been seeing 30-40 minutes per game since November 27th and outside of a stinker against the Bulls, he has at least 32.5 FP in his last six games good for 5X PPD or better in each game. The Wizards are tough on opposing small forwards, but still allow an average of 37.9 FP to the position which is more than enough to get us where we want to be. Simmons is a reasonably priced player that sees a steady run of minutes and the system will continue to love him as long as that is the case, as will I, since I'm going to have Simmons as a staple in my cash games, with maybe some tournament exposure as well.
Evan Turner FD - $4500 DK - $4100
Opponent - LAL
Proj Pts FD - 23.83 DK - 24.05
Evan Turner has started eight games for the Blazers, the eighth of which hasn't started as of this writing, but in the first seven ET has averaged 26 minutes while posting 8.4 points, 3.1 boards, 2.7 assists, and a steal per game. Its not the most impressive line, but for a lower-mid tiered priced starting small forward seeing close to 30 minutes per game, we don't have to ask a ton either. Plus, the minutes are trending the right way, and then theres the matchup. Not only are the Lakers the worst team in basketball at defending against the three, but in the last five games they've allowed an average of 70.2 FP to the position. We're just asking Turner to give us a third of that. Anything on top is gravy. I don't know that Turner has the upside for tournaments, he clearly hasn't shown it yet. Maybe tonight's the night, but personally I'll keep him reserved for cash games.
Power forward
Thaddeus Young FD - $5900 DK - $6100
Opponent - BKN
Proj Pts FD - 29.42 DK - 28.63
The Pacers played the Nets on Sunday in Brooklyn, and in that game Thad Young struggled to post a 5/3/1 line with two steals in 30 minutes of court time. He came into the game probable with a foot injury that didn't seem to hamper him any against the Pacers two nights earlier, though he probably should've sat the game against the Nets out. Nevertheless, he certainly seems to be doing just fine now, and put together solid performances against the Celtics and the Hawks earlier this week and tonight will take on the Nets once again in Indiana. Brooklyn, surprise surprise, is the second worst defense at the four in the game, and Young who paid over 5X PPD in three of his six games prior to the foot injury should be back to form in no time, and before long the price will be back in the mid $6K range. Now is the time to buy in.
Kelly Olynyk FD - $7000 DK - $5900
Opponent - NO
Proj Pts FD - 35.5 DK - 36.51
This is a play I prefer much more on DraftKings, than on FanDuel where I think they're asking an awful lot from Kelly Olynyk to hit the 5X mark. Sure he lit Boston up for a 6.5X PPD payday, but that was one game. He's only paid 5X one other time since going the starting squad with the loss of Hassan Whiteside, Justise Winslow, and James Johnson. On DraftKings however Olynyk is an excellent play at the four, good for about 30 minutes a night and facing the worst team in the game at the position. Vegas has yet to drop a line on this game, but I fully expect the projected total to run on the higher side. PF is just a mine field everywhere you look tonight, so if based on the matchup you choose to play Olynyk on FD, he is coming in at 5X in the early run of the system, but I'm going to hope for some value to pop up somewhere, On DraftKings however, I'll have Olynyk in all formats.

Taj Gibson FD - $5900 DK - $5900
Opponent - PHO
Proj Pts FD - 28.13 DK - 27.69
We haven't really given this game much attention, but at a position as shaky as PF is tonight, I love the safety that Taj Gibson represents. We're basically just going to pick on the worst of the worst defensively at the position as the Timberwolves are in Phoenix tonight taking on a Suns team that is behind only Brooklyn and New Orleans as bad defenses go at the four. The Suns 104.5 pace factor will force Minnesota to speed things up, and this game has the highest projection of the handful I have from Vegas right now at 216.5 and should stay reasonably close. Gibson meanwhile, is coming off of some less than impressive performances against Portland and Denver, but should have a nice bounce back game against a defense allowing opposing PF's to average 23 points and 12.3 rebounds on them. The price on Gibson is just now starting to climb, but as long as he remains a sub $6K guy, he's going to remain one of my favorites at a position that is hard to trust.
Consider Derrick Favors against the Thunder.
Center
Joffrey Lauvergne FD - $3500 DK - $3000
Opponent - SAC
Proj Pts FD - 23.43 DK - 24.18
Joffrey Lauvergne drew the start at center for the Spurs on Thursday night with Pau Gasol sidelined with a groin injury. Pop has already ruled Gasol out for tonight's game against the Kings which means Lauvergne should be in consideration once again for the starters minutes. Against Utah on Thursday Lauvergne dropped 11 points and snagged six rebounds, which isn't much but was enough to get him to the 5X PPD mark, and that was against one of the top three defenses at center. Tonight he gets a bottom three defense which just adds to the appeal. There is no time table for Gasol's return, but as long as he is out, JL is an excellent consideration in all formats particularly in a matchup such as this.

Nikola Jokic FD - $8300 DK - $7600
Opponent - GS
Proj Pts FD - 42.42 DK - 44.44
If Lauvergne doesn't do it for you, or you just have a ton of extra salary laying around that you want to spend up at the five, then look no further than Nikola Jokic. The Joker is back to seeing his full compliment of minutes, running the board for 36 against the Timberwolves in his third game back from a seven game absence due to an ankle injury. He'll play a Warriors team that is average at best defending against big men, and who have struggled to blow teams out since losing Steph Curry seven games ago. This should provide Jokic with ample opportunity to see a ton of minutes, while still being priced well over $1K less than he was before going out with the injury. Joker has a solid 5X floor and as long as the game stays close he could push 7X.

Consider Marcin Gortat against Orlando.
GRAB A FREE TRIAL OF OUR PROJECTION SYSTEM, AND CHECK OUT DFSR PRO!
FREE EBOOK
SECRETS TO CRUSHING DAILY FANTASY FOOTBALL!
DON'T SET ANOTHER LINEUP BEFORE YOU READ THIS BOOK.