Basketball Picks Daily Fantasy
Expert Advice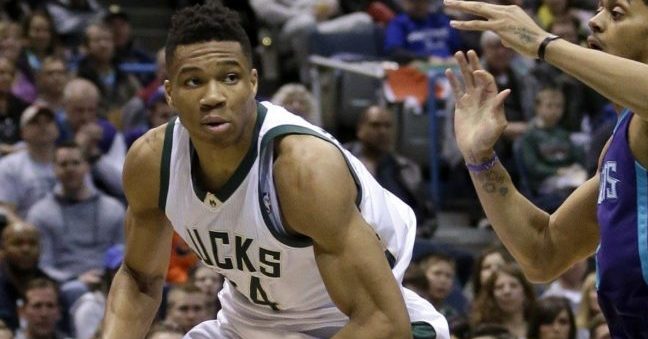 Daily Fantasy NBA Basketball Picks for FanDuel and DraftKings - 12/26/17
Now's your chance to get DFSR PRO, which will give you access to our NBA optimizer, our NFL Optimizer, and our new player lab! Get started for free by clicking the button below.
First time with NBA or NFL? Be sure to read our free NBA and NFL Ebooks on building lineups, general strategy and more. We've got you completely covered.
Point guard

Eric Bledsoe FD - $7600 DK - $7500
Opponent - CHI
Proj Pts FD - 40.36 DK - 40.64

Kris Dunn FD - $7400 DK - $7000
Opponent - MIL
Proj Pts FD - 38.09 DK - 37.34
Welcome back hoops lovers. The five game Christmas slate came chock full of excitement and some controversy, but best of all, it presents us with an unusually large eight game Tuesday slate. We're going to start out our picks with a pair of players from a game we are going to target quite heavily. Chicago heads into Milwaukee as the Bucks play host to the Bulls and these two guys will spend the better part of the night paired up with each other. Eric Bledsoe has had his ups and downs since being dealt to Milwaukee from Phoenix earlier in the season, but certainly more ups. In 21 games with the Bucks, he's had eight 20+ point performances, and has only gotten better as he spends more time with his new team. He posted his first double double with Milwaukee on Friday against the Hornets. Over the past seven games he's averaged 19 points per game, with 1.9 steals, 4.5 assists, and half a block in 33 minutes per game. On the other side we have Kris Dunn. Dunn stunk up the place against the Celtics on Saturday, but don't let that deter you from locking him in tonight. First off, the whole Bulls team was completely outmatched in this one, and had no answers for the Celtics shut down defense in what inevitably turned into a bloodbath. We have no such concerns tonight. Milwaukee comes into the game a mere 6.5 point favorite, and the game sports the highest total on the night at 211. Remove Saturday from the equation and Dunn nets you a player averaging 36.9 FanDuel points in the month of December. Both Bledsoe and Dunn are priced similarly, and project similarly in the early run of the system, so you can pair them or just pick one and move on if you need a little value. I'm definitely going to try and pair them in cash, while running with Bledsoe in tournaments if I need to choose.
Andrew Harrison FD - $4500 DK - $4100
Opponent - PHO
Proj Pts FD - 24.41 DK - 23.56
On the value side of things we find Andrew Harrison. Harrison has several starts under his belt now for the injured Mike Conley, who has no timetable for return so Memphis will keep trotting him out there with the starting squad, all the while his price has remained in the low to mid $4K range. Granted he hasn't done a whole lot to grab our attention in his starts, which justifies the cost, but this evening he draws a superb matchup against the Suns. Phoenix are the worst team in the association at defending against the point, and Harrison has been more aggressive of late, fighting his way to the net, so he should have little trouble taking advantage of the struggling Phoenix squad. Even for the price, Harrison has shown he's capable of busting the ceiling but hasn't done so often enough that I'll consider him for tournaments but as a cheap cash play, I'm all in.
Shooting Guard

Khris Middleton FD - $8000 DK - $8400
Opponent - CHI
Proj Pts FD - 39.87 DK - 40.64


Justin Holiday FD - $5200 DK - $5200
Opponent - MIL
Proj Pts FD - 27.46 DK - 27.4
We're going to stick with the same two games as we move through the back court to shooting guard, starting out with Khris Middleton and Justin Holiday, another two guys who will see a healthy helping of each other tonight. Middleton had one of his best scoring performances of the night Saturday with Giannis sidelined with a sore knee. Middleton posted 31 points in 40 minutes and wasn't shy in the peripherals either, contributing to all aspects of the game before the night was over. Middleton has seen at least 34 and upwards of 42 minutes in every game this month flashing nearly 7X PPD upside. Opposing him will be Justin Holiday. Holiday won't be out on the court near as much as his counterpart, but he will cost you just a fraction of the salary while presenting a solid floor with potential upside for a 7X ceiling. While I'm a fan of both of these plays in tournaments, I give the edge to Middleton, as Holiday and the Bulls are allowing the second most fantasy points to opposing shooting guards in the game. Both of these guys are excellent options in all formats and I plan to have a healthy helping of each.

Tyreke Evans FD - $8500 DK - $8600
Opponent - PHO
Proj Pts FD - 39.99 DK - 40.55
When I stray however, it will be for Tyreke Evans. With Mike Conley out injured indefinitely, the Grizzlies have relied heavily on Tyreke Evans to lead the offense and he has offered little disappointment in return. The sites have taken notice as his price is up significantly from where he started the month, but there is still room to grow if he is going to continue putting out performances like he did on Saturday against the Clippers. His 7.2X PPD showing consisted of a double double with a 30/7/11 line with three steals and tonight he draws a Phoenix team that is ranked similarly to the Clippers defensively. I'm not saying another 7X is guaranteed, but the potential is clearly there, while the 5X floor is about the safest you'll find anywhere in the game.

Small forward

Giannis Antetokounmpo FD - $11800 DK - $11500
Opponent - CHI
Proj Pts FD - 54.86 DK - 55.38
I wrote up a glowing recommendation of Giannis Antetokounmpo on Saturday, then followed that up with spotlighting him as an every lineup play only for him to be scratched about 30 minutes before lock. Since he didn't play, I'm going to cheat and just repost what I wrote for Saturday:
I can't imagine any other way to start out small forward than with Giannis Antetokounmpo. The Greek freak will eat more of your salary than any player in the game, but you simply can not argue with the returns. Night in and night out Antetokounmpo dominates the boards and just posts ridiculous numbers. In his last six games his lowest FanDuel score was 52.7 while maxing out at 67.1.
Chicago has a top ten defense at small forward, allowing just 37 FP on average, but Giannis is anything but average. The Freak should be good to go tonight, but just keep an eye on the injury report. As long as he's cleared to play, the only play over $10K is a lock in all formats in every lineup I build tonight.

Jonathon Simmons FD - $6300 DK - $7100
Opponent - MIA
Proj Pts FD - 31.77 DK - 32.23
Magic fans, my heart goes out to you. Elfrid Payton is the only player that started for Orlando on opening night that isn't currently sitting on the injury report. Nikola Vucevic fractured his hand on Saturday, and joins a long list of injured players in Orlando. The good news is Foiurnier and Gordon are nearing return, and could rejoin the team any day now, the better news is in the interim Jonathon Simmons has been fantastic for Orlando, and has been a very reliable DFS play as well. Simmons has hit a few hiccups in the past week, underperforming against Chicago and Washington, but at this point who else does the Magic have to rely on? They're most likely going to come into the night with just eight or nine guys dressed, and Simmons should see extended run and plenty of opportunity. I'll like this play a little less if Gordon and/or Fournier are cleared but it's not looking likely, and if both remain out, Simmons will remain among my top plays for the day at small forward.

Harrison Barnes FD - $6300 DK - $6200
Opponent - TOR
Proj Pts FD - 30.35 DK - 30.89
We're getting Harrison Barnes while his price is on the downswing, but the production has been climbing. Barnes is currently riding a season long four game streak of 20+ point scoring performances, averaging 23.25 points in that span. Barnes is one of the top scoring options the Mavericks have at the moment and as long as he can maintain his 45% shooting from the field he'll continue to provide strong returns at the current price point. He's a bit of a one trick pony, and his non existence on the defensive end kills any upside potential, but for the cost, Harrison Barnes at 30+ minutes per game is high in the conversation in cash games.
Power forward
Derrick Favors FD - $5600 DK - $5900
Opponent - DEN
Proj Pts FD - 33.47 DK - 32.45
I'm really liking our options at power forward tonight, which is kind of odd. Usually the position is a wasteland where we tend to hope for some surprise value play to pop up during the day, but I think we have three solid options to look at tonight, all in the middle tiered price range suitable for cash games as well as tournaments. Up first we have Derrick Favors. Favors was terrific when Rudy Gobert was out during most of the month of November, and will be relied upon by the Jazz once more with Gobert being injured yet again for an indefinite amount of time. Favors suffered an eye injury in the same game that Gobert injured his knee, and was held out of the following two. Now three games back he's been kind of quiet but it's really just a matter of time before we see Favors dominate the front court as he did earlier in this season in a stretch where he averaged 36.6 FDP per game and saw his FanDuel salary max out near the $8K mark. It's only a matter of time before he starts putting up similar numbers, and a Nuggets defense that ranks among the worst in the game could be the spark that lights the fire, so we need to take advantage now while the price is still nice and low.
Zach Randolph FD - $6000 DK - $6000
Opponent - LAC
Proj Pts FD - 33.98 DK - 34.76
Next up we have Zach Randolph. Randolph is the pillar of consistency in the hurricane that is the Sacramento Kings. It's very hard to trust a play on this Sacramento team, as the minutes and production wind up all over the place, making them risky propositions even in ideal match ups. Z-Bo however can be counted on to see 25-30 minutes a night, sometimes more, while posting double digit scoring, paired with several rebounds and the occasional assists. He only needs 30 FP to get. us to the 5X PPD mark, and does that on the regular, while flashing 7X or better on multiple occasions. Z-Bo was off his game on Saturday night against the Spurs, but that just gives me more confidence in him tonight as he faces a Clippers team that is among the more generous teams at the position, and Randolph isn't likely to put up back to back duds. I love Z-Bo for his upside in tournaments and even more for his cash game floor. He's an excellent play everywhere.
Thaddeus Young FD - $5600 DK - $5800
Opponent - DET
Proj Pts FD - 28.95 DK - 28.42
This is probably the riskiest play of the bunch at the position, but there is some merit to Thad Young locked in as your PF. Young popped up on the injury report last Sunday with a sore knee, and though he played through it and hasn't missed any time to date, it's possible the knee has been holding him back as he has only managed one double digit scoring game in his last four. His last game was Saturday against the Nets and he only saw 26 minutes. Prior to the 17th when we first heard of this sore knee, Young was a fantasy point scoring machine, scoring, grabbing rebounds, and swiping balls, paying 5X PPD or better on a nightly basis. If you think with some time off, Young comes back refreshed and the knee is no longer sore, then Young has tremendous upside potential for the price. In cash games however, I'm going to stick with the two guys above who present much more safety for the price.
Center

Andre Drummond FD - $9300 DK - $9300
Opponent - IND
Proj Pts FD - 45.66 DK - 46.63
We've found a lot of cheaper, value plays at the other positions, only really spending up at small forward, so we shouldn't find any issue with fitting Andre Drummond in at center. Drummond is the top priced play at the position on both sites but finds himself in a matchup with the Pacers who are simply terrible at the five and allow more fantasy points than any other team to the position, which has him coming in among the top PPD plays even for the price. Myles Turner can't rebound if his life depended on it, while Drummond meanwhile excels at it, so while Indiana is allowing 12.6 boards per game, I'm looking for something more along 15-20 from Drummond tonight, giving him his fifth double double in six games. After Giannis, Drummond owns the top raw point projection of the night and should be easily slotted into your lineups.

Willie Cauley-Stein FD - $6100 DK - $5500
Opponent - LAC
Proj Pts FD - 30.31 DK - 29.39
If you do need some savings at center however we have a couple of different ways that you can go. As I mentioned earlier, the Kings rotations are hard to trust, and Willie Cauley-Stein is no exception. In his last six games he has ranged from 19-33 minutes but when he gets over the thirty mark he has no trouble paying value at these prices. He saw 31 minutes against a stingy Spurs defense on Saturday and had one of his best games of there season, the 22 points he posted was his second highest total to date, and posting his first double double in nearly a month. He draws a much better matchup tonight against a Clippers team allowing 15.8 points and 11 rebounds per game to opposing big men. If you think WCS can stretch out over 30 minutes on the boards, then he's a fine mid priced play but one I'd reserve for tournaments.
Bismack Biyombo FD - $4400 DK - $3800
Opponent - MIA
Proj Pts FD - 21.67 DK - 20.95
Finally, I'd be remiss if I didn't mention Bismack Biyombo here. As we covered earlier, Orlando is just having a terrible run with the injury bug this season, and the most recent victim is Nikola Vucevic. Vucevic fractured his hand against the Wizards on Saturday, and will likely miss 6-8 weeks. This will thrust Bismack Biyombo into the starting rotation. Biyombo isn't going to come in and stuff the stat sheet, he's not much of a scorer, but he'll most likely see 30+ minutes and do enough with rebounds and blocks on the defensive end to justify the price tag. I'm paying up for Drummond here, but if you need a cheap punt, Biyombo is the clear and obvious choice.
GRAB A FREE TRIAL OF OUR PROJECTION SYSTEM, AND CHECK OUT DFSR PRO!
FREE EBOOK
SECRETS TO CRUSHING DAILY FANTASY FOOTBALL!
DON'T SET ANOTHER LINEUP BEFORE YOU READ THIS BOOK.