Basketball Picks Daily Fantasy
Expert Advice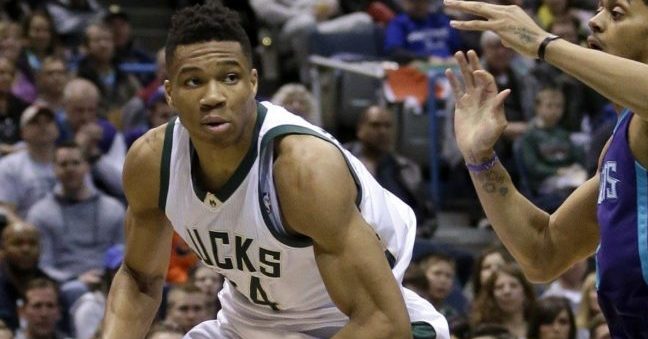 Daily Fantasy NBA Basketball Picks for FanDuel and DraftKings - 2/10/18
Saturday night's alright for DFS NBA action and we've got six games on the schedule to analyze, dissect, and find our NBA optimizer's top overall plays to get us into the green. There is a seventh game at six that has the Pelicans traveling into Brooklyn to play the Nets, but that's not an option on DraftKings, while FanDuel only has is as part of their new "Single game" contest format or their all day late swap games. As some of my favorite plays of the night are in that game, I will put my favorites at the end of each position, in the event you just want to try them in one of those formats. With that let's move on to the picks.
Now's your chance to get DFSR PRO, which will give you access to our NBA optimizer, our NFL Optimizer, and our new player lab! Get started for free by clicking the button below.
First time with NBA or NFL? Be sure to read our free NBA and NFL Ebooks on building lineups, general strategy and more. We've got you completely covered.
Point guard
Patty Mills FD - $4300 DK - $3800
Opponent - GS
Proj Pts FD - 23.27 DK - 24.38
We open things up at point guard in Oakland where the Spurs travel to take on the Warriors. San Antonio comes into this game with both Dejounte Murray and Tony Parker on the shelf, which means they will need to rely heavily on Patty Mills to help them keep pace with the Dubs. Sure, they've got Bryn Forbes, and the recently recalled Derrick White, but if they have any hopes of even trying to remain competitive with Steph & Co. then they will need to keep a healthy dosage of Mills on the court tonight. Mills, who normally sees about 20 minutes a night off the bench should be in line for at least 30 tonight, which at a mere $4K price tag should open up tons of opportunity to easily hit value. Mills is a lock for cash games and depending on just how many Minutes Pop decides to give him, he could have solid GPP upside to boot.

Stephen Curry FD - $9600 DK - $9500
Opponent - SA
Proj Pts FD - 44.95 DK - 46.94
Sticking with the same game, we have perennial All Star, Steph Curry. We've only got two plays over $10K tonight, and Embiid may rest on the back to back with the ankle bothering him, so I don't mind looking to a sub $10K Curry. Sure, Steph has been coming in short of what we would hope to see out of him lately, but he is still one of the top point guards in the game and an excellent GPP play as he is a threat to go out there and post 55-65FP on any given night. The matchup with the Spurs is less than ideal, but as we just established they are without Parker and Murray which leave them a little thin in the back court. It's not the most ideal play, but given some of the other options at the point, I'm willing to ride with Steph.

J.J. Barea FD - $5200 DK - $4900
Opponent - LAL
Proj Pts FD - 27.61 DK - 29.36
Harrison Barnes is listed as probable for tonight's game against the Lakers after missing two games with an ankle injury. If Barnes is cleared to rejoin the starting rotation with full minutes, and Barea returns to a reserve role, then I lose all interest. If Barea should remain in the starting five however, you have to like him against the twenty-second ranked defense against point guards in the game. Barea came in just under 5X Points per dollar against the Warriors Thursday night, picking up 28 minutes in the start. Tonight he stands to see a much better matchup, against the team that plays the fastest pace in the association. If coach Carlisle returns Barea to the bench, then he loses all value, but if he draws another start, he's well within consideration.
NO/BKN play: Spencer Dinwiddie
Shooting Guard

Lou Williams FD - $6800 DK - $7900
Opponent - PHI
Proj Pts FD - 37.93 DK - 39.6
We open up at shooting guard with Sweet Lou. The Clippers are clearly rebuilding for the future having traded away Blake Griffin, but it appears Lou Williams is a part of their future plans, inking a three year deal. Williams has been a big part of the Clippers season as they've dealt with one injury after another and at times has stepped up to lead the offense. He's locked into 30-35 minutes a game right now and is averaging 23.4 points, and 6.9 assists over his last seven games. The Sixers are a solid defense overall, but at the two they have struggled this season, especially over the last five games where they've allowed the third most FPPG. Pair that with the fifth ranked pace in the game and we have an appealing spot for Sweet Lou, making him a top play in all formats.

Khris Middleton FD - $7500 DK - $7300
Opponent - ORL
Proj Pts FD - 35.77 DK - 36.47
The Bucks are in Orlando tonight for a game against the fourth worst defense in the NBA. The Magic have struggled with injuries all season and it has shown through in their weak defensive efficiency. They allow the eighth most FP to opposing shooting guards and Khris Middleton should have no trouble taking advantage in a game that projects to remain relatively close allowing him to reach the upper echelon of his 31-38 minutes per game. This game also presents a huge pace up for the generally slow Milwaukee squad with a combined pace factor of 99.3. Evan Fournier is a relatively weak defender and will have his hands full trying to contain Middleton, when he's not being pulled into double coverage on Giannis. Middleton scored 22 the last time these two teams met paired with five rebounds and four assists, and should be able to duplicate that performance tonight making for a fine cash game play.

Bradley Beal FD - $9300 DK - $9000
Opponent - CHI
Proj Pts FD - 44.83 DK - 46.04
We're going to close out shooting guard in the top tier with Bradley Beal. Beal has been money in the bank since the Wizards lost John Wall for 6-8 weeks at the end of January. Aside from a couple of poor showings against the Hawks and Pacers, Beal has consistently posted 40+ FP with flashes of 55 FP upside. Tonight he draws the Chicago Bulls, who are right there with Orlando among the bottom five defenses in the game. Chicago is particularly terrible defending the two where the 41.2 FPPG they've surrendered is the third most this season. In a game with a modest 214 O/U coming from Vegas, Beal is an excellent way to go in cash games if you have the funds.
NO/BKN play: Jrue Holiday
Small forward

Giannis Antetokounmpo FD - $11500 DK - $10800
Opponent - ORL
Proj Pts FD - 55.87 DK - 56.46


Jonathon Simmons FD - $5500 DK - $5400
Opponent - MIL
Proj Pts FD - 26.87 DK - 27.19
Back to Orlando we go, with the top way to pay all the way up tonight, as well as a solid value option on the opposing end of the court. First up we have Giannis Antetokounmpo. After a stretch of some very un-Alphabet-like performances in January, its seems ABC is back. Since missing two games in January with knee soreness, Giannis has posted over 50 FP in four of his last seven games, maxing out at a monster 78 FP outing against the Nets. He's got five double doubles in that span and three games of 29 points or better. On the Orlando side, the Magic will run out Jonathan Simmons. Simmons is coming off of a letdown against the Hawks, particularly disappointing following his 34/7/2/1/1 against Cleveland just two nights earlier. He came into the Atlanta game probable with a sore ankle, so the weak line can be forgiven. He's had two days to rest up and should be fine for tonight's game. Milwaukee has been average defending against the three over their last five games, surrendering 7.1 more FP than their season average to the position over that stretch. For the most part, Simmons has been a reliable cash game play this season and tonight should be no different. Pairing these two in a game stack is an excellent way to go at the three this evening.
Otto Porter FD - $7400 DK - $7400
Opponent - CHI
Proj Pts FD - 35.94 DK - 35.51
We covered Bradley Beal earlier, now we have Washington's small forward Otto Porter. Like Beal, Porter is flourishing in the absence of John Wall. Porter has seen his usage spike 3.6% with Wall off the court, and has been excellent paying 5.4XPPD or better in three of the last seven games since Wall has been out of commission. In their last 10 games, the Bulls have allowed the eighth most fantasy points to the position, and will counter Porter with the likes of Paul Zipser and Denzel Valentine who just don't stand a chance. It could be another big night for Porter who has averaged 37 minutes in his last two games and I'll be sure to have exposure in all formats.
Robert Covington FD - $5700 DK - $5600
Opponent - LAC
Proj Pts FD - 29.86 DK - 29.62
Our system continues to love Robert Covington, and to his merit, he has put together some flashes of his old self over the past few weeks, but until I see it on a more consistent basis, I will relegate RoCo to a tournament only play. The Sixers host the Clippers tonight, and may be without Joel Embiid who played last night against the Pelicans on a sore ankle. You'd never know based on how phenomenal he was in just 23 minutes, but it seems the ankle was pretty sore. If the 23 minutes was enough to keep from overworking the ankle, Philly may send JoJo out there, but based on their history of being extremely cautious with the Process, there's a chance they let him ride the pine tonight. This would certainly make me feel warmer about Covington who sees a 3% spike in his usage with Embiid out, and who easily paid value at these prices against Milwaukee on Jan 29th, the last time Embiid rested. Regardless, I'll limit Covington to tournaments, but I'll take a little more exposure if Embiid is inevitably ruled out.
NO/BKN play: DeMarre Carroll
Power forward

LaMarcus Aldridge FD - $8800 DK - $8200
Opponent - GS
Proj Pts FD - 42.43 DK - 42.26
DFS basketball is all about finding the top value and riding the hot hand, and no one exemplifies those factors more than LaMarcus Aldridge right now. Aldridge has been a savior for the Spurs this season with Kawhi Leonard's injury struggles, and he's been an absolute beast in his last two games. He posted a double double in a blowout of Phoenix on Wednesday with 23 points and 13 rebounds in just 27 minutes. He's eclipsed 30 real points in two of the three games prior to that. Though Golden State has been a top ten defense against opposing power forwards this season, no one has allowed more FP to the position in their last five games. Vegas sees this one getting out of hand, but I think it will remain closer than people may expect, and LMA will be a key component in why that will happen. I love him everywhere.

Dwight Powell FD - $6000 DK - $4900
Opponent - LAL
Proj Pts FD - 28.74 DK - 27.75
When the calendar flipped to February, something flipped in Dwight Powell as well. Since joining the starting rotation four games ago, Powell has averaged 27.73 FP in 30 minutes per game and has been exceptional in his last three contests. He does take a slight hit if Harrison Barnes returns, but his usage only drops 1.5% with Barnes back on the court, so as long as the Mavericks are content with keeping Powell running in the starting rotation, he will continue to be a bargain at these prices.

Draymond Green FD - $8400 DK - $7600
Opponent - SA
Proj Pts FD - 38.59 DK - 38.1
While you can consider Draymond Green on FanDuel, he's much more appealing on DraftKings where he's nearly $1K cheaper, and projecting for an easy 5X PPD against the Spurs, in spite of their being a top ten defense defending against opposing fours. Despite the fact that his scoring has been virtually nonexistent recently with double digit showings in just three of his last seven games, Green has been picking up solid peripherals to make up for it, especially defensively where he has notched 2.29 blocks and .86 steals per game in that span. Though the peripherals certainly help, Green is still at his best when he can fully stuff the stat sheet as evidenced in his last game against Dallas where he double doubled with a 12/10/6/2/2 line. I won't go out of my way to make Green work on FanDuel, but on DraftKings, I'll be sure to have him in my cash lineups.
NO/BKN play: Nikola Mirotic
Center

DeAndre Jordan FD - $7300 DK - $6700
Opponent - PHI
Proj Pts FD - 35.58 DK - 36.69
The new look Clippers head into south Philly tonight to face the Sixers. Philly is coming off a blowout win over the Pelicans last night in which Joel Embiid was phenomenal, but Embiid is currently listed as a GTD after playing 23 minutes on a sore ankle last night. DeAndre Jordan remains with the Clippers having survived the trade deadline, and sees a solid matchup against the Philly front court, that only improves should there be no Embiid to contend with. Philly is allowing opposing centers to post 42 FPPG this season, the most in the NBA. The opening line for this game hasn't been released yet, but with two of the associations top ten paced teams, I would expect this to be one of the highest scoring affairs of the night. Jordan is an excellent play regardless, but he should dominate if coach Brown opts to rest the Process.

Pau Gasol FD - $5800 DK - $5500
Opponent - GS
Proj Pts FD - 30.09 DK - 30.35
I don't know exactly what Pop is doing bringing Pau Gasol off the bench the last couple of games, but it hasn't seemed to hurt his fantasy value yet, so regardless of the role we can continue to consider Gasol in the right matchup, such as tonight's pairing with the Warriors. Golden State have fallen to a bottom ten defense against opposing big men in their last ten games, and were average at the position to begin with. Gasol was averaging 25 minutes as a starter this season, so if he continues to come off the bench as long as he can hang in the 20-25 minute range, he shouldn't see any significant impact to his fantasy value. In fact, the 1.55 FP per minute he averaged off the bench against Phoenix on Wednesday was the best production he has had since the day after Christmas when he scored 1.62 FPPM against the Nets. If this is the type of production we can hope to see from a second unit Pau, then I am all for it.
NO/BKN play: Anthony Davis
As always, thanks for reading, and good luck out there tonight! Cheers!!
GRAB A FREE TRIAL OF OUR PROJECTION SYSTEM, AND CHECK OUT DFSR PRO!
FREE EBOOK
SECRETS TO CRUSHING DAILY FANTASY FOOTBALL!
DON'T SET ANOTHER LINEUP BEFORE YOU READ THIS BOOK.