Basketball Picks Daily Fantasy
Expert Advice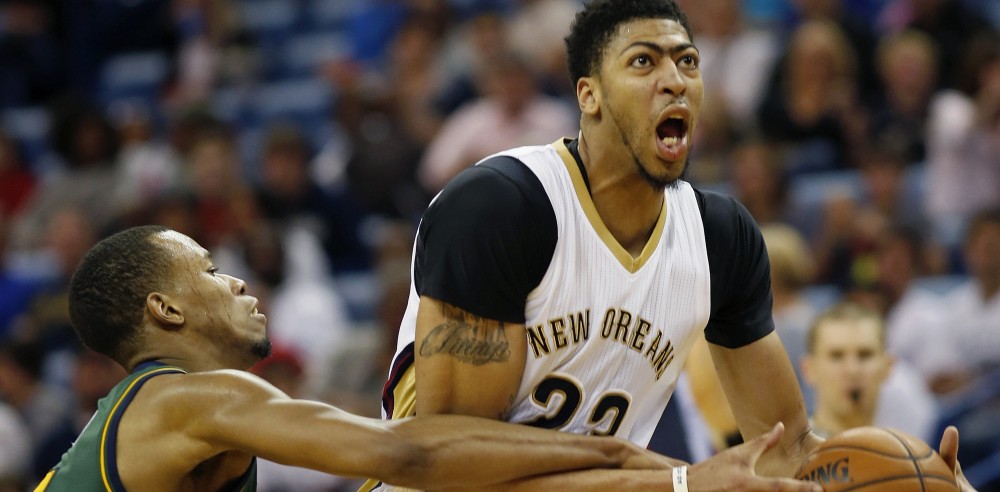 Daily Fantasy NBA Basketball Picks for FanDuel and DraftKings - 3/6/18
It's an unusual Tuesday in the NBA to say the least. We've got eight games on the schedule which is rare in itself. There's also three, count'em, three games with a Vegas projection over 220 points, and a couple of blow outs to steer clear of. There's still a lot to sort through to find out our system's top plays for the evening, so let's check out the picks!!!
Now's your chance to get DFSR PRO, which will give you access to our NBA optimizer and our new player lab! Get started for free by clicking the button below.
First time with NBA? Be sure to read our free NBA Ebooks on building lineups, general strategy and more. We've got you completely covered.
Point guard

Kemba Walker FD - $8100 DK - $7600
Opponent - PHI
Proj Pts FD - 42.27 DK - 43.42
I'm going to start out by saying Russell Westbrook is well within play here. The Game between the Thunder and the Rockets projects for 223 points with the Thunder as 4 point dogs, and Russ is definitely high on PPD projections, but there are some cheaper options I'd like to spotlight here. First up we have Kemba Walker and the Hornets playing host to the Sixers. Walker's scoring has been fantastic scoring below twenty points just once in his last seven while scoring 31 on three separate occasions in that stretch. One of those games last Thursday against these same Sixers. While this game falls on the lower end of the Vegas projections, Philly's top-five pace, with Charlotte not far behind them, means this game will still have plenty of action, and present KW with plenty of chances to post another high scoring game especially if he can stretch the minutes out to the 37+ point like he did in his last two outings. I'm not telling you not to spend up on Westbrook, but personally, I'm looking for Walker to pay more on the dollar and make an excellent cash option for significantly less.
Rajon Rondo FD - $6500 DK - $6200
Opponent - LAC
Proj Pts FD - 32.03 DK - 32.42
This one here is the monster. The Pelicans head into L.A. to take on the Clippers in a game with a 237 projected total and just a three-point spread. Rajon Rondo is already underpriced for how he has been playing over the past few games, but if this game goes as expected he is going to absolutely crush value. Through his last four starts, Rondo has run the boards for 32-35 minutes a game and has paid 6X PPD or better in three of those. Not only has his scoring been on the rise, hitting double digits in three of the last four, but he's been equally good with the assist, dishing out 12, 12, 12, and 10 in that same stretch.

Dennis Smith Jr. FD - $6700 DK - $6600
Opponent - DEN
Proj Pts FD - 32.3 DK - 33.17
Dennis Smith Jr. has picked up the pace as we approach the final stretch of the NBA campaign, averaging 24 points, 5.5 assists, 3 rebounds and 1 steal in his last two games, he's opening up March in a big way, and he's coming to us priced significantly lower than what he was commanding at the All-Star break. Tonight he'll face a Nuggets defense ranked 24th overall defending against the point in a game with a 219 projection, that should remain competitive right to the end, assuring DSJ to reach the upper echelon of his 30-39 minutes. Against the likes of Jamal Murray and Gary Harris, Smith Jr. should have little trouble maintaining his recent momentum and makes for a solid pivot from the two guys above.
Shooting Guard

Lou Williams FD - $8000 DK - $7700
Opponent - NO
Proj Pts FD - 42.8 DK - 44.37


Jrue Holiday FD - $8500 DK - $8200
Opponent - LAC
Proj Pts FD - 40.39 DK - 40.52
We're going to open up shooting guard with a pair of guys who will be opposing each other tonight. Though one is a starter, and one comes off the bench, they should definitely meet up on the court tonight as both is a lock to see well over 30 minutes on a nightly basis. We'll start off with the Pelicans starting guard Jrue Holiday. Holiday, like Walker above has really kicked up his scoring, going for 20 or better in eight straight games, hitting 30 twice in the last four. Holiday is an all-around threat and has really been contributing in all facets of the game since the Pels lost DeMarcus Cousins earlier in the season. He stuffs the stat sheet on a nightly basis, which gives him upside for days in games which stay close and he can stretch the minutes to the 40 mark. Then we have the sixth man Lou Williams of the Clippers. Despite the fact he comes in with the second unit, Sweet Lou sees starters minutes on a nightly basis and like Holiday makes the most of each and every one. Outside of a losing battle against James Harden and the Rockets last week, Williams has hovered around the 5X PPD mark in each of the other five of his last six games and should thrive tonight against the second weakest defense against the position in the game. This game is coming packed chock full of fantasy goodness and pairing these two at the two can only lead to good things when all is said and done.

J.J. Redick FD - $4900 DK - $5200
Opponent - CHA
Proj Pts FD - 25.14 DK - 26.6
If two former Sixers don't do it for you tonight, then how about the current Philly two guard for some value. Redick has been efficient for the Philly offense lately, scoring 15-22 points in each of his last four games, and is locked into a solid 30-minute rotation. We're getting him tonight on the lower end of his pricing spectrum and he only needs to pick up 22-25 points to really make the play worthwhile. Charlotte isn't the easiest target at the position, ranked 13th overall, but for the price, and the opportunity in what promises to be a fast-paced shootout J.J. should be able to get us where we need to be with little trouble.
Small forward

E'Twaun Moore FD - $4200 DK - $4000
Opponent - LAC
Proj Pts FD - 22.08 DK - 22.32
With Kevin Durant as the only $10K play at small forward tonight, in what promises to be a bloodbath in Brooklyn, there is no reason to pay up in cash games, so let's keep riding the value train that we've been on to this point. We'll start off with E'Twaun Moore, moderately priced at $4K and in the game that if you haven't caught on yet, is far and away, our favorite play of the night. When you have a starter, seeing typically 30 minutes a night in a game with this type of projection, you have to stop for a moment and take notice. Sure, Moore gets lost in the mix between Rondo, Holiday, and Davis, but he's still shooting 50.4% from the field and 41.9% from beyond. He's averaged 11 points per game over his last six. The Clippers have been a bottom ten defense at the position this season, and only Atlanta has been worse over the last ten games. Moore may not take down any GPP's but he only needs to get us 20 in cash games, and that should come quite easy tonight.
Robert Covington FD - $5500 DK - $4900
Opponent - CHA
Proj Pts FD - 27.17 DK - 26.87
Could we be witnessing the second coming of RoCo? Robert Covington started out what looked to be a very promising campaign this season, before hitting a wall at the start of 2018 and being quite frankly terrible. I've been watching Covington closely these past few years, and know he's better than what we've been seeing, and lately, it looks as though he could be seeing a resurgence. He was almost a non factor on Sunday in a game Philly let get away from themselves in Milwaukee, but prior to that he put up back to back solid outings, double doubling in a big win over the Cavs, in a game that he saw 40 minutes, followed up with 33 minutes in a 16/5/2/0/3 outing against these same Hornets, who it bears mentioning are the sixth easiest target for small forwards in their last ten games. I'd like to see a little more consistency from RoCo before I'm officially back in the fan club, but with a strong matchup while still being priced down significantly from where he was this point last month, I'll take a shot on Covington tonight with confidence.
Evan Turner FD - $3900 DK - $4100
Opponent - NY
Proj Pts FD - 20.31 DK - 20.24
Ugh. This position sucks. Sticking with the play cheap and get out mindset, we find Evan Turner. Moe Harkless was ruled out on Saturday with a knee injury, and I just got word he will be out Monday night as the Blazers play the Lakers. While I'm writing this before that game tips off, we know Evan Turner drew the start for Harkless on Saturday and was solid in 32 minutes going 17/3/2/1/0 and paying 7.3X PPD. His price is up a bit in the short term, but still sits well within reason, and makes for a strong case to consider Turner if he continues to draw the starts for Portland. The Knicks are ranked 21st overall defending the position. We saw what Turner did against a top five Thunder defense. If he keeps that rolling against the Lakers, and we get word Harkless is out once again tonight, then it's hard to argue against the value E.T. represents.
Power forward

Anthony Davis FD - $12500 DK - $11600
Opponent - LAC
Proj Pts FD - 62.99 DK - 63.04
This is the play. Among the top tier, I love Anthony Davis tonight. How can you not? This is a guy who has been on the cusp of 100FP three times in his last six games. Sure, every time I lock him in I ask myself "Is tonight the night?", but with the Pelicans losing Boogie Cousins for the season, the Brow has been unstoppable and seems to have put the Glass-man stigma in the past. According to NBA.Com Davis is ranked second in points per game, points in the paint per game, blocks per game, and is the only player with two of the top five games this season, both of those coming in the past three weeks. The Clippers are a bottom five defense against the four, and not much better against the five. Davis is playing some of the best basketball of the season and is showing no signs of slowing down, I'm going to have him everywhere.
Nikola Mirotic FD - $6800 DK - $6500
Opponent - LAC
Proj Pts FD - 36.54 DK - 37.04
After Davis Nikola Mirotic almost feels like an afterthought, but certainly deserves our attention as well. Mirotic returned to the starting unit after coming off the bench for six of his first eight games with the Pelicans. He saw 30 minutes in Dallas and scored 24 points paired with five boards and two assists, which is no easy task itself when sharing court time with the man above. Even when coming off the bench Mirotic has proven the ability to post the 30-35 fantasy points we would look for from a player in his price range when he is able to find himself on the court for 30+ minutes. I feel much more confident in him as a starter though. Emeka Okafor is questionable as I write this, but if he remains out and Mirotic draws another start he pairs very well with AD in all formats.

Dwight Powell FD - $5700 DK - $5500
Opponent - DEN
Proj Pts FD - 28.73 DK - 27.82
After the Pelicans, the options at the four get pretty thin. Dwight Powell has started four straight games for the Mavericks now, and as long as he continues to roll with the starting squad, seeing 25-35 minutes a night he makes for an exciting play. You just have to trust in the minutes. He saw 32 in a win over the Pacers, and 37 in a close loss to OKC, before being clipped to the mid-20's in significant losses to Chicago and New Orleans. Vegas has Denver favored by 4.5 points so this one should remain pretty competitive, meaning there's a chance. Powell needs to get us 25 FP just to be worth it, and he's going to need every bit of 30+ minutes to do just that. This is a play I'll reserve more for tournaments unless we get word someone in Dallas is resting making those minutes feel more secure.
Center

Clint Capela FD - $7500 DK - $6800
Opponent - OKC
Proj Pts FD - 40.16 DK - 40.68
Okay, so we've made it to center, and we're going to keep with the theme of the night, where aside from power forward, we avoid the top tier and look for some mid-range value plays. We've got two strong ones tonight, starting with Clint Capela. After returning from an illness that clearly affected his play in Denver, before causing him to sit out the next night in Utah, C.C. came back strong last Wednesday and gave two solid performances against the Clippers and the Celtics as the Rockets continued to steamroll their way through whatever opponent crosses their path. Tonight they travel into Oklahoma City for a matchup with the Thunder, that we've largely ignored to this point. This game sits at a 223 projected total that on most nights would have it garnering much more of our attention, nevertheless Capela stands out as a top player at the five and is an excellent play in all formats. Outside of the off game against the Nuggets, he's paid 5X or better in each of his last eight games, including a 7.7X PPD outing. Capela only needs to net you 35 to pay value, and I see that as his floor tonight, with a ceiling around 50.
Enes Kanter FD - $6500 DK - $7000
Opponent - POR
Proj Pts FD - 31.77 DK - 33.53
Enes Kanter and the Knicks travel into Portland tonight to take on the Trailblazers. Portland is favored by 9.5 points in this game with a 215 projected total, which I find a little generous with the Blazers on a B2B. Even if it does get out of hand, the minutes don't concern me much with Kanter, who lately has proven to be extremely efficient regardless of playing time. Kanter has seen as little as 17 and as many as 34 minutes over his last eight contests and has paid 5X or better at these prices in six of those. He's double-doubled in 12 of his last 14 and sees a Blazers defense that's ranked 26th overall against opposing big men in their last five games. If you opted to go with Westbrook and Davis, you may not be able to fit Capela in at the five, so look to Kanter as a solid alternative. Though I prefer Capela who feels much safer in cash, I wouldn't hate Kanter if it came down to it. In Tournaments, I may split my exposure equally.
Thanks for reading, feel free to post any questions or comments below or hop on to the member chat. As always, good luck out there tonight. Cheers!
GRAB A FREE TRIAL OF OUR PROJECTION SYSTEM, AND CHECK OUT DFSR PRO!
FREE EBOOK
SECRETS TO CRUSHING DAILY FANTASY FOOTBALL!
DON'T SET ANOTHER LINEUP BEFORE YOU READ THIS BOOK.