Baseball Picks Daily Fantasy
Expert Advice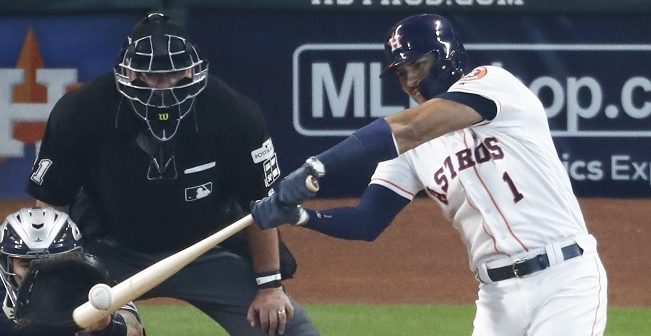 Daily Fantasy MLB Picks for FanDuel and DraftKings - 3/31/18
What could be better than a full Saturday of baseball? I'm not totally sure. These early season games are weird since pitchers of similar quality get clustered, but the differences in pitching depth mean we can still find plenty of value both at pitcher and in the offensive positions. Let's do this like Brutus.
Now's your chance to get DFSR PRO, which will give you access to our MLB optimizer and our new player lab! Get started for free by clicking the button below.
First time with MLB? Be sure to read our free MLB Ebooks on building lineups, general strategy and more. We've got you completely covered.
Pitcher
Yu Darvish FD 9400 DK 12200
Opponent - MIA (Odrisamer Despaigne) Park - MIA
FD - 40.36 DK - 22.2
It's always weird at the start of the season when it comes to pitcher rotations. We've seen most teams 2 best pitchers already, and that leaves our DFS options pretty thin. On a day like today, Darvish is something of an oasis in this desert of pitching options. Still just 31 years old, Darvish brings last season's excellent 10:2.8 K:BB ratio to bear against the revamped (read: much worse) Miami Marlins. The move to the National League is already a friendly one for Darvish, and the combination of an excellent pitcher's park in Miami and a team of minor leaguers has Darvish leading the pack in terms of implied runs allowed and overall money line. He's a terrific cash game option with plenty of upside to dream on as well.

Kenta Maeda FD 8300 DK 9800
Opponent - SF (Derek Holland) Park - LAD
FD - 33.14 DK - 17.49
Maeda sports the second most favorable money line on the day, even if the Giants look better on paper than the hapless Marlins. But really, how much better are they? Their big off season additions are considerably better against left handed pitching, and the Giants posted the very worst wOBA in the majors against right handed pitchers last year. Maeda, meanwhile, improved upon an already impressive set of peripherals in his second major league season, posting a 9.38:2.28 K:BB ratio, with his only real Achilles Heel being the home run ball. Those Giants? Dead last in terms of ISO against righties. Maeda is a great cash option here, even if Darvish has more upside.

Vince Velasquez FD 6400 DK 9400
Opponent - ATL (Brandon McCarthy) Park - ATL
FD - 28.53 DK - 14.6
Velasquez is a funny pitcher because while it seems like he's been around for a while, he's still just 25 years old. His injury riddled 2017 campaign was a far cry from his breakout 2016 number, but I'm banking on 2016's trajectory to be legit now that he's fully healthy. He was a monster that year, posting a Darvishian 10:3 K:BB ratio. The trick here though is that we don't pay anywhere near Darvish's price, especially on FanDuel. Atlanta meanwhile returns mostly the same cast of rather uninspiring hitters that netted them the 6th worst wOBA against righties last season. It's basically Freddie Freeman and a clown parade.
This is obviously the most speculative of the plays here, but I think there's plenty of upside for sure.
First Base/Catcher
Chris Davis FD 2700 DK 3800
Opponent - MIN (Kyle Gibson) Park - BAL
FD - 12.95 DK - 9.59
One of the world's strangest lead-off hitters? Listen, my brother from another mother is not the typical leadoff hitter in any respect, and I don't expect him to get on base a ton even in a pretty favorable match-up with Gibson. That being said, hitting first as opposed to fourth or fifth means 9%-11% more plate appearances, and Davis' price just doesn't reflect that lack of opportunity. Yes, most of Davis' value is wrapped up in the occasional long ball or hard hit double, but I think we need to take the good with the bad if he's coming out of the lead-off spot again here. Gibson struggles mightily with the long ball, and 22 of Davis' 26 homers last year came against righties. It's a risk I'm willing to take.
Evan Gattis FD 2800 DK 3700
Opponent - TEX (Matt Moore) Park - TEX
FD - 12.18 DK - 9.2
You're going to see a lot of Astros today, and that's another fact of life with baseball. When the match-up and park are right, you'll tend to want to play guys from the same team. Gattis' career .800 OPS against lefties is significantly better than his numbers from last season, but a lot of that looks BABIP driven. As for the match-up, Moore gave up 1.39 home runs per 9 innings in one of the most pitcher friendly parks in all of baseball last year, and now he's moving to one of the worst parks imaginable for pitchers who struggle with allowing home runs. Gattis also gives you pretty cheap exposure to a game with a lot of expensive players, and he seems like a terrific option wherever you can play him.
Also considered: Russell Martin at catcher, and Logan Morrison at first base.
Second Base
Neil Walker FD 2800 DK 3300
Opponent - TOR (Marco Estrada) Park - TOR
FD - 10.25 DK - 7.76
The beginning of baseball season is such a delight because seeing these names is like reuniting with old friends. In this case I'm not even talking about hitters, but instead opposing pitchers. Users of DFSR's lineup optimizer reaped the benefits of the homer happy Estrada more times than I can remember last season, and it stands to reason that another year of age on that arm hasn't done it any favors. Estrada's 1.5 homers allowed per 9 innings stood as the 7th worst figure in all of baseball among qualified pitchers, and easily the worst on the slate today. As for Walker, he bats later in the lineup than we might prefer, but he bats behind such quality hitters that I'm not especially worried about his opportunity. He's a power bat at a position sorely lacking in them, and given that the Yankees have among the highest implied total on the slate, I'm a buyer.

Brian Dozier FD 3600 DK 4500
Opponent - BAL (Andrew Cashner) Park - BAL
FD - 12.75 DK - 9.59
Speaking of power bats at a weak position, it's our old friend Brian Dozier! The Twins' 2nd baseman put up 34 homers last season after an insane 42 home 2016 campaign, and essentially IS the standard for 2nd base power. He's been better against left handers on balance, but 22 of those home runs did come against right handed pitching last year. It's a nice hitters' park, and Cashner's peripherals were a crime against humanity last year. His 4.6:3.46 K:BB ratio was downright abysmal, and he was only bailed out of the worst ERA of his career by a fortuitous 8.6% home run to fly ball ratio. I think the Twins get to him here, and I think these prices on Dozier are plenty competitive.
Also considered: Jonathan Schoop against Kyle Gibson in Baltimore.
Shortstop

Carlos Correa FD 4200 DK 4900
Opponent - TEX (Matt Moore) Park - TEX
FD - 15.45 DK - 11.64
If there's one issue with baseball season, it's that it can get hard to say the same thing 15 different ways on days where there are some obvious good plays. I've already made the case against the left handed Matt Moore, so let's instead talk about how awesome Carlos Correa is. Correa registered an astounding .941 OPS last season, and a hall of fame level 1.066 OPS against left handed pitching. He's expensive, sure, but cheaper than superstars can be, and you get him in one of the best possible match-ups for a lefty smasher. He's a phenomenal play in all formats assuming you can afford him.
Corey Seager FD 3500 DK 4200
Opponent - SF (Derek Holland) Park - LAD
FD - 12.43 DK - 9.45
A poor man's Carlos Correa? Sure, if you need the savings. The park isn't terrific for Seager here, but that's about the only criticism you can level at this play. The 22 homers last season were very respectable for the position, and the .375 OBP means you're getting as much floor as you can get for a shortstop as well. And then there's the opposing pitcher. Holland was nothing short of a dumpster fire last season, posting career worsts in K:BB ratio, HR/9, and xFIP. If he would have qualified he would have been by far the worst in the majors in terms of home runs allowed per 9 innings at 2.07. He's just a phenomenal match-up for a lefty killer like Seager almost regardless of the park, and both Vegas and I like the Dodgers to abuse him plenty here.
Also considered: Ketel Marte if he's batting near the top of the order again.
Third Base

Alex Bregman FD 3700 DK 4200
Opponent - TEX (Matt Moore) Park - TEX
FD - 15 DK - 11.42


Miguel Sano FD 3300 DK 4400
Opponent - BAL (Andrew Cashner) Park - BAL
FD - 12.57 DK - 9.34
More of the same - we're just abusing the poor pitchers on the slate, here. Bregman was pretty good overall last season, but an outsized portion of his production came in the minority of his at bats against left handed pitching. His .976 OPS against southpaws was a full .200 points better than his OPS against righties, and it's nice to play against a poor lefty if you have your choice. Sano doesn't have quite the same platoon advantage here, but as I wrote earlier, Cashner is arguably worse. Throw in a great hitters' park and both of these guys are totally playable for both safety and upside. They are playing on two different slates as well, and given some of the other options here they might be the only 2 reasonable options available if you like guys batting toward the top of the order.
Outfield

Kike Hernandez FD 2300 DK 3300
Opponent - SF (Derek Holland) Park - LAD
FD - 11.11 DK - 8.41


Matt Kemp FD 2400 DK 3600
Opponent - SF (Derek Holland) Park - LAD
FD - 11.47 DK - 8.73
Two power right handed bats against a simply horrific left handed pitcher, so I'm not worried about the match-up here. Kemp's resume is probably well known to you at this point, but Hernandez's .204 ISO is just a great number on this price point. And the kicker is that he batted clean-up in a similar spot on opening day. If he gets the nod to bat in the 4 hole again today, he'll be one of the highest owned players on the slate. Hernandez also has one of the most comically high platoon splits in the majors, posting an all-star level .946 OPS against lefties last year and a pitcher-level .499 OPS against righties. He's a risk to get pinch hit for, but in the meantime he should do some damage.

George Springer FD 4100 DK 4900
Opponent - TEX (Matt Moore) Park - TEX
FD - 16.58 DK - 12.47
Yet another Astro you can stack, but at this point, it's likely getting pretty expensive. When you start looking at these Astros' season last year it's no wonder that they were the World Series champs. Springer put up 34 home runs of his own, and his .972 OPS against left handers was pretty damned impressive. Have I mentioned that he, like his teammates, is facing one of the worst lefties in the majors in Matt Moore. I'm not sure how many Astros we'll be able to fit, but I'd really like to sneak Springer in there if possible.

Brett Gardner FD 3200 DK 3900
Opponent - TOR (Marco Estrada) Park - TOR
FD - 11.41 DK - 8.73
Gardner is batting leadoff atop the league's most potent offense, and is doing so in a great hitters' park with a platoon advantage. This is... a good situation. Gardner was a real handful for right handed pitchers last year, posting an .867 OPS and swiping all 23 of his stolen bases against them. I'd guess the running will be down a little bit thanks to the big bats behind him, but the cheap prices here should make up the difference.
GRAB A FREE TRIAL OF OUR PROJECTION SYSTEM, AND CHECK OUT DFSR PRO!
FREE EBOOK
SECRETS TO CRUSHING DAILY FANTASY FOOTBALL!
DON'T SET ANOTHER LINEUP BEFORE YOU READ THIS BOOK.