Baseball Picks Daily Fantasy
Expert Advice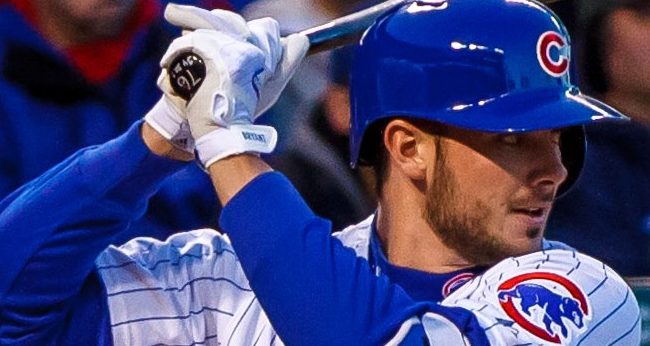 Daily Fantasy MLB Picks for FanDuel and DraftKings - 4/1/18
Now's your chance to get DFSR PRO, which will give you access to our MLB optimizer and our new player lab! Get started for free by clicking the button below.
First time with MLB? Be sure to read our free MLB Ebooks on building lineups, general strategy and more. We've got you completely covered.
Pitcher
Jose Quintana FD 8800 DK 11700
Opponent - MIA (Dillon Peters) Park - MIA
FD - 37.94 DK - 20.38
Welcome to Sunday Baseball! This is day four of the MLB season and we're running short at pitcher. We fortunately have some decent options, but it's certainly the worst day so far. We'll kick it off in Miami, who will host Jose Quintana and the Cubs. Quintana dominated in two different cities in 2017 and was quietly one of the better pitchers in the league. He posted a 3.73 xFIP with an elite 9.23 K/9. He's been effective against both sides of the plate, but is definitely better against lefties. He faces off against a Marlins team that is absolutely one of the worst lineups in the league. We won't be looking at any team stats after just three games, but you should know what's going on when Starlin Castro and Justin Bour are in the three and four hole. This game is also in Marlins Park, which is one of the friendlier ballparks in the league for pitchers. Quintana is extremely safe in all formats and the top pitcher on this slate.
Luke Weaver FD 7800 DK 8000
Opponent - NYM (Steven Matz) Park - NYM
FD - 33.3 DK - 17.59
Luke Weaver had an incredible 2017 season and put himself in the mix as another star Cardinals pitcher. He posted a ridiculous 2.93 xFIP and 10.04 K/9. He's only 24 years old and going to get better as the years go by. Tonight, he faces off with the Mets. They hold the 3rd lowest implied team total on the slate and it's no surprise. They have some solid hitters and have a lot of power, but they strike out a ton and hit lefties a lot better. Citi Field is friendly to pitchers and ranked 20th in 2017 for righty power. The only problem I can find here is the match-up with Matz and the win uncertainty. Where the win matters on FanDuel, I like Quintana and Hill more. With that being said, I think Weaver has a huge ceiling and could strikeout 10 without issue. On a day with a bunch of so-so pitchers in average match-ups, Weaver is fine in all formats.

Rich Hill FD 8600 DK
Opponent - SF (Chris Stratton) Park - LAD
FD - 37.89 DK - 0
Rich Hill has been a polarizing player over the last couple years. He now enters this season at 38 years old and better than ever. He sported a 3.88 xFIP and was a severe reverse splits pitchers. Most lefties dominate lefties, but Hill not so much. Opposing lefties smacked Hill around for a .374 wOBA, compared to an elite .253 against righties. He faces a Giants team tonight that is expected to run out 6 righties. They hold the lowest implied team total on an entire day at 3.18, so Vegas doesn't think they do much here. Hill is also a guy with crazy upside, as he held an 11.06 K/9 in 2017. The Giants are an underwhelming offense and should struggle against a lefty that dominates right-handers. All three of these pitchers are in a nice spot, though none are aces.
First Base/Catcher
Willson Contreras FD 3400 DK 4500
Opponent - MIA (Dillon Peters) Park - MIA
FD - 10.91 DK - 8.26
We'll kick off the bats at catcher with Willson Contreras and the Cubs. To start the season, they've had two very different games. After going ballistic and putting up 8 runs on Opening Day, the Cubs were shut down for just 1 run in 17 innings against some porous pitching. We all know the Cubs are a boom or bust offense and this season doesn't look to be any different. Tonight, they gave Dillon Peters. He, like the rest of the Marlins staff, isn't ready for the majors. He's really not the worst prospect but has held a 4.62 xFIP in the majors and a 5+ BB/9. Peters, a lefty, was actually worse against lefties in '17. However, all is his peripherals suggest the opposite. With just 30 innings of sample size to work with, it's safe to ignore that surface stat. Peters is going to be a lot worse against rights. Here we have a guy in Willson Contreras that belted lefties to a .386 wOBA and 35% hard contact rate last season. He should be in the cleanup spot hitting right behind Anthony Rizzo and Kris Bryant, leaving him plenty of RBI opportunities and pitches to hit. The Cubs are one of the top offenses on the slate and Contreras starts it off at a weak position with a lethal cleanup bat.
Cody Bellinger FD 3900 DK
Opponent - SF (Chris Stratton) Park - LAD
FD - 12.43 DK - 0
If you can pay up at C/1B, there are a few solid options. Rizzo and Abreu can both dominate anyone and face lackluster pitchers tonight, but they are on the bad side of their split and are in a tough ballpark. That leads us to Cody Bellinger, who's in a phenomenal spot on this slate. He faces off with a righty in Chris Stratton that has done nothing but disappoint. Especially against lefties at a .355 wOBA and 5.50 xFIP. You know what Bellinger did in 2017, but let's refresh. 39 homers. 27 of them against righties. A .386 wOBA against lefties with an elite batted ball profile. He's one of the marquee power bats in this league and is one of the top threats for a homer tonight. He's going to cost you, but is in a phenomenal spot and should be safe in cash games as well.
Chris Davis FD 2700 DK 3600
Opponent - MIN (Jose Berrios) Park - BAL
FD - 12.51 DK - 9.27
The Orioles once again stuck Chris Davis in the leadoff spot and he blessed them with a solid 0-5. I don't really understand hitting him leadoff with the offense around him, but it's going to give him more opportunities to hit homers for us. His production slightly dipped in 2017, but he was fine against righties with 22 home runs and a 45% hard contact rate. He's going to continue hitting the ball hard and is a serious HR risk every time he's at the plate. Jose Berrios, who he's facing, posted a .368 wOBA against lefties in 2017. At Davis' bargain bin price, he's going to win some people a tournament when he hits his first one. Or two. If you need a cheap first baseman, there's no better option than Chris Davis and his monstrous upside in Camden Yards.
Second Base

Jose Altuve FD 4300 DK 5000
Opponent - TEX (Mike Minor) Park - TEX
FD - 13.94 DK - 10.79
We all know Jose Altuve demolishes lefties and nothing changed in 2017. He posted a .412 wOBA against them and backed it up with a 22% line drive rate. It's no surprise considering he won the MVP. He's the safest hitter in baseball and always has HR upside. Tonight, he sees a pretty decent lefty in Mike Minor. Minor isn't as bad as he once was, but the struggles remain against righties. He held a .280 wOBA in that split, but followed it up with a 4.23 xFIP. He overperformed in those 50 innings last year. We can expect Mike Minor to end up as a southpaw with a 10+ K/9 that obliterates lefties and has trouble with the righties when not striking them out. Altuve is going to make contact and this ballpark can hold him just as much as Minute Maid does. He's going to cost you, but you can spend up tonight without expensive pitching and he could very well end up the highest-scoring hitter on the slate.

Yoan Moncada FD 3000 DK 3900
Opponent - KC (Jason Hammel) Park - KC
FD - 10.13 DK - 7.72
If you're looking to get a bit cheaper at second base, Yoan Moncada is a phenomenal option. He was a bit instead last season against lefties, but rock solid against right-handers. He posted a .348 wOBA and 14 XBH in just 150 plate appearances. He also stole three bags, so the versatility is unquestionable. He draws a match-up against Jason Hammel, who was just plain bad in 2017. He gave up a .330 wOBA to both sides of the plate and 26 homers in only 180 innings. While the ballpark will do its best to help him, the White Sox should still put some runs on the board here. Moncada is right in the heart of the lineup and far too cheap for his expected production. Remember, this is the number 1 prospect in baseball and a true 5-tool baseball player. He's an elite option tonight if you can't pay up for the ever-consistent Altuve.
Shortstop

Carlos Correa FD 4000 DK 4900
Opponent - TEX (Mike Minor) Park - TEX
FD - 14.07 DK - 10.6
Correa is already reasserting himself as the best hitting shortstop in the league and it's only been a few days. He went 4-for-5 with a homer and a double on Satruday and will look to follow up an even friendlier match-up with Mike Minor. Again, Minor is a high-K, high-BB, high-risk pitcher who relies on the strikeout and keeping the ball out of the seats. If he does make a mistake, it'll be to a righty and it could get out of the ballpark. Correa devastated lefties in 2017 to the tune of a .445 wOBA. Yes, you read that correctly. He backed it up with an equally nuts .609 SLG and 43% hard contact rate. Arlington is a great stadium for homers and Correa can't be held anywhere. If you think Mike Minor gets hit tonight, Carlos Correa should be your lead candidate. He's the top play at shortstop.
Corey Seager FD 3400 DK
Opponent - SF (Chris Stratton) Park - LAD
FD - 11.25 DK - 0
Seager has been ice cold to start the season, which I really do like for DFS. It'll keep a few eyes off of him and allow you to grab one of the best lefties in baseball for an affordable tag at sub-25% ownership. Seager is still just 23 years old, so you can expect some progression when looking at last years numbers. Against righties, a .353 wOBA and 43% hard contact rate. His opponent is Chris Stratton, an underwhelming righty with 4 basic pitches and a lack of tools. Allowing a 5.50 xGIP to lefties, I'm expecting the Dodgers to make some noise here. They aren't the most exciting roster on the slate, but a 1 or 2-off with Bellinger and Seager is certainly intriguing. Don't be afraid of the Dodgers because of a slow start. It simply doesn't matter.
Consider Marcus Semien and Eduardo Escobar if you need to pay down.
Third Base

Kris Bryant FD 4600 DK 5400
Opponent - MIA (Dillon Peters) Park - MIA
FD - 13.91 DK - 10.41
Kris Bryant has started off the season on fire with 6 hits, 3 doubles, and a homer in just three games. He's easily one of the best hitters in the league and could still be getting better. In 2017, Bryant cruises against lefties with a .407 wOBA and 36% hard contact rate. I have a strong suspicion he improves on those numbers this year and could very well end up the MVP of the league. As for tonight, Dillon Peters is no match. Struggling against righties, he's going to be in trouble if Bryant comes up with first base occupied. Marlins Park is big, but doesn't hold a Kris Bryant homer. He's one of the top hitters on the slate and it just comes down to whether or not you can afford the price.

Eugenio Suarez FD 2500 DK 3500
Opponent - WSH (Gio Gonzalez) Park - CIN
FD - 9.91 DK - 7.49
There are some safer third baseman out there, but since I went high-end with Bryant, let's go cheaper. Gio Gonzalez has the reputation of being a decent pitcher, but a 4.24 xFIP tells the story of an average southpaw. 19 home runs in 150 innings against righties would back that up. Gio is still effective, but the long ball to righties is a huge problem and let's not forget about that monstrous 3.59 BB/9. Eugenio Suarez is one of the most underrated hitters in baseball against lefties. In 2017, he posted a .383 wOBA with a 43% hard contact rate. He hit 26 homers on the year and really shouldn't be this cheap. If you can't afford the pricey Kris Bryant, Suarez gives you a very cheap shot at a very real home run.
Outfield

Bryce Harper FD 5000 DK 5200
Opponent - CIN (Sal Romano) Park - CIN
FD - 14.61 DK - 10.88


Adam Eaton FD 3200 DK 4400
Opponent - CIN (Sal Romano) Park - CIN
FD - 11.44 DK - 8.84
We've yet to touch on the Nationals, but they're very much in play against Sal Romano and the Reds. Romano was absolutely terrible in 2017, posting a .337 wOBA against lefties and a .343 vs righties. We're focusing on two lefties here in Bryce Harper and Adam Eaton who are both very different. Starting with Bryce Harper, there's not much to say. He's one of the three best hitters in the league against righties and posted a .442 wOBA last season against them. If he's pitched to, he has a very good shot at a homer. Easily one of the top bats on the slate. As for Adam Eaton, he's more of a solid mid-range cash game play that stands out (his huge Saturday performance aside). He's not a big power hitter (again, except for Saturday), but you can't ignore a .387 wOBA against southpaws. Both of these guys are in play and this Nats squad is stackable in a tournament.

Max Kepler FD 2300 DK 3300
Opponent - BAL (Kevin Gausman) Park - BAL
FD - 9.14 DK - 6.95

Eddie Rosario FD 2800 DK 3700
Opponent - BAL (Kevin Gausman) Park - BAL
FD - 10.28 DK - 7.91
The Twins are another team we've ignored up this point, even though they have a very strong match-up. Kevin Gausman was once a big prospect, but now he's a 27-year-old that has allowed a .350 wOBA to both sides of the plate. He also has a big HR issue, which doesn't play well in Camden Yards. In Rosario and Kepler we have two big lefties with pop and consistency. Rosario is the better hitter of the two and offers a bit more safety. Kepler is swinging for the fences no matter what and is always a cheaper candidate for a double-dong (two home runs, to clarify..). It's also a big upgrade from their home ballpark and it makes a huge difference. Camden Yards is a top 5 spot for hitting and it's why we see the elevated 9.5 total. Both of these guys are in play across the board and I would be surprised if either got above 20% owned.
Albert Almora Jr. FD 2100 DK 3200
Opponent - MIA (Dillon Peters) Park - MIA
FD - 9.96 DK - 7.75
We've already looked at two Cubbies in Contreras and Bryant, and you can even stack this team. The Marlins are tossing Dillon Peters out there, who's an underwhelming lefty with an above average HR rate. He'll be followed by a bullpen that just went through a torturous 17 innings and is extremely weak in the first place. That brings us to Albert Almora Jr., who will be a big part of the top of the order against lefties. It's not hard to see why. In 2017, he hit them for a .346 average and a .387 wOBA. He's cheap on both sites and in one of the top offenses of the night. If you're talking value, Almora Jr. is undoubtedly one of the best on the slate. Good luck tonight and feel free to comment down below if you have any questions!
GRAB A FREE TRIAL OF OUR PROJECTION SYSTEM, AND CHECK OUT DFSR PRO!
FREE EBOOK
SECRETS TO CRUSHING DAILY FANTASY FOOTBALL!
DON'T SET ANOTHER LINEUP BEFORE YOU READ THIS BOOK.