Basketball Lineups Daily Fantasy
Expert Advice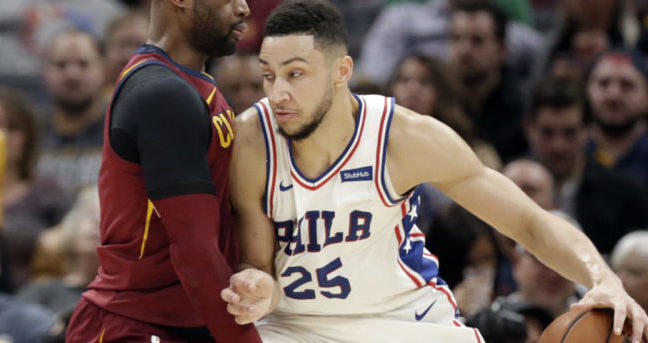 Daily Fantasy NBA Basketball Picks for FanDuel and DraftKings - 4/8/18
Ah, the final week of the NBA regular season. When guys you'd never heard of a month ago are now some of the most DFS relevant names around. It's really something how the NBA finishes its season like this. But it doesn't mean we should just start avoiding NBA DFS altogether. There's some method in this madness. Let's take a look at some of the value for Sunday.
Now's your chance to get DFSR PRO, which will give you access to our NBA optimizer and our new player lab! Get started for free by clicking the button below.
First time with NBA? Be sure to read our free NBA Ebooks on building lineups, general strategy and more. We've got you completely covered.
Point guard
Tyler Ulis FD - $6900 DK - $6800
Opponent - GS
Proj Pts FD - 28.27 DK - 28.42
The Suns have been feisty of late, keeping it close (and even winning once) in their last five games. That, plus Elfrid Payton's injury issues, has meant for huge minutes out of Ulis. In that stretch he's averaging 16 points, seven assists and four rebounds. It's enough to keep these elevated prices within the range of value (which feels nuts) but on a slate with so much uncertainty you can (sort of) count on Golden State not trying enough to keep the game close. That kind of matters for Ulis in that he could see his full allotment of minutes. Look folks, we're getting real weird down the stretch here and rostering anyone with minutes projected in the mid 30's is worth it.
Quinn Cook FD - $6300 DK - $6200
Opponent - PHO
Proj Pts FD - 29.05 DK - 30.71
Cook's done his best Steph impression over the last month with the Warriors dealing with all kind of injury issues. He's stepped in and held down the fort in the scoring department even when getting some of the big boys like Durant and Klay back on the court. Cook offers the speed and 3-point threat in the JV version of Steph and he's running super hot from beyond the arc (50% over his last five games). It's easy to see the Warriors starting to rest some guys on the back-to-back for this game with no real reason to save Cook. He should be in line for a ton of minutes in almost any scenario and could be still coming at a bargain agains the best DFS matchup around.
Shooting Guard
Donovan Mitchell FD - $8000 DK - $7700
Opponent - LAL
Proj Pts FD - 38.25 DK - 38.75
Even on this seven-game slate, Utah is the only team really playing for anything. That kind of sums up the s#$%show of DFS implications we've got going on this slate. Mitchell's had a rookie season for (close to) the ages. He's averaging 20 points per game to go with three assists and rebounds each. His scoring is what sets him apart, with the ability to get shots off the dribble and get to the hoop on penetration. The Lakers have been putting up a fight from night-to-night taking the blowout off the table up front. It's saying a lot, but Mitchell feels like one of the safer plays on this Sunday of games.
After Mitchell, shooting guard is a downright disaster on FanDuel considering the slate is broken up between early and late. On the early you've got close to nothing with guys like Victor Oladipo and Jaylen Brown unlikely to play a lot of minutes and J.J. Redick getting expensive. It's going to be a dice roll at the position.
In the evening, considerKentavious Caldwell-Pope even against the slow Jazz simply because his minutes are as safe as anyone's.
Small forward

Josh Jackson FD - $8500 DK - $7800
Opponent - GS
Proj Pts FD - 37.06 DK - 37.23
As I said with Ulis, the Suns are at a point in the season where they have very few f@#$s to give and are happy playing their "core" group of guys minutes because, well, whatever. Jackson, without Devin Booker and T.J. Warren has been something of a fantasy beast. He's putting up crazy usage stats, averaging more than 20 shots a game in the short term and essentially chucking from the rafters when the other scorers aren't around. It's led to him averaging close to 25 points a game to go along with six rebounds. The Suns should continue running him minutes with the other talent on the shelf and even though the price is climbing, he does represent one of the higher minutes' floors around.
Robert Covington FD - $7000 DK - $6700
Opponent - DAL
Proj Pts FD - 31.82 DK - 31.82
After an epic game against the Cavaliers on Friday, it's easy to see why the Sixers are starting to really believe in their playoff chances this season. They have a team that can stand toe-to-toe with anyone in the East and look like they are really starting to believe in the "Process". Without Joel Embiid on the court, Covington sees something in the way of a 6% usage bump and the minutes are somewhat secure. He ran 36 against the Cavs and made his hay on the defensive end its six combined steals and blocks. That's something of an outlier, but Covington can pile those stats on in the right situation. It appears the Sixers are very much fighting for the three seed in the East and should run their starters out for the max if the game stays close.

Johnathan Motley FD - $5200 DK - $5100
Opponent - PHI
Proj Pts FD - 29.24 DK - 29.1
Hey, you've never heard of me, but I've played 40 minutes plus in my last two (basically first two) games. I'm still priced in the mid tier, the Mavs are total wildcards at this point and I went for 26 points and 14 rebounds in my last game. So yeah, consider me.
Power forward

Ben Simmons FD - $11500 DK - $10200
Opponent - DAL
Proj Pts FD - 46.41 DK - 46.15
Simmons had something of a statement game against the Cavaliers on Friday. While fighting for playoff position, he capped off a strong division win with a ho-hum 27 points, 13 assists and 15 rebounds. No big deal right? Dude is on his way to rookie of the year and this is just the kind game to cement his place in the league. Simmons' price is on the rise for sure, but it seems as if Philly wants that three seed come hell or high water. That they are missing their other star in Embiid hasn't much and it shouldn't tonight either. This is a slow matchup against the Mavs', though they aren't the same team we're used to seeing. Simmons is still a play even at these elevated prices.

John Collins FD - $6000 DK - $5200
Opponent - BOS
Proj Pts FD - 31.23 DK - 30.63
I hate putting any faith in the Hawks, I really do. They will yank around minutes with the worst in the league without hesitation. Such is the way with teams on the tank. They could care less about your DFS fortunes. And yet I'm oddly buoyed by Collins' chances on Sunday. He's seen 30 or more minutes in four of the last five games with an average of 11 points and 10 rebounds in that stretch. He'll also chip in blocks along the margins and will face a Boston team who's all but packed it in leading into the playoffs. This isn't a safe play, but I do think we're getting Collins at a relative value.
Strongly consider Draymond Green just because he has a dream matchup against the Suns. Plus Marquese Chriss stinks at real life basketball but does have big games in him from time to time.
Center
Rudy Gobert FD - $9500 DK - $7900
Opponent - LAL
Proj Pts FD - 41.28 DK - 40.97
The rule of "playing guys with something meaningful on the line" has worked out splendidly for us so far, and Rudy Gobert and the Jazz have more to play for than any other center on the early slate by a country mile. On DK the price is simply offensive, and I expect he'll be something close to unanimously owned. On FD it's a little dicier - we're talking season high prices for a guy who has averaged less than 4x points per dollar on these prices over the course of the season. Still, we know the Jazz's plan for Gobert is to play him 36+ minutes in close games, and we have an example of what he can do against this fast Lakers squad in those kind of minutes just 2 games ago. Gobert put up a bizarre 12/16/5/3/2 line for an easy 48 fantasy points. It's hard to call him safe, but who on this slate is?
Keep an eye on the Lakers situation. Brook Lopez is a GTD, and Kyle Kuzma is questionable, which could make room for a big Ivica Zubac start. If Zubac starts he's a no brainer in all formats, and even if one of these guys is ruled out he still makes an excellent punt in any format.
Late Slate
It's a comical set of centers for the late slate, so let's just break it down, shall we?
Boston vs. Atlanta: Al Horford on a minutes limit (no) vs. Dwayne Dedmon at season high prices in a terrible and slow match-up.
Dallas vs. Philadelphia: Just click on this tab and you'll see Embiid (out for the year), Mehjri (doesn't play, and hurt anyway), and Richaun Holmes for $4,800 off the bench. Moving on.
Indiana vs. Charlotte: It's legit impossible to know what Indiana's plan is for Myles Turner since they are perpetually involved in weird games, but he's cheap and has huge upside on this price if he tops 30 minutes. Dwight Howard has been a man possessed recently, but is only playing 29-32 minutes.
The winner? I suppose it's Dwight Howard. Enjoy!
GRAB A FREE TRIAL OF OUR PROJECTION SYSTEM, AND CHECK OUT DFSR PRO!
FREE EBOOK
SECRETS TO CRUSHING DAILY FANTASY FOOTBALL!
DON'T SET ANOTHER LINEUP BEFORE YOU READ THIS BOOK.