Baseball Picks Daily Fantasy
Expert Advice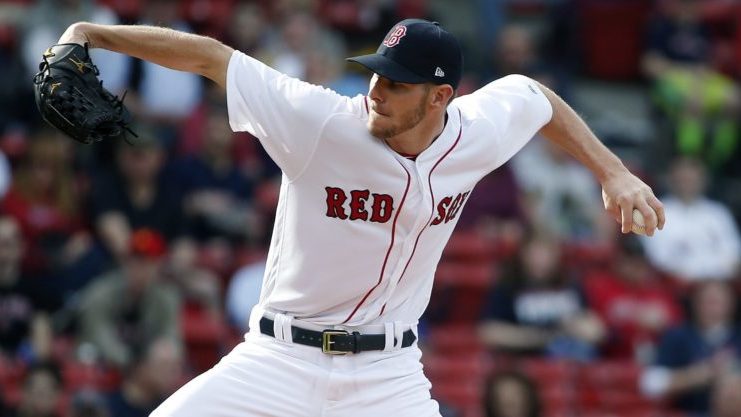 Daily Fantasy MLB Picks for FanDuel and DraftKings - 4/15/18
It's a full Sunday in baseball with the weather already wreaking havoc on the schedule. White Sox-Twins and Blue Jays-Indians have already been postponed and some other games might not be far behind. But there's still plenty of value on this slate with some elite arms taking the bump.
Now's your chance to get DFSR PRO, which will give you access to our MLB optimizer and our new player lab! Get started for free by clicking the button below.
First time with MLB? Be sure to read our free MLB Ebooks on building lineups, general strategy and more. We've got you completely covered.
Pitcher

Chris Sale FD 11000 DK 12400
Opponent - BAL (Dylan Bundy) Park - BOS
FD - 47.61 DK - 26.9
Whenever Sale takes the mound, we need to strongly consider putting him into our cash game lineups. He enters the day as a massive -205 favorite against the Orioles and has picked up right where he left off last season. The 12.18 K/9 rate is among the best you'll see in the majors, he limits the free passes (1.6 per nine). The Orioles have struck out a ton over the last two seasons against lefties (27% of the time) though it should be mentioned they do have some pop in this platoon with a .351 team wOBA over that span. Sale's numbers are so elite that he mitigates some of that upside. Keep an eye on the weather, but on a day with a few aces going, Sale stands at the top of the list.

Noah Syndergaard FD 10700 DK 10500
Opponent - MIL (Jhoulys Chacin) Park - MIL
FD - 41.58 DK - 23.16
It's not always easy/ correct to go double expensive at starting pitcher on DraftKings, but today it's completely in play. It was a tough choice between Syndergaard and Strasburg in this slot, but I will give the slight edge to Thor. He's come out of the gate with a 12.38 K/9 rate (which is likely due for some regression) and the 2.10 xFIP is well below his 3.94 ERA. He's a -198 favorite at home against the Brewers who've struck out 25% of the time against righties over the last season plus. Their 2.9 implied run line is the second-lowest of the day (after the O's against Sale). Keep an eye out on the weather for this game but stacking Sale and Syndergaard in cash on DK could be the way to go.
Obviously consider Stephen Strasburg and Shohei Omani as well. I get that it's not exactly "sharp" to just flat out recommend all of the most expensive starting pitchers. But these arms are so much better than the rest of the field (and the hitter pricing still rather soft) that it seems insane to think about fading all four of these guys. I would rank them in value order of Sale, Syndergaard, Strasburg, Ohtani.
First Base/Catcher
Ryan Zimmerman FD 2400 DK 3900
Opponent - COL (Tyler Anderson) Park - WSH
FD - 11.75 DK - 8.87
As Austyn mentioned on Thursday when Zimmerman was facing Kyle Freeland, "Zimmerman was one of the better hitters in all of baseball against southpaws in 2017, sporting a .425 wOBA on a 43% hard contact rate." On Sunday he'll get Tyler Anderson, an upgrade over Freehand for sure, but still a lefty Zimm can punish. The FanDuel price is a total joke right now where he's coming in at basically the minimum. This would be an advantageous price for just about anyone hitting in the middle of the Nationals' order, much less a guy who obliterates this platoon split.
Justin Bour FD 2800 DK 3000
Opponent - PIT (Ivan Nova) Park - PIT
FD - 10.45 DK - 7.87
The Marlins aren't a prolific offense (which is a massive understatement) but it doesn't mean we can't find some value in their order. Bour has flashed power upside with a .902 OPS in 2017 on 25 home runs and a .366 OBP. Those are impressive numbers from the young lefty and his early season numbers look in line with a repeat performance (outside of the BABIP which is driving down the OPS). He's a fantastic bargain on DraftKings against Ivan Nova who is the very definition of a league-average pitcher with a low K rate and an xFIP hovering in the mid-4's.
Strongly consider Willson Contreras
Second Base

Ian Kinsler FD 3400 DK 3900
Opponent - KC (Eric Skoglund) Park - KC
FD - 11.79 DK - 9.05
Think Kinsler has enjoyed his move to Anaheim in the offseason? He's come out blazing in his first 14 plate appearances with a home run and a couple of stolen bases. He'll face lefty Eric Skoglund who can't strike anyone out (less than six per nine) and in 22 major league innings has a 6.84 xFIP. Kinsler has a career .880 OPS in this split and hitting at the top of the Angels' order (namely in front of Mike Trout) has significant fantasy advantages. The price isn't crazy either and he's a solid mid-tier value play.

Josh Harrison FD 3400 DK 4000
Opponent - MIA (Jose Urena) Park - MIA
FD - 10.79 DK - 8.41
Though he's facing a righty today, Harrison has been closer to platoon neutral throughout his career. He projects to hit at the top of the Pirates lineup and has flashed hints of power in this split. The bigger story is the matchup against Jose Urena who walks close to 3.5 per nine and strikes out less than 7.5. The Pirates are projected for one of the higher implied run lines on the day even in a pitcher's park in Miami. Harrison is a solid FanDuel play in the mid-tier on the early slate of games.
Consider Joey Wendle if he's hitting in the middle of the order against Lively.
Shortstop

Trea Turner FD 4100 DK 4300
Opponent - COL (Tyler Anderson) Park - WSH
FD - 12.35 DK - 9.63
Washington could be a popular stack on the main slate considering some of the lower run lines and weather issues in some of the other contests. As mentioned with Zimmerman, the Nationals will feature righties basically down the order outside of Harper and that's a particular problem for Tyler Anderson. Considering half his games are in Coors, just looking at his road vs. righty splits from 2017, it's easy to get the idea that he struggles with this side of the plate. He allowed a .366 wOBA to righties outside of Coors last season (was actually better at home at .331) with a 26% hard contact rate. Turner in the leadoff spot could get things rolling for the Nats' offense on Sunday and he's a prime candidate to swipe a bag if on base.

Addison Russell FD 2900 DK 3500
Opponent - ATL (Julio Teheran) Park - CHC
FD - 10.18 DK - 7.7
If looking for some cheaper options at a less-than-stellar offensive position, Russell is a fine pivot. Julio Teheran has been awful this season, walking more than six per nine and striking out less than eight. His xFIP is hovering near six (5.97) and the Cubs' patience could really put him to task. Russell sports an elite walk rate (14.3%) this season and has been able to dramatically cut down on the strikeouts so far. Russell isn't a huge upside play but does have a higher floor in this matchup.
Consider Paul Delong on the cheap against Homer Bailey
Third Base

Matt Carpenter FD 3600 DK 3500
Opponent - CIN (Homer Bailey) Park - CIN
FD - 11.92 DK - 8.9
It took us this long to get to the Cardinals who just happen to have the highest implied run line on the early slate. They are projected to put score more than five runs thanks to the matchup and the park. Home Bailey has started off this season much like he finished last year, poorly. The xFIP is hovering near five, the walks are over three per nine and he still struggles to strike out batters consistently. Carpenter is so incredibly patient (22% walk rate this season) and running bad on BABIP (.207) that he makes for an ideal cash game play at the depressed pricing. He's an elite deal on DraftKings.

Anthony Rendon FD 3400 DK 4200
Opponent - COL (Tyler Anderson) Park - WSH
FD - 11.97 DK - 9.02
Okay, I promise I'm done with Nationals after this guy. But the same case for Zimmerman and Turner exists for Rendon. He'll likely slot into the two hole and has been much better against lefties over the course of his career. He's tuning them up to a .373 wOBA and .870 OPS while walking (12%) almost as much as he strikes out (13%). These are impressive numbers for a guy who won't break the bank for you on FanDuel. I slightly prefer Carpenter for just a little more on FD, but it's close.
Consider Matt Duffy
Outfield

Giancarlo Stanton FD 4800 DK 5100
Opponent - DET (Francisco Liriano) Park - DET
FD - 13.63 DK - 10.07
Rain is in the forecast today, which could take this game out of play. But in the meantime (or until we get some definitive word on their status) we have to talk about Stanton. His early season in New York hasn't been anything to write home about (assuming people still do such a thing) in that he's striking out close to 40% of the time with the walk rate down off his career numbers. And yet, it's tough to imagine this continuing for an entire season. Stanton has obliterated lefties for his career to the tune of a .427 wOBA and 1.034 OPS over nearly 1K plate appearances. Those are just incredible numbers and today he'll get a lefty in Liriano who's only struck out five batters per nine for this year and really struggles with control. Time to load up on Stanton when others might be concerned about the early season returns.
Dexter Fowler FD 3500 DK 3700
Opponent - CIN (Homer Bailey) Park - CIN
FD - 12.29 DK - 9.31


Tommy Pham FD 4000 DK 4800
Opponent - CIN (Homer Bailey) Park - CIN
FD - 12.71 DK - 9.66
These two will likely bat one-two in front of Carpenter on Sunday and Fowler is especially looking like a bargain. Great American Ballpark is among the best parks in baseball for boosting power all around and Bailey has struggled with the long ball for his entire career. Both Fowler and Pham are on the worse side of their platoon splits, but Bailey and the park mitigate that to some degree. They are candidates to rack up strikeouts in this matchup and should set the table for what could be a high-scoring game.
Denard Span FD 2700 DK 2900
Opponent - PHI (Ben Lively) Park - TB
FD - 9.56 DK - 7.43

Kevin Kiermaier FD 2700 DK 3000
Opponent - PHI (Ben Lively) Park - TB
FD - 10.4 DK - 8.02
Both of these guys ring in at excellent DraftKings values coming into the day. They aren't on the most prolific offense in the world and the park doesn't do them any favors, but they project to hit one-two in the order in a somewhat favorable matchup. Ben Lively has started the season well in the K department but doesn't project to sustain a strikeout per inning going forward. He likely settles in as a league-average arm. Span and Kiermaier both sport walk rates over 10% this season (15% and 11% respectively) and come in the better side of their platoon splits. Again, mostly DK plays here if looking to roster two big arms on the main slate, but there's value in their lineup position.
Strongly consider Curtis Granderson if he's hitting leadoff
GRAB A FREE TRIAL OF OUR PROJECTION SYSTEM, AND CHECK OUT DFSR PRO!
FREE EBOOK
SECRETS TO CRUSHING DAILY FANTASY FOOTBALL!
DON'T SET ANOTHER LINEUP BEFORE YOU READ THIS BOOK.