eDaily Fantasy PGA Picks for DraftKings & FanDuel - The PLAYERS Championship
DFSR is proud to bring you, Chris Durell. He'll be bringing weekly PGA picks, analysis, and breakdowns to help you cash on DraftKings and FanDuel. As every week in DFS PGA changes with the course setup, field of players and weather, Chris will be providing a range of different picks for cash games as well as upside plays for tournaments. If you have any questions to lineup lock you can reach him a variety of ways. Leave your question/comment below in the comments section, find him in the DFSR Chat room or hit him up on Twitter(@Jager_Bombs9). Chris is also providing his DFS PGA Weekly cheatsheet where he provides stats, course history, current form, fantasy points, and much more. Grab your copy today and edge out the competition.

The PLAYERS Championship
Welcome back golf fans. I hope you enjoyed the Wells Fargo Championship where Jason Day picked up his second win of the season jumping him from #14 to #7 in the World Golf Rankings. It was no walk in the park, however, even with a two-stroke lead entering the final round as he made back to back Bogey's twice on Sunday giving both Aaron Wise and Nick Watney a shot. Day then pulled it all together and went through the Green Mile at -2 giving him a two-stroke win.
This week the PGA Tour heads to TPC Sawgrass for the "Fifth Major", The PLAYERS Championship. The course is a Pete Dye design which automatically puts a ton of emphasis on Ball Striking. Strategic placement of the tee is needed with tight, tree-lined fairways with bunkers and water also in play. A shot that not only finds the fairway but also in the right spot will give the player a decent mid to long iron approach into the greens on most of the holes. TPC Sawgrass is one of the hardest tests on Tour and that is why we see the average winning score around -12. The other thing we will see is most of the players score coming from the four Par 5's as they make up for about 45% of the overall birdies on average. This means playing the Par 4's at even par or slightly below will put you ahead of the majority of the field putting you into contention come Sunday. This is one reason I will be focusing on players who are trending on the Par 4's in my model. Let's now take a look at some of the course details, trends, and then we can jump into the picks for the week looking at course history, current form, and the stats.
The Course
TPC Sawgrass - Ponte Vedra Beach, FL
Par 72 - 7,189 Yards
Greens - Bermuda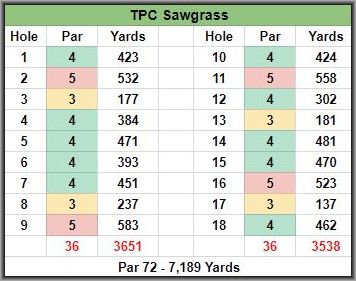 **Click HERE or the pic above to check out a hole by hole breakdown of the course from PGATour.com**
Hole Composition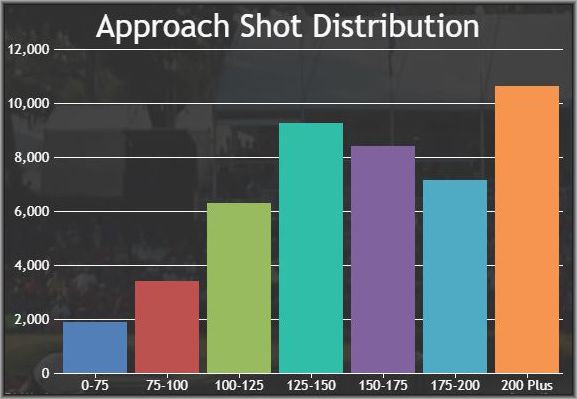 Approach Shot Distribution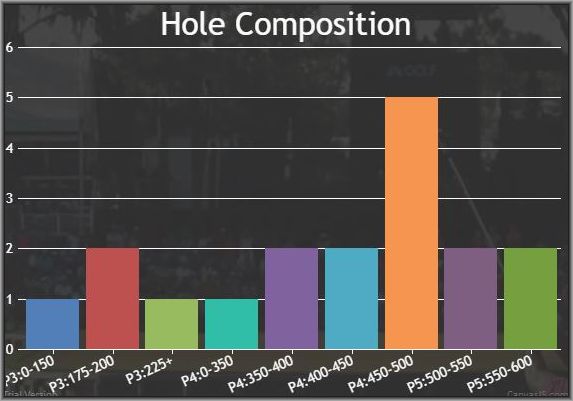 Average Strokes Gained per Round(Top 10 Finishers)

Past Five Year's Winners
Si Woo Kim(-10)
Jason Day(-15)
Rickie Fowler(-12)
Martin Kaymer(-13)
Tiger Woods(-13)
Top Stats in the Model
Strokes Gained: Approach(35%)
Strokes Gained: Off the Tee(20%)
Par 4 Scoring(20%)
Bogey Avoidance(15%)
Strokes Gained: Around the Green(10%)
One little note before jumping into the article. I use multiple sources for my research to help determine key stats starting with Fantasy National Golf Club and their elite set of tools from course history, hole composition, past performance and much, much more. I also combine it with some of the information on Future of Fantasy including correlated courses and most importantly the quotes from players section to help determine what it takes to win here(key stats). When breaking down ownership and trying to come up with popularity, I love the tools over at FanShareSports as they break down every piece of information on articles and social media mentions to provide us with Tag COunts, Sentiment Ratings, Subject Tags, Salary Differential week to week and much more.
Top Course History Targets
Francesco Molinari
World Golf Ranking (#30)
Vegas Odds (55/1)
Draftkings ($8,100)
FanDuel ($9,500)
After missing three straight cuts here at TPC Sawgrass from 2011 to 2013, Molinari has been terrific here with Top 10 finishes(T6, T7, T6) in three straight trips to the PLAYERS Championship. Looking at the last 24 rounds data(via Fantasy National Golf Club), he stands out in a big way ranking 10th in DraftKings scoring, 10th in Strokes Gained: Ball Striking, 17th in Strokes Gained: Around the Green, and 21st in Strokes Gained: Putting. The form has also been there this season and although he hasn't recorded a Top 10 yet, he has made the cut in eight of nine stroke-play events with four Top 25 finishes. At his price on both sites, he can be considered in all formats.

Hideki Matsuyama
World Golf Ranking (#9)
Vegas Odds (35/1)
Draftkings ($8,500)
FanDuel ($11,400)
Since starting out the season red-hot with Top 5 finishes in two of his first three events along with a T12 at the Farmers Insurance Open, Matsuyama has struggled with just one Top 20(Masters) in his last four stroke-play events. This includes an MDF in last week's Wells Fargo Championship after battling back from an opening round 77. This has brought his price down into the mid $8K range on DraftKings which is going to be very hard to pass up considering his course history here at TPC Sawgrass as he has finishes of T22, T7, T17, and T23 in four career trips. Looking at that same last 24 rounds data, he ranks 6th in DraftKings scoring, 2nd in Strokes Gained: Ball Striking, and 12th in Strokes Gained: Around the Green. I think he makes an excellent target in all formats and if people are modeling around form heavily this week, he may also come under-owned for GPP formats.
Top Current Form Targets
Patrick Reed
World Golf Ranking (#10)
Vegas Odds (30/1)
Draftkings ($8,700)
FanDuel ($11,400)

Jason Day could have easily fit here coming off a win at the Wells Fargo last week which was his second win in his last five stroke-play events but I decided to go a different direction and look for some value. Enter Patrick Reed he has been very consistent over the past couple months with four straight Top 10 finishes including his big win at the Masters. After starting out with back to back 71's last week, he came on strong over the weekend shooting 67 and 69 to finish eighth. He isn't at the top of my model(18th on my sheet) this week but is trending better recently when looking at my stats model on FNGC as he ranks 13th overall with ranks of 4th in SG: ATG, 3rd in Par 4 Scoring, and 13th in SG: P. He has been up and down here at TPC Sawgrass but the good news is that he has Top 25 finishes in two of his last three trips.
Emiliano Grillo
World Golf Ranking (#65)
Vegas Odds (75/1)
Draftkings ($7,500)
FanDuel ($9,200)
I will stay on the Grillo train once again this week after he impressed once again with his fourth Top 10 finish of the season. In fact, he has now made the cut in every stroke-play event he has entered(13/13). He also pops in my Last 24 rounds custom stats model(via FNGC) as he ranks #7 overall while ranking 13th in SG: APP, 16th in Par 4 Scoring, 16th in SG: OTT, and 29th in Bogey Avoidance. He missed the cut in his first trip to TPC Sawgrass in 2016 but rebounded in a big way finishing T11 last year. Considering his value price on both sites, he can be considered in all formats once again this week.

Who the Stats Like
Jordan Spieth
World Golf Ranking (#4)
Vegas Odds (16/1)
Draftkings ($11,100)
FanDuel ($12,300)

My top pick in the upper tier may come at a bit of a surprise seeing as he has missed the cut here at TPC Sawgrass in three straight years. The good news is that he has a Top 5 here(T4 in 2014) in his career and he also fits the stats model very well this week. On my sheet, he ranks 5th in Strokes Gained: Ball Striking(5th in APP, 25th in OTT), 9th in Strokes Gained: Around the Green, 3rd in Par 4 Scoring, and 2nd in Bogey Avoidance. Using the last 24 rounds data(via FNGC) using my same model, he ranks 2nd to JT ranking 6th in SG: APP, 14th in SG: OTT, 16th in SG: ATG, 9th in Par 4 Scoring, and 8th in Bogey Avoidance. Form? Check. He is coming off back to back third place finishes at the Masters and Houston Open and is primed for win #1 in the 2018 season. I don't think we need to go into the top tier for cash games but for GPP's, he makes perfect sense.
Patrick Cantlay
World Golf Ranking (#34)
Vegas Odds (66/1)
Draftkings ($7,500)
FanDuel ($9,800)
Cantlay isn't at the top of my stats model this week but not far off ranking 8th in Strokes Gained: Ball Striking(8th OTT, 31 APP) and Top 40 in Par 4 Scoring, Bogey Avoidance, and Birdie or Better %. He already has a win under his belt this season(Shriners) and has missed just one cut(The Masters) in 11 events with four total Top 10 finishes and comes back to TPC Sawgrass for the second time after finishing T22 last year. He is another player I will be playing in all formats this week considering his value price.
Tournament Update Thread
**Weather Update**
Chris Durell has been playing Daily Fantasy Sports for five years and fantasy in general for more than a decade. He is an active player in college football, NFL, MLB, NASCAR, NHL and of course PGA. He lives in Saskatchewan, Canada with his wife and two daughters. You can follow him on Twitter at @Jager_Bombs9 for advice, strategy, answers to any PGA questions and how he copes with the winters up north.
image sources
Singapore SMBC Open Golf: (AP Photo/Wong Maye-E)