Daily Fantasy NASCAR Race Preview & Picks for DraftKings - KC Masterpiece 400
DFSR is proud to bring you Chris Durell. He'll be bringing weekly NASCAR picks, analysis, a FREE cheatsheet and weekly video to help you cash on DraftKings.
Now's your chance to get DFSR PRO, which will give you access to our MLB optimizer and our new player lab! Get started for free by clicking the button below.
First time with MLB? Be sure to read our free MLB Ebooks on building lineups, general strategy and more. We've got you completely covered.
KC Masterpiece 400
Kansas Speedway - Kansas City, KS
Track - 1.5 Mile D-Shaped Oval Intermediate

It was the Ford camp once again dominating last week as Brad Keselowski led 108 laps early on followed by Kevin Harvick with 201 laps led on his way to his fourth win of the season. For Stewart-Haas, it was another impressive team effort as Clint Bowyer finished 2nd, Kurt Busch finished 5th, and Aric Almirola finished 11th. Three Toyota's(Daniel Suarez-3rd, Martin Truex Jr.-4th, Denny Hamlin-7th) finished inside the Top 10 and it could have been four if not for a broken driveshaft on the #18 car of Kyle Busch who showed he had a Top 3 car. The Top Chevrolet's in the race were Jimmie Johnson and Kyle Larson who finished 9th and 10th respectively.
This week the Monster Energy Cup Series heads to Kansas Speedway for the KC Masterpiece 400 on Saturday night. It is the first mile and a half track the series has visited in over a month and for most of the drivers, they probably wish the break was longer. Kevin Harvick won at Atlanta and Las Vegas and was runner-up to Kyle Busch at Texas and Martin Truex Jr. finished Top 5 in Atlanta and Las Vegas and if not for a crash at Texas, might have competed for a win or at least a third Top 5.
Looking at the fantasy numbers, we are once again going to be building our core around dominator drivers as there has been one driver to lead 100 or more laps in five straight races here and multiple drivers lead 50 or more laps in four straight and five of the last six races here. While that strategy is fairly similar to last week, one thing that changes is the potential for place differential as passing is a little bit easier here than it was in Dover where only two drivers picked up double-digit place differential. Looking at the two races last year here at Kansas, there were 12 and 11 drivers who picked up double-digit place differential with stage racing obviously playing a big role in that. With that said, let's dive into the race trends and then some pre-qualifying targets.
Last Six Winners at Kansas Speedway
2017 Fall - Martin Truex Jr.(started 1st, led 91 laps)
2017 Spring - Martin Truex Jr.(started 3rd, led 104 laps)
2016 Fall - Kevin Harvick(started 11th, led 74 laps)
2016 Spring - Kyle Busch(started 6th, led 69 laps)
2015 Fall - Joey Logano(started 14th, led 42 laps)
2015 Spring - Jimmie Johnson(started 19th, led 10 laps)
Top 5 Current Track History at Kansas Speedway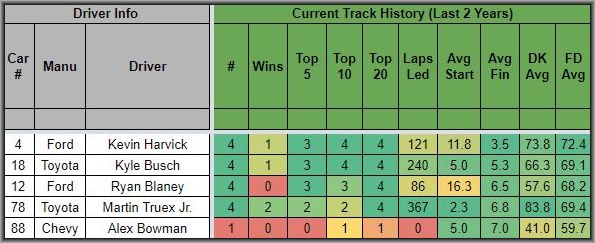 They have combined for seven wins in 11 races this season and this week Kevin Harvick and Kyle Busch top the current track history ranks(average finish) here at Kansas as they are the only two drivers to finish each of the last four races inside the Top 10. When looking at fantasy production on DraftKings, it is Martin Truex Jr. leading the way as he won both races here last year and over the last four races, has led a combined 367 laps. As you can see, the gap in fantasy production is a little bit closer when analyzing FanDuel scoring as there is less emphasis on dominator points. Ryan Blaney has been impressive here at Kansas as well with three Top 5 finishes in the last four races. Despite a small sample size, Alex Bowman also shows up on the list as he started 7th and finished 5th in the playoff race in 2016 as he was filling in for Dale Earnhardt Jr. who was out with an injury.
Top 5 Career Track History at Kansas Speedway
Once again, Jimmie Johnson leads all drivers in career wins(3) at a track and is the only active driver with an average finish under 10. Kevin Harvick is right there behind him right on the number(10.0 career average finish) and has been a fantasy darling over the last six races with a win, four Top 5's and five Top 10 finishes. I mentioned Ryan Blaney above and even though he has a small sample size, he has finished Top 5 in 50% of his races here. Brad Keselowski's one career win here came back in 2011 and since then, he has seven Top 10's in 13 starts but what hurts him from a fantasy perspective is that he has qualified so well here lately resulting in negative place differential. Despite not having a win here in 21 career races, it is Kasey Kahne's second best track when looking at average finish. He hasn't been spectacular but he has finished Top 15 in three straight and 11 of his last 14 trips to Kansas.
Top 5 Current Track Type History(Intermediate)

It was Martin Truex Jr. who dominated the mile and a half tracks last season with seven wins and an average of 95.5 DraftKings points per race. This season it is Kevin Harvick who is dominating with two wins and a runner-up with 482 laps led while averaging 123.2 DK/89.4 FD points per race. While not quite on the same level as Harvick, Kyle Busch is on the quite the tear as well on intermediate tracks as he won the last one at Texas and was second to Harvick at Vegas and was 7th at Atlanta. Matt Kenseth makes his return to the Cup Series this week and no better time than on a mile and a half track where he has been very consistent since the start of the 2016 season with 16 Top 10's in 24 races and a 10.9 average finish. Rounding out the Top 5 is Joey Logano who has five straight finishes of 7th or better dating back to Texas last year. Looking at the data, he and Kenseth are much better FanDuel plays as they don't lead a ton of laps but are consistently finishing inside the Top 10.
Top 5 Current Form (Last Six Races)

With his fourth win of the season, Kevin Harvick takes over the current form ranks with a 4.0 average finish over the last six races while averaging 83.3 DK/84.7 FD points per race. Joey Logano holds on to the #2 spot this week with a win and five Top 10's in his last six races for an average finish of 6.5 and like I mentioned above he has been a better play on FanDuel where dominator points aren't nearly as crucial. With a broken axle last week at Dover which ended up in a 35th place finish, Kyle Busch dropped down to the #3 position but has been a great play on both sites averaging over 70 fantasy points per race. Two more Stewart-Haas cars in Kurt Busch and Clint Bowyer make up the rest of the Top 5 as they both average 10.0 or better over the last six races. Bowyer has been the better fantasy play, especially on DraftKings, as he has led 300 laps.

Pre Qualifying/Practice Targets
Kyle Busch(DK-$11,200 FD-$12,200)
Don't get me wrong, I will likely have a ton of Harvick and Truex Jr. as well but I am currently leaning Kyle Busch for a couple reasons. While Harvick's price went up $700 on DraftKings this week, Kyle's went down $400 and Kyle is also the cheaper of the three on FanDuel this week. Looking at the last six races here at Kansas, Truex has won back to back races and has led 462 laps but it is Busch and Harvick who have been more consistent with a win, four Top 5's, and five Top 10's each. Things could change after practice and qualifying but for now it looks like I will have a little more exposure to Busch.
Ryan Blaney(DK-$8,800 FD-$11,500)
Speaking of consistency here at Kansas, Ryan Blaney stands out as he has four Top 10 finishes in his last five races with three Top 5's and he also led 83 laps in the Spring race last year. When it comes to value, DraftKings is the place you can likely consider him in all formats as he is under $9K while I would reserve him to GPP only on FanDuel as he is the fourth-highest priced driver this week. It will ultimately come down to qualifying for me to decide on exposure to YRB.
Matt Kenseth(DK-$7,100 FD-$9,600)
Kenseth will return to the track this week and like I mentioned above, he has been incredibly consistent on the mile and a half tracks. He would be even more consistent if not for a rules infraction during the Kansas race last fall during the playoffs where they got caught up in a wreck then had seven men over the wall resulting in a disqualification. He is priced about right on FanDuel but on DraftKings you will have to eat the chalk as he is in the low $7K range this week.
Below you will find a copy of my DFS NASCAR cheathsheet which includes Track History, Current Form, DraftKings points averages, Track Type History, Practice/Qualifying Ranks and much more.

If you have any questions scroll down to the comment section and join the conversation. Good Luck everyone!
Chris Durell has been playing Daily Fantasy Sports for four years and fantasy in general for more than a decade. He is an active player in NFL, MLB, NHL, PGA, and of course NASCAR. He lives in Saskatchewan, Canada with his wife and two daughters. You can follow him on Twitter at @jager_bombs9 for advice, strategy, answers to any NASCAR questions or how he copes with the winters up north.