Baseball Picks Daily Fantasy
Expert Advice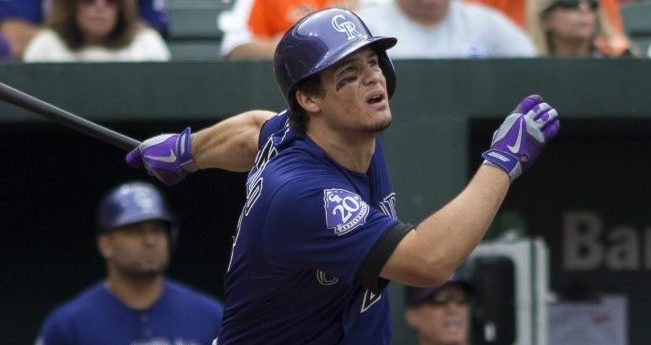 Daily Fantasy MLB Picks for FanDuel and DraftKings - 5/26/18
Welcome back for another edition of DFSR's Saturday picks. Memorial day weekend is upon us, and if you're like me, you stocked up on beer and burgers yesterday, leaving today wide open for a full day of daily fantasy MLB action. We've got plenty to break down as we look at today's split slate with nine early and six main slate games. Let's go through the positions and break down the top plays of the day as determined by our MLB projection system.
Now's your chance to get DFSR PRO, which will give you access to our MLB optimizer and our new player lab! Get started for free by clicking the button below.
First time with MLB? Be sure to read our free MLB Ebooks on building lineups, general strategy and more. We've got you completely covered.
Pitcher
Early

Aaron Nola FD 9300 DK 12200
Opponent - TOR (Jaime Garcia) Park - PHI
FD - 36.43 DK - 19.4
While DraftKings has six arms priced over $10K tonight, there's not a single pitcher with a five-digit price tag on FanDuel tonight. Aaron Nola leads the early slate at just over $9K, which is probably a bargain given the matchup and what the Philly right-hander is capable of doing on the hill today. After going just 5 and 5.2 innings in his first two starts this season, Nola has made it through at least six while going as deep as eight innings since, picking up as many as twelve K's while limiting the runs to three or less in every game prior to his last start against the Cardinals who took him for four in six. The Blue Jays are an average offense at best, with a .316 wOBA against RHP this season and a top ten 24.1 K% against the split. The Phitins' are the biggest favorites on the early slate today opening at -183 and you can consider Nola safe in all formats.
Tanner Roark FD 8500 DK 11400
Opponent - MIA (Wei-Yin Chen) Park - MIA
FD - 33.62 DK - 16.97
We've got another strong NL east arm in an elite matchup today for our second pick on the early slate. Tanner Roark and the Nationals are in Miami for a weekend set with the Marlins, who have been dead in the water through the early part of this season. Miami sports a paltry .279 wOBA against RHP this season, second lowest in the game, and like Toronto, they also strikeout at a top ten clip with a righty on the hill. Roark has struggled this season and sports a 4.00 xFIP and just two wins under his belt. He is still striking over 8.0 batters per nine keeping pace with his career high posted last season and sees a huge boost in park factor heading into Marlins Park. Roark can be a risky play, but I think we can roll the dice in this situation with Washington as -152 favorites against a terrible offense. I'm certainly going to direct most of my exposure to Nola, but if I need to save some salary, I'm fine with a pivot to Roark, and will likely split them evenly in tournaments.
Main

Alex Wood FD 8700 DK 10100
Opponent - SD (Jordan Lyles) Park - LAD
FD - 37.01 DK - 19.64
On the main slate, the top two arms are going head to head in what is basically a pick'em. So we'll skip past McCullers and Carrasco and look a little cheaper to Alex Wood against the Padres. Wood left his last start against the Nationals with cramps, but not before throwing six three-hit innings and surrendering two earned runs on his way to his first win of the season. It was nice to see Wood finally get that W after posting five quality starts and a top twenty xFIP. It's looking like Wood is all set to make his scheduled start tonight in an excellent matchup against the Padres. San Diego has a bottom five wOBA and top five K% against southpaws this season which means they're the perfect target and provide Wood with a solid matchup. In his only other start against the Padres, last month, Wood struck out seven batters in 5.1 IP, his second highest total of the season. Our MLB projection system has Wood leading the way in raw points projected today, and he's got the safety and upside needed to consider in all formats tonight.
Consider: Jose Quintana in the low $8K range on both sites, against the Giants who strikeout 24% of the time against southpaws.
First Base/Catcher
Early


Jose Abreu FD 3900 DK 4400
Opponent - DET (Francisco Liriano) Park - DET
FD - 11.12 DK - 8.49
With fairly reasonable pitching prices, we can consider some pricier bats, which is great news considering we have Coors in play this weekend, more on that later. First up we'll start our bats out with Jose Abreu in Detroit against Francisco Liriano. Liriano is just a shell of his former self, striking out just 6.32 batters per nine while sporting an xFIP more than a full run over his career number. Abreu has been a complete stud lately, in spite of a couple of 0for's mixed in, he's had five multi-hit efforts in his last eight games, and has the third highest wOBA among qualified first basemen (.377), and an elite .888 OPS. It's an excellent matchup for Abreu who we can consider in all formats with a high floor and a ceiling that can't be seen.
Victor Martinez FD 2200 DK 3200
Opponent - CHW (Hector Santiago) Park - DET
FD - 10.17 DK - 7.81
If you're looking to get out of the position cheap, then consider V-Mart. Victor Martinez is hitting just .243 this season but don't let that scare you off. The veteran now in his sixteenth season has found his way on base in eight of his last nine games heading into Friday night with a double, a home run, two walks, and two multi-hit efforts. This pick is more about the matchup anyway. Martinez will step into the box today against Hector Santiago, who has been terrible this season. Santiago comes to the hill today sporting a 5.73 xFIP, 1.88 HR/9, and is walking nearly five batters per nine. We don't have to ask for much from Martinez for the price, and against Santiago, he should have little trouble delivering with the potential for tons of upside.
Main

Cody Bellinger FD 3100 DK 4100
Opponent - SD (Jordan Lyles) Park - LAD
FD - 11.74 DK - 8.77
Cody Bellinger is hitting a bit of a sophomore slump. After a strong start to the season, his numbers in May have dropped with his wOBA going from .341 in April to .290 in May. He's still sporting a .319 on the season and has managed to reach base in eight of his last twelve. Most notable about the young left-hander is the .369 wOBA he sports against right-handed pitching in his year-plus in the majors. This will serve him well against Jordan Lyles who heads to the bump today with a 4.11 xfIP and a .360 wOBA against by left-handed hitters in his career. Bellinger is looking to get his season back on track and today is the perfect day to turn things around. He's cheap enough for cash with plenty of upside to consider in tournaments as well.
Catcher consideration: On the main slate, Wilson Contreras is in a great spot against Chris Stratton who has allowed 21 earned runs (including six home runs) in his last 22IP
Second Base
Early


Josh Harrison FD 3300 DK 3500
Opponent - STL (Jack Flaherty) Park - PIT
FD - 9.76 DK - 7.61
Jack Flaherty will make his tenth career start against the Pirates today in PNC Park. Early on he's showing some promise with a 3.86 xFIP and nearly 10 K's per nine. He's allowed one earned run in three of four starts this season. In that fourth start, Pittsburgh took him for three runs in 5.0 IP drawing four walks and four hits. If the Pirates are looking to duplicate that performance, they're going to look for a big outing from Josh Harrison. Since coming off the DL, Harrison is 11 for 24 with a walk, a double, a triple, two runs scored and four RBI. He's wasting no time getting back into the groove and brings a huge boost to the top of the Pirates order. Harrison will be in all of my cash lineups in the early slate.
Dustin Pedroia FD 3000 DK 6800
Opponent - ATL (Sean Newcomb) Park - BOS
FD - 11.18 DK - 8.62
This is more of a FanDuel only consideration, only because to access this game on DraftKings, you have to do the single-game showdown contest. The Red Sox are hosting the Braves in some interleague action this weekend, and Atlanta will try to counter the Boston lineup with Sean Newcomb. Pedroia was activated yesterday but did not make the starting lineup, and is expected to be slotted this afternoon for game two of the series. Though he is coming back after offseason surgery, we have an opportunity here to get a player who was commanding nearly $4K at his peak last season for just $3000. You might want to wait a bit and see how Pedroia looks in the box for his first few games before you go there in cash, but as a tournament pivot, especially considering his .371 wOBA and .850 OPS against the split he could pay off big time for the price.
Main

Jason Kipnis FD 2500 DK 3000
Opponent - HOU (Lance McCullers Jr.) Park - CLE
FD - 8.56 DK - 6.54
Lance McCullers isn't a pitcher we generally target. Nine times out of ten he's pictured at the top of this article as one of our pitching picks. Today he's going against the Indians, who counter with Carlos Carrasco, so the matchup isn't ideal, and though we aren't going to spotlight Indians at every position, we can consider Jason Kipnis, who still, remains too cheap. Especially on FanDuel. Ignore the .177 average, and even the .241 wOBA and look at the recent game logs. Kipnis has reached base safely in 14 straight games and in that time has seven hits, two doubles, five RBI, two runs, and nine walks. He's averaged 5.6 FDP in that time scoring as much as 12.7 in a game, all for near minimum pricing. Even in a less than appealing matchup against McCullers, Kipnis is an excellent value play who I will turn to as long as the sites continue to keep him priced in the lower tier.
Shortstop
Early


Tim Anderson FD 3000 DK 3500
Opponent - DET (Francisco Liriano) Park - DET
FD - 10.47 DK - 8.26
He should be hitting leadoff against the left Liriano on Saturday and for his respective pricing on both sites, this is an excellent spot for Anderson. Shortstop can be a tough pull on the best of days, and really anytime we can get a guy hitting at (or near) the top of the lineup the plate appearance expectation alone makes the guy worth a look. For his career, Anderson is significantly better against lefties, sporting a .819 OPS and 120 wRC+ in that split. Francisco Liriano is seeing his numbers go in all the wrong directions. He's striking out the fewest batters of his career and walking close to 4.5 per nine. This is an excellent spot for Anderson as long as he's in the one or two hole.
Main


Jose Peraza FD 3100 DK 4000
Opponent - COL (Tyler Anderson) Park - COL
FD - 10.89 DK - 8.67

Trevor Story FD 4200 DK 4600
Opponent - CIN (Tyler Mahle) Park - COL
FD - 13.1 DK - 9.87
We've made it all the way to shortstop without mentioning Coors, but don't let that fool you. We're going to get plenty of chances to get some Coors in our lineups. The mile high game tonight is projected for over 11 runs with Colorado sitting at 6.1. You can go either way at shortstop tonight in this game with Trevor Story of the Rockies, or if you need to go cheap look to Jose Peraza hitting leadoff for the Reds. Peraza is a slam dunk on FanDuel with $1100 in savings, on DraftKings, it's a little closer. Story is far and away the better player, with a .348 wOBA and 10 home runs. His .246 ISO is fourth among qualified shortstops. Peraza meanwhile has just a .268 wOBA but will face off against Tyler Flowers tonight and for his career Peraza has been better against lefties. While Story is easily the better play, if you don't quite have the funds, Peraza still allows us some Coors exposure with a little bit of savings.
Third Base
Early

Maikel Franco FD 3200 DK 3600
Opponent - TOR (Jaime Garcia) Park - PHI
FD - 10.81 DK - 8.22
We've got some interleague action going this weekend, including the Blue Jays playing a set against the Phillies. We've already looked at Aaron Nola on the hill for Philly, now let's look at one of their bats. Maikel Franco has come into his own this season. His .317 wOBA is the highest he's had since 2015 and is up 25 points from last season. He's also scaling back on the whiffs, striking out at a career-low 14.8% clip. He can go hitless for stretches at a time but seems to come through when it counts. Today the Jays will send Jaime Garcia to the hill. Garcia has been quite terrible to open the season, posting a career-high 5.16 xFIP, allowing nearly two home runs per nine, while issuing nearly twice as many free passes as his career mark. After losing a heartbreaker last night, Philly is going to look to even the series today by getting to Garcia early and often. With guys like Herrera and Altherr hitting ahead of him Franco will see plenty of RBI opportunities in a prime matchup. When looking for value on the early slate, I like Maik.

Rafael Devers FD 3700 DK 6600
Opponent - ATL (Sean Newcomb) Park - BOS
FD - 12.25 DK - 9.37
Like Dustin Pedroia, this is a FanDuel only play, but one to consider if you have a little extra to spend and want to pivot off of Franco. In what we've seen of Newcomb in the last two seasons, he's been slightly worse against the left side of the dish, allowing a .325 wOBA to lefties in his career. Likewise, Devers wOBA is nearly 60 points higher off left-handed pitching. The Red Sox third baseman is slashing .237/.294/.430 this season, with a .307 wOBA and his nine home runs are top five at the position. I'm leaning more to Franco for the value, but if I find myself with a little extra to spend up this is where I'm doing it.
Main


Nolan Arenado FD 4900 DK 5400
Opponent - CIN (Tyler Mahle) Park - COL
FD - 16.26 DK - 12.25
Back to Coors on the main slate with Nolan Arenado at the hot corner. Arenado is one of three third basemen with a wOBA of .400 or better. Arenado is demonstrating both power and patience at the plate this season with eight home runs, a .222 ISO and an elite 13.4% walk rate, which is nearly double his career mark of 7.4% and ranked fourth overall at the position. He'll matchup tonight against Tyler Mahle. After making four starts in his debut last season during which he allowed six earned runs in 20 innings, Mahle has been getting rocked this season, allowing 2.18 HR/9 with a 39.6% hard-hit rate. His xFIP is half a run lower than his ERA, but none of that matters if he can't keep the ball in the yard, and Coors is a bad place to have that kind of problem. Vegas likes the Rockies to put a beating on the young right-hander tonight, and Arenado is one of the surest bets out there even with the insanely high prices across the industry.
Outfield
Early


Shin-Soo Choo FD 3400 DK 4100
Opponent - KC (Ian Kennedy) Park - TEX
FD - 12.11 DK - 9.16


Delino DeShields FD 3100 DK 3500
Opponent - KC (Ian Kennedy) Park - TEX
FD - 12.1 DK - 9.36
It's crazy that we haven't locked in on the Rangers yet, they sit with the highest projected run total on the early set of games, and one of the highest totals of the whole day. That speaks to depth of value that we have out there today, but still there is plenty to like about the Rangers against Ian Kennedy and the Royals, so let's take a look at a pair of outfielders. Shin-Soo Choo comes into the day with a .256/.348/.395 slash line and a .328 wOBA. He's reached base safely 21 times in his last eight games with 13 walks and two home runs. He's got a career .382 wOBA against RHP. While Delino DeShields has better splits against lefties, Kennedy has fairly even splits against both left and right-handed hitters, and has struggled this year with a 4.19 xFIP and 41.7 hard hit rate. The one-two punch at the top of the Rangers lineup is an excellent place to look for some value today. Use them in all formats.

Ryan Braun FD 2800 DK 4100
Opponent - NYM (Jason Vargas) Park - MIL
FD - 13.38 DK - 10.17
I mentioned earlier that Jason Vargas is easily one of the worst arms on the slate, if not the worst, but didn't go into specifics. So, let's take a moment and dig into the numbers here. Vargas hits the hill today for the Mets with a 9.87 ERA through four starts. While the xFIP suggests better than that, it's not by much. The 5.14 xFIP is a career high for Vargas who is allowing 2.60 HR/9 and hasn't gone deeper than five innings in a game through four starts. Enter: Ryan Braun. Braun has seen his numbers drop off a bit in his twelfth season, but there's still reason to be optimistic. Before hitting a rough skid in May, Braun opened the season strong, ending April with a .331 wOBA and .777 OPS. All five of his home runs came in the first month as well. If Braun can find some of that today against Vargas, he should be able to turn things around quickly. Like Arcia, Braun is coming in way too cheap for the matchup and is an excellent punt play. Consider him everywhere.
Main


Charlie Blackmon FD 4800 DK 5600
Opponent - CIN (Tyler Mahle) Park - COL
FD - 16.93 DK - 12.99

Gerardo Parra FD 3200 DK 3800
Opponent - CIN (Tyler Mahle) Park - COL
FD - 11.8 DK - 9.17
Let's take one last trip to Coors. It's probably going to be impossible to pair Nolan Arenado and Charlie Blackmon unless you punt your pitcher, (which could be an excellent plan in tournaments) and I can't really say I prefer one over the other. Each is a strong play against Tyler Mahle who will most likely struggle to work his way through the Colorado lineup. There's probably much more depth in the outfield, which leads me to Arenado, but I will still make sure to get some exposure to Charlie B. as well. Blackmon has gone yard 12 times already in 45 games, and has a .377 wOBA and .876 OPS with a .246 ISO. If you have Arenado in your lineups and need to go a little cheaper in the outfield, you can still get your Coors fix with Gerardo Parra. Parra isn't going to give you the same production as Blackmon, but he still has solid splits with a career .327 wOBA against LHP.

Brett Gardner FD 3300 DK 4200
Opponent - LAA (Undecided) Park - NYY
FD - 12.09 DK - 9.25
We haven't looked at the Yankees yet. With all the value coming out of Coors, paying up for the Yanks doesn't feel necessary. We can, however, consider some of the cheaper options in the Bronx Bombers lineup against the Angels who are slated to give Jaime Barria the starting nod after recalling him from Triple A. Barria has made five starts already this season for Anaheim and has been impressive, allowing two runs or fewer in each. He'll face a big test tonight against the Yanks, however, coming into Yankee Stadium, which has the fifth best park factor for hitters this season. Gardner sets the table for the Yanks, and comes into the day with a .308 wOBA, and hits in eight of his last ten games. Given the price, Gardner sits with a solid floor and plenty of upside in a strong matchup tonight.
Thanks for reading, and as always good luck tonight. Be sure to check back a little later for our pitchers and stacks spotlight, and feel free to drop any questions or comments below. Cheers!
GRAB A FREE TRIAL OF OUR PROJECTION SYSTEM, AND CHECK OUT DFSR PRO!
image sources
Nolan Arenado: By Keith Allison (Flickr: Nolan Arenado) [CC BY-SA 2.0 (http://creativecommons.org/licenses/by-sa/2.0)], via Wikimedia Commons
FREE EBOOK
SECRETS TO CRUSHING DAILY FANTASY FOOTBALL!
DON'T SET ANOTHER LINEUP BEFORE YOU READ THIS BOOK.