Baseball Picks Daily Fantasy
Expert Advice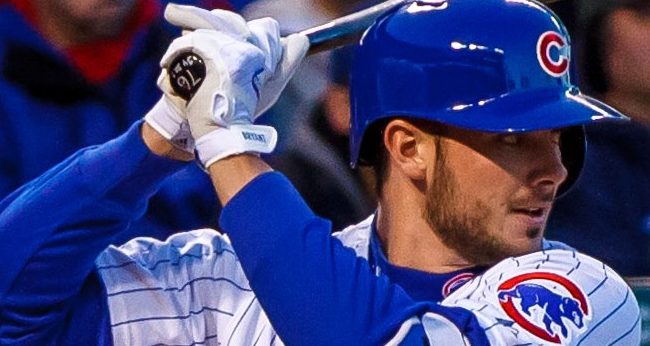 Daily Fantasy MLB Picks for FanDuel and DraftKings - 5/29/18
Now's your chance to get DFSR PRO, which will give you access to our MLB optimizer and our new player lab! Get started for free by clicking the button below.
First time with MLB? Be sure to read our free MLB Ebooks on building lineups, general strategy and more. We've got you completely covered.

Pitcher

Kenta Maeda FD 9300 DK 10800
Opponent - PHI (Jake Arrieta) Park - LAD
FD - 36.75 DK - 19.65
The options are fairly limited on Tuesday when looking at the pitchers and the fact our top projected option, Charlie Morton, faces a tough Yankee squad makes it even worse. While I don't mind using Morton with his big upside(10.95 K/9, 12.9% swinging strike rate) in GPP formats, I feel there are better options if playing cash games tonight. It starts with Kenta Maeda who, at one point, had pitch count question marks every time he stepped on the mound but lately it has not been an issue whatsoever. He was brilliant in his last start vs. the Rockies going 6.2, throwing 111 pitches while allowing no earned runs and striking out 12 batters(10 of the last 14 he faced). In fact, he has thrown 90 or more pitches in three straight and five of his last seven starts and now sits with a very impressive 3.38 ERA and 2.94 xFIP to go along with his elite 11.72 K/9 and 14.4% swinging strike rate. In a matchup vs. the Orioles who rank 27th in wOBA(.293), 25th in wRC+(82), and 25th in K rate(24.9%) vs. right-handed pitching, Maeda not only has a high floor but also some big upside as well.
Blake Snell FD 8700 DK 10600
Opponent - OAK (Daniel Gossett) Park - OAK
FD - 33.5 DK - 17.45
Snell has seen his price skyrocket tonight on DraftKings which has a lot to do with how good he has been this season but is also relative to the options, or lack thereof, on this slate. Outside of being blown up twice(Five earned runs to NYY and BAL), he has held opponents to two or fewer earned runs in each of his other nine starts including shutting down the dangerous Red Sox three times. He has provided some safety averaging almost six innings per start with a 2.78 ERA/3.57 xFIP and also given us upside as well striking out over a batter per inning with a supporting 12.6% swinging strike rate. He also gets a great matchup tonight vs. an A's team that has struggled offensively over the last week with a .224 wOBA and 38 wRC+ and ranks 24th in wOBA(.302) against left-hand pitching with a 23.8% K rate. All things considered, I think we can consider Snell in all formats tonight.
Jeremy Hellickson FD 6500 DK 8200
Opponent - BAL (Dylan Bundy) Park - BAL
FD - 26.12 DK - 12.3
People are still hating on Jeremy Hellickson and I totally understand why as he is coming off a poor 2017 season(understatement) where he barely struck out over five per nine and finished with a 5.43 ERA and 5.51 xFIP between the Orioles and Phillies. The good news is that he is now with the Nationals and has been very impressive to start the 2018 season increasing his K rate by over two per nine and comes in having allowed two or fewer earned runs in five straight and six of his seven starts which is good for an impressive 2.13 ERA that is back up by a 3.14 xFIP. While he isn't going to provide big upside, he does give us a nice floor, especially at his discounted price on both sites. With limited options overall, he makes a great SP2 option on DraftKings or punt GPP play on FanDuel allowing us to load up on bats.
First Base/Catcher

Anthony Rizzo FD 3800 DK 4500
Opponent - PIT (Nick Kingham) Park - PIT
FD - 12.23 DK - 9.12
The start of the 2018 season has been a bit of a struggle for the Anthony Rizzo, especially considering he is coming off three straight seasons where he has hit 30 home runs, driven in 100+, and scored 90+ runs. He is hitting just .218 at the moment but there does appear to be a light at the end of the tunnel as he is dealing with a career-low .215 BABIP that suggests he is getting a bit unlucky overall. He also comes into this game with at least one hit in 10 straight games and gets a plus matchup at somewhat of a discounted price(compared to other 1B on slate). He will face rookie Nick Kingham who has flashed upside in his first three starts with a 10.31 K/9 rate but has also been getting a bit lucky with a .227 BABIP and has also given up seven earned runs in his last two starts.
Jose Martinez FD 3800 DK 4200
Opponent - MIL (Zach Davies) Park - MIL
FD - 10.23 DK - 7.87
Martinez doesn't bring the same power upside as Rizzo but has been way more consistent as the Cardinals top hitter through a quarter of the season. He has also been one of the hottest players at the position lately slashing .370/.412/.500 over the last 14 days and gets a prime matchup to keep firing. Zach Davies will be on the mound for the Brewers and comes into this start with a 4.74 ERA, 4.64 xFIP and has given up a whopping 43% hard contact rate to opponents. He has only given up one home run in his last four starts but has also walked(9) as many as he has struck out(9) which should give Martinez a ton of opportunity to get on base and score runs. He is safe in all formats.
Catcher Consideration: Wilson Ramos(TB)
Second Base

Ozzie Albies FD 3900 DK 5100
Opponent - NYM (Steven Matz) Park - ATL
FD - 10.17 DK - 7.9
The Braves have absolutely crushed left-handed pitching this season ranking at the top or near the top in almost every category. A lot of that success can be attributed to the success of Ozzie Albies who has been tremendous in his first full season with the club and the switch-hitter has been much better vs. southpaws with a whopping .466 wOBA, 201 wRC+, and .355 ISO. Tonight he faces Steven Matz who has been up and down all season but sits with an xFIP(4.53) nearly a run higher than his ERA(3.80) and has also given up 36.7% hard contact and nine home runs through his first nine starts(20.9% HR/FB rate). Albies hits leadoff for the Braves in a plus matchup and can be considered in all formats, especially on FanDuel as his salary has dropped below $4K.

Brian Dozier FD 3600 DK 3900
Opponent - KC (Danny Duffy) Park - KC
FD - 12.48 DK - 9.42
Dozier is anything but safe with his .234 average and .303 on-base percentage but always comes in high in the PTS/$ projections when facing a left-handed pitcher. He hasn't been as good in this split early this season but is coming off back to back seasons posting a .437 and .397 wOBA and 176 and 150 wRC+.  He will face Danny Duffy who was terrific in his last start against Texas but has been a roller coaster ride all season with a 6.14 ERA, 5.15 xFIP and has already given up 14 home runs. He has also been much worse against right-handed bats giving up a .405 wOBA(.264 t0 RH) and 40.1% hard contact rate. Despite the lack of consistency, Dozier hits leadoff in a plus matchup and is under $4K on both sites bringing him into consideration in all formats.
Also Consider: Asdrubal Cabrera(NYM)
Shortstop

Trea Turner FD 4300 DK 4500
Opponent - BAL (Dylan Bundy) Park - BAL
FD - 12.55 DK - 9.79
Much like Duffy, Dylan Bundy is coming off his best start of the season where he went the distance and struck out 14 but it was against the White Sox and he has been inconsistent all season. After starting the year with five straight starts where he allowed two or fewer earned runs, he has given up four or more in four of his last six starts for a 7.55 ERA, 4.53 xFIP with just under 40% hard contact. He now faces a Nats team who has been much better against right-handed pitching this season ranking Top 10 in almost all offensive categories. I will plenty of Nats bats in my lineups tonight and it starts with Turner who leads off in front of Bryce Harper and comes in with hits in nine straight and 13 of his last 15 games with four doubles and three home runs. He is in play on both sites but his best value is on DraftKings as he is the fifth most expensive option at the position.
Daniel Robertson FD 2600 DK 3400
Opponent - OAK (Daniel Gossett) Park - OAK
FD - 7.21 DK - 5.53
If the shortstop position is an area you are looking to punt tonight, consider Daniel Robertson of the Rays. He is a utility infielder who plays all the positions except first base so getting in the lineup is never an issue and despite his mediocre .269 average he has been getting on base at an elite level with a .415 OBP while scoring 23 runs. He gets a plus matchup vs. Daniel Gossett who has given up 15 hits and 10 earned runs over his three starts(6.28 ERA, 5.07 xFIP) with a 40.8% hard contact rate. Robertson has hit all over the batting order this season and would get a nice boost in value if he was to make his way near the top once again. Stay tuned for lineups in the afternoon.
Also Consider: Eduardo Escobar(MIN)
Third Base

Kris Bryant FD 4500 DK 4800
Opponent - PIT (Nick Kingham) Park - PIT
FD - 12.43 DK - 9.3
Bryant has been much better against left-handed pitching this season but has still been consistent against righties(.354 wOBA, 132 wRC+) and makes an excellent pivot off Arenado who will likely be highly owned in a Coors Field game. He gives us a high floor with a .292 average and .411 on-base percentage and also provides a ton of upside with eight home runs, 27 RBI, and 30 runs scored on the season. It may not be Coors or against Shark but the Cubs still get a plus matchup tonight against Nick Kingham who has given up seven earned runs over his last two starts and a 39.1% hard contact rate on the season. Bryant makes a nice cash game play on his own or you can pair him with Rizzo for a high upside stack that will be much lower owned than Arenado/Blackmon and at a discount.

Matt Carpenter FD 3800 DK 3800
Opponent - MIL (Zach Davies) Park - MIL
FD - 11.83 DK - 8.83
If you are looking to save some salary, Matt Carpenter comes in under $4K on both sites is right near the top of the PTS/$ rankings tonight. He has an absolutely terrible start to the season hitting under .150 over the first month and a half but has heated up in a big way lately slashing .400/.449/.733 over the last 14 days. That is good news for the Cardinals who rank in the bottom half of the league in almost all offensive categories. Tonight, he gets a nice matchup to keep the train rolling against Zach Davies who, like I mentioned above, has walked as many batters as he has struck out over his last four starts and is giving up a 43% hard contact rate on the season. Back hitting at the top of the order, Carpenter is a top play at the position in all formats.
Also Consider: Evan Longoria(SF) who crushes lefties and gets a matchup in Coors Field
Outfield

Charlie Blackmon FD 5400 DK 5500
Opponent - SF (Jeff Samardzija) Park - COL
FD - 17.66 DK - 13.54


David Dahl FD 3600 DK 4100
Opponent - SF (Jeff Samardzija) Park - COL
FD - 14.88 DK - 11.45
The Rockies are once again at home in Coors Field with, by far, the highest implied run total on the slate so let's talk about a couple outfielders who hit one, two in the lineup. First of all, we have Charlie Blackmon is our highest projected outfielder on the slate from a raw point perspective and is not your typical leadoff hitter. He not only gets on base at a high level(.376 OBP) but also has a ton of power and already has 12 home runs in 2018 after recording 37 and 29 over the last two seasons. The average is down overall(.277) but he is starting to heat up with hits in six straight and nine of his last 10 games with four multi-hit efforts. David Dahl gets limited playing time due to his splits against southpaws(.141 wOBA, -36 wRC+) but hits second against righties as he has crushed in that split with a .388 wOBA and 132 wRC+. Both hitters are in play in all formats tonight against Jeff Samardzija who is nearly walking(5.97 BB/9) more than he is striking out(6.49 K/9) this season and sits with an ugly 6.23 ERA and 6.07 xFIP.
Andrew Benintendi FD 4200 DK 5100
Opponent - TOR (Marco Estrada) Park - BOS
FD - 12.99 DK - 9.89


J.D. Martinez FD 4500 DK 5200
Opponent - TOR (Marco Estrada) Park - BOS
FD - 14.95 DK - 11.22
We are definitely going to want a piece of the Red Sox offense tonight facing Marco Estrada who has been downright awful this season with a 5.40 ERA, 5.39 xFIP and has given up at least one home run in eight of his 10 starts(12 total). Benintendi picked up another three-hit game last night against the Jays, his second in his last three games and seventh in the month of May. He hits at the top of the order and has impressed with a .283/.373/.492 slash line this season with 37 RBI and 35 runs scored. The power in the lineup has mostly come from J.D. Martinez who sits tied for first in the league with 17 home runs and 44 RBI. He was much better against southpaws last season but not in 2018 as he sits with a crazy .448 wOBA, 185 wRC+, and .380 ISO against righties and Estrada has shown reverse splits and given up a 35.9% hard contact rate against righties(30.1% vs. LH). Both Red Sox outfielders make great options in cash games on their own and you can also stack them together in GPP formats if you go the value route at pitching.

Marcell Ozuna FD 3300 DK 3200
Opponent - MIL (Zach Davies) Park - MIL
FD - 11.61 DK - 8.81
I will continue to pick on Zach Davies and it comes down to a combination of him being bad(mentioned above with Carpenter and Martinez) and Ozuna being underpriced in comparison to his recent play. It was a dreadful start to his tenure with the Cardinals this season as was hitting just .234 with a .275 on-base percentage through May 19 but things are looking up as he is 11 for last 22. It is a small six-game sample size but still promising and if we are stacking some of the other big bats I mentioned, we are going to need some salary relief and he provides just that in the low $3K range on both sites. Also, if rostering two pitcher son DraftKings in the $10K range, the Cardinals make an excellent value stack tonight.
GRAB A FREE TRIAL OF OUR PROJECTION SYSTEM, AND CHECK OUT DFSR PRO!
FREE EBOOK
SECRETS TO CRUSHING DAILY FANTASY FOOTBALL!
DON'T SET ANOTHER LINEUP BEFORE YOU READ THIS BOOK.