Baseball Picks Daily Fantasy
Expert Advice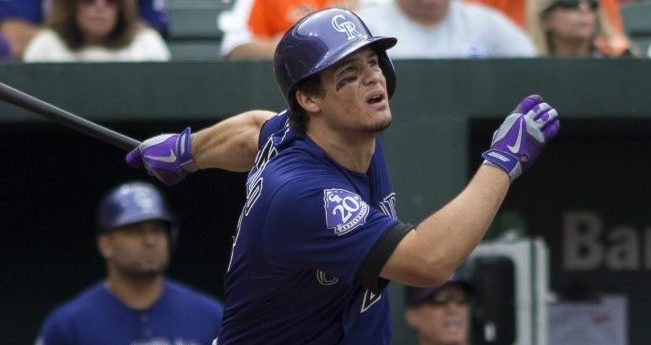 Daily Fantasy MLB Picks for FanDuel and DraftKings - 5/30/18
Wednesday baseball brings us a full day of MLB action with four afternoon/ early slate games and ten contests going off in the evening. We've got a little bit everything with some top tier arms on both slates, cheaper options taking the bump in good matchups, bad pitchers to target and a game in Coors. It's lining up to give us a lot of options on FanDuel and DraftKings.
Now's your chance to get DFSR PRO, which will give you access to our MLB optimizer and our new player lab! Get started for free by clicking the button below.
First time with MLB? Be sure to read our free MLB Ebooks on building lineups, general strategy and more. We've got you completely covered.
Pitcher
Early

Corey Kluber FD 11200 DK 12200
Opponent - CHW (Reynaldo Lopez) Park - CLE
FD - 44.79 DK - 24.93
He's very expensive, but it's probably worth it to pay all the way up for Kluber on the early slate of games. After striking out close to 12 batters per nine last season, Kluber has returned to right around a strikeout an inning, more in line with what he'd done in 2016 and 2015. What he's given up in K's he's making up for in just raw innings. He's averaging more than seven innings per start and has a 2.84 xFIP. He's also rarely walking batters with a minuscule 3.3% BB rate on the season. The White Sox have actually been one of the better teams against righty pitching this season, but do strike out 24% of the time in this split. Kluber is a -288 favorite (by far the biggest on the early slate) and the win expectation puts him over the top in terms of cash game pitchers.
Consider paying for Patrick Corbin as your SP2 on DK though that will mean allocating close to 50% of your cap on pitchers. The issue is the other options are real rough for the early afternoon games.
Main

James Paxton FD 9800 DK 11700
Opponent - TEX (Matt Moore) Park - SEA
FD - 43.02 DK - 23.64
There are a few big-name pitchers going on Wednesday, separated a little by the early and late slates. For the main evening offering Paxton rates out as an almost clear cash game play. The FanDuel price is something of a joke considering he's been one of the very best pitchers in the league this season. He's sitting at a 3.15 xFIP with a career-best 11.63 K/9 rate and 4.5:1 K:BB ratio. The Rangers strike out the third-most in the league against southpaws this season at a 26% clip though they do have a little pop considering the wOBA in that split is just about league average. Paxton opens as a huge -228 favorite at home and is greatly aided in the implied run category considering Safeco Field depresses power all around. This is a great spot for the lefty and I suspect he's winds up the chalk cash pitcher for the evening slate of games.

Ross Stripling FD 7500 DK 7300
Opponent - PHI (Zach Eflin) Park - LAD
FD - 34.46 DK - 17.89
In his last four starts, Stripling has racked up 31 strikeouts in 22 innings. And he's only walked two batters in that stretch. Simply put, these are elite numbers and he's looking awfully enticing as a starting pitcher two option against the Phillies. Philadelphia is a below average wOBA squad against righties this season at .310 (ranked 19th) and strike out the second most in the league in that split (26.4%). Stripling enters the game as a -175 favorite and Vegas has the Phils at only 3.21 implied runs, the third lowest of the day. I suspect he's a very popular DK SP2 option considering the recent performance and his salary allows for greater flexibility with the bats.
First Base/Catcher
Early

Edwin Encarnacion FD 3700 DK 4100
Opponent - CHW (Reynaldo Lopez) Park - CLE
FD - 14.07 DK - 10.42

Yonder Alonso FD 3200 DK 4000
Opponent - CHW (Reynaldo Lopez) Park - CLE
FD - 11.85 DK - 8.94
The Indians get a dream matchup against Reynaldo Lopez on the early slate and, for good reason, are projected to put up a lot of runs. Don't be fooled by Lopez's 2.93 ERA, the xFIP is two and a half runs higher at 5.37. He strikes out less than 6.5 batters per nine, walks close to four and just generally stinks. Encarnacion and Alonso should slot into the 4-5 spots in the Indians' lineup. Alonso has been fantastic against righties over the last couple of seasons with a .882 OPS, .373 wOBA and he shows a lot of patience with a 13% walk rate. He already has 11 home runs on the young season, following a power breakout in 2017 when he hit 28.
Meanwhile, Encarnacion has actually been better in a reverse platoon split between this season and last. He has a 131 wRC+ against righties in his last 600 plate appearances and is coming at a very nice price on FanDuel. I love stacking these guys together when possible (you can't on DK because they are both 1Bs) and they rate out of the best Indian value plays on the slate.
Main
Chris Iannetta FD 3200 DK 3600
Opponent - SF (Derek Holland) Park - COL
FD - 13.75 DK - 10.32


Ian Desmond FD 3700 DK 3900
Opponent - SF (Derek Holland) Park - COL
FD - 14.74 DK - 11.32
One of the reasons Stripling is such a great DK play on this evening slate of games is he allows more flexibility when it comes to stacking some of the Coors' bats, specifically the Rockies' righties. If Iannetta can find his way into the two-hole with the lefty on the mound then we are looking at a play on both sites considering this is the much better side of his platoon splits. Over the last 150 plate appearances, he's put up a .810 OPS and 108 wRC+ against lefties. We'll get to more about Derek Holland in a bit (as you are going to see a lot of Rockies in this writeup) but suffice to say the guy is struggling this season.
Meanwhile, Desmond is a tougher pull considering he's just not all that good of a hitter. He has a season OPS right around .600 (which is legit terrible) but it's worth noting that over his last two years he's about 10% better against lefty pitching. It will depend on how high he hits in the order on Wednesday, but he still strikes me as a fine mid-tier value play considering the park and matchup.
Strongly consider Cody Bellinger against Eflin
Second Base
Early


Ketel Marte FD 2300 DK 2800
Opponent - CIN (Sal Romano) Park - ARI
FD - 9.49 DK - 7.42
Marie slotted into the two-hole Tuesday night against the righty Castillo with the Diamondbacks reworking their lineup some on a Goldschmidt rest night. Let's hope Marte can stick this high in the order, though honestly, I think he's a play at these prices on the early slate even if he heads back into the sixth-seventh hole. The strongest case for Marte is his near-punt level pricing and the matchup against Romano. The latter has an xFIP north of five and strikes out only around six batters per nine. Second base is a good spot to get away from on the cheaper side of things and that's where Marte's salary fits so well. Again, this doesn't look as good if he's down near the bottom of the order but the matchup is choice.
Strongly consider Eduardo Nunez and/or Dustin Pedroia who are also coming on the cheaper side at 2B for the early slate.
Main


Jed Lowrie FD 3300 DK 4100
Opponent - TB (Nathan Eovaldi) Park - OAK
FD - 9.48 DK - 7.26
Second base is pretty gross on the main slate and there's a good chance we try to get out of the position without having to spend all that much. That's a little easier on FanDuel with a guy like Lowrie coming in the lower middle tier of pricing in a good matchup against Eovaldi. For a middle of the order, hitter Lowrie hasn't been a traditional power guy, though this season he's on pace for his most ever home runs. He has nine in his first 233 plate appearances. His career-best is 16 in a season. He should be able to eclipse that number. As a switch hitter, you'd much rather roster Lowrie against righties who he's hit to the tune of a .840 OPS and .360 wOBA over the last two seasons. He also takes a lot of walks in this split at 11%. Again, I like the FanDuel price more than DraftKings, but second base is a tougher pull on the main slate.
Consider Brian Dozier
Shortstop
Early


Xander Bogaerts FD 3900 DK 4200
Opponent - TOR (Sam Gaviglio) Park - BOS
FD - 13.03 DK - 10.02
With Mookie Betts out of the lineup until at least Thursday, the Red Sox have had to shuffle their lineup around some and it's landed Xander in the two spot against righties. That won't last when Betts comes back into play, but for now we can take advantage of the big boost in plate appearance expectation for the Red Sox shortstop. He's coming just a little cheaper than Lindor on the early slate and shortstop is again a spot where we likely need to pay up to get anything in the way of talent. Bogaerts is putting together an excellent season with a .836 OPS thanks in part to his seven home runs. He's on pace to smash the best power season of his career even with some likely regression in his home run to flyball rate.
Main

Trevor Story FD 4400 DK 4800
Opponent - SF (Derek Holland) Park - COL
FD - 16.44 DK - 12.38
Considering just how thin the shortstop position can be on a day-to-day basis, getting a guy like Story in this spot is just the right time to pay through the nose for his production. The dude has absolutely slaughtered lefty pitching over the last two seasons. In his last 225 plate appearances against southpaws he's rocking a 1.065 OPS (10th best in the league in that time frame against lefties) and an other-worldly .436 wOBA. He strikes out a ton for sure (32% of the time) but when he makes contact great things are happening. I suspect you see him as one of the higher-owned plays on the slate, though it should be mentioned that will him and Arenado (coming up in a second) you are in something of a salary crunch. I think it's worth it to punt elsewhere, bite the bullet and play both. But it will cost.
Strongly consider Jean Segura on FanDuel against Matt Moore
Third Base
Early


Rafael Devers FD 3600 DK 3800
Opponent - TOR (Sam Gaviglio) Park - BOS
FD - 11.96 DK - 9.15
The Red Sox have an implied run line of about 5.75, the highest on the early slate of games. It's an interesting line considering their opponent Sam Gaviglio, has been excellent in his first two starts of the season striking out 12 batters in 11.3 innings. But these Red Sox have a lot of firepower and Devers continues to flash power upside in his young career. With Mookie Betts out of the lineup, Devers moved into the fifth spot on Tuesday and this kind of increased plate appearance expectation does help to significantly boost his projection. He's a solid DraftKings value at sub 4K and has been better against righties in his young career.
Main


Nolan Arenado FD 5400 DK 5400
Opponent - SF (Derek Holland) Park - COL
FD - 18.33 DK - 13.82
When it comes to facing lefty pitching, almost no one does it as well as Arenado. Between 2017 and 2018 the Rockies' third basement has an absurd 1.295 OPS, 219 wRC+ and .528 wOBA against lefties. These are video game numbers and today he gets a lefty who struggles with command. It's a smash spot for Arenado who, while expensive, is exactly the guy to pay for in cash games and GPPs. He has tremendous upside considering the Rockies open at 6.5 implied runs (a run higher than the next closest team on the day). Holland is allowing a 46% flyable rate this season, a number that could be death in this ballpark especially if the Rockies stack the top of the order with Blackmon and then a bunch of righties.
Outfield
Early


David Peralta FD 2900 DK 3700
Opponent - CIN (Sal Romano) Park - ARI
FD - 11.39 DK - 8.78

Jarrod Dyson FD 2300 DK 3100
Opponent - CIN (Sal Romano) Park - ARI
FD - 10.65 DK - 8.35
Because we've got expensive options at some of the other positions, outfield does feel like a good place to save some salary on both slates. Like I mentioned with Marte, the Diamondbacks did some lineup reordering on Tuesday with Peralta coming out of the leadoff spot, replaced by Dyson. The former went down to fifth Goldschmidt out of the lineup and it will be interesting to see how the D-Backs work things on Wednesday. Assuming the lineup is similar on Wednesday, I'm still fine with an Arizona stack against Romano. Peralta is solid against righties with a .824 OPS over the last two seasons and is coming cheap on both sites.
Meanwhile, Dyson is the perfect kind of punt play if he's hitting leadoff. He doesn't have much (or any) power to speak of, but this season sports an 11% walk rate and already has nine stolen bases. Getting this kind of on-base percentage and speed upside at close to the minimum on FanDuel makes for a pretty easy choice.
I don't mind Melky Cabrera coming at near punt prices on both sites considering he's hitting around the middle of the Indians' lineup. He's a better FanDuel price at $2300.
Main


Nelson Cruz FD 3200 DK 4400
Opponent - TEX (Matt Moore) Park - SEA
FD - 13.43 DK - 10.07
Nelson Cruz against a lefty? Yes, please. Over his career, Cruz has been one of the true lefty killers. He's struggling this season, but a lot of that comes down to BABIP issues where his .230 number is around 80 points lower than his career averages. Some of that is injury related considering his running has been hampered. But I do think we are still buying low on some bad luck. For his career, Cruz is a .900+ OPS hitter against southpaws and Matt Moore has been brutal this season. The latter has a 5.69 xFIP with a walk rate around 10% and a K rate at 16%. These numbers are just flat out terrible and Cruz has a ton of upside here.
Matt Joyce FD 2600 DK 3100
Opponent - TB (Nathan Eovaldi) Park - OAK
FD - 10.29 DK - 7.69
Joyce is coming very cheap on both sites and represents another way to save if you find yourself paying up for some pitching on the main slate and/or stacking the hell out of Coors. He has an elite 13% walk rate against righty pitching over the last couple of seasons and the only thing keeping the on-base percentage down this year is some run bad on the BABIP. He's still on pace for around another 20 home run season and slots into either the one or spot in the lineup against Nathan Eovaldi who has a career strikeout rate at only 6.5 K's per nine. I don't love the ballpark for Joyce but the matchup and price are tough to beat considering we probably want to save in the outfield.
Consider Joc Pederson if he moves back to the top of the order against the righty
GRAB A FREE TRIAL OF OUR PROJECTION SYSTEM, AND CHECK OUT DFSR PRO!
image sources
Nolan Arenado: By Keith Allison (Flickr: Nolan Arenado) [CC BY-SA 2.0 (http://creativecommons.org/licenses/by-sa/2.0)], via Wikimedia Commons
FREE EBOOK
SECRETS TO CRUSHING DAILY FANTASY FOOTBALL!
DON'T SET ANOTHER LINEUP BEFORE YOU READ THIS BOOK.