Baseball Picks Daily Fantasy
Expert Advice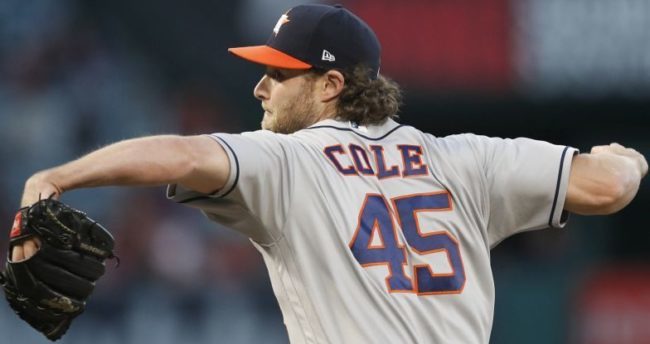 Daily Fantasy MLB Picks for FanDuel and DraftKings - 6/1/18
Now's your chance to get DFSR PRO, which will give you access to our MLB optimizer and our new player lab! Get started for free by clicking the button below.
First time with MLB? Be sure to read our free MLB Ebooks on building lineups, general strategy and more. We've got you completely covered.
Pitcher

Gerrit Cole FD 11700 DK 11600
Opponent - BOS (Chris Sale) Park - HOU
FD - 44.05 DK - 23.71
Welcome to MLB Saturday! We have a full clip of games on our hands with 15 contests on the main slate. There's a lot to pick through and a whole lot of options at some positions, while it remains a little barren at others. As for pitching, there are a few options to choose from. On the high-end, Gerrit Cole and Chris Sale will face off. They both have similar upside, but Cole is the favorite and at home, so we lean there. The Red Sox are obviously a lethal offense, but they have been known to go cold on occasion. Gerrit Cole has been one of the best pitchers in baseball and is a legitimate candidate for Cy Young. He's held respective .229 and .246 wOBA's against each side of the plate, all the bike striking out 13+ batters per 9 innings. Cole is having a breakout season like no other and should continue the work against Boston. They are undoubtedly an intimidating offense, but I'd bet a Gerrit Cole on his game is just a bit more lethal.

Carlos Carrasco FD 9500 DK 10700
Opponent - MIN (Jose Berrios) Park - MIN
FD - 36.11 DK - 19.61
If you're still looking to pay up, but don't like Cole or Sale, Carrasco is an elite pivot. He's a solid $2k cheaper than both options and does have similar upside when his fastball is being located. He's also as inconsistent as ever, so the price makes sense. He faces off with the Twins tonight, who are truly a bottom of the barrel offense against right-handers. They've sported a 22nd ranked .308 wOBA that's being backed up by a near-23% strikeout rate. They have some power in the lineup, but strikeout a ton and have trouble stringing together hits. Carrasco isn't as safe as Cole or Sale, but is a good bit cheaper and has similar upside in a tournament. Cole is still my favorite.

Nick Pivetta FD 7900 DK 10000
Opponent - SF (Chris Stratton) Park - SF
FD - 33.32 DK - 17.01
If you're not a fan of the high-end arms or you're just looking to get some premier bats in your lineup, Nick Pivetta is squarely in play. He's no dominant hard-throwing righty, but he is extremely effective at damage control and tends to last 6-7 innings in favorable match-ups. You can definitely consider the Giants one of those. They're league average with a .316 wOBA, but also 5th in strikeouts at 24.6%. They're moving out of Coors Field as well, so I wouldn't be surprised to see an offensive stinker or two. Pivetta has held a sub .300 wOBA against both sides of the plate and is striking out 10.40 batters per 9 innings. He's cheap enough on both sites against a lowly Giants squad without much power. Cole is still my favorite, but Pivetta takes my SP2 spot in cash games on DK.
First Base/Catcher

Anthony Rizzo FD 4000 DK 4800
Opponent - NYM (Zack Wheeler) Park - NYM
FD - 12.86 DK - 9.59
On most nights, first base is beyond stacked. Even more so with a full 15 games on the board. With that being said, tonight is no average 15-gamer. There are certainly some options that stand above the rest, but there is no shoo-in cash game play. If you're looking to pay up, Anthony Rizzo is top dog. Zack Wheeler was once a huge prospect, but those days are dead and gone. He's given a .341 wOBA to righties dating back to the start of 2017 and has backed it up with some ugly peripherals. As for Rizzo, we know how elite he is. Against righties, a .386 wOBA dating back. He has as much power as anyone at the position and is swinging the bat nicely. He's expensive and not a must, but very worth it if the funds are available and you're happy with your roster.
Jesus Aguilar FD 3500 DK 4300
Opponent - CHW (Hector Santiago) Park - CHW
FD - 10.53 DK - 7.95


Ryan Braun FD 3200 DK 4000
Opponent - CHW (Hector Santiago) Park - CHW
FD - 13.23 DK - 10.06
I'm always a big fan of the Brewers against lefties. They've disappointed often, but the lineup is lethal and the prices aren't all that scary around the industry. Tonight, they get to face off with Hector Santiago. Santiago is a terrific match-up if you're trying to chase home run upside. So far in 2018, he's given up 9 homers to righties in just 34 innings. Both Jesus Aguilar and Ryan Braun demonize lefties, sporting respective .371 and .386 wOBA's. U.S. Cellular Field is a plus park for power and I wouldn't be surprised to see either of these guys land one in he seats. Rizzo is still the raw points leader, but I do prefer Braun and Aguilar over him as they're much cheaper and let you pay up elsewhere. They also just as much HR potential in my opinion.
Second Base

Ian Kinsler FD 2700 DK 3300
Opponent - TEX (Bartolo Colon) Park - LAA
FD - 9.11 DK - 6.96
Hot streaks in baseball have been proven unpredictable, but Ian Kinsler is a guy you want to target when swinging the bat nicely. He's belted 8 hits in his last 3 games with 3 doubles and a dinger. He now faces his worst opponent to date, Bartolo Colon. Colon is riding his usual wave of luck at 45 years old, but we all know it's crashing down very soon. He gave up a .381 wOBA to both sides of the plate in 2017 and has held similar peripherals. This Angels lineup is projected to put up well over 5 runs and you have to think Kinsler gets involved from the leadoff spot. He's still considerably too cheap and deserves attention in all formats. He's far and away my top second baseman with price considered.
Daniel Descalso FD 2700 DK 3500
Opponent - MIA (Elieser Hernandez) Park - ARI
FD - 9.46 DK - 7.18
If Ian Kinsler doesn't make sense on your team or you think he will be too popular, Daniel Descalso is a great pivot. First things first, he's hitting cleanup behind Paul Goldschmidt. I don't know why this world exists, but it's happening. With Descalso in the cleanup role, you just have to consider him at a weak position that often lacks power. He's held a fantastic .382 wOBA vs righties and has belted 6 total home runs. The Diamondbacks are also one of the more popular offenses of the night, facing off with a lackluster righty in Elieser Hernandez. Hernandez hasn't been a gas can, but hasn't gone more than 5 innings in any game and has allowed plenty of runs. The Diamondbacks are a solid offense tonight as a whole and Descalso is a great pivot as a 1-off at a weaker 2nd base position.
Shortstop
Chris Taylor FD 4000 DK 4500
Opponent - COL (Tyler Anderson) Park - COL
FD - 13.21 DK - 10.18
We've ignored Coors Field up to this point, but you don't have to. Both teams have implied totals over 5.5 runs, so there's no saying who produces in each given lineup. We do know Chris Taylor will be in the leadoff hole and has been exceptional against lefties. He's posted a .344 wOBA since the start of '17 and his peripherals suggested that he'll only be better. He obviously gets a huge bump in Coors Field, where average power bats turn into Stanton. The Dodgers face off with Tyler Anderson tonight, who's allowed a .361 combined wOBA inside Coors Field. Chris Taylor is fairly priced across the industry and a solid play in all formats.

Didi Gregorius FD 3900 DK 4300
Opponent - BAL (Kevin Gausman) Park - BAL
FD - 12.77 DK - 9.83
Shortstop is a spot I'm looking to pay up at. Sure, you can wait for lineups to come out and pounce on some value. There's nothing wrong with that approach if you're comfortable elsewhere. I just think SS is a pretty important position and I'm not willing to let these guys just slip by. The Yankees are another team we haven't given any attention to, but they are implied for well over 5 runs against Kevin Gausman. He's allowed a .340 combined wOBA on the season and his peripherals suggest around .370. Didi Gregorious is a streaky lefty, but he's one of the more powerful middle infielders in baseball and has 2 HR upside in Camden Yards. The Yankees are a top stack of the slate and Didi shouldn't be over 15% owned in cash games. I still like Taylor more as I want exposure to that Coors Field game wherever I can get it.
Third Base

Justin Turner FD 4200 DK 4600
Opponent - COL (Tyler Anderson) Park - COL
FD - 13.85 DK - 10.51
We'll stay in Coors Field to start third base and focus on Justin Turner. In most cases, I try to avoid Coors Field. Nobody needs to be told it's a good spot. I just think Turner goes overlooked here and I think he's a very obvious play in all formats. For one, in Coors Field, Nolan Arenado is the only guy that should be more expensive. Elect to remember or not, Justin Turner was one of the absolute best hitters in baseball in 2017. Top 5 at worst next to names like Mike Trout and Bryce Harper. He posterized lefties to the tune of a .486 wOBA, which has already begun getting backed up to start this year. He now has a power boost in Coors Field and faces an average lefty at best in Tyler Anderson. Turner is one of my favorite plays on the entire slate and I'll be looking to get 100% exposure.
Luis Valbuena FD 2200 DK 3300
Opponent - TEX (Bartolo Colon) Park - LAA
FD - 9.61 DK - 7.17
There isn't much I like at third base. The top 5 or 6 priced options are all top MLB players and can capitalize against anyone that makes a mistake. If you have the funds, go with Turner or one of those guys. If you need to punt at a position, however, you may also be in luck. We have a $2100 Luis Valbuena on our hands that's facing off with 45-year-old Bartolo Colon. Valbuena isn't a good hitter by most standards, but he has an elusive power swing and it can set the park on fire. He hit 2 homers just a few games ago and showed exactly what I mean. I expect the Angels to thrive tonight and for Colon to have an early exit, so I'm find targeting a guy that'll likely be in the 6 or 7 hole. Turner is one of my favorites, but Valbuena deserves some attention if you need to pay down.
Outfield

Giancarlo Stanton FD 4500 DK 4900
Opponent - BAL (Kevin Gausman) Park - BAL
FD - 15.82 DK - 11.69


Aaron Judge FD 4900 DK 5600
Opponent - BAL (Kevin Gausman) Park - BAL
FD - 16.02 DK - 11.86


Brett Gardner FD 3100 DK 4400
Opponent - BAL (Kevin Gausman) Park - BAL
FD - 12.28 DK - 9.4
This is a pretty fun day for the outfield. With 15 games on the board, there are going to be a lot of guys that go 1 or 2% owned and are in good spots. I'll highlight a few below in the consider spot. As for the high-end, these Yankees have to be on the front of your mind. Kevin Gausman, a righty, has actually been worse against righties in each of the last two seasons. He posted a .355 wOBA against them last season and is now facing off with one of the leagues top teams. Judge is my favorite of he bunch, sporting a .400+ wOBA against righties in each of his first two years. Stanton is a close second and always a candidate to put two homers in the seats. After those two, Aaron Hicks and Brett Gardner are bout even. These guys are all fairly priced and I'll be fitting them in cash games where possible. Personally, Judge has found my cash games and I don't plan on removing him.

Lorenzo Cain FD 3800 DK 4400
Opponent - CHW (Hector Santiago) Park - CHW
FD - 12.81 DK - 9.93


Hernan Perez FD 2100 DK 3100
Opponent - CHW (Hector Santiago) Park - CHW
FD - 10.03 DK - 7.83
We briefly touched on the Brew Crew with Braun and Aguilar at 1B, but they deserve a bit more attention. Facing off with Hector Santiago, nobody will be surprised to see a home run or two or four. Lorenzo Cain has been exceptional in 2018 against lefties, sporting a crazy .481 wOBA that's more than backed up by peripherals. He's a top play on the slate and a guy I'll have in nearly every cash game. As for Hernan Perez, he's hit lefties to the tune of a .352 wOBA and has some power. He's cheap and will surely go overlooked. Both of these guys are firmly in play against Santiago, who's allowed 9 homers to righties in just 34 innings. The Brewers are a team I love tonight.
Matt Joyce FD 2700 DK 3200
Opponent - KC (Ian Kennedy) Park - KC
FD - 10.55 DK - 7.88
We haven't looked at this game at all, but it holds a 9.5 over/under and deserves some attention. Especially the Athletics, who face off with the hitter-friendly Ian Kennedy. I could've looked at Khris Davis or Piscotty as well, but Matt Joyce is who we're highlighting. He's cheap on both sites and will be leading off vs. Kennedy. The same Ian Kennedy that's given up a .354 wOBA to righties and a .347 to lefties. Joyce has sported a .359 wOBA against righties since the start of 2017 and is still the same hitter that he always has been. The A's are implied to score 4.62 runs and I don't hate them as an under-owned GPP stack that will go under 5% owned. Good luck tonight and feel free to comment below with any questions or comments!
GRAB A FREE TRIAL OF OUR PROJECTION SYSTEM, AND CHECK OUT DFSR PRO!
FREE EBOOK
SECRETS TO CRUSHING DAILY FANTASY FOOTBALL!
DON'T SET ANOTHER LINEUP BEFORE YOU READ THIS BOOK.