Baseball Picks Daily Fantasy
Expert Advice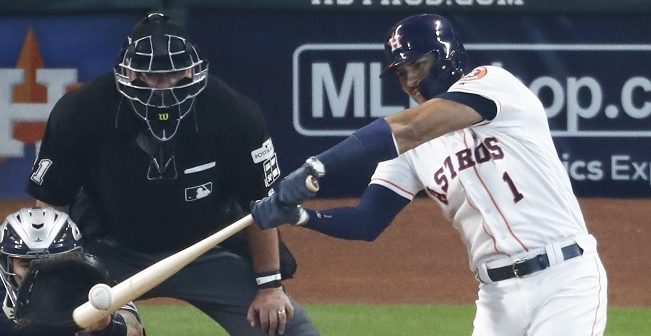 Daily Fantasy MLB Picks for FanDuel and DraftKings - 6/2/18
The first Saturday of June brings us split slate action with seven early and eight main slate games. We've got some solid arms on the hill, hitters in great matchups, and a game in Coors Field. So join me as we go through and break down the top plays as determined by our MLB projection system.
Now's your chance to get DFSR PRO, which will give you access to our MLB optimizer and our new player lab! Get started for free by clicking the button below.
First time with MLB? Be sure to read our free MLB Ebooks on building lineups, general strategy and more. We've got you completely covered.
Pitcher
Early

Masahiro Tanaka FD 8700 DK 9500
Opponent - BAL (Kevin Gausman) Park - BAL
FD - 32.63 DK - 17.29
Pitching on the early slate is suspect, to say the least. All of the offenses are expected to put up some solid scoring, with every team projecting for four runs or better. The Orioles sit on the lower end of the curve, at 4.1 and will send Kevin Gausman to the hill to face the Yankees. It's for this reason that Masahiro Tanaka is one of the better options, as the Yanks are projecting for the most runs, which helps to make Tanaka and the Yanks an early -172 favorite. Tanaka has had some rough outings throughout the past month, but he finally seemed to put things together the last time out against the Angels, going six strong, allowing one earned run and striking out eight. The Orioles have a terrible .290 wOBA against the split and strike out at a 25.1% clip. Given some of the other arms on the slate, and a price tag that allows for some stronger options in the sticks, I'm good with rolling out Tanaka in all formats.
Main


Jacob deGrom FD 10600 DK 11500
Opponent - CHC (Mike Montgomery) Park - NYM
FD - 39.29 DK - 21.49
Pitching on the main slate is a lot more appealing with several strong options to give consideration. First up we have Jacob deGrom and the Mets hosting the Cubs. The Cubs are once again proving to be one of the best offenses in the game, with the second best team wOBA in May, and the seventh lowest strikeout percentage against right-handed pitching this season. Today they will face a tall challenge however in the form of the third best xFIP in the majors this season. deGrom has allowed just two earned runs in his last 40.1 IP and has struck out eight or better in six of his last eight starts. Vegas likes the Cubs for just 3.7 runs tonight, and though the Mets aren't projecting much better, it's enough for them to open as -114 favorites. There's the tiniest bit of risk in this one if somehow Chicago finds a way to hit on deGrom, but it's minimal. Give me deGrom everywhere.

Zack Greinke FD 9100 DK 10700
Opponent - MIA (Caleb Smith) Park - ARI
FD - 36.72 DK - 19.42
If you want to save a little bit of salary, (and this is a Coors slate, so you may very well want to) consider Zack Greinke against the Marlins. Miami's .285 wOBA is the worst you'll find anywhere in baseball and they strike out at a slightly more than average rate of 23.2%. The Diamondbacks are -147 favorites, the second best line on the slate. While Greinke may not have the upside of deGrom, he's still been solid this year with a respectable 3.18 xfIP, and nearly ten strikeouts per nine. He's also showing impressive control this season with a 1.35 BB/9, fifth best in the majors. It's hard to look away from deGrom in tournaments, but as a cash game pivot to free up some position player salary, I like Greinke a lot.
Consider Garrett Richards as a strong SP2 option on DraftKings. He's only commanding $7100, and though he's coming off a rough outing against the Yankees, tonight he draws the Rangers who sport a .300 wOBA against RHP while striking out 25.9% of the time against the split.
First Base/Catcher
Early

Victor Martinez FD 2500 DK 2900
Opponent - TOR (J.A. Happ) Park - DET
FD - 8.68 DK - 6.67
Victor Martinez just gets better with age. Okay, he may not put up career numbers now in his sixteenth season, but as a value priced option in daily fantasy baseball, he continues to produce. VMart has reached base safely in twelve of his last 14 games and ended May with seven runs, nine RBI, and seven walks compared to only eight strikeouts. He's putting the bat on the ball and making things happen and is extremely cheap across the industry. Added bonus in the matchup today against J.A. Happ, as Martinez has got a career .364 wOBA against southpaws.
Jose Martinez FD 3200 DK 3700
Opponent - PIT (Chad Kuhl) Park - STL
FD - 10.68 DK - 8.21
From VMart to JMart, Jose Martinez has been heating up as the season progresses along. Through the first two months of the season, Martinez is sporting a .351 wOBA with five home runs and a .805 OPS. He's struggled a bit at the plate over the past week, but he sees a promising matchup today against the Pirates Chad Kuhl. Kuhl has allowed 32 baserunners and nine runs across the dish in his last four starts and is on pace for his third straight major league season with an xFIP over 4.00. Vegas likes the Cards for five runs today, and Martinez is a terrific value hitting in the top of the St. Louis order.
Also consider Justin Smoak (TOR) Vs. Matthew Boyd.
Main

Yasmani Grandal FD 3400 DK 4700
Opponent - COL (German Marquez) Park - COL
FD - 12.52 DK - 9.32

Cody Bellinger FD 3400 DK 4500
Opponent - COL (German Marquez) Park - COL
FD - 15.07 DK - 11.27
There's a game in Coors field tonight. Not only is there a game in Coors field, but the Rockies will be sending German Marquez to the hill in that game. This means brace yourself because there will be a lot of Dodgers love in the picks article today. We'll kick it off at 1B/catcher with one of each. Yasmani Grandal and Cody Bellinger are having reverse results this season. Grandal's wOBA sits 22 points above where he ended last season, and currently has eight home runs through his first 48 games, the most he's ever hit to this point in the season in his seven seasons in the bigs. Bellinger meanwhile is feeling a bit of a sophomore slump with his wOBA down nearly 70 points from his debut last year. He's still posting a respectable .313 with a 100 wRC+ and a .193 ISO. Both are in a great spot tonight against Marquez in a game that as Coors games tend to, leads the projections today with an over/under approaching 11 runs. The Dodgers are very reasonably priced, especially on FanDuel for this series, so you'll be seeing more of them as we continue on today.
Second Base
Early

Wilmer Difo FD 2700 DK 3300
Opponent - ATL (Brandon McCarthy) Park - ATL
FD - 7.9 DK - 6.2
Wilmer Difo is a bottom of the order guy, who will likely hit seventh today against Brandon McCarthy, but he gives us a cheap way to gain exposure into the Nationals lineup projected for just under five runs today. Difo has managed a base hit in six of his last seven heading into last night, including a double, a triple, and a home run, with three runs scored and five RBI. McCarthy has relatively even split and though he's posting a terrible 5.02 ERA, the 3.82 xFIP is the best it's been in the past three seasons and sits right on pace with his career numbers. All things considered, I love Difo for the value as an excellent play across the board.
Main


Jose Altuve FD 4400 DK 5200
Opponent - BOS (David Price) Park - HOU
FD - 12.18 DK - 9.42
If you've got the funds to spend up, you could do worse than to lock in Jose Altuve against David Price and the Red Sox. Price has settled in nicely after a rough stretch in late April/early May. He's limited the damage to two runs or less in each of his last four games. Those games have been against the Rays, Orioles and Blue Jays though, and now today he'll find himself tasked with the Astros. Houston sports the sixth best team wOBA in baseball, and Jose Altuve with his .369 wOBA is ranked fourth among qualified second basemen. His power numbers are down a bit this season as he's only hit four home runs with a .131 ISO, he's been solid at the plate lately though with 17 hits in the seven games leading into Friday night's contest. The price is bordering on outrageous, I know, but for the opportunity in a positive split, Altuve is in an excellent spot to produce big-time fantasy production once again today.
Consider Ian Kinsler (LAA) Vs. Cole Hamels.
Shortstop
Early


Didi Gregorius FD 3900 DK 4200
Opponent - BAL (Kevin Gausman) Park - BAL
FD - 12.19 DK - 9.38
Didi Gregorius had a fantastic April, followed by a terrible May. It seems things are back on the upswing for the Yankees shortstop now as he has hits in eight of his last twelve games with plenty of fantasy producton in that span. He'll look to keep the flame burning today against Kevin Gausman who has dropped nearly 50 points off of his xFIP compared to last season despite having an ERA over 4.00 for the second year in a row. Gausman is still an easy target with a 1.53 HR/9, 34.2% hard hit rate, and .319 BABIP. Didi is a little pricey which has me leaning more to a GPP option, but given the matchup I think we can consider him in cash as well.
Main
Chris Taylor FD 3700 DK 4600
Opponent - COL (German Marquez) Park - COL
FD - 12.85 DK - 9.9
There's no excuse not to play Chris Taylor at shortstop tonight on FanDuel. Priced under $4K he not only has the highest raw point projection of the night, but he also has the top overall points per dollar projection at the position. On DraftKings it's a little closer, and you could maybe consider pivoting elsewhere, but Taylor is still an excellent consideration on both sites in Coors Field against German Marquez. Marquez is posting a career-high 4.25 xFIP while walking nearly four batters per nine. He's got a 0.94 HR/9 which is not too shabby for a guy who makes most of his starts in Coors. In fact, he's only allowed three home runs in five home starts this season while allowing a 31.4% hard-hit rate. Taylor had a triple and home run in last night's game. It's hard to argue against him in cash as I expect him to have high ownership percentage.

Carlos Correa FD 4200 DK 4700
Opponent - BOS (David Price) Park - HOU
FD - 12.05 DK - 9.08
If you find yourself with too much Coors exposure, or just want to shake things up and have the funds to do so, you can consider Carlos Correa. Correa has some catching up to do if he wants to match his impressive 2017 performance. Though his .346 wOBA, .203 ISO, and .813 OPS are down from the monster numbers he posted last year, they're still numbers many major leaguers strive to produce, and pitchers prefer not to face. Today the unenviable task falls to the Red Sox David Price. Price sports an impressive sub .300 wOBA against from both sides of the plate in his career, but has been slightly worse against right-handed hitters, while Correa has thrived against the split for his career with a .373 wOBA. If you aren't able to fit Jose Altuve into your lineup, Correa is a slightly less expensive way to get your Houston exposure tonight.
Third Base
Early


Matt Carpenter FD 4100 DK 4100
Opponent - PIT (Chad Kuhl) Park - STL
FD - 12.34 DK - 9.21
We have already looked at this game earlier with Jose Martinez hitting second for the Cardinals, even more, appealing is the table setter Matt Carpenter. Carpenter has been money in the bank at the dish lately with hits in thirteen of his last fifteen games including eight multi-hit efforts and four home runs in that stretch. He's slashing .229/.341/.434 with a .335 wOBA, a .206 ISO and seven home runs. His .374 career wOBA off of RHP will serve him well against Kuhl, and it should be another big day at the plate for Carpenter. I'll have him everywhere in the early.
Consider: Anthony Rendon (WAS) Vs. Brandon McCarthy
Main


Eugenio Suarez FD 3700 DK 5000
Opponent - SD (Eric Lauer) Park - SD
FD - 12.16 DK - 9.19
Third base on the evening slate is a bit of a rough shout with very little value to be found. Suarez isn't cheap, and that could be problematic especially on DraftKings where he's reached peak pricing. But we might be stuck considering the rest of the options unless there's some batting lineup shakeups elsewhere. That being said, Suarez is expensive for a reason: he's been awesome. He's rocking a .973 OPS and is obliterating lefties with a .562 wOBA (small 36 PA sample size, but it does follow along his career numbers of bing significantly better against southpaws). It's a park downgrade for the Reds, but again this is still a good spot for Suarez.
Consider Matt Duffy on the cheaper side if he's hitting third against Gonzalez.
Outfield
Early


Brett Gardner FD 3300 DK 4500
Opponent - BAL (Kevin Gausman) Park - BAL
FD - 12.37 DK - 9.47
We discussed Kevin Gausman earlier. He's not a good pitcher by any stretch, and he is certainly looking at a long afternoon against the Yankees lineup. While you could consider Stanton, or Judge in the outfield, our MLB projection system feels the course of action is to lock Brett Gardner. Gardner not only has one of the highest raw point projections among outfielders today, but he's also ranked at the top of the list as point per dollar plays go making for a tremendous value in a prime matchup. Gardner comes in with a .336 wOBA against the split in his career and four multi-hit efforts in his last five games and three of his four home runs this season have come in the past week. If this kind of production keeps up it won't be long before we see the price rise to closer to the levels of his co-outfielders, so get in now while the price is right.

Juan Soto FD 3100 DK 3800
Opponent - ATL (Brandon McCarthy) Park - ATL
FD - 11.69 DK - 8.85
It's still very early on, but you have to like what we've seen from Juan Soto since making his major league Debut on May 20th. In his first eleven games, Soto has managed a base hit in seven, with four multi-hit efforts. He's slashing .333/.415/.500 with a .390 wOBA and 147 wRC+, keeping pace with his minor league numbers against big league pitching. Washington's been bouncing him around the top two-thirds of the lineup, primarily in the heart of the order, which is where I suspect we'll see him today. If so, he's an excellent play against McCarthy, if he works his way into the top of the order, he's a lock.

Ryan Braun FD 3200 DK 4000
Opponent - CHW (James Shields) Park - CHW
FD - 12.78 DK - 9.71
With so many strong offenses, and sub-par pitchers going on the early set today, we almost neglected the fact that it's James Shields day. The Brewers are doing the interleague thing this weekend for a set with the White Sox who will send Shields to the hill today with his 5.17 xfIP (seventh highest in baseball). Even though the numbers are terrible Shields has managed to put together some impressive outings this season, he's had four starts allowing just one run. Still, he is always a risk, and Vegas likes the Brewers to do some damage on him today. Braun, who homered last night driving in two runs, has got his wOBA to .307 with a .239/.306/.415 slash line and .176 ISO. Shields has managed to limit the long ball damage this season, with a 0.52 HR/9 but if anyone can take him out of the park today its Braun. Braun is as strong a cash gameplay as you'll find on the early set.
Main


Matt Kemp FD 3400 DK 4400
Opponent - COL (German Marquez) Park - COL
FD - 12.36 DK - 9.4


Joc Pederson FD 3000 DK 4300
Opponent - COL (German Marquez) Park - COL
FD - 13.47 DK - 10.02
We'll wrap things up back in Coors field with a pair of Dodgers outfielders. Matt Kemp is experiencing a bit of a resurgence back in Dodger blue after stints with the Padres and Braves. His .390 wOBA not only sits as sixth best among qualified outfielders, it's also the highest Kemp has posted since his 2011 Dodgers season. He's slashing .343/.370/.550 and has driven in 30 runs already. Joc Pederson meanwhile has hit just one home run so far this season which is somewhat concerning. He's still got a .312 wOBA and .718 OPS with much better splits against RHP in his career. He's been a bit erratic at the plate lately, so I'll likely limit him to tournaments. Kemp, however, is a play I'll use everywhere.
Consider Aaron Altherr for value hitting in the top of the order for less than $3K on both sites.
Thanks for stopping by and reading, and as always good luck out there tonight. Feel free to leave any questions or comments below, and be sure to check back later for our pitchers/stacks article. Cheers!
GRAB A FREE TRIAL OF OUR PROJECTION SYSTEM, AND CHECK OUT DFSR PRO!
FREE EBOOK
SECRETS TO CRUSHING DAILY FANTASY FOOTBALL!
DON'T SET ANOTHER LINEUP BEFORE YOU READ THIS BOOK.