Golf Daily Fantasy
Expert Advice

Daily Fantasy PGA Picks for DraftKings & FanDuel - 118th U.S. Open
DFSR is proud to bring you, Chris Durell. He'll be bringing weekly PGA picks, analysis, and breakdowns to help you cash on DraftKings and FanDuel. As every week in DFS PGA changes with the course setup, field of players and weather, Chris will be providing a range of different picks for cash games as well as upside plays for tournaments. If you have any questions to lineup lock you can reach him a variety of ways. Leave your question/comment below in the comments section, find him in the DFSR Chat room or hit him up on Twitter(@Jager_Bombs9). Chris is also providing his DFS PGA Weekly cheatsheet where he provides stats, course history, current form, fantasy points, and much more. Grab your copy today and edge out the competition.

118th U.S. Open
Welcome back golf fans. The second Major Championship of the season is upon us and the course rotation has brought the Tour back to Shinnecock Hills once again. You may remember the last time it was held here back in 2004 when a lack of water and lots of wind dried out the course to almost unplayable conditions. The worst was hole seven where chip shots hit near the hole still ended up rolling back off the green. You can bet things will be different this time as the oldest course in the country is set to host the 118th United States Open.
The course is a Par 70 and has seen some changes since the 2004 U.S. Open, most notably it has been lengthened over 400 yards(now over 7,400 yards) and in turn, has seen some of the fairways widened. The USGA, however, did tighten up some of the fairways in key landing areas which put some emphasis on ball placement to avoid not only bunkers(over 120 on the course in total) but some very thick rough which will result in some unplayable lies. With the added length, approach shots, for the most part, will come from the 175+ yard range which will make long iron play very important this week. The greens are large and undulated and with any U.S. Open will be very fast which also brings Proximity into effect in a big way as missing the key areas on these greens will likely lead to three-putts and big numbers on the scorecard. With the runoffs around these greens combined with the difficulty in hitting the greens(guessing field average of about 55-60% GIR) players who want to lurk on the leaderboard will also have to be ready to get creative around the greens and have a strong scrambling game.
For my cheatsheet this week, I won't be looking at course history but rather U.S. Open History for the last five years and it will be weighed very low in the model. I will be concentrating heavily on stats and form to help pick out the players to build the core of my lineups around. Below, I will go over a couple picks looking at U.S. Open history, current form, and stats and then I will be talking about even more players on the DFSR weekly PGA podcast and my YouTube video. Let's dig in.
The Course
Shinnecock Hills Golf Club - Southampton, NY
Par 70 - 7,445 Yards
**Click the image above to check out a hole by hole breakdown of the course over at PGATour.com**
Hole Composition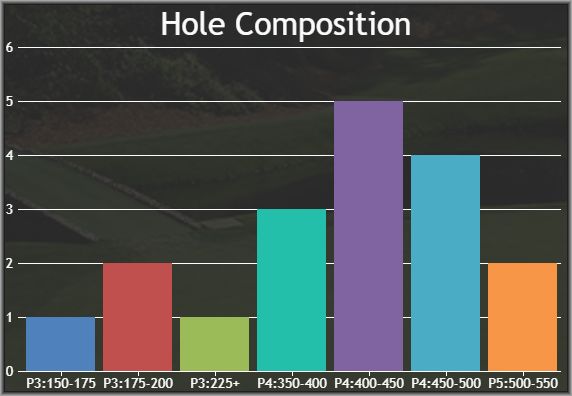 Top Stats in the Model
Strokes Gained: Approach w/ Emphasis on Proximity(35%)
Par 4 Scoring(20%)
Strokes Gained: Off the Tee(15%)
Bogey Avoidance(20%)
Birdie or Better%(10%)
One little note before jumping into the article. I use multiple sources for my research to help determine key stats starting with Fantasy National Golf Club and their elite set of tools from course history, hole composition, past performance and much, much more. I also combine it with some of the information on Future of Fantasy including correlated courses and most importantly the quotes from players section to help determine what it takes to win here(key stats). When breaking down ownership and trying to come up with popularity, I love the tools over at FanShareSports as they break down every piece of information on articles and social media mentions to provide us with Tag COunts, Sentiment Ratings, Subject Tags, Salary Differential week to week and much more.
Top U.S. Open History Targets
Brooks Koepka
World Golf Ranking (#9)
Vegas Odds (25/1)
Draftkings ($9,000)
FanDuel ($11,500)
There is a ton to like about Brooks this week starting with his tremendous U.S. Open history. He played his first Open in 2014 at Pinehurst #2 and finished T4 and then followed that up with a T18 at Chambers Bay, T13 at Oakmont, and then won his first U.S. Open and major championship last year at Erin Hills. Since returning from a wrist injury early in the season, Brooks has played four stroke-play events and has gained form in a big way with a T42 at the Wells Fargo, T11 at the PLAYERS, runner-up at the Fort Worth Invitational, and a T30 last week which could have been better if not for a final round 73. Considering he comes with a discounted price of $9k on DraftKings, he is an elite play in all formats.
Brendan Steele
World Golf Ranking (#48)
Vegas Odds (200/1)
Draftkings ($6,800)
FanDuel ($9,100)
It is a much smaller sample size but Brendan Steele has a good track record at the U.S. Open lately and on top of that is a great value on DraftKings to help stack some high-end talent this week. He missed the cut in the 2013 event at Merion and then failed to qualify the next two years but finished Top 15 in back to back years at Oakmont and Erin Hills. The form for Steele has been a little bit rusty coming into this week(T79, T30, Cut, T20, T49 last five stroke-play events) but he has the game to perform at this course. Looking at the stats, he ranks 7th in Strokes Gained: Off the Tee, 5th in Strokes Gained: Ball Striking and 11th in Driving Distance. He is a little pricey over FanDuel leaving him a GPP only play but on DraftKings under $7K, he is a great target in all formats.
Top Current Form Targets
Justin Thomas
World Golf Ranking (#2)
Vegas Odds (16/1)
Draftkings ($11,000)
FanDuel ($12,100)

Thomas is coming off a five-win season that was capped off by a $10,000,000 payday for winning the FedEx Cup and is on a very similar path this season. He has played 13 stroke-play events in 2018, winning twice(CJ Cup, Honda Classic) with five Top 10's and has finished Top 25 in all 13. On my sheet, I look at the last five events for each player and JT ranks 3rd in average finish and he is also 6th in DraftKings scoring as he is averaging 91.4 points per tournament. He also crushes it in the stats model as well ranking 3rd in Strokes Gained: Ball Striking, 7th in Driving Distance, 5th in Par 4 Scoring, 11th in Bogey Avoidance, and 5th in Birdie or Better %. He is coming off his best U.S. Open performance last year as he finished T9 and will once again be one of my core players in GPP lineups with his enormous upside.
Jimmy Walker
World Golf Ranking (#55)
Vegas Odds (100/1)
Draftkings ($7,300)
FanDuel ($9,800)
Considering his form lately, Jimmy Walker is an incredible value on DraftKings this week to help you get a couple of the big names into the core of your lineups. He ranks 3rd in average finish over his last five events thanks to three Top 10's at the PLAYERS, AT&T Byron Nelson and the Valero Texas Open and has a Top 25 in all five including the Masters. He has also been racking up DraftKings points as well as he ranks 4th in that category over his last five events as well. The key for him getting back inside the Top 10 at a U.S. Open(last one in 2014 at Pinehurst) will be getting the ball on the fairway(90th on my sheet in SG: OTT). If he can do that he can let his iron play(20th in SG: APP, Top 35 in Proximity from 175-200 and 200+ yards) and putting(22nd in SG: Putting) do the work. At his current DraftKings price adn top form, I will consider him a good play in all formats.

Who the Stats Like
Dustin Johnson
World Golf Ranking (#1)
Vegas Odds (8/1)
Draftkings ($11,700)
FanDuel ($12,400)

DJ could fit any one of these categories this week but I list him here as he is just dominant in so many areas when looking at the statistics. On my sheet, he ranks 1st in Strokes Gained: Off the Tee, 10th in Strokes Gained: Approach(14th in overall Proximity), 2nd in Par 4 Scoring, 2nd in Bogey Avoidance, and first in Birdie or Better %. I then plugged my key stats into a model over at Fantasy National Golf Club and DJ is Top 4 when looking at the rolling report for the last 4, 8, 12, 24, 50, and 100 rounds. Although he missed the cut at Erin Hills in 2017, he has crushed the U.S. Open lately winning it at Oakmont in 2016, finishing runner-up in 2015 at Chambers Bay, and grabbing a T4 in 2014 at Pinehurst. He is the only player on my sheet to rank Top 15 in all four categories(1st in stats, form, DK form) and will be my top play for the U.S. Open.
Emiliano Grillo
World Golf Ranking (#52)
Vegas Odds (100/1)
Draftkings ($7,100)
FanDuel ($8,800)
What would a DFSR PGA article be without a mention of Emiliano Grillo? He was added to the field with an exemption as he ranks #52 in the Offical World Golf Rankings and comes into this week not only hitting on the form ranks(T23, 3rd, T37, T9, T16 last five events) but also stands out on the stats model in a big way. He ranks 22nd in Strokes Gained: Off the Tee, 18th in Strokes Gained: Approach, 8th in Strokes Gained: Putting, 6th in Driving Accuracy, 26th in overall Proximity, 18th in Par 4 Scoring, and 10th in Bogey Avoidance. That puts him #7 in my stats model and #6 overall despite coming off a missed cut in last year's U.S. Open. Comparing his salary to the Vegas odds for the week, he is a great value on both sites and in play in all formats.
Tournament Update Thread
**Weather Update**
Chris Durell has been playing Daily Fantasy Sports for five years and fantasy in general for more than a decade. He is an active player in college football, NFL, MLB, NASCAR, NHL and of course PGA. He lives in Saskatchewan, Canada with his wife and two daughters. You can follow him on Twitter at @Jager_Bombs9 for advice, strategy, answers to any PGA questions and how he copes with the winters up north.
FREE EBOOK
SECRETS TO CRUSHING DAILY FANTASY FOOTBALL!
DON'T SET ANOTHER LINEUP BEFORE YOU READ THIS BOOK.