Baseball Picks Daily Fantasy
Expert Advice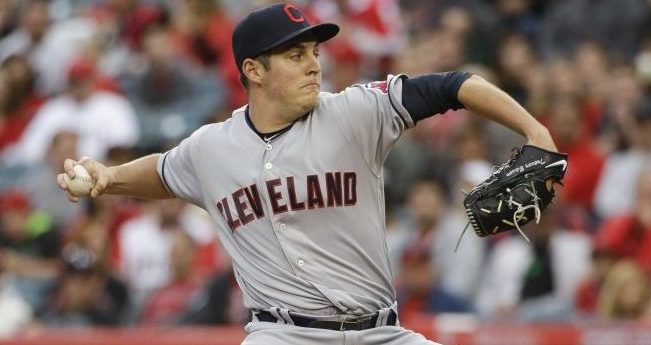 Daily Fantasy MLB Picks for FanDuel and DraftKings - 6/18/18
Fresh off the weekend, we have an MLB slate just ripe for the picking. I always get excited when we see top end arms and some offenses in great spots against gas cans. There's Trevor Bauer, Gerrit Cole and a game in Coors. What more could we ask for?
Now's your chance to get DFSR PRO, which will give you access to our MLB optimizer and our new player lab! Get started for free by clicking the button below.
First time with MLB? Be sure to read our free MLB Ebooks on building lineups, general strategy and more. We've got you completely covered.
Pitcher

Trevor Bauer FD 11200 DK 12400
Opponent - CHW (Dylan Covey) Park - CLE
FD - 48.1 DK - 26.12
It hasn't exactly come about overnight, but Bauer now needs to enter the conversation as one of the elite pitchers in the game. He's steadily improved just about every season and 2018 is shaping up to be the best of them all. He's putting down batters at an elite 31% K rate while also keeping the walks under three per nine. His 3.04 xFIP is one of the best in the big leagues and, if anything, his price is still in check because he has*only*  five wins on the season. That's really the only number holding back some of his top end performances. The White Sox strike out at the sixth-highest rate in the majors against righty pitching this season at 25% though they aren't exactly pushovers on the offensive end. There's some pop those bats. But Bauer enters as the top money line starting pitcher of the slate at -240 and, considering the price, will likely be the chalk for cash games.

Gerrit Cole FD 11000 DK 13000
Opponent - TB (Undecided) Park - HOU
FD - 44.13 DK - 24.04
At the time of this writing, there's no Vegas line on this game but I suspect Cole comes in somewhere around the -275 range (or higher) considering the matchup, team and current form for the righty. The strikeout numbers haven't completely sustained from the beginning of the season when he put up double digit K games in five of his first seven outings. But he's settled into somewhere around 10 K's per nine in the short term and I suspect that to be the regression point for Cole's season strikeout numbers. This Tampa Bay Rays team doesn't strike out a ton in their current construction but Cole likely comes out as an overwhelming win favorite and is able to dial up the swings and misses.
Andrew Suarez FD 6600 DK 6800
Opponent - MIA (Caleb Smith) Park - SF
FD - 30.54 DK - 15.17
We are likely looking for some cheaper SP2 options on DraftKings for Monday and Suarez might just fit the bill. He's been much better than the 4.92 ERA would suggest with the xFIP sitting at just 3.34. The difference can be mostly explained because of the 63% LOB%, leading to a lot of runs on the back end of innings. He's rocking excellent peripherals with a 4.5:1 K:BB ratio on the season and would likely average more than 5.3 innings per start if not for the LOB issues. He gets one of the best matchups around against the Marlins who come into the game as the second-worst team in the league against lefty pitching. Suarez isn't anything like a money line favorite because his team stinks and Caleb Smith is on the mound for the Fish. But I still think we are buying super low on the lefty.
First Base/Catcher

Wilmer Flores FD 3400 DK 3600
Opponent - COL (Tyler Anderson) Park - COL
FD - 12.65 DK - 9.69
For a platoon specialist, he's really struggled against lefties over the last couple of seasons. Some of this comes down to BABIP issues where he's sporting just a .204 against southpaws this season and .258 over the last two. But over his career, Flores has a .800+ OPS and 115 wRC+ OPS in this split. The .227 ISO against lefties over his career flashes so much power that we can't help but think he's still coming at something of a discount entering a game in Coors. The Mets are a complete and utter mess right now, so it's tough to *trust* anything on the offensive end for this squad. And yet, we get them in a fantastic park against a low-K arm in Tyler Anderson. The price is right on Flores as long as he's hitting in the middle of the lineup.

Eric Thames FD 3200 DK 4800
Opponent - PIT (Trevor Williams) Park - PIT
FD - 12.13 DK - 9.06
As long as he sticks as the leadoff man in Milwaukee then Thames remains an excellent value on FanDuel. He's shuttled back and forth from the DL this season, but when on the field he's been excellent. He continues to take walks with a 12% rate over the last couple of seasons the power has sustained since coming back from playing overseas in South Korea. He has 38 home runs in his last 600+ plate appearances with an ISO hovering in the high .290's. The one issue is the K's (27%) but that's mitigated when facing an arm like Trevor Williams who strikes out only about six batters per nine. This is an excellent spot even with the ballpark in Pittsburgh depressing power all around. Again, make sure he's in the leadoff spot for the game and then happily run him out in cash games on FanDuel.
Salvador Perez FD 3200 DK 3800
Opponent - TEX (Bartolo Colon) Park - KC
FD - 11.15 DK- 8.55
There are a few catchers who hit in the middle of their teams' respective lineups, but Perez is the only one facing Bartolo Colon today. Perez is about neutral hitting against righties in the reverse platoon split but the Royals have one of the higher implied run lines of the day and with good reason. Colon doesn't strike anyone out (5.79 per nine this season) and is living off an insanely low .246 BABIP. Sure, he generates a lot of ground balls (45%) but is also allowing a 45% hard contact rate on the season while also getting blown up on the home run when the ball actually does get up in the air (24% Hr/FB rate in 2018).
Second Base

Asdrubal Cabrera FD 3300 DK 4300
Opponent - COL (Tyler Anderson) Park - COL
FD - 11.55 DK - 8.85
Cabrera is another Met simply coming too cheap in Coors on Monday. The Mets have been completely brutal on offense which has led to lower salaries even with the requisite Coors' bump. Asdrubal has actually been excellent against lefty pitching over the last couple of seasons with a .864 OPS, .371 wOBA and 135 wRC+. Being the better side of his platoon and assuming he hits in the top three of the order, we are looking at excellent values for both FanDuel and DraftKings. Again, the Mets, as a team, are all coming cheap because of how terrible they've been on offense this season. It's been tough to watch. And yet we are still talking about major league hitters traveling to the best power ballpark on the planet. I'm fine with his prices on both sites and think he's coming at something of a bargain.
Rougned Odor FD 2300 DK 3200
Opponent - KC (Ian Kennedy) Park - KC
FD - 9.52 DK - 7.25
Our projection system has never seen a day it doesn't want to lay Rougned Odor in some kind of contest. It's become something of a running joke around here. And yet here I stand writing him up because, well hell, I think he's a strong play on the Monday slate. He moved up to the fifth spot in the lineup on Sunday which, on the plate appearance expectation increase alone, is worth a look in cash games. He's coming at or near the minimums on both sites because the power has all but disappeared this year. He has just one home run in first 168 plate appearances even though the batted ball profile is almost completely in line with last year when he hit 30. The home run/ flyball rate has dropped off a cliff (obviously) and it's safe to think we see at least moderate regression over the course of the rest of the season with his power. I'll buy low until the cows come home because I don't see his lack of home runs as anything close to sustainable.
Shortstop

Francisco Lindor FD 4900 DK 5100
Opponent - CHW (Dylan Covey) Park - CLE
FD - 13.72 DK - 10.51
Okay, for what it's worth, I don't love this play. The Indians have a higher implied run total on the day (5.3) but it's against Dylan Covey who's looked very competent and if I could be so bold, good. Covey struggled last season, but that hasn't carried over to this year as much with the young righty settling into a low 3's xFIP and a strikeout rate just south of a K per nine. The problem is that shortstop is once again incredibly thin and the reliable options are either A: in bad matchups or B: non-existent. Lindor (and Trea Turner) are obviously the only real offensive threats going at the position and the latter has to face Masahiro Tanaka. It's something of a stretch to pay for Lindor especially if we are allocating a lot of the cap towards pitching, but he has the highest raw point projection on the day at the position.

Jurickson Profar FD 3500 DK 3900
Opponent - KC (Ian Kennedy) Park - KC
FD - 9.47 DK - 7.27
He's down on our points per dollar scale, but I'm having a hard time making a good (or even moderate) case for anyone else, so we are left here. Profar has moved all over this Rangers' lineup, slotting anywhere between the second and fifth hole depending on matchup or available personnel. He's been serviceable, if slightly underwhelming, with a mid .700's OPS though there's some power (seven home runs) and speed (four stolen bases). The main boost for Profar is the Rangers' insistence on hitting him in the top third (or so) of the lineup and any shortstop granted this opportunity has to be in the talks for cash games.
Third Base

Travis Shaw FD 3600 DK 4100
Opponent - PIT (Trevor Williams) Park - PIT
FD - 11.45 DK - 8.6
Shaw has been one of the very best hitters in baseball over the last couple of seasons against right-handed pitching. In his last 660 plate appearances, he has a .908 OPS with a .380 wOBA with an elite 12% walk rate that helps his cash game floor. Even though the strikeouts are around 20% (not a terrible number for a power hitter) we are significantly reducing those chances against a guy like Trevor Williams who's putting down only 16% of batter this season. I'm loving the more patient approach Shaw has taken this season and he's almost a lock to hit cleanup in this matchup. The park doesn't do him any power favors, but the matchup is among the most advantageous on the Monday schedule.

Mike Moustakas FD 3900 DK 3900
Opponent - TEX (Bartolo Colon) Park - KC
FD - 12.22 DK - 9.28
Moose is way off his power pace from last season when he blasted 38 home runs in just under 600 plate appearances. This season he's looking at only 26 bombs if he keeps his current pace, and yet he still makes for a solid play on Monday against Colon. The latter has a 4.61 xFIP against lefty bats this season with a paltry 2.45 K/BB ratio in that split. Admittedly, he's been worse against righties be we only speaking relatively at this point. Moustakas should slot into the Royal's two spot in the lineup and is coming as an excellent DraftKings play against the *big* Texas righty. I'm not sure we get there on the FanDuel price which seems like less of a bargain, though it will be close just because of how good of a matchup he's seeing on Monday.
Outfield
Alex Gordon FD 2700 DK 2900
Opponent - TEX (Bartolo Colon) Park - KC
FD - 10.34 DK - 7.86
One the one hand, Alex Gordon isn't very good. On the other hand, we have a guy now slotted into the two hole for the Royals who've shuttled around a bunch of different guys through this slot over the course of the season. Gordon's plate discipline has wained over the last couple of years with the walk rate steadily falling. But what we are looking at here is primarily price and opportunity. This play is tied directly to whether or not he's batting second in the lineup. If he's that high then the DraftKings' price is one of the best values on the board. Again, he hasn't been very good and that's something of an issue. But the plate appearance expectation in a matchup against Bartolo Colon is almost too good a spot to pass up for even the worst hitters in baseball. Gordon, thankfully, isn't that bad (though its a testament to his struggles that I even had to broach the subject).

Shin-Soo Choo FD 3600 DK 4500
Opponent - KC (Ian Kennedy) Park - KC
FD - 11.53 DK - 8.72


Delino DeShields FD 2900 DK 3500
Opponent - KC (Ian Kennedy) Park - KC
FD - 10.97 DK - 8.48


Joey Gallo FD 2900 DK 3900
Opponent - KC (Ian Kennedy) Park - KC
FD - 11.39 DK - 8.36
There's a lot to like about the Rangers today and a lot of their value comes from the outfield. Against Ian Kennedy, they are implied for right around five runs seeing as how the Royals' righty rocks a mid-4's xFIP with a walk rate around 3.5 per nine innings. Sure, he can strike out batters, but it doesn't matter much because he struggles to stay in games for more than five innings. Shin-Soo Choo is just the kind of mid-tier leadoff value we're looking for on this slate with a 13% walk rate over the last two seasons against righties and a .825 wOBA. He's been even better this season and already has 12 home runs and a .387 OBP. These are climbing towards elite numbers and the price hasn't fully caught up with the production. I like the FanDuel price a little more than DraftKings, but if you are going cheaper at SP2 on the latter then he's fully in play.
Deshields has been moved around the lineup in the short term, sometimes hitting leadoff, then slotted down at the bottom of the order and now coming into the two hole independent of matchup. This kind of shuffling means the price stagnates and he's coming awfully cheap on both sites considering the matchup. I can't make any big platoon splits cases for Delino because he's been pretty damn bad against righties. But I'm mostly looking at the plate appearance expectation in a game where the Rangers are looking at putting up runs.
And finally, Gallo is a guy we've written a lot about this season. He's just such a tough fantasy play because he's the very definition of "all or nothing". It's one thing to be a three true outcomes guy where the walks help raise your fantasy floor on a nightly basis. Gallo is more "two outcomes" guy where you're looking at either a home run or a strikeout. That's not a perfect matchup against a guy like Kennedy who does dial up the strikeouts from time to time. He does walk around 14% of the time against righties (coming closer to three outcomes with that number) and has a mid .800's OPS. But you're living with the huge standard deviation if rostering him in cash games.
GRAB A FREE TRIAL OF OUR PROJECTION SYSTEM, AND CHECK OUT DFSR PRO!
FREE EBOOK
SECRETS TO CRUSHING DAILY FANTASY FOOTBALL!
DON'T SET ANOTHER LINEUP BEFORE YOU READ THIS BOOK.