Baseball Picks Daily Fantasy
Expert Advice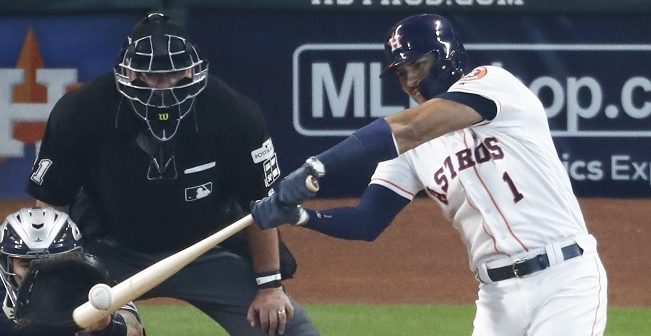 Daily Fantasy MLB Picks for FanDuel and DraftKings - 6/26/18
Tuesday baseball gives us a lot to think about. We have expensive arms taking the mound with a ton of strikeout upside. But there are also some bottom-feeding pitchers getting the nod against prolific offenses. It could cause quite the lineup pickle.
Now's your chance to get DFSR PRO, which will give you access to our MLB optimizer and our new player lab! Get started for free by clicking the button below.
First time with MLB? Be sure to read our free MLB Ebooks on building lineups, general strategy and more. We've got you completely covered.
Pitcher

Ross Stripling FD 9300 DK 10500
Opponent - CHC (Jon Lester) Park - LAD
FD - 41.71 DK - 22.39
It's somewhat out of nowhere considering he started the season in the bullpen and really hadn't completely overwhelming last season in the majors, but man Stripling just keeps putting up numbers. In his last nine starts (since permanently joining the starting rotation) he's pitched 53 innings and the peripherals are just total ace-level stuff. He has a comical 16.5:1 K:BB ratio and has a 1.87 ERA. Dude has really been among the very best pitchers in the league in that time frame and it really still feels like he's flying under the radar. It's tough rostering a pitcher against the Cubs who have an excellent top of the lineup and among the most patient teams in the league. But Stripling is simply underpriced for the kind of numbers he's putting up on the mound.
Luis Severino FD 10600 DK 13100
Opponent - PHI (Jake Arrieta) Park - PHI
FD - 41.59 DK - 22.86
Let me start by saying that I think he's way too expensive on DraftKings. Even with the move to the National League park and the matchup with the Phillies, this seems like paying a total premium on Severino. But he's firmly in the mix for cash game considerations on FanDuel where the price is still quite reasonable. He still puts up elite strikeout numbers, fanning more than 10.5 batters per nine innings over his last two seasons while keeping the walks completely in check. He's one of the better young arms in the game and comes in as a -210 favorite against the Phillies. The projected Philadelphia lineup strikes out about 7% more than league average against righties and again, Severino is greatly aided by getting to face the pitcher's spot (maybe) twice in the game.

Charlie Morton FD 10000 DK 12000
Opponent - TOR (Ryan Borucki) Park - HOU
FD - 42.86 DK - 22.99
Morton's control over the last three games has been so bad that we have to start wondering if it's a legit problem going forward. He has 14 walks in his 15 and 2/3 innings. Those are just horrific control issues and I'm tempted to say we should take a wait-and-see approach on the Astros' righty. The Blue Jays are a solid offense, ranking in the top ten on the season against righty pitching but also strike out about 24% of the time in that split. Morton comes in as the highest money line pitcher on the day at -255.
Freddy Peralta FD 7700 DK 7900
Opponent - KC (Charlie Morton) Park - HOU
FD - 35.13 DK - 18.04
One thing is for sure: Freddy Peralta can strike dudes out. He's put down batters in huge numbers at every stop along the way in the minors and has translated it to the majors in his first 15 innings. 25 K's over that span in three starts is awfully enticing at his price points. He's coming in as a big -210 home favorite against the Royals which is about a big a win expectation as you'll ever see for the Brewers. The concern for Peralta is the walks. Those have also been around at all of his stops and could reduce the number of innings he throws considering the pitch counts could get out of whack if he's wild. But I'm also a buyer on guys who have this kind of K expectation in the middle tier. It helps that he gets one of the weaker offenses in the league.
First Base/Catcher

Logan Morrison FD 2600 DK 3300
Opponent - CHW (Reynaldo Lopez) Park - CHW
FD - 11.21 DK - 8.4

Joe Mauer FD 2700 DK 3400
Opponent - CHW (Reynaldo Lopez) Park - CHW
FD - 10.58 DK - 8.11
The Twins against one of the league's worst pitchers in a power ballpark? Yes, please. Don't be fooled by Reynaldo Lopez's 3.59 ERA. The reality is much closer to the 5.52 xFIP. This is a guy living off some lower BABIP, higher LOB% and  HR/FB ratio that will almost assuredly jump considering he doesn't keep the ball on the ground all that much. Morrison looks to hit fifth in the Twins' order on Tuesday and brings in a solid .824 OPS over the last 650 plate appearances against righties. He walks almost 13% of the time and has power. I love the lower middle tier (close to punt) pricing on both sites and he makes for just the right kind of value play in this matchup.
Meanwhile, Mauer rings in as slightly better for cash games without having any of the power upside. He's more likely to chip in points because of the 14.5% walk rate (higher than his 13.4% K rate) but isn't a threat to go yard. He does get on base enough and hits higher in the order than Morrison which greatly helps the ever-important plate appearance expectation.
Eric Hosmer FD 2900 DK 3800
Opponent - TEX (Austin Bibens-Dirkx) Park - TEX
FD - 12.21 DK - 9.32
Two days in a row writing up guys on the Padres? Will I keep asking questions to start every hitter write up? The answers are: "You betcha," and "Let's hope not." Bibens-Dirkx, while owning the best last name in all of baseball, doesn't have much of any strikeout stuff. In close to 100 career innings, he's striking out only five batters per nine. Sure, he limits the walks but you can't live in the majors with these kinds of K numbers and a 45% hard contact rate against. Hosmer's been awesome over his last 700 plate appearances against righties with a .911 OPS And 145 wRC+. And while the power is down some (to be expected in Petco), he's still taking a lot of walks and should hit second in the order. This is a power park in Globe Life which should help the Padres put together some runs. I slightly prefer Morrison's matchup, but Hosmer is darn close here.
At catcher on DraftKings, I think you are looking at punting the position. None of the *actual* offensive threats at the position are in good spots so getting out of here cheap is probably the way to go. Take a look at Brian McCann, Rafael Lopez and John Hicks all coming at near minimum prices.
Second Base

Dee Gordon FD 2800 DK 3900
Opponent - BAL (Kevin Gausman) Park - BAL
FD - 10.64 DK - 8.55
I'm always just a little hesitant with a play like this because, on such a big slate, Kevin Gausman rates out as an above average arm. You typically don't need to target these guys because enough sub-par level talent will take the mound. But Gordon's price is pushing us there because he remains in the Mariners' leadoff slot and has stolen base upside if he gets on. He has 19 swipes on the season with the only real problem (and it's a real problem) being his inability to actually get himself to first in order to steal second. That's because he's walking only 1.7% of the time leading to an OBP just a hair above .300. This one is a close call also because it's a weaker position from the looks of things. As long as the price keeps dropping and his spot in the lineup remains the same, I'm a buyer. But he does make you sweat things out.

Jose Altuve FD 4700 DK 5400
Opponent - TOR (Ryan Borucki) Park - HOU
FD - 14.73 DK - 11.4
I'm putting Altuve below Gordon in terms of value only because the former is getting so damn expensive that things get a bit cost-prohibitive if you want to roster him in cash games. But there's no denying this is an ideal spot for the star second baseman. The Astros come into Tuesday with the second-highest implied run total of the day (5.42) against the lefty Borucki making his major league debut. Wish him luck against a hitter like Altuve who strikes out less than 13% of the time in that platoon split and sports a .372 wOBA. Altuve gets on base more than 40% of the time this season and has already swiped 11 bags. He's just a fantastic fantasy play in almost any matchup, but especially against a middling young arm fresh up from the minors.
Consider Yoan Moncada as a GPP play against Lance Lynn.

Shortstop

Carlos Correa FD 4100 DK 5100
Opponent - TOR (Ryan Borucki) Park - HOU
FD - 14.58 DK - 10.98
I actually don't mind spending up some at shortstop today considering a few of the better offensive options are in plus matchups. Blue Jays' lefty Ryan Borucki will make his first major league start and he's in the unenviable spot of opening against one of the best offenses in baseball. Correa's price is somewhat in check simply because he isn't putting up quite the numbers he did in 2017. But this is a guy who's crushed lefties over the last two seasons with a .975 OPS and .413 wOBA. That ranks near the top of all batters in this platoon and makes him that much more valuable because the position is so scarce. He's close to a lock for cash games for me on FanDuel because it doesn't look like we'll break the bank on pitching and I want to take middle of the order safety at a premium for shortstop.

Marcus Semien FD 3300 DK 4100
Opponent - DET (Blaine Hardy) Park - DET
FD - 12.02 DK - 9.17
Semien moved down in the lineup against the righty Zimmermann on Monday, but I fully expect him to be back up in either the one or two hole for the A's on Tuesday against the lefty Hardy. Semien has struggled against lefties over the last two seasons but is still much better in this split over the course of his career. He owns a .775 OPS and .191 ISO against southpaws. Hardy hasn't looked awful from an ERA standpoint to start the season, but it's a bit of smoke and mirrors. In 203 career innings, he's struck out only seven batters per nine while walking close to three in that span. His career 4.50 xFIP is decidedly below average though will almost always trail the ERA because he does actually induce groundballs. But he isn't lights out in that department and I do think we see regression in the form of more runs.
Strongly consider Xander Bogearts against John Lamb
Third Base

Travis Shaw FD 3600 DK 4400
Opponent - KC (Jake Junis) Park - MIL
FD - 12.38 DK - 9.3
After putting up the best numbers of his career in 2017, Shaw is on pace to do much of the same this season. He's already hit 14 home runs and carries a .819 OPS into this matchup against Junis. The former is much better against righties where, in the last two season, he's sporting a .900 OPS and .377 wOBA. He takes walks about 12% of the time and isn't about league average going down on strikes. Junis is a slightly above average arm with a low 8 K's per nine average and somewhat limited walks. But he's not a guy we need to avoid by any means. The Brewers come in with the third-highest implied run total of the day (5.1) and playing at home helps some of their power expectation seeing as how Miller Park plays to above average home runs all around.
Cory Spangenberg FD 2500 DK 3600
Opponent - TEX (Austin Bibens-Dirkx) Park - TEX
FD - 10.63 DK - 8.28
More Padres in the mix. I feel like hell is freezing over just a little quicker than I would like it to. To be bullish on Spangenberg means projecting him near the top of the San Diego order. He hit cleanup last time that faced a righty (6/24). Spangenberg is more of an upside play considering he's rather feast or famine in his approach. He has six home runs in his first 160 plate appearances this season, but also strikes out close to 30% of the time. I see him as more of a GPP play because of the fantasy profile but makes for just the right kind of tournament punt. The power expectation ticks up because of the shift in ballpark to Texas and the K expectation goes way down because Bibens-Dirkx has one of the lowest strikeout rates in the league.
Strongly consider Eduardo Escobar on both sites. He's especially attractive on DraftKings because of the dual position eligibility.
Outfield

George Springer FD 4100 DK 4900
Opponent - TOR (Ryan Borucki) Park - HOU
FD - 15.63 DK - 11.75


J.D. Martinez FD 4800 DK 5700
Opponent - LAA (John Lamb) Park - BOS
FD - 17.08 DK - 12.81
I'm putting these guys together because I think the considerations for both are the same and feel you'll likely be deciding between one or the other in the OF for cash games on Tuesday. Even though there are some affordable pitchers these guys could be tough fades on this slate. Springer rings in as the better dollar-for-dollar value seeing as how he's about 17% cheaper on both sites. He's elite at hitting lefty pitching with a .984 OPS and 169 wRC+ in that split over the last two seasons. Hitting leadoff helps as well considering the plate appearance expectation.
But if Springer is elite at hitting southpaws, then J.D. Martinez is some word degrees above that superlative. Over his last 181 plate appearances against lefties, J.D. owns a 1.132 OPS and crazy .459 wOBA. Only Nolan Arenado, Giancarlo Stanton and Justin Turner (I know right?) have been better against lefties in that time period. He's so expensive as to be lower owned on Tuesday, but this is the exact time to spend on a bat like Martinez.

Chad Pinder FD 2300 DK 3300
Opponent - DET (Blaine Hardy) Park - DET
FD - 10.15 DK - 7.8
Pinder should hit second in the lineup against the lefty Hardy and looks very much like just the right kind of punt on this slate. He's coming near the minimum on FanDuel and is very affordable on DraftKings. The A's move him up against southpaws because this is the much better of his two splits. This season he has a 126 wRC+ and .815 OPS against lefties with a walk rate near 10%. I love when we can buy cheap on a platoon guy like this because his numbers against righties are below replacement level and drive the prices down across the board.

Christian Yelich FD 3800 DK 4800
Opponent - KC (Jake Junis) Park - MIL
FD - 12.31 DK - 9.38
Like we said with Travis Shaw, there's a good reason the Brew Crew come into Tuesday with a healthy amount of implied runs projected. They get to face a middling arm in a good ballpark. Yelich is much the same hitter in Milwaukee as he was in Miami. He'll show some pop (10 home runs this season), some speed (9 stolen bases) and gets on base at a respectable .365 clip. He's a little expensive for sure, but our system is liking the idea of some Brewers' stacks in GPPs.
GRAB A FREE TRIAL OF OUR PROJECTION SYSTEM, AND CHECK OUT DFSR PRO!
FREE EBOOK
SECRETS TO CRUSHING DAILY FANTASY FOOTBALL!
DON'T SET ANOTHER LINEUP BEFORE YOU READ THIS BOOK.