Daily Fantasy PGA Picks for DraftKings & FanDuel - A Military Tribute at the Greenbrier
DFSR is proud to bring you, Chris Durell. He'll be bringing weekly PGA picks, analysis, and breakdowns to help you cash on DraftKings and FanDuel. As every week in DFS PGA changes with the course setup, field of players and weather, Chris will be providing a range of different picks for cash games as well as upside plays for tournaments. If you have any questions to lineup lock you can reach him a variety of ways. Leave your question/comment below in the comments section, find him in the DFSR Chat room or hit him up on Twitter(@Jager_Bombs9). Chris is also providing his DFS PGA Weekly cheatsheet where he provides stats, course history, current form, fantasy points, and much more. Grab your copy today and edge out the competition.

A Military Tribute at the Greenbrier
Welcome back golf fans. This week the PGA Tour travels to West Virginia for the newly named A Military Tribute at the Greenbrier. It's another weak field event as none of the Top 10 and only eight of the World's Top 50 golfers are teeing up this week at the Old White TPC.
The course as you may or may not remember was under water two years ago as a result of flooding which ended up canceling the event. The crew worked very hard after the water washed away and they were able to rebuild all the greens and get the course running for last years event where Xander Schauffele hoisted the hardware with a winning score of -14. The Par 70 setup plays just under 7,300 yards but with elevation close to 2,000 feet, it plays much shorter and can turn into a birdie fest as six of the Par 4's fall between 400 and 450 yards. The two Par 5's also play as the easiest holes on the course so gaining birdie or better on those is crucial to climb up the leaderboard.
From a fantasy perspective, I am going pretty simple with my main model this week looking at Strokes Gained: Approach, Par 4 & 5 Scoring, and Birdie or Better %. Let's jump in and take a look at some of the top players when looking at course history, current form, and the stats model.
The Course
The Old White TPC
Par 70 - 7,286
Greens - Bentgrass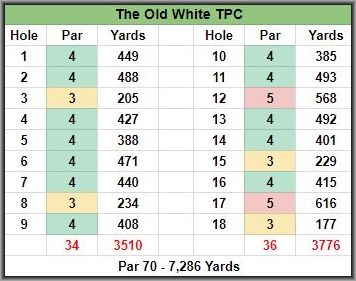 **Click the image above to see a hole by hole breakdown from PGATour.com**
Hole Composition
Approach Shot Distribution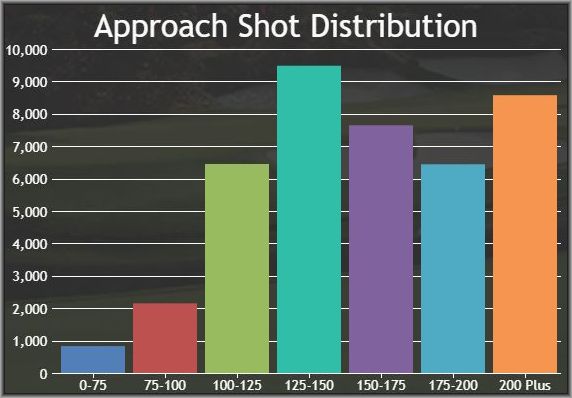 Top Stats in the Model
Strokes Gained: Approach(30%)
Par 4 Scoring(30%)
Birdie or Better(25%)
Par 5 Scoring(15%)
One little note before jumping into the article. I use multiple sources for my research to help determine key stats starting with Fantasy National Golf Club and their elite set of tools from course history, hole composition, past performance and much, much more. I also combine it with some of the information on Future of Fantasy including correlated courses and most importantly the quotes from players section to help determine what it takes to win here(key stats). When breaking down ownership and trying to come up with popularity, I love the tools over at FanShareSports as they break down every piece of information on articles and social media mentions to provide us with Tag Counts, Sentiment Ratings, Subject Tags, Salary Differential week to week and much more.
Top Course History Targets
Russell Henley
World Golf Ranking (#46)
Vegas Odds (20/1)
Draftkings ($10,400)
FanDuel ($10,500)
Henley has played here three times starting with a T30 back in 2013 and after missing the 2014 event here, he came back in 2015 and posted a T5 and then again another T5 last year. Looking at the last 24 rounds data on Fantasy National, Henley ranks 4th in Strokes Gained: Total here and 3rd in DraftKings scoring. Looking at current form, he is also trending with four straight made cuts including a T6 in his last event and over the last 24 rounds, he ranks 6th in DraftKings scoring. Given the weak field and the fact he is the fifth most expensive option(10th on FanDuel), he will likely be very chalky but still in play in all formats.
George McNeill
World Golf Ranking (#1095)
Vegas Odds (N/A)
Draftkings ($7,100)
FanDuel (N/A)
He was added to the field after a round of withdraws and he stands out in a huge way from a course history standpoint. He didn't play here last year but put together three straight Top 25 finishes at The Old White TPC from 2013 to 2015. I then took a look at the last 24 round data and he ranks 1st in Strokes Gained: Total, 2nd in Strokes Gained: Ball Striking, and first in DraftKings scoring. The form has not been very good as he has missed back to back cuts after a T13 at Corales Puntacana which takes him out of the cash game conversation for me but the low price on DraftKings makes him a great GPP play that helps you get a couple top golfers in a stars and scrubs lineup. Stay tuned for odds and FanDuel pricing.
Top Current Form Targets
Joaquin Niemann
World Golf Ranking (#203)
Vegas Odds (28/1)
Draftkings ($9,700)
FanDuel ($10,400)

The 19-year-old is making waves on the PGA Tour this season and after missing cuts in three of his first four events, has finished Top 20 in three of his last four with two Top 10's(Fort Worth Invitational, Memorial). Over the last 24 rounds, he also ranks 8th in Strokes Gained: Total, 2nd in Strokes Gained: Ball Striking, and 5th in DraftKings scoring. He doesn't stand out on my sheet as he has yet to qualify for stats on the PGA Tour site but he has gained strokes on the Approach and Off the Tee(key stat) in all seven events this season. On top of that, he played here last year when he was 18 and impressed with a T29. The price is getting up there but in this weak field event, he is one of my top targets overall and safe in all formats.
Ryan Blaum
World Golf Ranking (#231)
Vegas Odds (66/1)
Draftkings ($7,900)
FanDuel ($8,500)
It was an ugly start to the season for Blaum who missed nine of his first 13 cuts in stroke play events but he has sure turned it around lately and showed some consistency. He has made six of his last seven cuts including three straight Top 25 finishes at the St. Jude Classic, Travelers Championship, and Quicken Loans National and now returns to Greenbrier where he posted a T7 last year. He doesn't really stand out statistically but does rank above average in Par 4 Scoring(42nd on the sheet) and Birdie or Better %(34th on the sheet). He is another golfer I will be looking at in all formats on both sites this week.

Who the Stats Like
Tony Finau
World Golf Ranking (#31)
Vegas Odds (12/1)
Draftkings ($11,500)
FanDuel ($12,000)

Finau returns to the Greenbrier and The Old White TPC with some nice course history having finished T13 in 2015 before the flood and T7 last year after the course re-opened. I placed him in the stats section this week as he stands out even more there ranking 6th in Strokes Gained: Approach(12th in Prox form 150-175), 25th in Par 4 Scoring, 1st in Par 5 Scoring, and 4th in Birdie or Better %. I then ran my same model on Fantasy National and looked at the last 24 rounds data and Finau ranks 5th overall including 1st in DraftKings scoring, 1st in Par 5 scoring, and 4th in Birdie or Better Gained. We don't need to go here in cash games but he makes a very high upside GPP play this week.
Webb Simpson
World Golf Ranking (#21)
Vegas Odds (18/1)
Draftkings ($10,700)
FanDuel ($11,500)
Another player who has success here at the Greenbrier is Webb Simpson with Top 15 finishes in three of his last five trips here to The Old White TPC. Like Finau, he also stands out on the stats model ranking 10th in Strokes Gained: Approach, 35th in Birdie or Better, and is one of just two players to rank Top 5 in both Par 4 and 5 Scoring. The form has been an up and down lately as he has missed two of his last three cuts but has shown incredible upside this season with a T10 sandwiched in between those missed cuts and a win at the PLAYERS the week before. Altogether, he has six Top 10's and 10 Top 25 finishes this season which, in my opinion, is his floor this week.
Tournament Update Thread
**Weather Update**
Chris Durell has been playing Daily Fantasy Sports for five years and fantasy in general for more than a decade. He is an active player in college football, NFL, MLB, NASCAR, NHL and of course PGA. He lives in Saskatchewan, Canada with his wife and two daughters. You can follow him on Twitter at @Jager_Bombs9 for advice, strategy, answers to any PGA questions and how he copes with the winters up north.