Baseball Picks Daily Fantasy
Expert Advice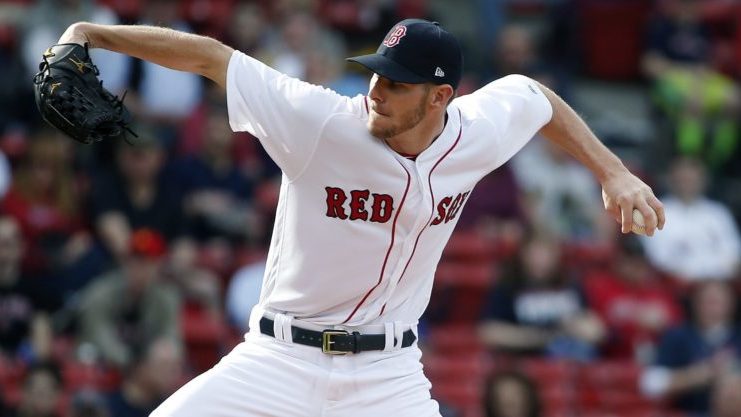 Daily Fantasy MLB Picks for FanDuel and DraftKings - 7/11/18
Wednesday's MLB schedule gives us a full-day of games. But we'll focus primarily on the evening slate in this writeup. There's a lot to like with Chris Sale bringing his dominance to the mound, a game in Coors and some cheaper bats in good spots.
Now's your chance to get DFSR PRO, which will give you access to our MLB optimizer and our new player lab! Get started for free by clicking the button below.
First time with MLB? Be sure to read our free MLB Ebooks on building lineups, general strategy and more. We've got you completely covered.
Pitcher

Chris Sale FD 12600 DK 13000
Opponent - TEX (Bartolo Colon) Park - BOS
FD - 49.9 DK - 28.27
It's hard to believe this guy has been able to sustain the level of dominance he showed in his first season with the Red Sox, but here we are. Sale's numbers are just mind-boggling with a 6:1 K:BB ratio thanks to a 37% K%. His 16% swinging-strike% is the best of his career even though his pitch profile has been basically mirror images over the last few seasons. He does what he does and he's about as good as it gets. He's, by far, the biggest money line favorite for Wednesday at -320 with the Rangers coming in at a paltry 2.8 implied runs. The Rangers are a top 10 offense against lefty pitching this season, but do strike out about 22% of the time in the split mostly thanks to the bottom of the order. Sale is expensive, deservedly so, but he's the best cash game option at it really isn't all that close thanks to the peripherals and money line.

Kenta Maeda FD 9500 DK 9300
Opponent - SD (Joey Lucchesi) Park - SD
FD - 34.04 DK - 18.34
The biggest issue with Maeda is predicting the pitch count on a game-to-game basis. In his last three he's thrown 84. 97 and 86 pitches. He's been quite efficient in that run, going 5.2, 7, and 7 innings respectively, thanks in part to 27 strikeouts to five walks but that really feels like the top end of innings with this kind of leash on him. Now on Wednesday, he gets about the best matchup around against the Padres who rank dead last in the league in wOBA against righty pitching and a 26% strikeout rate in that split. He's a solid -155 favorite against Joey Lucchesi and an over/under of 7.5. His DraftKings price hasn't crested over the $10K mark, even though the performance probably warrants a price increase. It's risky because of Dave Roberts pulling the strings, but I do think he rates out as the best pts/$ DK SP2 cash option on this slate.
Luke Weaver FD 6600 DK 7700
Opponent - CHW (Carlos Rodon) Park - CHW
FD - 29.76 DK - 15.78
This is something of an interesting spot ofr Weaver on Wednesday. On the one hand, he gets a great matchup against the White Sox who rank 24th in wOBA against righty pitching with a 26% strikeout rate. There is a lot of upside for righty arms facing this squad. But then there's Weaver who's been all over the place this season. He's coming off his best start of the year, going eight innings and striking out seven without allowing a walk. But the game before (and many more before that) were disasters. I'm still somewhat bullish on his K upside going forward considering his rookie season numbers and his ability to flash the swing and miss stuff at times this season.
Strongly consider Freddy Peralta on FanDuel in tournaments. And finally, if he's not on a pitch count after coming off the DL then Vincent Velasquez is a very good option against the Mets.
First Base/Catcher
Jose Martinez FD 2600 DK 3900
Opponent - CHW (Carlos Rodon) Park - CHW
FD - 12.03 DK - 9.2
Martinez is something of a joke of a price on FanDuel at only $2600 and is well in the bargain range on DraftKings as well. The dude has absolutely destroyed lefty pitching over his first two full seasons in the majors with a 1.013 OPS and .422 wOBA. Those numbers put him in the top 15 of batters over 100 plate appearances in that split between 2017 and 2018. He's among a pretty elite crowd and makes for an excellent cash and GPP play on Wednesday. The salary helps fit the bigger pitching options and based on his ownership on Tuesday, I suspect he's one of the highest-owned plays here on this slate. He's been able to cut down the strikeouts this season while increasing the hard contact rate. This is a young player moving in the right direction and I love this spot for the guy.
Mitch Moreland FD 3100 DK 4100
Opponent - TEX (Bartolo Colon) Park - BOS
FD - 12.86 DK - 9.67
It's Bartolo Colon day everyone! The Red Sox closed at an absurd 6.9 implied runs on Tuesday against Yovani Gallardo (newsflash: they got there) and start off Wednesday with the highest (non-Coors) opening implied run line of the slate at 5.8. I wouldn't be shocked if it climbed like it did yesterday. While Colon has a lower xFIP this season, he never strikes anyone out (14%) and allows a 43% hard contact rate. I know he's generating a 45% groundball rate but it's hard to imagine this pitching profile getting over on the Red Sox. Moreland is putting up the best OPS of his career at .870 with 11 home runs and a 134 wRC+. He's one of the few Red Sox in and around the middle of the order coming in the middle salary tier.
At catcher, there are a couple of different ways to go. Austin Barnes makes for a rather cheap way to get out of the position on the cheap for DraftKings. He's quite solid against lefties and the Dodgers could make things difficult on Joey Lucchesi. You could also consider paying up a little more for Evan Gattis against Chris Bassitt.
Second Base
Jedd Gyorko FD 2900 DK 3600
Opponent - CHW (Carlos Rodon) Park - CHW
FD - 10.2 DK - 7.71
You are going to see a lot of Cardinals in the write-up today and for good reason. It's such a gift being able to face Carlos Rodon and St. Louis has a bunch of guys who stack up well against lefty pitching. Gyorko is one of them. He has multi-position eligibility on DraftKings and could help solve some issues at second base on FanDuel where the options aren't all that inspiring. This is a guy who's ranked up with the best of them over the last couple of seasons against lefty pitching with a .418 wOBA, 163 wRC+ and 1.010 OPS in that platoon. Those numbers rank in the top-20 over that span even with a dip in Hr/FB rate this season. Though the power is down, the hard contact rate is actually up, leading me to believe there could be at least some mild power regression over the second half of the season.
Logan Forsythe FD 2000 DK 2400
Opponent - SD (Joey Lucchesi) Park - SD
FD - 8.97 DK - 6.79
Forsythe makes for some salary cap relief at a tougher position and that's he's coming so cheap is the major impetus for possibly playing him here on this slate. He's coming at the stone-cold minimums on both sites and should slot into the seventh spot in that order against the lefty. Facing southpaws is the better side of his platoon split where he has a .761 OPS and .337 wOBA over his last 223 plate appearances. That's not a lot to write home about, but it for sure gets the job done at these prices even with the greatly reduced plate appearance expectation. Any slate where you are thinking about rostering Chris Sale, you are going to need a couple of guys like this to just ease the salary cap strain. Even in a below average matchup in a bad hitters' park, Forsythe checks enough boxes to warrant consideration.
Shortstop

Paul DeJong FD 3400 DK 3900
Opponent - CHW (Carlos Rodon) Park - CHW
FD - 11.29 DK - 8.61
It's most definitely a Cardinal-themed day here and why not? They are facing a guy in Carlos Rodon whose 2018 isn't anything to write home about. In fact, I really hope he isn't writing home about it because those letters would be grizzly. In 36 innings, he has a 5.54 xFIP thanks to a paltry 2:1 K:BB ratio and the ERA is only in check because he's run ridiculously hot in BABIP against. There's not much to suggest (so far) that he's back to pitching effectively in the majors. DeJong was a late additional the St. Louis lineup on Tuesday when Tommy Pham was scratched. If the latter were to sit again on Tuesday and DeJong went higher in the order then we are looking at one of the better cash game options at the position. He's firmly priced in the middle tier but would be worth it considering his effectiveness in this split and the Cardinals' implied run line coming in against Rodon.

Brad Miller FD 2600 DK 3500
Opponent - MIA (Dan Straily) Park - MIA
FD - 9.17 DK - 6.93
He'd be something of price play (more on FanDuel than anything else) if he can just work his way into the top six or so of the Brewers' lineup. Milwaukee flirted with him in the leadoff spot for a few games, but that doesn't seem to be the case anymore. Regardless, shortstop is such a thin position and paying up for guys like Trevor Story or Didi Gregorius don't seem all that worth it at their respective price points and matchups. Miller strikes out a lot though that expectation becomes greatly reduced against an arm like Dan Straily who has only a 19% K rate on the season. Miller isn't likely to return to 2016's power run (30 home runs) but he still has some pop in his bat. Keep an eye out for his spot in the lineup as the deciding factor for how useful he'll be as a cash game play.
Third Base

Rafael Devers FD 2900 DK 4000
Opponent - TEX (Bartolo Colon) Park - BOS
FD - 12.18 DK - 9.32
Much like Mitch Moreland, Devers is one of the few price-effective guys in the Red Sox order. It's tough paying up for Mookie Betts, J.D. Martinez or even Andrew Benintendi at the top of the order. All of them are priced firmly in the upper tier and that's a tough pull when you are prioritizing Sale in cash. But Devers, even in the 6-7 hole in the lineup offers some value in cash games and is especially appealing on FanDuel at less than $3K. He doesn't have much of an on-base percentage to speak of (.297) but does his for plenty of power with 14 home runs already this season. He's much better against righty pitching (.774 OPS compared to .580 against lefties). The fact that he's an everyday player and such an extreme platoon split guy is actually one of the reasons his price stays a bit more in check with this offense. In this way, it helps us that he stinks against lefties.

Travis Shaw FD 3600 DK 4300
Opponent - MIA (Dan Straily) Park - MIA
FD - 11.27 DK - 8.46
The park doesn't do him any favors here with Marlins Park playing as the second-worst power park in baseball last season behind only AT&T Park in San Francisco. This isn't what we are typically looking for in a power bat simply because other options often exist in at least power and matchup neutral settings. Shaw is just about on pace for another 30-home run season even if the power isn't quite up to his 2017 levels. But he's made other improvements this summer. The walk rate is up 13% (10% last season) and he's striking out well below his career numbers (17% this season, 22% for his career). That's a good trajectory and should especially work against Dan Straily who's been one of the worst everyday starters in baseball this season.
Outfield

Charlie Blackmon FD 4400 DK 5400
Opponent - ARI (Shelby Miller) Park - COL
FD - 16.78 DK - 12.73

Carlos Gonzalez FD 3600 DK 4300
Opponent - ARI (Shelby Miller) Park - COL
FD - 13.19 DK - 10
We haven't spent a lot of time on the Rockies her, but honestly, all things considered, these two are coming in on something of the cheaper side in their matchup against Shelby Miller. The Rockies open with a 6.15 implied run line, the highest on the slate with Blackmon and Cargo likely slotting into the second and fourth hole respectively. Miller's shown tremendous strikeout ability since returning off an extended DL stint, but it's a little tough to read into whether those numbers are sustainable going forward. If anything, we can assume the strikeout upside is greatly diminished here in Coors. Blackmon isn't having quite the season he flashed in 2017 when he went for a 1.000 OPS. Some of that was BABIP-driven which has fallen back to career averages in 2018. Plus his hard contact rate has dipped a bit as well. But this is still a guy who can do damage at the top of the order, has power (17 home runs this season), some speed (five stolen bases) and for his career is better against righty pitching (it's the opposite this season).
Meanwhile, Carlos Gonzalez isn't returning to his 2015-2016 numbers, but he's still plenty viable in the middle of this Rockies' lineup if the assumption is they can put up runs at home. He's topping out at something like a high .700's OPS guy going forward, but the prices match the production and I think we can get value out of the bat based on the plate appearance expectation and the hints of power from time to time.

Marcell Ozuna FD 2800 DK 3300
Opponent - CHW (Carlos Rodon) Park - CHW
FD - 12.53 DK - 9.51
The final Cardinal bat on the list (assuming Tommy Pham sits again on Wednesday), Ozuna really struggled at the start of the season with an OPS below .700 thanks in large part to some batted ball luck issues. Those corrected in June when he put up a .951 OPS with seven home runs, and 21 RBIs. He's actually been much better against righty pitching over the last couple of seasons, with an OPS 80 points higher in that split. But that's not turning me off to the play today against Rodon. You can see from the write-up that we could be looking at a full Cardinals' stack in cash games today. They rate out as the best value team across the board and it isn't all that close.
Consider Ender Inciarte hitting leadoff against Sam Gaviglio
GRAB A FREE TRIAL OF OUR PROJECTION SYSTEM, AND CHECK OUT DFSR PRO!
FREE EBOOK
SECRETS TO CRUSHING DAILY FANTASY FOOTBALL!
DON'T SET ANOTHER LINEUP BEFORE YOU READ THIS BOOK.