Baseball Picks Daily Fantasy
Expert Advice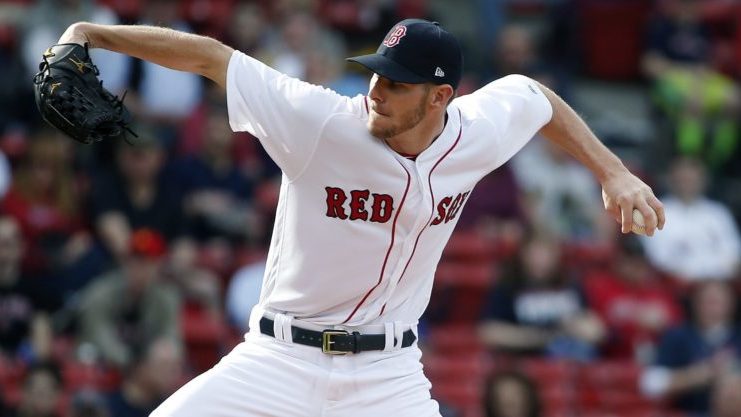 Daily Fantasy MLB Picks for FanDuel and DraftKings - 7/22/18
It's a Sunday Funday in baseball with a full slate of games. There's everything you could want here with the most elite of the elite pitchers taking the mound and some gas cans against great offenses. Let's go through all of the options here and map out a road to cash game success.
Now's your chance to get DFSR PRO, which will give you access to our MLB optimizer and our new player lab! Get started for free by clicking the button below.
First time with MLB? Be sure to read our free MLB Ebooks on building lineups, general strategy and more. We've got you completely covered.
Pitcher

Chris Sale FD 12500 DK 13400
Opponent - DET (Blaine Hardy) Park - DET
FD - 51.08 DK - 29.02
There are a lot of good pitching options on Sunday's slate of games. But really in terms of overall pitching talent it doesn't get any better than Sale on any day of the week. With even a halfway decent start on Sunday Sale will have the highest WAR among starting pitchers this season (currently 4.9) and he's been just lights out all season. The numbers are just another season of dominance with a crazy 37% strikeout rate and 6:1 K:BB rate. He's gone seven or more innings in five of his last seven starts with double-digit strikeouts in six of those games. The Tigers aren't a pushover offense against lefties this season, but Sale isn't your standard southpaw. He's clearly next level and opens at a -300 favorite on the road in Detroit. He's the most expensive pitcher on the slate, but considering the peripherals and expected win points, he's clearly the option worth paying up for.

Max Scherzer FD 11800 DK 13200
Opponent - ATL (Mike Foltynewicz) Park - WSH
FD - 46.51 DK - 26.05
Sale's been great this season, but Scherzer isn't too far behind. He's not quite the favorite (-234) but the Braves are right in the same implied run territory (2.9) and you do get Max at just a slightly cheaper rate. The Braves are a bottom third offense against righties this season and strike out about 20% of the time. Scherzer's 34.5% K rate is third overall in the league behind Sale and Gerrit Cole. Like Sale, Scherzer is able to go late into games, covering seven or more innings in seven of his last nine games though it's worth mentioning that his K rate has dipped in that time. His last double-digit strikeout game was back on June 16th against Toronto. He hasn't found the K upside since then which could be a sample size issue or it could be something of an issue. From a *safe* perspective, I do prefer Sale on Sunday, but I think the masses will as well making Max an interesting pivot.
J.A. Happ FD 8000 DK 8600
Opponent - BAL (Andrew Cashner) Park - TOR
FD - 36.51 DK - 19.2
Happ's last three games have been nothing to write home about, failing to last more than four innings in each of his last two starts and allowing 18 runs in his last 12 innings. Some of that was bad luck, but he did walk six batters in 2.2 innings against the Yankees. But he's also had a tough run of opponents, facing the Yankees, Red Sox and Astros in three of his last four games. Sunday he gets the Orioles who rank third to last against lefties this season and just traded their (by far) best bat in Machado. This is a dead team walking. Happ opens as a -196 home favorite and has found more of a strikeout touch this season with a 26.5% K rate, the highest of his career. Because of the recent performance, he's coming very cheap relative to expectation on both FanDuel and DraftKings. I wouldn't pivot from Sale to him in cash games, but as a DK SP2 at $8600 I think you can pair him with one of the big boys.

Vince Velasquez FD 8300 DK 7800
Opponent - SD (Luis Perdomo) Park - PHI
FD - 34.81 DK - 18.4
With the PPD game from yesterday, Velasquez moves to Sunday in the rotation. We wrote him up for Saturday and the same holds true a day later. Here's what Jerry said about Velasquez yesterday:
Not only do we have some better arms to consider today, but we're also getting them in prime matchups. Vince Velasquez, for example, will take the hill for the Phillies against the Padres in south Philadelphia. Even though I just watched them put up a four-spot on Jake Arietta in the first inning of Friday night's game, San Diego is just awful. They've got the lowest team wOBA in the game, and are ranked in the bottom five in home runs, OPS, and runs scored. The one thing they excel at is striking out, which they do a league-leading 25.5% of the time. Velasquez has been up and down this season and was placed on the DL last month after taking a hit to the elbow, but he was lights out in his first game back throwing six strong against the Mets, holding them scoreless on just three baserunners allowed. He only managed three K's, but that was rather uncharacteristic of a guy with a career 9.89 K/9 and a career-high 10.52 this season. If he gets the strikeouts back on pace tonight, and this is the team to do so against, he's a fantastic upside play in a game that sees Philadelphia as -181 favorites.
First Base/Catcher
Edwin Encarnacion FD 4200 DK 4600
Opponent - TEX (Yovani Gallardo) Park - TEX
FD - 15.35 DK - 11.38

Yonder Alonso FD 3000 DK 4200
Opponent - TEX (Yovani Gallardo) Park - TEX
FD - 12.87 DK - 9.71
If you've read these picks regularly, and let's be honest if you haven't you've really been missing out, you know that when Indians are in good spots against righties these two dudes tend to pair together. Encarnacion and Alonso have very similar splits against righties over the last couple of seasons. For comparison (E5 first)
wOBA .366, .366
OPS .867, .860
wRC+ 129, 132
BB% 12%, 12%
K% 21%, 22%
See what I'm getting at here? it's uncanny. These dudes are freaking platoon doppelgangers. The only area they really differ is in their DFS pricing where Alonso is coming much cheaper one slot lower in the order. He's the guy to play if you are rostering Sale in cash while E5 will cost a little more.
Ji-Man Choi FD 2200 DK 3400
Opponent - MIA (Trevor Richards) Park - TB
FD - 10.09 DK - 7.72
This is a price play, plain and simple. Choi has been around the fifth slot in the Rays' lineup for the short term and though he's been pretty underwhelming I do like the spot for Tampa here on Sunday. Trevor Richards sports a high 4's xFIP thanks to an 11% walk rate and a 43% hard contact %. The ballpark doesn't do Choi any favors, but he's coming at or near the minimums on both sites. On a day where paying up for pitching will likely be something of a must in cash games, you will need some middle of the order guys like him who find themselves in plus matchups.
Strongly consider Joe Mauer on the cheap. He should hit leadoff against Keller. Mauer doesn't have any power upside but is a higher floor guy for cash games.
At catcher on DraftKings, strongly consider Yan Gomes who should be in the lineup after the day off on Saturday. Even Austin Barnes hitting at the bottom of the Dodgers' lineup looks ok. And finally, Tucker Barnhart, at times, hits second. If he's there against Nova then he's probably the cash game play.
Second Base

Dee Gordon FD 3400 DK 4000
Opponent - CHW (Reynaldo Lopez) Park - SEA
FD - 11.37 DK - 9.13
Man, the White Sox are just so bad. On Friday it was James Shields. Saturday they put Dylan Covey on the mound. And on Sunday Reynaldo Lopez takes the hill. There's just no reprieve from the sub-par pitching. Lopez has a 5.47 xFIP thanks to a 6.55 K/9 while walking 3.75 in the same frame. Gordon doesn't take many walks (understatement, the 1.6 BB% is insanely low) but still is able to get on base 31% of the time thanks to the speed. That number won't blow anyone away for a leadoff hitter, but once on base, he has stolen 22 bases this season. The plate appearance expectation in the middle pricing tier is good enough even with Gordon's obvious flaws because the matchup is so choice.
Logan Forsythe FD 2100 DK 3400
Opponent - MIL (Brent Suter) Park - MIL
FD - 9.63 DK - 7.29
He hits lower in the order than we typically like out of a cash game play, but Forsythe is coming very cheap on a day where it really matters saving a buck or two here and there. The Dodgers, with the addition of Machado, are an even more potent offense and come in with an implied run line right around five. Brent Suter only strikes out about 7.5 batters per nine and allows a lot of contact. Forsyth is much better against lefties and his 106 wRC+ and .741 OPS in that split over the last couple of seasons play fine for his punt price tier.
Strongly consider Jason Kipnis
Shortstop

Francisco Lindor FD 4800 DK 5600
Opponent - TEX (Yovani Gallardo) Park - TEX
FD - 15.45 DK - 11.84
I know it's expensive but if there's a single bat to pay up for on the main slate for Sunday games then Lindor could be the guy. In terms of positional scarcity and points relative to peers at shortstop, Lindor rates out as the far and away best option. He's putting up MVP-like numbers this season from the leadoff spot. He already has 25 home runs and 15 stolen bases with a .931 OPS and .269 ISO. These numbers are great for anyone, but for a shortstop are completely out of this world. And the Indians get to face one of the worst arms in the game in Yovani Gallardo. The Rangers' righty strikes out less than six batters per nine this season, walks a ton of dudes and has a 4.95 xFIP. Sure, he's not as bad as the 8.60 ERA would suggest, but Gallardo still stinks.
Chris Taylor FD 3300 DK 4500
Opponent - MIL (Brent Suter) Park - MIL
FD - 11.09 DK - 8.46
Speaking of shortstops who hit leadoff, Taylor should find himself at the top of the order Sunday against the lefty Suter. He now has Manny Machado hitting behind him and Taylor's been significantly better against southpaws over the last two seasons. He has a .816 OPS and .348 wOBA. He's not flashing the same power or speed that we saw in 2017, but the price reflects some of the dips in production. He did run hotter in BABIP last season which is some of why he isn't putting up the same numbers, but this is still a competent shortstop in a good offense hitting at the top of the order against a middling lefty.
Third Base
Yangervis Solarte FD 2600 DK 3400
Opponent - BAL (Andrew Cashner) Park - TOR
FD - 11.46 DK - 8.76
The Blue Jays have Sunday's third-highest opening implied run total at 5.31 thanks in large part getting to face Andrew Cashner in the Rogers Centre. Some of Toronto's bats are a bit overpriced, but Solarte rates as a value hitting in the middle of the order. He seems locked into the Jays' cleanup role and is still on pace for the best power season of his career. He has 16 dingers in 402 plate appearances, easily on pace to best his 18 mark from last season. Spending a season in the AL East will do wonders for those numbers and Solarte is making the most of the opportunity. Funny enough, despite the boost in home runs per plate appearance, the OPS is still stuck right in the .700 range. But he's much better against righties over the last couple of seasons with a .758 OPS over that span. Andrew Cashner is just another one of the sub-par arms going on Sunday and the Blue Jays do rate out as a strong GPP stack.

Eduardo Escobar FD 3400 DK 4300
Opponent - KC (Brad Keller) Park - KC
FD - 12.58 DK - 9.64
We haven't talked all that much about the Twins even though they also get one of the weaker arms on the slate in Brad Keller. Keller's time in the majors hasn't shown anything in the way of strikeout stuff with a low 13.5% K% despite a third of his innings coming out of the bullpen. Don't be confused by the righties' 3.13 ERA, the 4.53 xFIP is nearly 1.5 runs higher. Escobar is putting together his best season with a .840 OPS and 14 home runs. His BABIP is up over his career average but he's also walking more
Consider Colin Moran if he's hitting fourth or fifth in the Pirates' lineup against Harvey. Additionally, Kyle Seager is still a solid DraftKings' play.
Outfield
Curtis Granderson FD 2900 DK 3900
Opponent - BAL (Andrew Cashner) Park - TOR
FD - 12.72 DK - 9.52
The Grandy-man is the other value Blue Jay bat I like for cash games against Andrew Cashner. The former is coming cheap on both sites and is in play as long as he's hitting leadoff on Sunday. The power has dropped off this season (only nine home runs in 266 plate appearances) but he still maintains an excellent 14% walk rate. He's been solid against righties over the last couple of seasons with a .806 OPS and .345 wOBA. Strikeouts are a concern considering he goes down 30% of the time, but are definitely less of an issue when facing a pitcher like Cashner who is low on K's and high on walks. This is just the kind of matchup we want to buy on Granderson.
If stacking the Blue Jays, also look at Teoscar Hernandez hitting at the top of the order.

Matt Kemp FD 3300 DK 4200
Opponent - MIL (Brent Suter) Park - MIL
FD - 11.26 DK - 8.56
The Dodgers' 1-4 hitters making for an excellent stacking opportunity on Sunday if Kemp is hitting in the cleanup slot. Kemp is having one of his better seasons with a .871 OPS thanks to pretty even platoon splits. He's actually been a tick better this year against righties but is still good against lefties over the last couple of years. Kemp comes firmly in the middle salary tier against the lefty Suter and gets a park boost moving out of LA and into Milwaukee for the final game of the series. He's one of the Dodger bats you're likely able to fit even if rostering Sale or Scherzer.
It's worth noting that despite being a lefty, Max Muncy has dominated in a reverse platoon split this season. I do see a regression coming on that front, but he's probably going to hit third on Sunday. He's expensive because he's been, well, awesome. But would still fit into a Dodgers' stack.

Michael Brantley FD 3800 DK 5100
Opponent - TEX (Yovani Gallardo) Park - TEX
FD - 14.53 DK - 11.13
You might be able to get away with the mid-tier FanDuel price which would be a huge boon considering the spot the Indians are in today. Brantley is going to be a real handful for Gallardo. The former just never strikes out (8.5% this season, which is just nuts) and makes contact in 85% of his plate appearances. He has a .372 wOBA in this split over the last couple of seasons and hitting sandwiched between Lindor and Jose Ramirez has its distinct advantages. Namely, you are going to have chances to pile on the stats in the right kind of game. This is clearly one of them for Cleveland against a weak arm in one of the best hitter's parks in baseball.
If Melky Cabrera is back in the lineup again on Sunday, he would make for a fantastic punt play on FanDuel.
GRAB A FREE TRIAL OF OUR PROJECTION SYSTEM, AND CHECK OUT DFSR PRO!
FREE EBOOK
SECRETS TO CRUSHING DAILY FANTASY FOOTBALL!
DON'T SET ANOTHER LINEUP BEFORE YOU READ THIS BOOK.