Baseball Picks Daily Fantasy
Expert Advice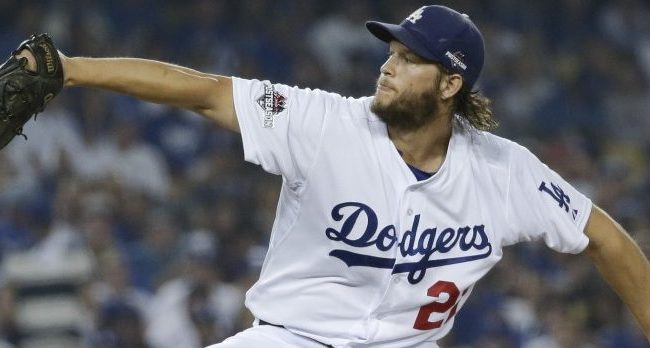 Daily Fantasy MLB Picks for FanDuel and DraftKings - 8/2/18
Now's your chance to get DFSR PRO, which will give you access to our MLB optimizer and our new player lab! Get started for free by clicking the button below.
First time with MLB? Be sure to read our free MLB Ebooks on building lineups, general strategy and more. We've got you completely covered.
Pitcher

Clayton Kershaw FD 10700 DK 11600
Opponent - MIL (Jhoulys Chacin) Park - LAD
FD - 40.96 DK - 22.92
After being limited in his return from the DL, Kershaw was let loose and is getting back to form lately. He has thrown at least 88 pitches in four straight starts and 100+ in two of his last three and has allowed just four earned runs over his last 26.1 innings(1.71 ERA). That is great news for the Dodgers who are in a dogfight with the Diamondbacks and Rockies for the NL West division lead as all three teams are currently within a half-game of each other. The matchup is not elite, by any means, as the Brewers have added Mike Moustakas and Jonathan Schoop at the trade deadline but they do rank in the bottom third of the league in hitting against southpaws with a .299 wOBA and 83 wRC+. Considering the discount from Scherzer, I think we can consider Kershaw in all formats tonight.

Zack Greinke FD 11000 DK 11200
Opponent - SF (Madison Bumgarner) Park - ARI
FD - 38.34 DK - 20.66
Max Scherzer is clearly the best pitcher on this slate but comes at a high price, especially on DraftKings where the SP2 options are somewhat limited tonight. This is why I turned to two cheaper options here and next up is Zach Greinke who has been very consistent all season. He comes into this start holding opponents to two or fewer earned runs in seven straight starts, lowering his ERA to 2.96 for the season which is backed up by a 3.22 xFIP. He doesn't give out many free passes(1.58 BB/9) and still provides us with some upside striking out over a batter per inning(9.42 K/9) with an above average 11.5% swinging strike rate. I mention it every time Greinke is at home that if you are worried about Chase Field being a hitters park, don't be as he has had positive home splits since the starts of the 2017 season. He also gets a plus matchup as the Giants rank 23rd in wOBA(.308) and wRC+(94) against right-handed pitching with a 23.8% K rate. Fire up Greinke in all formats tonight.

Mike Montgomery FD 6800 DK 7000
Opponent - SD (Robbie Erlin) Park - CHC
FD - 28.77 DK - 14.48

Jhoulys Chacin FD 8100 DK 8000
Opponent - LAD (Clayton Kershaw) Park - LAD
FD - 26.41 DK - 12.69
I mentioned above the SP2 options for DraftKings are limited tonight which has leaning towards paying up for two studs, at least in cash games. I do like Jhoulys Chacin who is the better pitcher than Montgomery overall and comes into this matchup after going three straight starts allowing just one earned run and has 15 strikeouts in his last two. The knock on him tonight is the matchup as he faces a Dodgers team that ranks #2 in hitting against righties with a .333 wOBA, 110 wRC+, and .193 ISO while also squaring off against Clayton Kershaw as a big underdog.
The case for Montgomery here is that he is cheaper allowing you to pair him with Max, Greinke, or Kershaw and still get a couple big bats in your lineup. He also gets the much better matchup as a big favorite(-180) against the Padres who have scored the second-fewest runs(405) in the league this season. While the Padres have been slightly better against lefties this season they still haven't been good ranking 24th in wOBA(.296), 21st in wRC+(87) and strike out at a high 25.2% rate. Montgomery has given up four or more earned runs in two of his last three starts but since jumping into the rotation at the end of May, he has shown some stability holding opponents to one or fewer earned runs in six of his 11 starts. I will have shares of both Montgomery and Chacin tonight on DraftKings but lean Montgomery if you are looking for upgraded bats in cash games.
First Base/Catcher

Justin Smoak FD 3600 DK 4100
Opponent - SEA (Felix Hernandez) Park - SEA
FD - 10.14 DK - 7.58


Kendrys Morales FD 3200 DK 4000
Opponent - SEA (Felix Hernandez) Park - SEA
FD - 9.5 DK - 7.19
I will start with a pair of Blue Jays and while they get a park downgrade tonight, they do get a plus matchup against a declining Felix Hernandez. That is very tough to write as he is one of my favorite pitchers but the stats are the stats. He has continued to see a decline in his fastball velocity that is now sitting south of 90 mph for the first time in his career which has affected the strikeouts in a big way as he also sits with a career-low 8.4% swinging strike rate. He is coming off one of his worst starts of the season allowing seven earned runs to the Angels and has given up three or more earned runs and at least one home run in five straight starts and now sits with a 5.58 ERA, 4.54 xFIP on the season.
For Justin Smoak, it has been an up and down season overall after an All-Star 2017 but the good news is that he has been swinging the bat well lately with hits in 17 of his last 19 games(.333/.395/.654 slash line) including six home runs. Morales hasn't stood out as a consistent option in 2018 either but has provided some pop with 12 home runs and has hits in eight of his last 10 games. Both Smoak and Morales are switch hitters and have shown more power and consistency against righties and while I prefer Smoak on DraftKings as you only get one, I would pair them together on FanDuel with the utility spot.
Tyler Flowers FD 2700 DK 3300
Opponent - NYM (Jason Vargas) Park - NYM
FD - 9.8 DK - 7.45
The Braves just can't seem to get away from a threat of rain but if tonight's game in New York plays, Tyler Flowers is most definitely on the radar. The normally gets the nod against a left-handed pitcher and for good reason as he enters the night with a .421 average, .543 wOBA, and 247 wRC+ in 56 plate appearances in the split this season. He also gets a plus matchup vs. Jason Vargas who has been a gas can in 2018 with an 8.36 ERA, 5.19 xFIP and has already given up 12 home runs in 10 starts(20.7% HR/FB & 37/5% hard contact rate). Stay tuned for weather updates closer to lock but if the game is a go, he is in the conversation in all formats, especially at a value price on both sites.
Also Consider: Steve Pearce(BOS) at first base and Robinson Chirinos(TEX) at catcher
Second Base

Javier Baez FD 4000 DK 5800
Opponent - SD (Robbie Erlin) Park - CHC
FD - 12.09 DK - 9.23
Paying up in the middle infield is usually not a thing I sign up for but tonight is a night I will be considering it, at least in GPP formats. Baez has seen a huge jump in his salary on DraftKings and is the second-most expensive hitter on the slate but has been very productive all season with a .300/.330/.574 slash line and leads the Cubs with 22 home runs, 82 RBI, and 66 runs scored. He is platoon neutral when breaking down the splits and gets a plus matchup vs. Robbie Erlin who is making just his third start of the season as he has been coming out of the pen in 2018. His two previous starts have not gone well as he has allowed a combined 14 hits and 11 earned runs. If he is anywhere near that bad again, Baez should easily hit value tonight even at these high prices.

Starlin Castro FD 2700 DK 4000
Opponent - PHI (Nick Pivetta) Park - PHI
FD - 7.84 DK - 6.1
If you are looking to save a few dollars(a lot compared to Baez) tonight at the position, ex-Cub Starlin Castro is in play, especially on FanDuel with a sub $3K price tag. Despite a downgrade in the team around him going from the Bronx to Miami, he is having a solid season hitting .289 with a .336 on-base percentage and is second on the team with 62 runs scored. The matchup doesn't jump off the page as Pivetta has a ton of upside striking out over 11 batters per nine but he has also given up a ton of hits(over one per inning) and sits with a 4.85 ERA on the season. Considering the price and massive discount from Baez and Albies on both sites, we can consider Castro in all formats.
Also consider Rougned Odor(TEX) if he remains batting in the two-hole for the Rangers against Andrew Cashner
Shortstop

Trea Turner FD 3900 DK 5200
Opponent - CIN (Tyler Mahle) Park - WSH
FD - 11.57 DK - 9.02
The Nationals offense has been on fire lately scoring 57 runs over their last seven games and while 25 of them came on Tuesday night vs. the Mets they have scored five or more in five of those seven games. Trea Turner has been right in the middle of all the scoring lately with hits in five of his last six games with four multi-hit efforts and has scored 15 or more FanDuel and 12 or more DraftKings points in those five games. While it feels he has declined a bit since last season but the numbers are eerily similar. He provides us with consistency at the top of the order with a .342 OBP, has power, scores, and drives in runs, and has a ton of speed for upside as well. Then add the matchup vs. Tyler Mahle who has been struggling lately(14 earned runs last 9 IP) and you have an excellent pay up option at shortstop.
Elvis Andrus FD 3700 DK 4300
Opponent - BAL (Andrew Cashner) Park - TEX
FD - 11.48 DK - 8.87
It wouldn't be a DFSR article I wrote without mentioning Elvis Andrus. Tonight it has a lot to do with the lack of value options at this point, although they could pop up when lineups are released. Like I mentioned the other day, Andrus doesn't provide us with much upside but has been very consistent lately with hits in 12 straight games with five multi-hit efforts, three doubles, a triple, two home runs, and nine runs scored. He will face Andrew Cashner who has been pretty good lately allowing just three earned runs in his last two starts but don't let that worry you as he strikes out under seven per nine while walking nearly four and has been below average overall with a 4.33 ERA and 4.74 xFIP. Andrus is a great option for cash games tonight.
Also consider Nick Ahmed(ARI) as a low owned GPP pivot against Bumgarner
Third Base
Johan Camargo FD 3100 DK 4100
Opponent - NYM (Jason Vargas) Park - NYM
FD - 8.76 DK - 6.86
It seems most of the top third basemen are either playing in the early slate(Arenado, Carpenter) or have tougher matchups(Machado, Suarez) so I will be going the value route tonight. It starts with Johan Camargo of the Braves who seemingly has everything going his way tonight. He has been red-hot with hits nine of his last 11 games(four multi-hit efforts), gets a plus matchup vs. Jason Vargas, and he has crushed left-handed pitching to the tune of a .388 wOBA, 145 wRC+, and .294 ISO. The only knock is that he hits down in the six/seven hole but given all the other variables I think he makes an excellent target in all formats tonight.
Maikel Franco FD 3500 DK 3900
Opponent - MIA (Trevor Richards) Park - PHI
FD - 9.75 DK - 7.41
Franco is quietly having his best season as a whole since 2015. His patience at the plate is still lacking with a 6.6% walk rate and .323 on-base percentage but he has dramatically cut down on the strikeouts(13.5%) which has helped him up the average to .278 average through 96 games after posting a disappointing .230 mark all of last year and .255 in 2016. The power numbers are also back up as he sits with a .207 ISO, 17 home runs, and .807 OPS. To top it off, he comes in hot with multiple hits in three straight and six of his last nine games. I will likely be leaning on Camargo in my cash games tonight but will definitely have some exposure to Franco and the Phillies in GPP's.
Also consider Kyle Seager(SEA) in GPP formats as he is expected to return tonight and is cheap on both sites
Outfield

Bryce Harper FD 4000 DK 5400
Opponent - CIN (Tyler Mahle) Park - WSH
FD - 14.1 DK - 10.5
Harper was mentioned in our biggest bust of the first half article as the average has he hit just .214 leading into the All-Star break. It was announced that the Nationals were listening to offers on the superstar on trade deadline day but in the end, announced he was going nowhere. It seemed to light a fire under Harper as he has now gone back to back games with multiple hits including three doubles and some really nice fantasy performances. It is a small sample but he is already hitting .333 in the second half and looks to try and carry the Nats into the playoffs. He gets a terrific matchup tonight to try and stay hot as the Nats will face the Reds and Tyler Mahle who has struggled lately allowing 14 earned runs over his last three starts including five long balls. His biggest issue lately is that he is walking as many batters as he is striking out and is giving up a ton of hard contact. Fire away on the red-hot Nationals in all formats tonight.

Shin-Soo Choo FD 2900 DK 4900
Opponent - BAL (Andrew Cashner) Park - TEX
FD - 13.38 DK - 10.07


Joey Gallo FD 2700 DK 4700
Opponent - BAL (Andrew Cashner) Park - TEX
FD - 12.64 DK - 9.28
The Rangers are high in the overall projections and most definitely on my radar tonight as they are at home in  Globe Life Park in Arlington. The matchup is a good one as they face Andrew Cashner and while he has only allowed three earned runs in his last two starts, he hasn't been very good on the season with a 4.33 ERA and even worse 4.74 xFIP. The biggest issue for him is the walks(3.77 BB/9) and he doesn't have the strikeout ability to get out of those jams with a low 17% K rate and very low 6.8% swinging strike rate. For cash games, I will turn to Choo who may not be as hot as he was in late June/early July but overall, is hitting .277 on the season with an elite .389 on-base percentage and has scored 61 runs from the leadoff spot. Joey Gallo is not a player I will ever consider for cash games as he is hitting below the Mendoza Line at the moment(.187) and strikes out at a very high 35% rate. For GPP's, however, he makes sense as a high-upside play as he has a ton of power and comes in with 26 home runs and is operating with a very high 46% hard contact rate. It is boom or bust with him but is usually lower owned with the downside tied to him and the fact he hits lower in teh order but he can definitely help you take down a GPP.
GRAB A FREE TRIAL OF OUR PROJECTION SYSTEM, AND CHECK OUT DFSR PRO!
image sources
NLDS Mets Dodgers Baseball: (AP Photo/Gregory Bull)
FREE EBOOK
SECRETS TO CRUSHING DAILY FANTASY FOOTBALL!
DON'T SET ANOTHER LINEUP BEFORE YOU READ THIS BOOK.