Baseball Picks Daily Fantasy
Expert Advice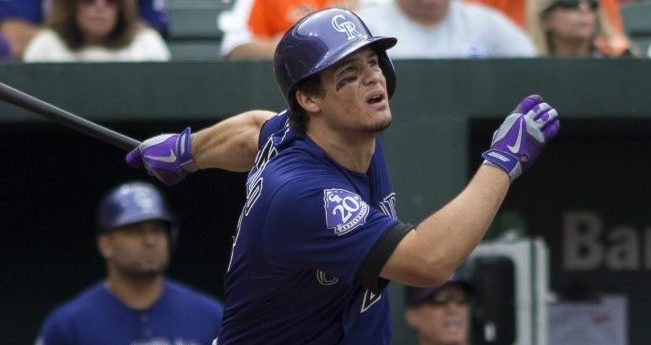 Daily Fantasy MLB Picks for FanDuel and DraftKings - 8/26/18
Now's your chance to get DFSR PRO, which will give you access to our MLB optimizer and our new player lab! Get started for free by clicking the button below.
First time with MLB? Be sure to read our free MLB Ebooks on building lineups, general strategy and more. We've got you completely covered.
Pitcher
Luis Severino FD 10400 DK 18000
Opponent - BAL (Dylan Bundy) Park - BAL
FD - 42.2 DK - 23.28
We're the littlest bit light on ace level pitching today, but I'm actually feeling pretty good about Luis Severino here. Things were looking pretty rocky for Severino, but he bounced back with a big 8 strikeout performance against Toronto that has me thinking that he's basically fine. He's still North of 10 Ks/9 this season, and getting out of the tough Yankee Stadium and into Baltimore should be nice for him. The Orioles, meanwhile, are just one of the league's worst offenses. They pair a bottom 5 wOBA against right handed pitching with a top 6 strikeout rate, which means they are among the very best possible match-ups for right handed pitching in the AL. The Yankees are also the biggest favorite on the day at -268. Severino is still cheap relative to what he can do, and looks like a good combination of a high value play with a decent floor as well.
Alex Wood FD 8500 DK 9000
Opponent - SD (Robbie Erlin) Park - LAD
FD - 34.2 DK - 17.99
The big question for Wood will be the big question for basically every Dodger pitcher as we close out the season: How many innings can we really count on? He churned out 6 straight 6 inning starts through late June and July, but has run up against a pretty rough patch here in August. As a result, we're also getting him pretty cheap right now. It's the classic DFS Devil's bargain - do we take a potentially underpriced Wood and a lot of upside, or do we believe that the recent performance is the direction things are heading? I think the match-up here is the real tie-breaker. Wood is the second biggest favorite on the day, and for good reason. The Padres have a bottom 6 wOBA against lefties (and a sub .300 number) and strike out at the third highest rate against them, and while LA isn't SD in terms of being a pitcher's park, it's still a nice spot. If you believe in the innings Wood is by far the best play - if you don't you probably stay away.
Deciding between the rest:
After the above guys, things don't get a whole lot clearer. Zack Greinke is arguably the best pitcher on the entire slate. His sub 2 BB/9 means he's got a high floor, and he is still averaging better than a K per inning this season. The issue there is that the Mariners aren't nearly as good a match-up as they have been in the past, as they are better than league average in terms of striking out and wOBA.
Shane Bieber is essentially a Zack Greinke lite, with nearly identical peripherals but fewer innings per start. The Royals are a high-floor but unexciting match-up, as they have a bottom 3 wOBA against righties but a bottom 5 strikeout rate against them as well. Still, I'd imagine he will ultimately slot in at the pitcher 2 slot on DraftKings at his current prices.
First Base/Catcher
Chris Iannetta FD 3000 DK 3900
Opponent - STL (Austin Gomber) Park - COL
FD - 12.29 DK - 9.22
Let's start this article the same way we'll likely ending it - talking about the Coors game. Iannetta is strictly a Draftkings play to me simply because you have to play a catcher there, but the big thing to keep an eye on here is the match-up. The left-handed Austin Gomber might look like a less than amazing match-up with his sub 3 ERA, but his 5.08 xFIP is powered by a near 5 BB/9, and the right handed Rockies in particular should be feasting here. Iannetta is nothing special at this point in his career, but he should be batting 6th or 7th, and his career OPS is .125 points higher against southpaws. Not a high floor play I guess, but it's catcher - what do you want?
Brandon Belt FD 3300 DK 3900
Opponent - TEX (Yovani Gallardo) Park - SF
FD - 11.96 DK - 8.97
So it's funny, the Giants are not an amazing team, but when you try and add up the things going in their favor today, it's actually looking pretty good for them. Let's start with Belt - he's a solid if unspectacular first base bat, sporting 14 homers and an .800 OPS in 400 plate appearances this season. He's considerably better against righties, averaging an .878 OPS. The real story for the Giants, though, is Yovani Gallardo. With a 5.63 K/9 and a 4.33 BB/9, his 6.04 ERA is pretty close to his real talent level. He shouldn't be as bad in SF as he is in TEX, but it's a dream spot regardless.
Ryan Zimmerman FD 3400 DK 4600
Opponent - NYM (Steven Matz) Park - NYM
FD - 12.12 DK - 9.16
Zimmerman has already shown that his 2017 bounce-back was no fluke, posting even better K/BB peripherals and an OPS North of .800 once again. His .269 BABIP looks tremendously unlucky based on his contact rate, and there is probably even room for growth here. The crazy thing about playing Zimm today is how badly he's brutalized left handed pitching. He has a 1.214 OPS and 5 homers in 67 plate appearances against southpaws this year, and he's looking as confident as ever. Matz can't say the same about his return from injury. The once promising lefty is looking basically league average at this point, repping a 4.33 xFIP on the back of his so-so peripherals. Spoiler alert: I like a lot of Nats righties today.
Second Base

DJ LeMahieu FD 3400 DK 4800
Opponent - STL (Austin Gomber) Park - COL
FD - 13.68 DK - 10.69
We're back on the Rockies righties train, and there isn't going to be a whole lot to say about this one. LeMahieu should be batting leadoff against the underwhelming Gomber, and for good reason. His .878 OPS against lefties looks legit. He's striking out in just 10% of his plate appearances against them, and his 7% walk-rate means he's still looking for his pitches. High floor, high ceiling play here.

Brian Dozier FD 3200 DK 4300
Opponent - SD (Robbie Erlin) Park - LAD
FD - 13.09 DK - 9.88
Man, there are no shortage of bad pitchers and sexy platoon plays today. Erlin's season long line is very skewed by the super majority of his innings coming out of the bullpen, but in his starts he's been nothing special at all. He's basically a low K pitcher who doesn't walk anyone, the Dodgers should get a lot of chances to put hard balls in play. While Dozier isn't the lefty killer he has been in the past, he has still struck out just 4 more times than he's walked against them this season, meaning his approach is looking very solid. I also think he's running bad on his power against lefties, as he's always been quite a bit more powerful against them in the past. He looks like a great and sneaky big tournament play to me today.
Shortstop

Trea Turner FD 3400 DK 4400
Opponent - NYM (Steven Matz) Park - NYM
FD - 12.32 DK - 9.6
Trea Turner has been a tough guy to figure out this season. After the .340+ BABIP he posted in his first 800 career plate appearances, it looked like we were seeing the rise of a 15/30 .320+ shortstop - the holy grail for daily fantasy. This season has been a lot more modest, as the BABIP has fallen to human levels and he's given back a little bit of his power. All that being said, the man still has 15 homers and 32 steals through August, and he's .070 OPS points better against lefties this season. A solid inclusion in any Nats' righties stacks.

Carlos Correa FD 3700 DK 4600
Opponent - LAA (Felix Pena) Park - LAA
FD - 13 DK - 9.79
Our first Astro of the write-up, and honestly I'm simply leaning Turner for my cash game plays. Still, Correa brings a lot to the table here. Like Turner Correa gave back a lot of his insane BABIP this year, falling down to around a .309 number that has him sitting at around an .800 OPS this season. He's hitting for less power, and generally things are looking worse for the 23 year old. But read that again - the man is just 23. There's no way his skills are declining, and if you think he's healthy, he's a huge bargain compared to what we've had to pay for him in the past. Felix Pena is a weird pitcher to target for cash games - he strikes out more than a guy an inning, and can look "effectively wild" (and terrifying) when things are clicking. But for big tournaments? He can absolutely blow up as well. I like the Astros today since they might be an off-board stack with all the bad pitchers going.
Third Base

Nolan Arenado FD 4800 DK 5800
Opponent - STL (Austin Gomber) Park - COL
FD - 17.29 DK - 13.03
If there's a guy worth paying up for, it almost has to be Arenado. He's too cheap on FanDuel, and while the price is a stretch on DraftKings, it still might be worth it. His career 1.021 OPS against left handers is pretty insane, but not as crazy as the 1.319 figure he's rolled out this year. He's a man among boys out there, and Gomber is in for a world of trouble here.

Anthony Rendon FD 3800 DK 4300
Opponent - NYM (Steven Matz) Park - NYM
FD - 12.38 DK - 9.33
Apologies in advance for the strong themes here, but that'll happen from time to time when the pitchers line up the right way. Like many Nats Rendon has taken a step back this year, but like a lot of the guys we've already written up, he's still an awfully solid player. With an .850 OPS this year (and a flat .900 OPS against lefties), Rendon is another high floor cash game play. Including him in Washington stacks makes sense, but just realize that he is probably the least likely of these guys to put up a monster game that wins the tournament by himself.
Outfield

Brett Gardner FD 3400
Opponent - BAL (Dylan Bundy) Park - BAL
FD - 13 DK - 9.95
The first Yankee we're writing up today, as best I can tell. Gardner hasn't a great year so far, but he's still batting on top of a fantastic Yankees' lineup, and I have to think better things are ahead. His K:BB is actually the best of his career, and while his ISO is down, it doesn't really follow that he should have dropped .070 OPS points this season. You know what that means! Bargain time. Bundy was off to an incredible start this year, but has taken a huge step back recently, giving up an astonishing 7 earned runs in each of his last 3 starts. The Yanks aren't available on DK due to playing the late slate, but I just wanted to remind you about them in case you're running a FD slate where they are available.

Michael Conforto FD 3200 DK 4300
Opponent - WSH (Jefry Rodriguez) Park - NYM
FD - 11.05 DK - 8.28
Speaking of semi-weird but also plausible stacks, what about the Mets? Okay, maybe you can't stack all of the Mets. But you could play Conforto! While he's been platoon neutral this year, Confrot profiles as a classic platoon guy, and his 23% K rate to 15% BB rate against righties (vs 33% and 9% vs. LHP) suggests that he should be able to tick things back up soon. He's still a monster power threat, and the amount of hard contact he makes means the BABIP should climb back into the .310s+ some time soon. The real draw here is in the match-up with Jefry Rodriguez. J-Rod is quite simply terrible, with a 4.85 BB/9 and a 5.26 xFIP. It'd be nice if the Mets had more real hitters to pair with Conforto for big tournaments, but as I've said many times - there are a lot of pitchers that are so bad that you can stack against them regardless of who the batters are. Rodriguez certainly qualifies.

Matt Kemp FD 3000 DK 4100
Opponent - SD (Robbie Erlin) Park - LAD
FD - 11.86 DK - 9.02


Kike Hernandez FD 2800 DK 4200
Opponent - SD (Robbie Erlin) Park - LAD
FD - 10.73 DK - 8.06
These guys are currently looking like the best plays in our system, but I was getting bored writing up players against the same pitchers at every position. I've given you the profile on Erlin already - he's a low BB low K guy that should give the Dodgers chances to put up some numbers here. As for Kemp and Hernandez themselves, they are classic platoon guys who are WAY too cheap when they are against lefties and unplayable otherwise. For all the talk of Matt Kemp's death, he's still got an .847 OPS against them this year - a more than respectable figure for these prices. Hernandez has actually been pretty bad against lefties in spite of starting almost exclusively against them, but that honestly looks BABIP driven to me. A player of his profile shouldn't settle at a .223 BABIP, and when that number rises his opportunity and his results should follow.
GRAB A FREE TRIAL OF OUR PROJECTION SYSTEM, AND CHECK OUT DFSR PRO!
image sources
Nolan Arenado: By Keith Allison (Flickr: Nolan Arenado) [CC BY-SA 2.0 (http://creativecommons.org/licenses/by-sa/2.0)], via Wikimedia Commons
FREE EBOOK
SECRETS TO CRUSHING DAILY FANTASY FOOTBALL!
DON'T SET ANOTHER LINEUP BEFORE YOU READ THIS BOOK.