Baseball Picks Daily Fantasy
Expert Advice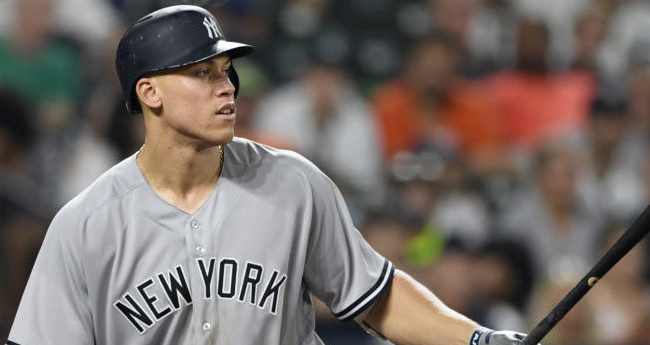 Daily Fantasy MLB Picks for FanDuel and DraftKings - 9/21/18
Sure, it's my birthday today but did that stop me from firing through the MLB picks for Friday? Hell no. We've got a full slate with some teams still vying for playoff spots, the Yankees and Mariners in spots to put up big runs and more.
Now's your chance to get DFSR PRO, which will give you access to our MLB optimizer and our new player lab! Get started for free by clicking the button below.
First time with MLB? Be sure to read our free MLB Ebooks on building lineups, general strategy and more. We've got you completely covered.
Pitcher

Rich Hill FD 9200 DK 9500
Opponent - SD (Eric Lauer) Park - LAD
FD - 37.32 DK - 20.05
Hill didn't look sharp in either of his two last outings, only getting to five innings in each with a max of 84 pitches. The last one was in a rout of St. Louis so it makes sense he had a quick pull when the game was completely out of hand. Considering the Dodgers are one of the few teams in an actual playoff race right now, I do think we see a full complement of pitches for Hill if the game stays close. And he has the best matchup on the board. He's a -250 home favorite against the lowly Padres who rank 22nd in wOBA against lefties this season and strike out 24% of the time in that split. When Hill is firing on all cylinders, the guy has big time K upside, striking out more than 10 batters per nine, though he does issue walks time and again (3.11/9). But for the price and win expectation (and of course the opponent) you are getting a solid cash game pitcher without breaking the bank.
CC Sabathia FD 7500 DK 7500
Opponent - BAL (Yefrey Ramirez) Park - NYY
FD - 32.27 DK - 16.12
Sabathia has actually ticked up his K stuff this season, sitting at a 21% K%, up from 19% last season and been able to reduce the walks by just a hair. Two of his last three starts have been rough, not making through three innings in his last one against Toronto. But on Friday he has a chance to bounce back against an Orioles' team tied for last in the league against lefties this season with a .286 wOBA (pretty remarkably bad considering they get a DH and the other NL teams in that range don't). Baltimore is fielding a borderline AAA team at this point and there's a reason CC comes in with the best money line odd of the day as a -265 home favorite.
Zack Godley FD 7100 DK 7200
Opponent - COL (German Marquez) Park - ARI
FD - 33.57 DK - 16.88
There are a few things working in Godley's favor here and admittedly a couple of reasons to be concerned with him as a cash game play. For starters, he gets the Rockies outside of Coors and they are a team ranked 22nd in the league against righties this season. That's remarkably bad considering they play half their games in the best hitter's park around. Their *true* rank is likely much lower. They strike out 24% of the time in that split and outside of a couple of strong bats at the top of the lineup, aren't fielding much in the way of power once you clear the cleanup slot in the order. Godley also has strong K stuff, putting down more than a batter per inning on the season. His issue, of course, is the control. He has a 10% walk rate and when he isn't locked in is very susceptible to the big inning. I'm willing to run him here because of the matchup, but like him considerably less than the two guys above. (Editor's note: Godley is no longer the starter. It is Zack Greinke. Most of the same logic applies though Greinke is much more expensive.)
I think you can also strongly consider paying all the way up for Gerrit Cole. He's much more expensive than the guys I wrote up and draws a low K matchup against the Angels. He also hasn't made it past six innings in his last six starts. The Astros aren't locked into the playoffs quite yet so there is some leverage to this game.
First Base/Catcher

Carlos Santana FD 3100 DK 4200
Opponent - ATL (Julio Teheran) Park - ATL
FD - 9.85 DK - 7.31
I don't love a ton about first base today. There's not a lot of value in terms of matchups and the teams with big implied run totals have question marks at the position when we are trying to project their lineups ahead of time. Santana should find himself in the cleanup spot against Teheran and the former's ultra-patient approach should provide dividends against the Braves' righty. Over the last two seasons, Santana has walked 16% of the time against righties (an elite number) while only striking out 16% of the time. There isn't a ton of power, but the on-base skill is bordering on elite. He makes for a nice stack with Cesar Hernandez (below) and Asdrubal Cabrera who is also coming cheap.

Justin Smoak FD 3300 DK 4100
Opponent - TB (Undecided) Park - TOR
FD - 11.62 DK - 8.69
At the time of this writing, we don't know the Tampa Bay starting pitcher because they like to play fast and loose with that kind of thing. But considering the shallowness of 1B, I'm comfortable writing up Smoak here. As a switch-hitter he's been something close to platoon neutral over the last couple of seasons (better against righties) but it does put him in play against a Tampa squad that likes to play the bullpen matchup early in the game before giving way to the *starter*. Like I said the other day, Smoak's 38 home run campaign last year is looking like an outlier, but the guy still has plenty of power with 24 home runs this season and a .215 ISO.
At catcher on DraftKings, you can consider paying up for Gary Sanchez. I also don't mind Mike Zunino and Austin Barnes even though are hitting near the bottom of their respective lineups.
Second Base

Robinson Cano FD 3900 DK 5200
Opponent - TEX (Connor Sadzeck) Park - TEX
FD - 12.53 DK - 9.58
The Mariners come in with the second-highest implied run line of the day at 5.5 runs heading into Texas, the second-best power park in baseball. One of the reasons for the higher run line is also because they'll face Connor Sadzeck who's had some strikeout upside in the minors but also has control issues with just as many walks as strikeouts in his short major league time. Cano is having another solid year an .819 OPS thanks to a career-best 42% hard contact rate and low 14% K%. He doesn't exhibit much in the way of power anymore (thanks PEDS, 8 HRs) but is still tough to get out. He makes for possibly the chalk second base play on Friday.

Cesar Hernandez FD 2600 DK 4200
Opponent - ATL (Julio Teheran) Park - ATL
FD - 9.5 DK - 7.41
Hernandez has moved back to the top of the lineup for the Phillies and the price hasn't really readjusted after he spent a lot of time around the 7th slot in the order. It's a bit confusing that they moved him in the first place. The guy is ultra-patient with a 13.6% walk rate on the season (.357 OBP) and he's been able to add speed to the mix as well with 19 stolen bases. He's not going to hit for a lot of power, but the on-base stuff is real. Hernadez is basically a platoon-neutral hitter though he does strike out a bit more against righties over the last couple of seasons. The patience though should pay dividends against Teheran who's walked batters at a 12% clip this season.
Shortstop
Elvis Andrus FD 3000 DK 3500
Opponent - SEA (Erasmo Ramirez) Park - TEX
FD - 10.39 DK - 8.03
The Mariners come in with potentially more upside in this game, but the Rangers could also put up some runs against Erasmo Ramirez. The latter is a low strikeout (16.5% K%) arm with a below average 4.70 xFIP. Andrus brings in a low OPS (.670) though it's worth mentioning that his BABIP is running about 40 points lower than previous seasons. He's coming cheap for a middle of the order bat considering the Rangers insist on keeping him in the third spot. He's slightly better against lefties over the last couple of seasons, but not to a terrible degree. And again, he's coming very cheap on both sites. That could end up winning the day along with the plate appearance expectation because of how high he hits in the order.

Didi Gregorius FD 3900 DK 5200
Opponent - BAL (Yefrey Ramirez) Park - NYY
FD - 13.96 DK - 10.75
Gregorius is the more expensive option of the two, but the Yankees come in with the highest implied run line of the day at over 6.0 against Yefrey Ramirez. The Yankees are finally getting healthy with Aaron Judge back in the lineup and are an incredibly potent offense when everything is clicking. Didi has already put up a career-best 26 home runs and .831 OPS. He shifts down to the fifth spot with Judge back, but that only decreases the plate appearance number slightly. He makes for an excellent way to spend up at shortstop. And don't worry, I'm going to get to the case against Yefry Ramirez shortly.
Third Base

David Freese FD 2300 DK 4300
Opponent - SD (Eric Lauer) Park - LAD
FD - 10.17 DK - 7.75
Third base is a spot where we might be able to get away with playing a couple of cheaper/ middle-tier options. Freese has taken over the cleanup spot for the Dodgers when they face lefties and considering he's just about the minimums on FanDuel (not as great a value on DraftKings), I'm fine with him facing a merely average pitcher in Eric Lauer. Over the last two seasons (269 plate appearances), Freese has an .833 OPS against lefties with a 13% walk rate. The .360 wOBA plays because of the FanDuel price and that's even factoring in having to hit in a park that severely depresses power to all fields.

Kyle Seager FD 3300 DK 4200
Opponent - TEX (Connor Sadzeck) Park - TEX
FD - 11.88 DK - 8.98
I prefer playing Seager on DraftKings where he's coming just a tick cheaper than Freese. He hits lower in the lineup, but the Mariners have more implied runs going up on the board which helps even things out some. You're playing Seager mostly because you're looking for the long ball. He doesn't take many walks and struggles to get on base, but does have 22 home runs on the season and is buoyed (from a fantasy perspective) because of the bats around him (mostly in front of him).
Outfield

Aaron Judge FD 4300 DK 5500
Opponent - BAL (Yefrey Ramirez) Park - NYY
FD - 17.52 DK - 12.96


Giancarlo Stanton FD 4500 DK 4800
Opponent - BAL (Yefrey Ramirez) Park - NYY
FD - 16.31 DK - 12.11


Andrew McCutchen FD 3700 DK 4300
Opponent - BAL (Yefrey Ramirez) Park - NYY
FD - 14.13 DK - 10.7

Aaron Hicks FD 3200 DK 4400
Opponent - BAL (Yefrey Ramirez) Park - NYY
FD - 13.43 DK - 10.09
You can't play all four and you probably can't even play three of them in a lineup. But I'm putting them here because these guys are how you stack the Yankees. Besides Didi, the rest of their top of the order value comes through in qualifying for OF duties (Stanton DH's) and are for sure the way to pay up on this slate. I could roll through all of the stats that make these guys eligible as cash game plays on Friday, but it would just be a laundry list of home runs, more home runs, RBIs, runs, blah, blah, blah. Where I'd knock all of them is, to a man, they are all worse in their righty platoon splits. Everyone one of these guys is much better for their careers against lefties. And yet, even with that factored in, the run expectation is just so high for the Yankees on Friday. Ramirez comes in with some awful peripherals (1.8:1 K:BB) thanks in large part to a garbage 4.85 BB/9 rate. He has a 5.00 xFIP and it's tough to imagine him going long in this game. The biggest issue for the top of the Yankees' lineup is the strikeout. Ramirez will dial it up sometimes, but even an iota of patience here from the Yankees' bats will pay the day.
Denard Span FD 3000 DK 4500
Opponent - TEX (Connor Sadzeck) Park - TEX
FD - 11.17 DK - 8.68
This one will kind of depend on where Span is hitting in the lineup with the Mariners liking to switch around their order at times. Here's to hoping he's in the two spot against the righty. Span is an on-base guy. He walks 11% of the time and is tough to strike out at only 15%. The .346 OBP works for cash game considerations with dribs of power (11 HRs) and drabs of speed (9 SBs) on the season. He's not all that expensive if he hits at the top of the order in a matchup where the Mariners are expected to put up runs.
GRAB A FREE TRIAL OF OUR PROJECTION SYSTEM, AND CHECK OUT DFSR PRO!
image sources
Yankees Orioles Baseball: (AP Photo/Nick Wass)
FREE EBOOK
SECRETS TO CRUSHING DAILY FANTASY FOOTBALL!
DON'T SET ANOTHER LINEUP BEFORE YOU READ THIS BOOK.