Basketball Lineups Daily Fantasy
Expert Advice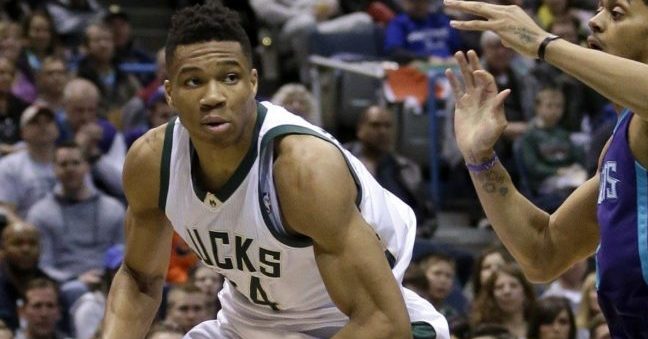 Daily Fantasy NBA Basketball Picks for FanDuel and DraftKings - 10/22/18
Monday's NBA action brings us a whole lot of reasons to spend up on the superstars. The Warriors face off against the Suns, Kawhi is fully rested after sitting out Saturday's game and Giannis is doing ungodly things to an NBA box score. We've got you covered for Monday's NBA action on FanDuel and DraftKings.
Head on over a for your chance to get DFSR PRO, which will give you access to our NBA FanDuel and DraftKings optimizer, our NFL Optimizer, and our new player lab! Get started for free by clicking the button below.
First time with NBA or NFL? Be sure to read our free NBA and NFL Ebooks on building lineups, general strategy and more. We've got you completely covered.
Point Guard

Stephen Curry FD - $10200 DK - $10100
Opponent - PHO
Proj Pts FD - 55.12 DK - 57.63
I'm a little concerned the Warriors decide to rest someone tonight on the second game of the back-to-back. I know it's early in the season, but there's just no reason for them to expend much in the way of maximum energy at any point this year. They have exactly one thing to play for and you don't close the season strong by pushing it on back-to-backs against teams like Phoenix. That being said, all the guys who do suit up on Monday (and it might be the whole core) will be in play against the Suns. Phoenix is playing a bit slower this year compared to the last few and are likely better overall, but this is still a spot to target Warriors. Curry's come out firing to start the season. He's shooting a nuts 56% from three and has scored 30 or more points in each of the Warriors' first three games. Phoenix has no way to handle him on the perimeter and he could be in for another big game on Monday.
Isaiah Canaan FD - $4300 DK - $4300
Opponent - GS
Proj Pts FD - 28.36 DK - 29.1
Canaan rings in as a potentially punt play for Monday considering his price, minutes and opportunity. He's currently sticking as the Suns' starting point guard and has played 30 minutes or more in each of the first two games. He'll never be a high usage PG on this squad but he has found a way to get nine shots a game good for a 11.5 point, 4.5 assist, five rebound average. It's mostly his price that's attractive on this slate and it's been increasingly difficult to find punt plays on a nightly basis. There's blowout risk here for sure, but with so many superstars worth paying up for, we have to find savings where we can.

Kyrie Irving FD - $8000 DK - $7000
Opponent - ORL
Proj Pts FD - 42.76 DK - 44.31
You're being dared into playing him on DraftKings at only $7K. The Celtics are a very deep team right now and don't have to push any one player too much in games, especially ones against teams like the Magic. But this is still Kyrie we're talking about. He's getting up mid-teens shots per game in this offense and has been serviceable with the assist numbers early. He'll never give you much in the way of defensive stats, but I think we are buying low because he's struggled with his shooting early in the season. He's only 34% from the field and 14% from three. It's kept the scoring, and the price, down across the board. When the shot starts falling this DraftKings price will look silly even if you are worried about some minutes getting burned off because of the Celtics' depth.
Consider Trey Burke
Shooting Guard

DeMar DeRozan FD - $8200 DK - $7400
Opponent - LAL
Proj Pts FD - 41.31 DK - 41.99
Derozan has taken over much of the usage reins for the Spurs early in the season, averaging 21.5 shots per game. He still isn't taking any threes (six total in the first two games) but has still scored 28 in each of the first two games. San Antonio will continue playing him big minutes because they are incredibly short on players who can create their own shot and score consistently. He draws a fantastic matchup against an undermanned Lakers' team (without Rondo and Ingram) who've played the fastest pace in the young season. I very much think we are still buying low-ish on Derozan here and he's at a decided advantage against the KCP-Josh Hart defensive combo the Lakers will likely throw his way.

Klay Thompson FD - $6600 DK - $5600
Opponent - PHO
Proj Pts FD - 35.86 DK - 37.42
The case here is much the same as the one for Curry. The Warriors come into this game after a tough loss to the Nuggets on Sunday in which the Durant, Curry and Klay all played 36 minutes or more. Thompson needs to score to maintain fantasy value and he needs to especially knock down the three ball. That hasn't been happening as frequently to start the season. He's shooting 29% from deep (career 42%) and is only 2-16 in the last three games. It's great to buy at the bottom part of this graph because obviously, Klay has the lights out game in him. Not to go gambler's fallacy and say he's due, but Phoenix's perimeter D (Canaan, Booker, etc) should allow for plenty of free looks. The DraftKings' price is very tough to pass up.

Wesley Matthews FD - $4600 DK - $5000
Opponent - CHI
Proj Pts FD - 24.99 DK - 25.52


Justin Holiday FD - $4500 DK - $4500
Opponent - DAL
Proj Pts FD - 24.86 DK - 25.32
I have these two guys projected relatively close and playing against each other on Monday. There's no early line on this game, though it stands to reason the Mavs will be moderate favorites. They've allowed a ton of points this season (121 to the Suns, 136! to the Timberwolves) and are playing at a much faster pace this year with Smith and Doncic in the backcourt. Holiday needs to jack threes to hit value but is coming pretty cheap across the board for a guy who can play upper 30's minutes if the game stays close. He'll rebound here and there but it's really the minutes we are looking at for close to punt prices.
Matthews falls much in the same camp. He's averaging 35 minutes a game to start the season and with Harrison Barnes out of the lineup, has been getting up an average of 15 shots per through the first two. He's also very dependent on scoring to hit value, which is going to lead to some variant fantasy lines. But the minutes appear secure and he chips in just enough around the periphery to be a cash game play.
Small Forward

Kawhi Leonard FD - $9800 DK - $8800
Opponent - CHA
Proj Pts FD - 52.91 DK - 51.1
Kawhi sat on the second leg of the back-to-back over the weekend in what could be a sign of managed rest throughout the season. But in his first two games as a Raptor he's shown no signs of needing to be brought back up to speed after basically missing all of last season. He's averaging 23.5 shots per game, putting up 27.5 points and 11 rebounds. He's only managed one steal so far and you have to assume, with his defensive prowess, that those numbers will tick back up over the course of the season. He gets a matchup against an underwhelming Charlotte team that doesn't have much in the way of wings who can in any way challenge him. Kawhi's price is still a moderate joke on DraftKings and he's a surefire FanDuel cash game play as well.

Giannis Antetokounmpo FD - $12200 DK - $11100
Opponent - NY
Proj Pts FD - 55.85 DK - 56.76
Giannis has come out of the gate looking very much like he'd appreciate taking home the MVP award when things are all said and done this season. Sure, two games do not a season make, but holy hell the numbers he's put up in those two games are really something. He's averaging 25.5 points, 16.5 rebounds, 6.5 assists plus a block and a steal per game. He surely won't keep the pace, but it's even more impressive that he's only needed 33.5 minutes per game to get there. This is already a dramatic improvement on the sick stats he was putting up last year. I credit the leap in season-over-season progression as well as a clear improvement in coaching. Giannis will get a cake matchup against the Knicks who don't have anything they can throw his way on defense. The only reason I have him below Kawhi here is because of the massive price difference.
Strongly consider Kevin Durant for all of the same reasons as Curry and Klay above.
After these big three small forwards on FanDuel, the pickings get weird/ thin. I'd probably advocate just paying up for two of the three and worry about savings elsewhere at other positions. If you do want to middle tier it, or even punt there are some considerations. If OG Anunoby drew the start again he could make for an interesting punt. If Otto Porter gets full run against Portland then there is for sure upside at his price. And if you think the Suns can hang with the Warriors then Trevor Ariza could crush his $5K price tag.
Power Forward

LaMarcus Aldridge FD - $8800 DK - $7800
Opponent - LAL
Proj Pts FD - 46.41 DK - 47.41
The Western Conference is very tough and the Spurs are going to need to work for every game. Even early in the season, this one against the Lakers means something and the Spurs are at the advantage with LA playing without two of its starters (though the move from Rondo to Lonzo isn't an enormous step down). The Lakers don't have much in the way of inside defensive presence who can follow LMA around the court and will probably front him at times with Lebron / Javale or maybe even Kuzma. He struggled against Portland, but expect a game more like what we saw against the Timberwolves in the season-opener. This is a potential double-double spot for Aldridge considering LA will push the pace and aren't all that strong defensively.

Markieff Morris FD - $5000 DK - $5000
Opponent - POR
Proj Pts FD - 25.77 DK - 26.09
Power forward on FanDuel is once again a painful experience where we'll likely have to roster at least one cringe-worthy guy. It's not that I like Markieff all that much in this matchup, but rather there are few other choices worth even a passing glance. Morris is foul trouble waiting to happen, though he doesn't have to contend all that much with offense-first bigs in Portland. If Markieff can glide toward low 30's minutes then he can pay off these prices. Portland was about league average defending opposing power forwards last season and we could even see the Wiz going super small with Markieff at the five tonight in stretches. Again, this is more about the position than the player.
Much like small forward, the player pool gets murky after a couple of the top guys (and honestly, even Markieff was a bit of a stretch there). We are probably buying a bit low on Taj Gibson to start the season and I do think his minutes and production creep up moving forward. The same goes for Thaddeus Young after the Pacers played in three blowout games to start the season.
And finally, if the Bulls can hang with the Mavs then Bobby Portis is still a solid mid-tier play with major upside if the shot is falling.
Center
Enes Kanter FD - $7500 DK - $7300
Opponent - MIL
Proj Pts FD - 37.51 DK - 39.65
Oof, do I ever hate rostering/ trusting Knicks because they play so fast and loose with their rotations (and just generally stink). So they'll have to hang with the Bucks for Kanter to see his full run. But the Knicks' center has started out playing 27,35 and 31 minutes in the first three games. Even the first game, when the Knicks wiped the Hawks had Enes with a 16/11 line in 27 minutes. His last two have been even better with a 29 point, 10 rebound game against the Nets and a 17 point, 15 rebound affair versus the Celtics. The Bucks added Brook Lopez to start at center (not much of a defender) but have been playing lineups with Giannis at the five as well. That will be problematic for Kanter, but the Knicks aren't exactly in win now mode either. It's encouraging that they've kept him on the court more this season and he can fill up the stat sheet per minute thanks to the scoring and rebounding.

Deandre Ayton FD - $7600 DK - $6800
Opponent - GS
Proj Pts FD - 38.17 DK - 39.71
I'm very worried about the blowout in this game which would put Ayton at risk of losing major minutes, a problem, especially at his price tag. Ayton struggled against Jokic in his second game, getting into foul trouble early and finishing with five points and eight rebounds. There will be some growing pains for the number one overall pick, but we are also going to see a lot of games like his 18 points, 10 rebound opener against the Mavs. Both he and Kanter come in as major underdogs, which is a weird spot to be for centers in this tier. But both have such massive upside if everything clicks and the games stay even a little bit close.
Consider Myles Turner
GRAB A FREE TRIAL OF OUR PROJECTION SYSTEM, AND CHECK OUT DFSR PRO!
FREE EBOOK
SECRETS TO CRUSHING DAILY FANTASY FOOTBALL!
DON'T SET ANOTHER LINEUP BEFORE YOU READ THIS BOOK.